This or That Trivia Review!
"Who will be the last players in-game?
There are two modes ToT (ThisOrThat or Trivia)
ThisOrThat mode:
You have to answer what you prefer between the two propositions.
If you are part of the minority, be careful, you will be out!
Will you lie to stay in-game?
Trivia/Quiz:
You have to answer the right one.
Be careful the wall is more intelligent than you think."
iOS Link: https://apps.apple.com/us/app/id1506954865
Android Link: Not currently available
Company: Yso Corp
Genre: Casual
Rated: 12+
Offers in-app Purchases
Gameplay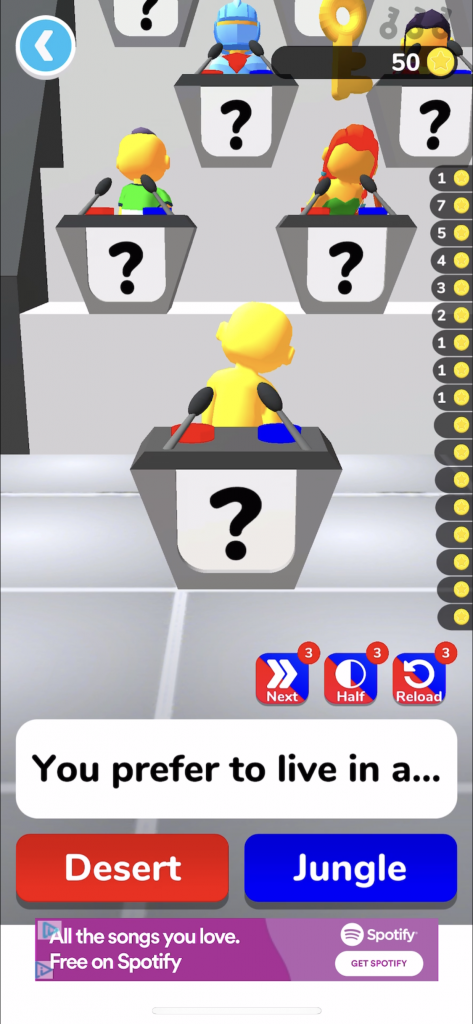 This or That Trivia is split into two games – This or That OR Trivia.
With the ToT section, you need to vote for what you prefer between the two options. If you're in the majority, you stay in the game, however, if you're in the minority, you're kicked out. So it's important to not be truthful every time especially if you want to win coins!
The trivia section works the same, however, you actually have to get the answer right to get through the levels. I discovered during this game that I don't know as much general trivia as I thought I did!
Graphics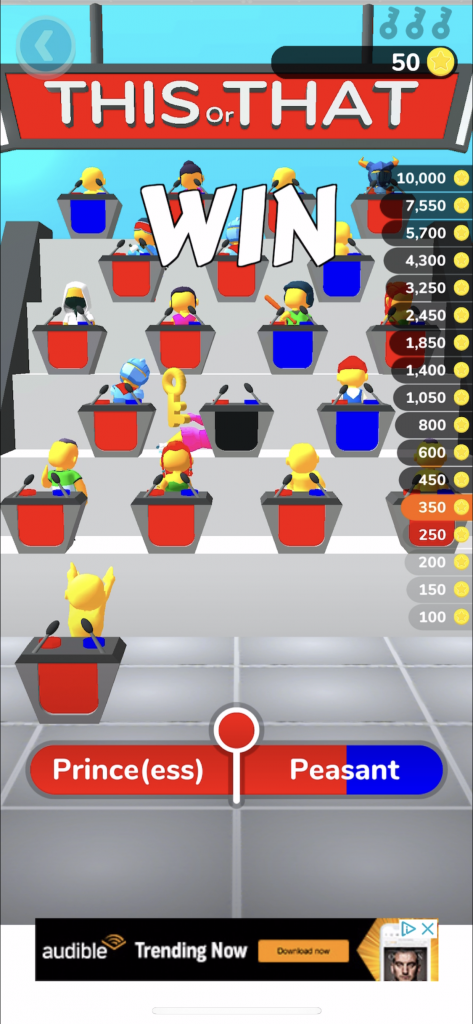 Honestly, I didn't find the graphics to be good at all. Not only are they not pleasing to look at, but the animations also seem to be pretty delayed. It was more of a stressful experience than calming.
Music & Sounds
I was very surprised to hear music and sounds come out of This or That Trivia seeing as these types of games are usually silent. The music isn't brilliant, it's your typical trivia music but fits in well with the gameplay so it works.
Controls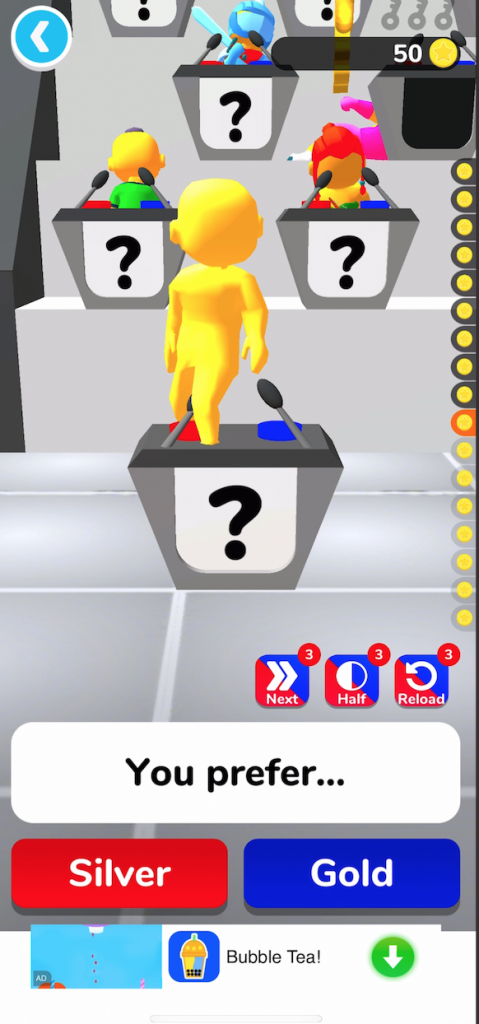 At the bottom of the screen, you're given two options to choose from and all you have to do is tap the correct one. It can't get any simpler than that really – so it's definitely an easy game to play that doesn't need your full focus.
The Power of in-app Purchases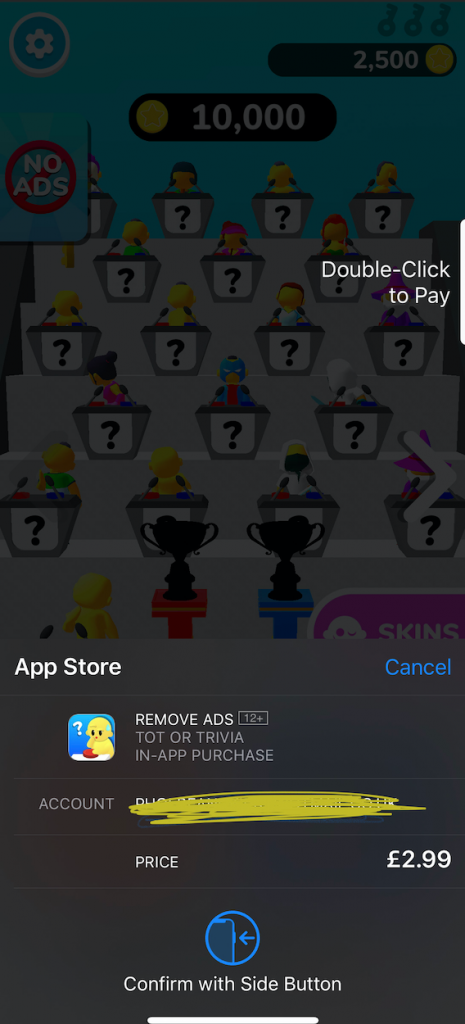 This or That Trivia doesn't currently have any in-app purchases apart from the removal of ads – costing £2.99. This is definitely worth the purchase considering how often you get ads in this game.
The Verdict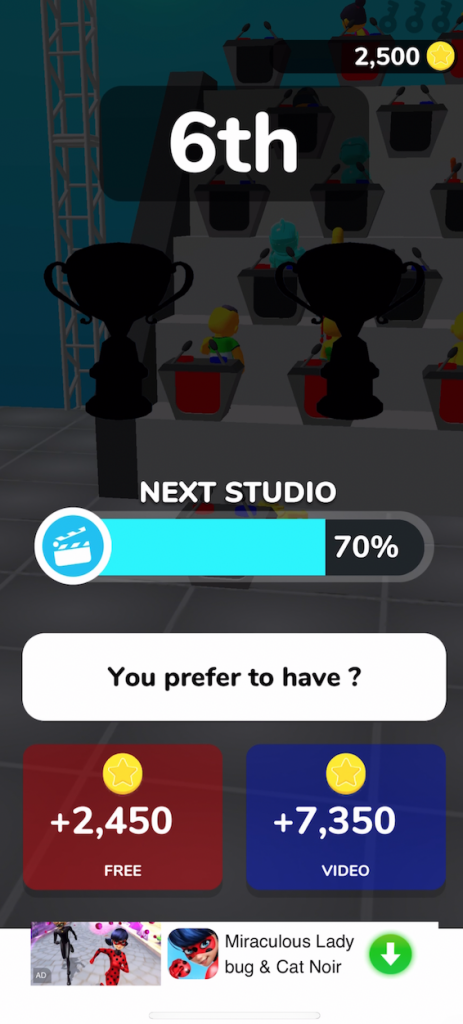 This or That Trivia has the potential to be a really fun and addicting game, however, there were multiple things I didn't like. For starters, you're playing against bots. It would be cool if you could play against friends or random players online. Another thing is how excessive the ads are – all I had to do was click on something and an ad would pop up. If you like this game and see yourself playing it often, I recommend purchasing the removal of ads.
If you decide to download This or That Trivia, let us know what you think and if you agree or disagree with the things we said. Happy gaming and stay casual!
This or That Trivia Overall Rating: 3/5
iOS Link: https://apps.apple.com/us/app/id1506954865
Android Link: Not currently available
Company: Yso Corp
Genre: Casual
Rated: 12+
Offers in-app Purchases
About Post Author