Crazy Taxi Classic Review!
"Hey hey, come on over and have some fun with Crazy Taxi, SEGA's ground-breaking, open-world driving game. Here. We. Go! Play for free and earn craaaazy money! Barrel through traffic packed streets, hurdle off parking garages, and crazy combo your way to crazy money in a wild frantic race to scare up the most fares. In Crazy Taxi, time is money, and only the craziest cabbies come out victorious. Crazy Taxi joins the SEGA Forever Classic Games Collection, a treasure trove of free SEGA console classics brought to life on mobile for the first time!"
Crazy Taxi Classic Links:
iOS Link: https://itunes.apple.com/gb/app/crazy-taxi-classic/id553921725?mt=8
Android Link: https://play.google.com/store/apps/details?id=com.sega.CrazyTaxiplayhaven&hl=en_GB
Company: SEGA
Genre: Racing Game
Rated: 9+
offers in-app Purchases (For no ads)
 If you're old enough to remember 90s SEGA games, then you'll probably remember Crazy Taxi. The game arrived at the arcade scene in the late 90s and jumped onto the Dreamcast platform soon after. The game then arrived on other platforms over time, including several Playstation generations, Xbox, and Windows PCs.
Well, fasten your seatbelts because SEGA has brought the classic to Android and iOS, with the free game Crazy Taxi Classic.
Gameplay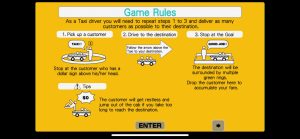 There is no tutorial for this game – you download is and boom you're thrown into the game. It was a little bit overwhelming at first but it's very easy to get used to. When you open the game, you're shown a games options screen where you can select Arcade, Original and Crazy Box. For the Arcade and Original options, you can play by arcade rules (you gain extra time for a successful fare) or a pre-determined time (3,5 or 10 minutes). After that, you select your game type, you can then choose your driver of choice and car (3 males and a female).
You're then in a taxi and your job is to find a customer (they have a $ above their heads and are usually shouting "taxi!!!!" When you do spot a customer, you need to pull up and stop within the glowing circle so they can get in. There are a few different icon colors you will come across: red for a short ride but low fare and green for a high fare but a long way to drive to get there in time.
Once you stop, your customer will jump into your taxi (a little bit too slowly for me) and it's then up to you to follow the green arrow as fast as you can to get them to their destination.
Graphics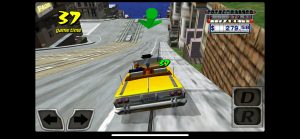 The graphics in Crazy Taxi are awful in the BEST way possible. It'll take you right back to your Dreamcast or PS2 years. The provided graphics completely match up with the era this game was popular in, and it works.
Crazy Taxi didn't fill up the screen of my iPhone XS and I don't know if it's because the graphics wouldn't be able to get any larger without losing quality or if they haven't updated the game since the iPhone 5!
Music
Crazy Taxi sound is dominated by a wide-ranging mix of punk rock tracks blasting throughout the game. The music does an amazing job at in ramping up the adrenaline that is used to get through this game.
Controls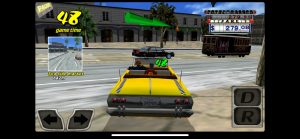 Sega has been kind to us and has offered tilt and touch controls. I stuck to touch as I found it easier for me but for normal people, tilting is easier! I also find the tilt controls to be too sensitive and I feel like I have more control using the touch directions.
The Power of in-app Purchases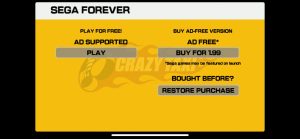 There are no specific in-app purchases available in Crazy Taxi, however, there is an option to play the game without ads for only £1.99 which I think is worth it because the ads that pop up can get pretty annoying. But you can play the game to your heart's content without running out of energy, coins, gems, or whatever other kinds of virtual currencies there are out there.
The Verdict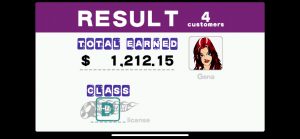 I love this game! It really hits the nail on the head with the 90s/early 00s nostalgia. No one really has working ps2 consoles anymore so being able to play one of your old favorites on your smartphone is amazing! No one's going to go out of their way to buy an old console but if it's at our fingertips then it's convenience – which is my favorite part about Crazy Taxi!
It pretty much exactly replicates the original game with the graphics, music and even the gameplay. And best of all, you can play it all day if you really wanted to. There is no limit on how long you can play Crazy Taxi before. So if you're sick of collecting energy and getting nothing back, this is for you! Happy gaming 🙂
Crazy Taxi Classic Overall Rating: 5/5
iOS Link: https://itunes.apple.com/gb/app/crazy-taxi-classic/id553921725?mt=8
Android Link: https://play.google.com/store/apps/details?id=com.sega.CrazyTaxiplayhaven&hl=en_GB
About Post Author