Turn Undead 2: Monster Hunter Review!
Features:
• Turn-based movement with all the action of a platformer.
• Time is in your control, time moves when you do!
• Solve devious puzzles hidden within spooky gothic streets, labs, and tombs!
• Discover and exploit monsters weaknesses.
• Collect the bonus holy cross for an extra hard challenge!
• Easy swipe-based controls.
• A PERFECT game for Halloween!
Time to Die… One step at a time!"
Turn Undead 2: Monster Hunter Links:
iOS Link: https://itunes.apple.com/us/app/turn-undead-2-monster-hunter/id1376114744?mt=8
Android Link: https://play.google.com/store/apps/details?id=com.nitrome.turnundead2
Company: Nitrome
Genre: Puzzle
Rated: 12+
Offers in-app Purchases
"Journey from Victorian London to Egypt and defeat the Mummy King and his legion of monsters in this turn-based action puzzle platformer.
Gameplay
To play, you have to get through each level to find the door at the end. While attempting to pass the levels, you will come across baddies and obstacles that make it harder for you to get by. For example, there was a passageway that I couldn't get through and I had no idea why, but it turned out that I needed to move a block on top of a button on the floor to open the passageway. Once I was through, there were two baddies and I was able to shoot them with my weapon by tapping them.
Graphics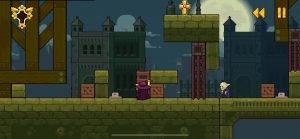 The graphics are very different and reminds me of old retro games and even if Turn Undead 2: Monster Hunter was boring, Nitrome would win points for creative graphics anyway. This is the perfect game for Halloween with the dark, yet sharp graphics and the lovely themed characters. Everything about Turn Undead 2: Monster Hunter is both cute and spooky at the same time.
Music
The music for Turn Undead 2: Monster Hunter is pretty annoying but it's also very retro themed at the same time which makes it a little bit less annoying. I think I'm just obsessed with the retro theme of Undead 2 so I keep giving Nitrome a free pass! The sounds, however, are effective. When you jump, shoot your weapon, kill an enemy, walk, there are sounds. I like this because it makes the game feel slightly more personal, however, the sounds and music add no value to Turn Undead 2!
Controls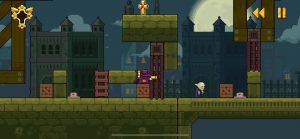 Turn Undead 2: Monster Hunter has controls that initially confused me. I thought the game was lagging but it turns out you're supposed to move like that. Fitting in with the very old fashioned 80s/90s style theme, the way your character moves is perfect. To move you swipe left and right, and up to jump. To attack enemies, you tap them to shoot various objects at them.
The Power of in-app Purchases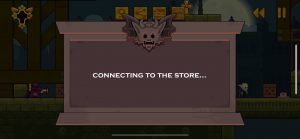 From what I can tell, Turn Undead 2: Monster Hunter has no premium currency like gems or coins that you can purchase with your own money. The game is completely free, but beware, there are a lot of ads that pop up. Luckily for you ad haters out there, there is an option to spend £3.99 of your hard earned cash to permanently remove ads. I think this is a good deal considering the overall quality and gameplay of Turn Undead 2: Monster Hunter. Nitrome could've easily added in some kind of premium currency to earn a bit of extra dosh but it's nice (and rare) to see developers offering their game for free.
The Verdict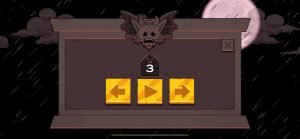 Although Turn Undead 2: Monster Hunter is an overall aesthetically pleasing game, it didn't live up to how it looked. It felt like the gameplay was disappointing.
There were many instances where I was confused as to what I was actually doing and what the purpose of the game is.
I initially picked this game because it was featured on Apple's App of the Day on the App Store so I thought it was bound to be good. Wrong. I could just be an idiot who can't figure it out but this game wasn't fun because of how hard it was.
I would definitely recommend this to someone who's a little bit more into these type of games than I am. It's challenging, pleasing to look at and well, FREE! What more could you want? The free part really did get me…
If you decide to download Turn Undead 2: Monster Hunter, let us know what you thought of it and if you agree with any of our points. Happy gaming!
Turn Undead 2: Monster Hunter Overall Rating: 2/5
iOS Link: https://itunes.apple.com/us/app/turn-undead-2-monster-hunter/id1376114744?mt=8
Android Link: https://play.google.com/store/apps/details?id=com.nitrome.turnundead2
About Post Author