Rumble Hockey Review!
"Assemble your epic team of Rumblers and rise through the leagues in this action-packed real-time PvP game Rumble Hockey!
Use skill to build strategic combos and outwit your opponents with stunning Goals!
Collect and upgrade new powerful cards to build your perfect team and challenge the World!
Join or create a Club and build your very own Rumble Hockey battle community."
iOS Link: https://apps.apple.com/fi/app/rumble-hockey/id1481319925
Android Link: https://play.google.com/store/apps/details?id=com.frogmind.rumblehockey&hl=en_GB
Company: Frogmind
Genre: Sports
Rated: 4+
Offers in-app Purchases
Gameplay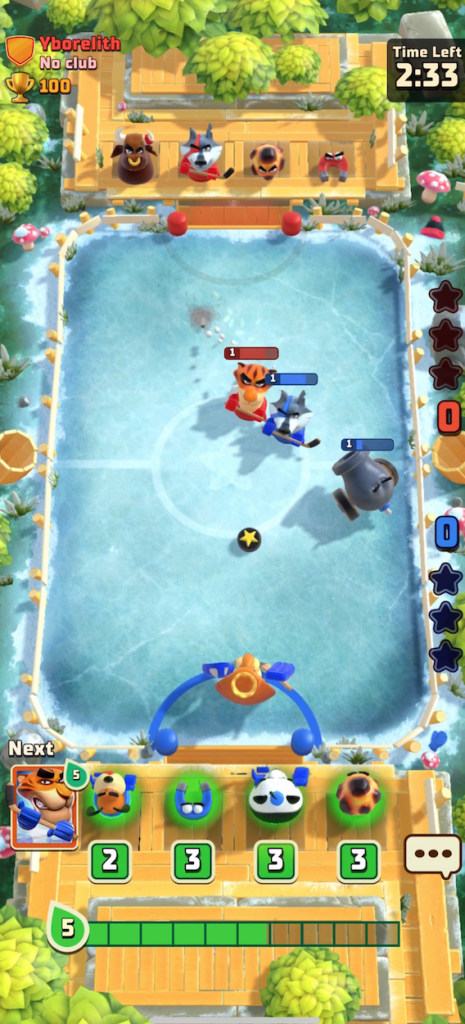 Rumble Hockey has brought ice hockey right to your smartphone with this addicting multiplayer game!
The aim of the game is to score as many goals as possible, sounds easy right? Not quite, you need to be strategic with which character you use – they happen to be animals too!
Rumblers:
Lazy Panda: Shoots if the puck is near enough…Zzzzz…
Mr. Fire: Explodes dealing high damage. BOOM!
Striker Tiger: Shoots goals! Passes the puck to friends in front.
Loyal Dog: Aways passes the puck to friends. Never shoots goals. Everyone's true best friend.
Cannonman: Shoots cannonballs through the air at the closest opponent Rumbler and locks on to them.
Raging Bull: Tackles nearby enemies. Who cares about the puck?
Magnetman: Pulls 1 opponent Rumbler away from a distance.
Sniper Wolf: Shoots with epic power anywhere in the field – if given enough time to charge.
Graphics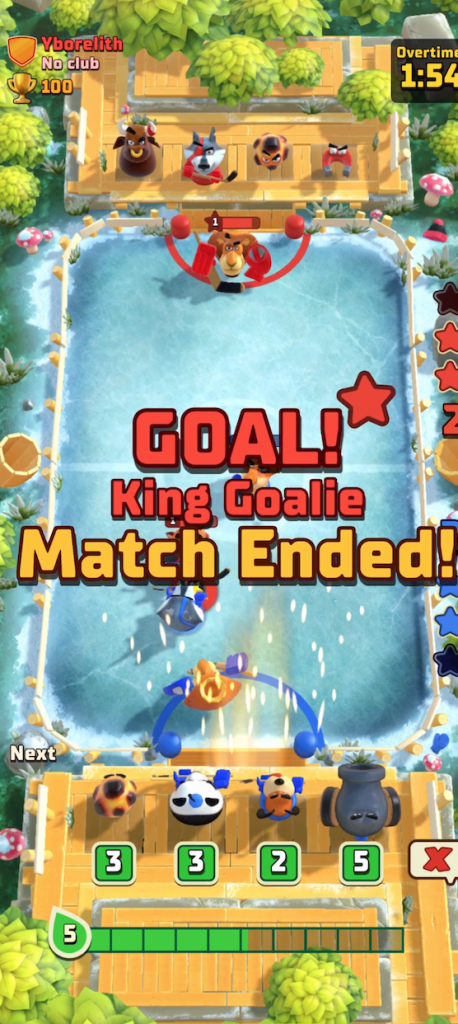 The graphics are well-detailed and colorful, however, I did feel slightly overwhelmed by how busy the screen was while I was playing. It would be a lot better if the background was toned down slightly so the focus is on the actual gaming field.
Music & Sounds
I don't mind the music as there isn't much going on until you actually score and there's loud music. Kinda weird and unnecessary in a quiet game.
The sounds the Rumblers make every time you pick one is super annoying as well, I just didn't enjoy the audio for this game but I wasn't exactly expecting to.
Controls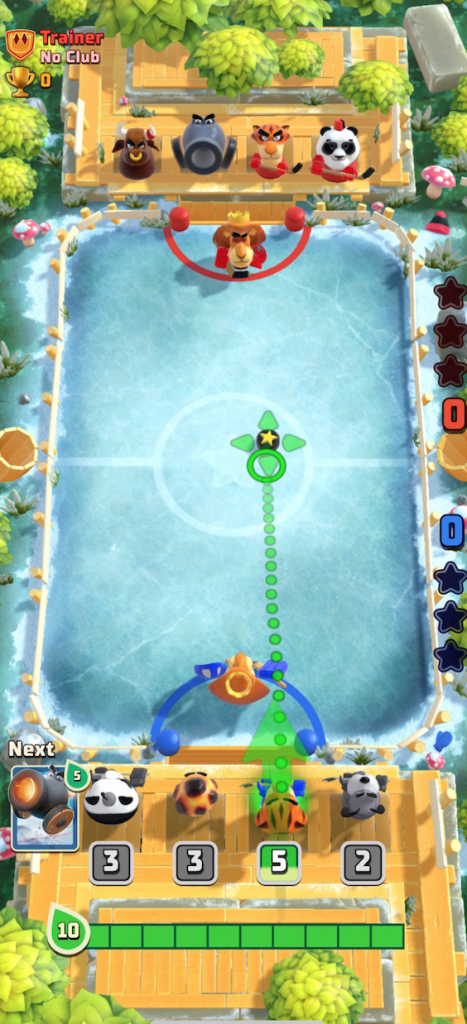 To control your Rumblers, pull them back and let go. This will strike at your opponent's Rumblers and either set you up for a score or a disappointing defense.
The Power of in-app Purchases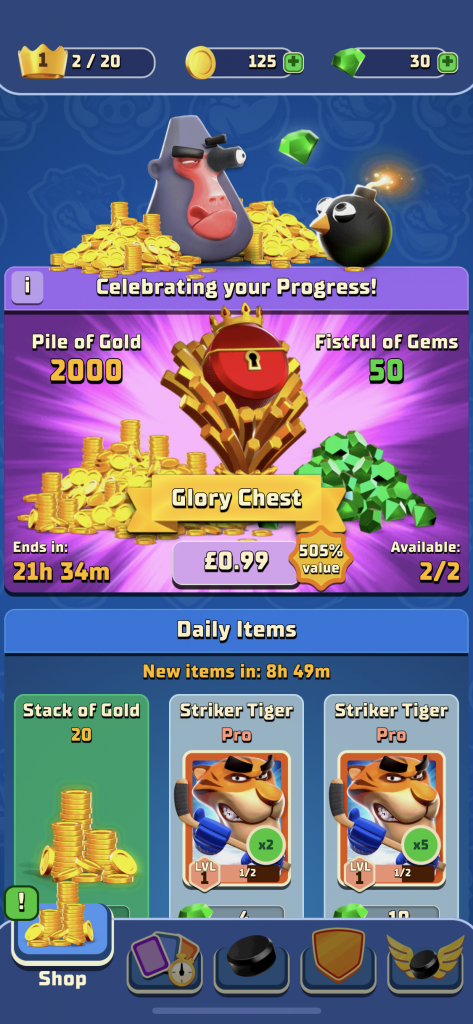 Saucer Pass Offer
2000 gold and 50 gold for £0.99
Daily Items
20 gold fr free
Striker Tiger Pro x2 for 4 gems
Striker Tiger Pro x10 for 10 gems
Chests
Colossal Chest for 200 gems
Super Chest for 400 gems
King's Chest for 2000 gems
Gems
70 gems for £0.99
400 gems for £4.99
1000 gems for £9.99
2100 gems for £19.99
5500 gems for £48.99
12000 gems for £99.99
Gold
1000 gold for 50 gems
10000 gold for 420 gems
100000 gold for 3700 gems
The Verdict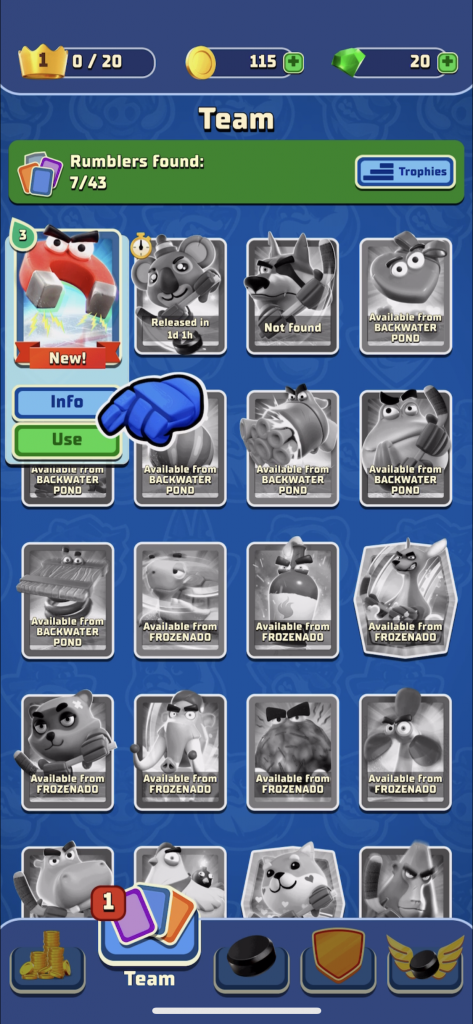 When I downloaded Rumble Hockey, I didn't expect what I got but I'm not disappointed. I think ice hockey as a mobile game is such a cool concept and being able to play with people all over the world makes it even cooler.
If you decide to download Rumble Hockey, let us know what you think and if you agree or disagree with the things we said. Happy gaming and stay casual!
Rumble Hockey Overall Rating: 3/5
iOS Link: https://apps.apple.com/fi/app/rumble-hockey/id1481319925
Android Link: https://play.google.com/store/apps/details?id=com.frogmind.rumblehockey&hl=en_GB
Company: Frogmind
Genre: Sports
Rated: 4+
Offers in-app Purchases
About Post Author