Guns of Boom Review!
"Guns of Boom is a competitive multiplayer FPS with awesome 3D graphics and gripping gameplay. It's so simple that your cat could learn the controls, but the skill-cap is high enough to spark the interest of competitive eSports players who're used to extremely challenging and clutch tournament-style battles. Engage in online PvP battles on a variety of maps, utilizing different cunning tactics. Get the ultimate FPS experience with fast-paced matches that take less than 5 minutes on average. The game is on!"
Games of Boom Links:
iOS Link: https://itunes.apple.com/gb/app/guns-of-boom/id1179715015?mt=8
Android Link: https://play.google.com/store/apps/details?id=com.gameinsight.gobandroid&hl=en_GB
Company: Game Insight
Genre: First-person shooter
Rated: 12+
Offers in-app Purchases
 Gameplay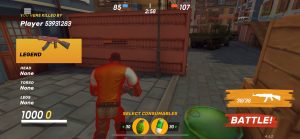 When you first enter Game of Boom, you're thrown into a tutorial and you're told to shoot targets to give you an idea of how the game works. After that, you're thrown into a game with real players that reminds me of a cross between Fortnite: Battle Royale and Armed Heist due to the controls and overall concept of the game. The gameplay is nice and what I like the most about it is that you don't have to press any buttons to shoot, but we'll get into that more when we talk about the controls.
Graphics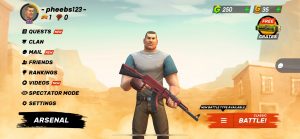 The graphics for Game of Boom are crisp, 3D, and just smooth overall. They're not too overpowering that they crash or lag, and everything looks like it would in a console game if I'm honest. Usually, multiplayer games have a tendency to crash so it's really nice to come across one that has its act together!
Music
There's no music in this game. Once you're added to a room to battle, there's no sound, just shooting, groaning and the sounds of footsteps. I really like that there's no annoying music in this game – I feel like it would ruin the whole feel and genre of it. But that's my opinion – some people like music to fill the silence. If I'm honest, if you're playing the game right, there will be no silences.
Controls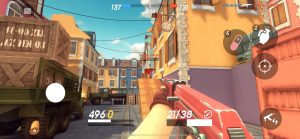 Guns of Boom has very simple controls – which makes life easier for shooting novices like myself. Use the bottom left side of the screen to run and the bottom right side of the screen to aim and shoot. All you have to do to shoot is aim – there's no special button. So the simplicity of the controls really helps you focus more on actually shooting our enemy. On the right side of the machine, there's also a hand grenade button and a health restorer. I didn't really find a use in them.
The Power of in-app Purchases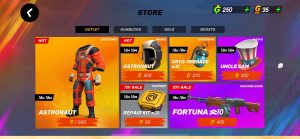 The store on Guns of Boom is separated into 4 sections:
Outlet
Gunbucks
Gold
Boosts
The outlet section is where there are outfits, guns, accessories and stuff like that for sale. This whole section reminds me of the Outlet on Fortnite. If you really want to stand out from everyone, this is a must. But then again, I don't see why you'd want to stand out in a game where you're trying to not get shot.
The verdict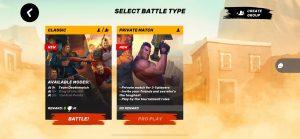 I've really enjoyed playing Guns of Boom. It's a great game for the experienced and inexperienced shooter – and it's nice that you get to play online with real people. However, that does mean you need wifi to be able to access the game which can be annoying for commuters etc.
This game is perfect for those who love shooting games without complicated controls, ridiculously over experienced people and horrible graphics. Everything looks and feels amazing. Download Guns of Boom and let us know what you think in the comments!
Guns of Boom Overall Rating: 4/5
iOS Link: https://itunes.apple.com/gb/app/guns-of-boom/id1179715015?mt=8
Android Link: https://play.google.com/store/apps/details?id=com.gameinsight.gobandroid&hl=en_GB
About Post Author