Cosmobot – Hyper Jump Review!
"It's Time for Space Exploration! 
Control your best space robots, the cosmobots, and send them off to discover the infinite expanse of space. Gravitate around thousands of planets while venturing ever farther into this infinity.
– TIME FOR HYPER-JUMPS
To explore space, you'll need to gain altitude… At the speed of light!
– 1… 2… 1,000 COSMOBOTS
How many machines will you need to go farther? Compare your results with your friends and become the greatest pilot or, instead, a real scourge for your little robots!
– AVOID OBSTACLES
Strange enemies confronting you? No problem! You're a talented pilot; you'll get past them easily. But could this herald a greater peril?
– DOZENS OF BONUSES 
Humanity has placed its trust in you, but still, you won't refuse little boosts to reach unexplored horizons!
Gravity will be both your best ally to navigate and your reference point so as not to lose yourself in the frozen reaches of the universe."
iOS Link: https://itunes.apple.com/us/app/cosmobot-hyper-jump/id1385059317?mt=8
Android Link: https://play.google.com/store/apps/details?id=com.ankama.cosmobot&hl=en
Company: Ankama
Genre: Arcade
Rated: 4+
Offers in-app Purchases
Gameplay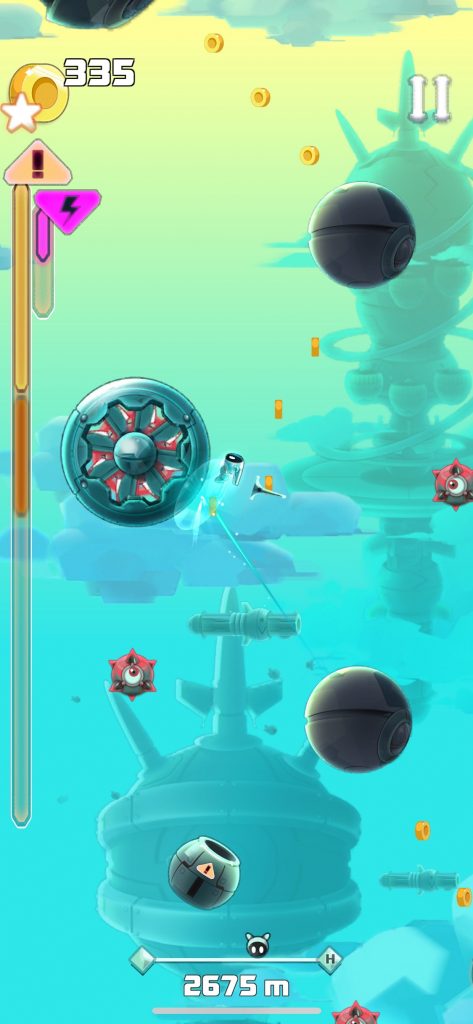 It's the future. And you are a captain controlling the drones and sending them to space. The goal is to send the drones as far up into space as possible by using hyper-jumps. There is a catch – the further you go, the more dangerous it becomes so you will have to think on your feet and make sure you don't explode.
It becomes very addictive, very quickly. You can only travel by clinging onto things and if you're left in clear space for too long, you will die.
Graphics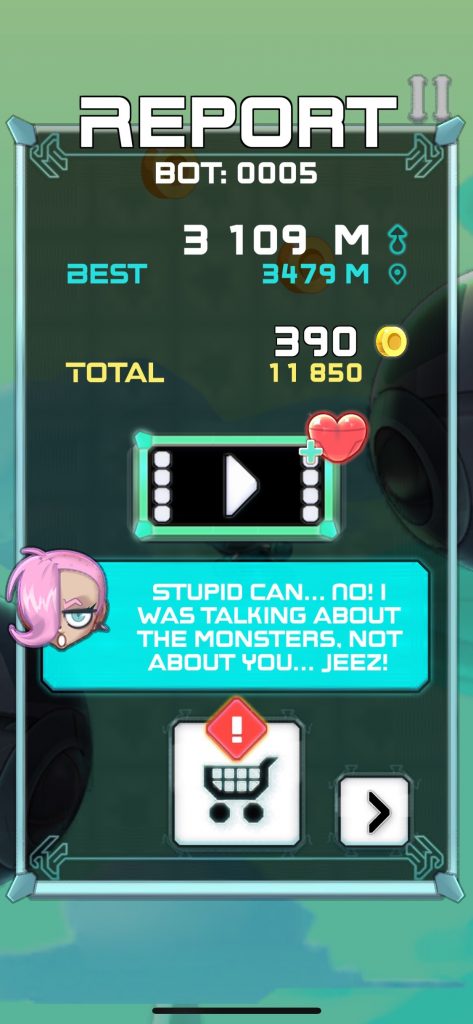 I'm a big fan of the 2D graphics as it reminds me of the retro arcade games that our parents used to play. They're blue and feel very calming when you play. This is definitely a game for those quiet evenings in.
Music
The music and sounds also play a big part in the retro feel of Cosmobot – Hyper Jump. I really loved how the music wasn't annoying and added a lot of value to the overall gameplay. The music was very sci-fi based and made you feel ready to shoot your drone into space.
Controls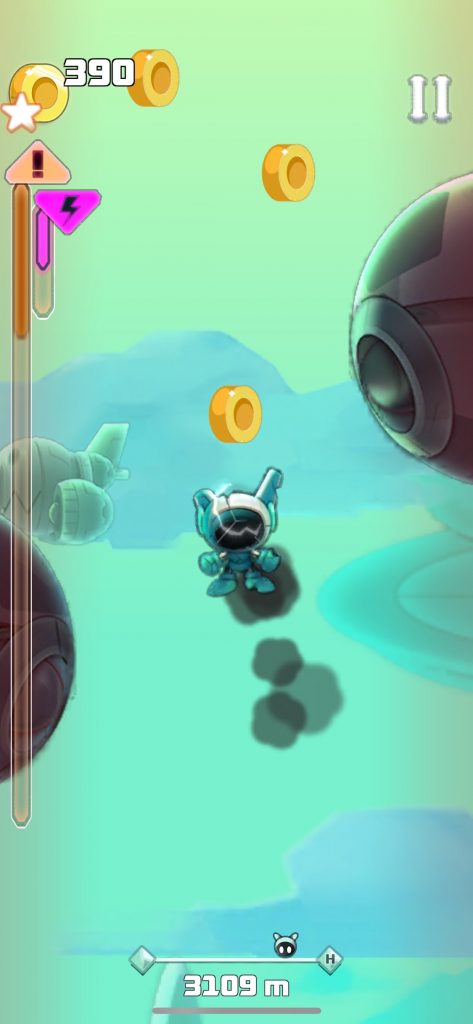 All you need to do with Cosmobot – Hyper Jump is tap at the right time. When your drone is facing the correct pathway, tap and it will bounce over to it. If you fail and end up in mid-air, tap multiple times to bring you back. This will take away some of your energy, though.
The Power of in-app Purchases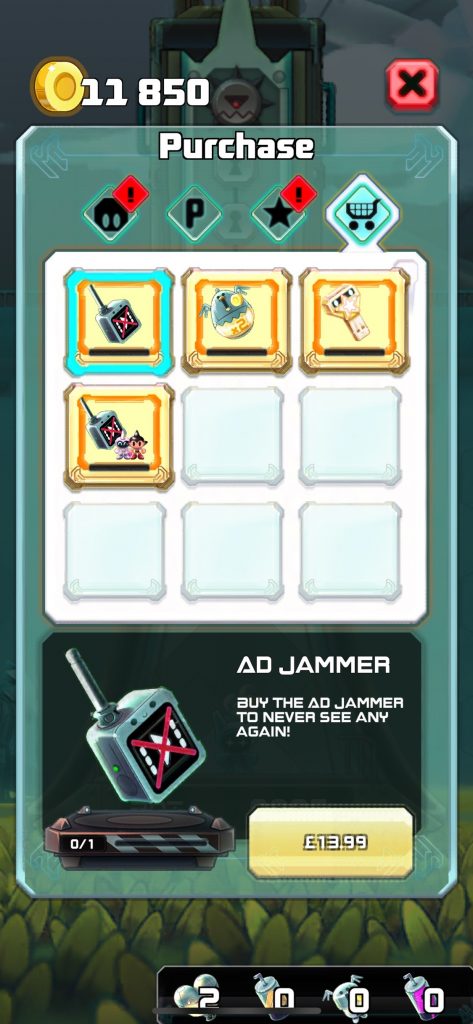 There is a small number of things you can purchase from the app store, unlike most freemium games. They include:
Ad Jammer – Removes ads for £13.99
Golden Hen – Double the coins you earn for £13.99
Mega Mystery Box – Get 2 extra items per box for £13.99
Starter Pack – Contains the Ad Jammer + 2 Cosmobots for £3.99
Being real here, I am one confused gamer. So, the add jammer is £13.99 but the Starter Pack (that contains Ad Jammer) is £3.99? How does that make sense? I don't know if there is some kind of bug but if you're going to purchase anything in the game – let it be the Starter Pack! Don't waste your money.
If anyone knows why this is happening, do let us know!
The Verdict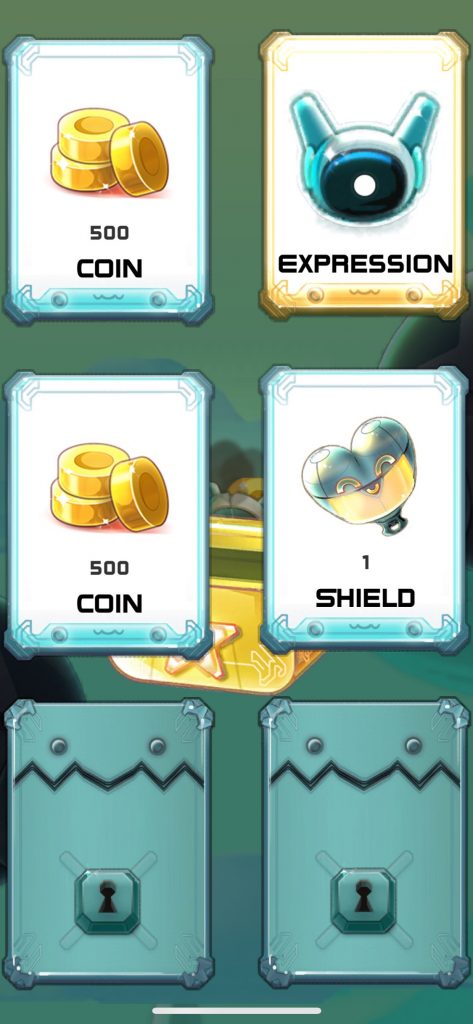 Cosmobot is a very simple game, hence the simple review but it is ridiculously addicting. There is something about it that makes you want to keep playing and I think the reason why is because of how easy it is to die and you just sit there and think "Ugh, I easily could've avoided that bomb." But you didn't, so is it as easy as you think? Hmmmm.
My favorite part of Cosmobot – Hyper Jump was of course, the graphics. I loved the blue theme and how everything was pretty detailed, yet keeping the retro vibe to it.
I would definitely recommend this game to someone who has a bit of time to kill! If you decide to download Cosmobot – Hyper Jump, let us know your thoughts and if you agree or disagree with any of the things we said. Happy gaming!
Cosmobot – Hyper Jump Overall Rating: 3/5
iOS Link: https://itunes.apple.com/us/app/cosmobot-hyper-jump/id1385059317?mt=8
Android Link: https://play.google.com/store/apps/details?id=com.ankama.cosmobot&hl=en
Company: Ankama
Genre: Arcade
Rated: 4+
Offers in-app Purchases
About Post Author