Tycoon Casino – Vegas Slots Review!
"Tycoon Casino Slots is a new slot game to attract everyone's attention. Different styles of games, huge prizes, big jackpots, and so on, everything you want in the slots game can be found here. Come and seek your luck here- Play Tycoon Casino Slots and Win huge prizes! 
Start your spins and enjoy the game, Tycoon Casino Slots can make you forget all the bad things and boring days, because we want to provide slots lovers and beginners with best slot machines and massive grand wins.
►Get 100,000,000 free coins instantly as Welcome Bonus.
►Every 12 minutes you will receive a store gift, and every 4 hours you can spin the bonus wheel for one time. Keep spinning!

►Interesting graphics, smooth animations, and vivid sound offer you the best casino atmosphere.
►Different feature games, huge prize and bonus winning symbols like Scatter & expanding WILD.
►Enjoy our gorgeous Slots Games like being in Vegas heart.
►Authentic slot machines designed by casino professionals.
►Hold on to Autospin and listen to the sweet casino melody. Plenty wins will tell you how time flies. "
Tycoon Casino Links:
iOS Link: https://itunes.apple.com/us/app/tycoon-casino-vegas-slots/id1437618231?mt=8
Android Link: https://play.google.com/store/apps/details?id=com.tw.tycoon.casino&hl=en_GB
Company: Triwin Games
Genre: Casino
Rated: 12+
Offers in-app Purchases
Gameplay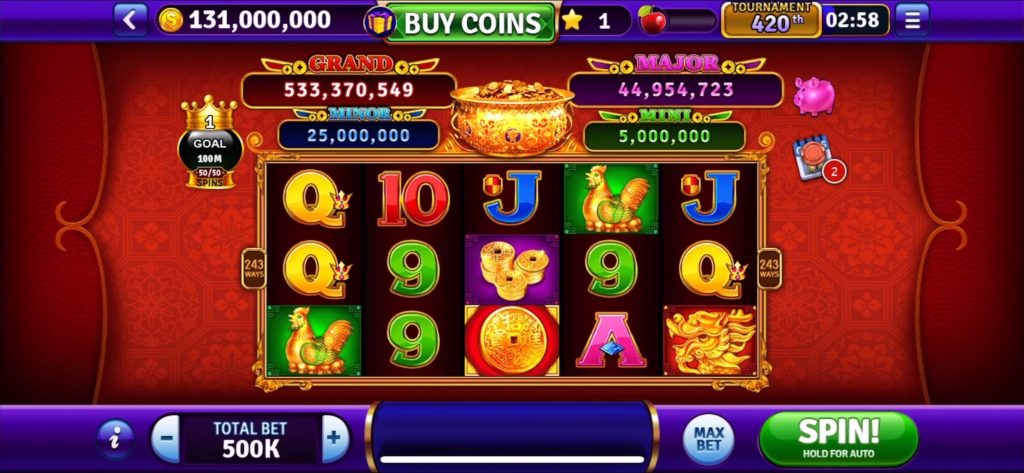 Tycoon Casino – Vegas Slots shows off the standard gameplay of a casino game. When you enter the game, you're shown a spinner. With this, you can make a free spin and can win a certain amount of coins for your games. This happens every time you re-enter the game and it's a very good way to keep you coming back. It's basically a daily bonus. Once you've done that, you're taken into the actual game and you're bombarded with an offer (which is annoying) but if you click the X then it'll disappear. It is then when you will notice all the games that Tycoon Casino – Vegas Slots have to offer. Most of them have some kind of sexualized mystical fairy as their thumbnail. Weird, but necessary I guess.
The first game I decided to dive my hands into was 88 Grand. I had 329M in my pocket, ready to make some more. As you enter the game, you're bombarded with ANOTHER offer that'll cost you your real life money. No thank you. Upon entering the game, I was bombarded with icons and huge numbers and I had no idea what any of it meant. Luckily, there is an info button if you're new to casino games.
Scatter icon: Scatter appears on reels 1,3 and 5. 3 Scatter Symbols trigger 10 free spins.
Wild icon: Wild substitutes for all symbols except Scatter. Any Wild has the chance to trigger the jackpot feature.
It'll then tell you what the other icons mean and how likely it is for you to get them. You can bet 250k which is the lowest amount or if you click MAX BET you can bet 10B. Unfortunately, I wasn't that rich yet so I decided to bet 500k. If you're really feeling lazy, there's also an AUTO spin button. Of course, I made use of it.
Matching certain icons can win you cherries and when you fill up the cherry bar, you can win money from 1,200,000 to 8,400,000. This is also a clever way to keep you playing.
Graphics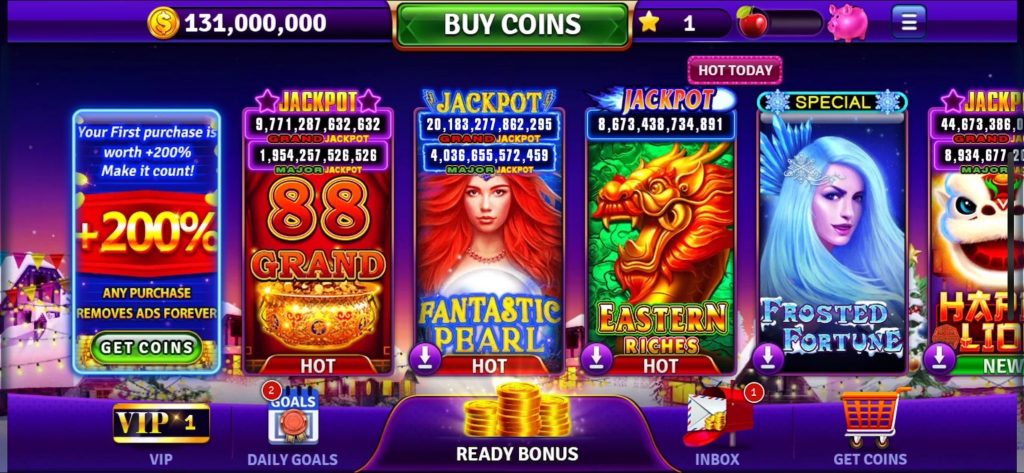 The theme of 88 Grand is Chinese New Year so it seems. Everything is very red, there are dragons and lots of money. I like the look of this certain game, despite the fact I thought Tycoon Casino – Vegas Slots looked very cheap when I first entered it.
I couldn't make out if you bet with real money or not. The whole menu was very overwhelming to start off with, I'm not going to lie.
Music
There's no music in this game, just sounds that will get you excited to win. But they disappear when you don't win and it's a massive anti-climax.
However, when you win money or free spins, there's some kind of dance music that plays which is random. But it really does make you feel like a winner. I've got to remind myself that I am not winning anything – but it is addicting!
Controls
There aren't really any controls as such apart from tapping. You tap to enter the game you want to play, and you tap spin to get going. As I said, there is an auto spin button so if you don't want to do anything then that's an option. I couldn't imagine how the controls could be any more difficult for a casino game, to be honest.
There is also an option to stop the spin cycle early, but you really have to keep yourself focused in order to get around it.
The Power of in-app Purchases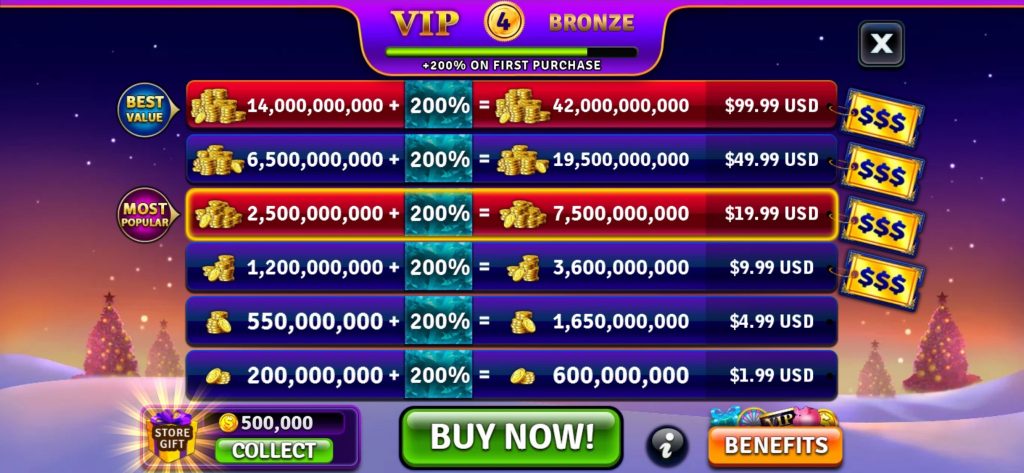 In terms of in-app purchases, there is an overwhelming amount of things you can purchase in order to make your game simpler.
14,000,000,000 + 200% = 42,000,000,000 for $19.99
6,500,000,000 + 200% = 19,500,000,000 for $49.99
2,500,000,000 + 200% = 7,500,000,000 for $19.99
1,200,000,000 + 200% = 3,600,000,000 for $9.99
550,000,000 + 200% = 1,650,000,000 for $4.99
200,000,000 + 200% = 600,000,000 for $1.99
Benefits with store purchase
Every purchase grants 3-hour power for 3 days
Earn VIP points of each purchase
Earn cash back on every purchase! Collect on Fridays
Every $9.99+ purchase in the store gives a free scratch card
All purchase activates the rebuy bonus for 24 hours
All coin purchases contribute to your piggy bank
The piggy bank is a pot that you earn through playing the game. So for example, I have banked 576,230,800 coins but I can't break the piggy bank unless you pay $4.99.
The Verdict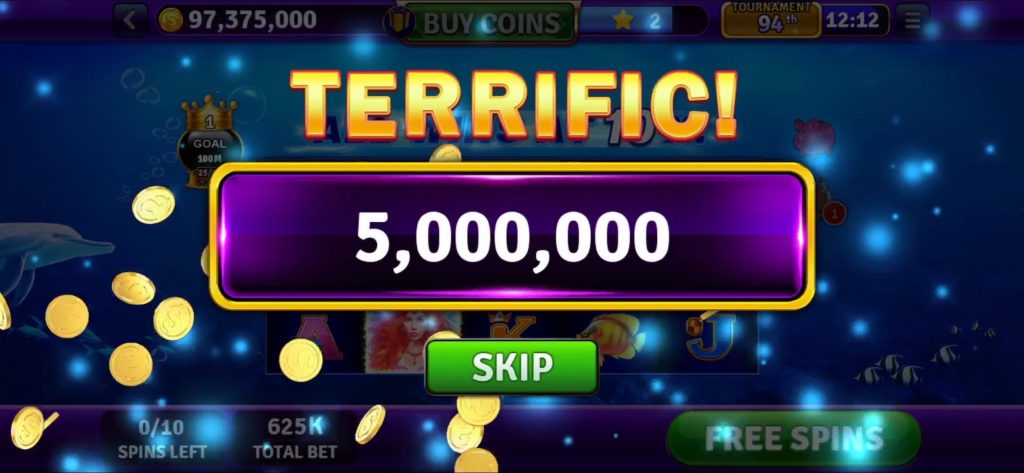 My honest opinion is that I wasn't the biggest fan of Tycoon Casino – Vegas Slots, but that isn't to say that others wouldn't like it. I'm a huge newbie to casino games so someone who understands it a lot better would definitely have more fun with it. A big negative I would say though is that there are far too many pop-ups. They're not even ads, they're just trying to get you to make in-app purchases and it's annoying. Overall, the gameplay was definitely addictive though.
If you decide to download Tycoon Casino – Vegas Slots, let us know what you think and if you agree or disagree with the things we said. Happy gaming and stay casual!
Tycoon Casino – Vegas Slots Overall Rating: 3/5
iOS Link: https://itunes.apple.com/us/app/tycoon-casino-vegas-slots/id1437618231?mt=8
Android Link: https://play.google.com/store/apps/details?id=com.tw.tycoon.casino&hl=en_GB
Company: Triwin Games
Genre: Casino
Rated: 12+
Offers in-app Purchases
About Post Author