Stealth Master
Have you only learned about these mysterious martial arts from ancient Japanese legends? Don't you think that's the less interesting way? Don't let your daily routine bore you: download the breakthrough action game Stealth Master! Test your professional assassin skills and take on the risky challenge of completing bloody missions.
Dive deep into the unique life of the best ninja ever and kill as many bad guys as you can! Countless deadly weapons, plenty of innovative features, and billions of dollars – that's just half of the totally secret world that is waiting for you right now!
First of all, the big boss is a target that's not so easy to kill . Be patient and make several attempts! Second, collect as much money as you can (actually, this is just good practical advice). Third, enemies in the game can be easily killed with a one shot. Don't waste your precious time on other parts of their bodies! And last but not least: be a good person and only fight the bad guys!
Psssst! Listen to me… Some of your friends are already on their way to becoming a ninja! What are you waiting for? Download the game and start your bloody mission!
Stealth Master Links:
iOS Link: https://apps.apple.com/us/app/hellcopter/id1508334081
Android Link: https://play.google.com/store/apps/details?id=com.gamepie.airpolice&hl=en_US&gl=US
Company: Say Games LLC
Genre: Games
Rated: 12+
Offers in-app Purchases
Hey Casual Gamers!  We all need that one casual app that's to the point and is all about points.  Stealth Master offers silent killing with a healthy does of ads.  Is this casual app worth your time?  Lets dive into this casual review and find out!
Gameplay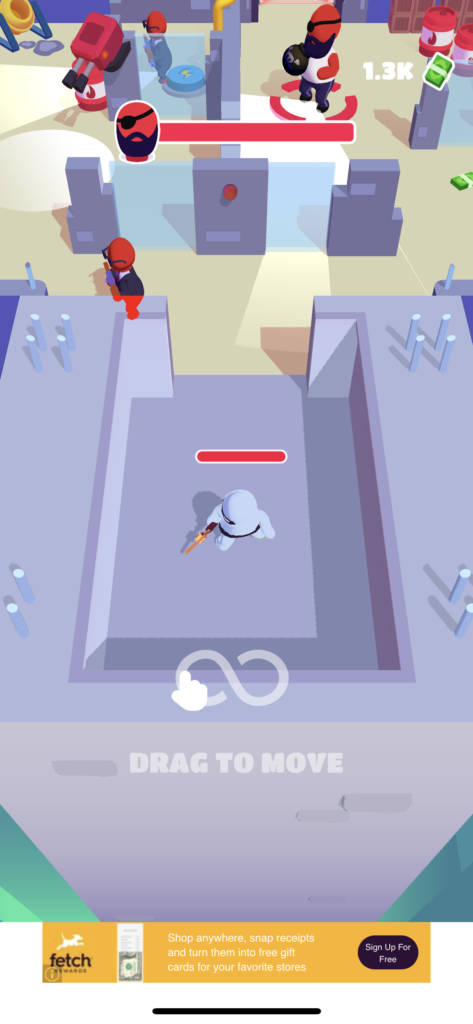 Stealth Master is a pretty straightforward casual app.  As a random ninja, you must silence your opponents and head towards the elevator.
As long as you stay out of the cone of vision you will not be detected.  Thankfully, it's a rather simple approach and quick levels make this very casually friendly.  The early levels feel almost like a joke, but as you progress, the bots become more aware of your path.
Graphics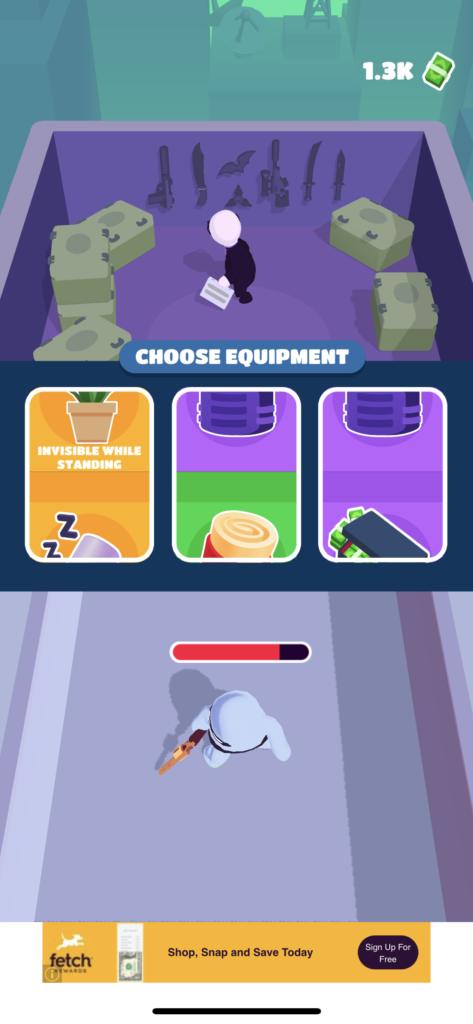 Stealth Master's graphics are on par.  It's not the worst graphics out there, but they do just enough to get over the bar of bad.  Some of the explosions are pretty cool, but not being able to interact with explosion barrels, outside of sniping an enemy close to one, seems like a miss.
Running into objects will slightly break them, but it's just meh at best.  What's meh you say?  That's my way of explaining something moderate enough to keep my attention.
Music & Sounds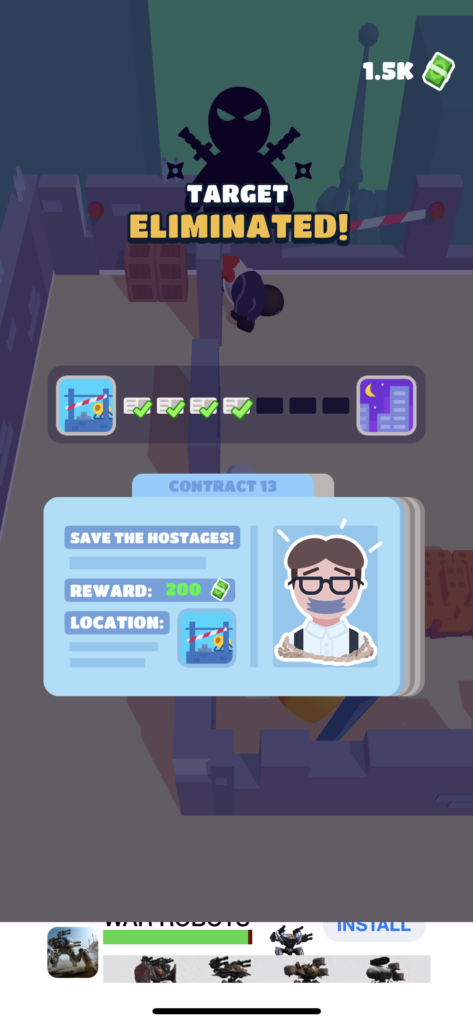 Stealth Master can be played completely silent and you wouldn't miss much.  To be honest, there's not much going on in the sound department.  There's a few sound effects here and there, but even the level music is meh at best.
Controls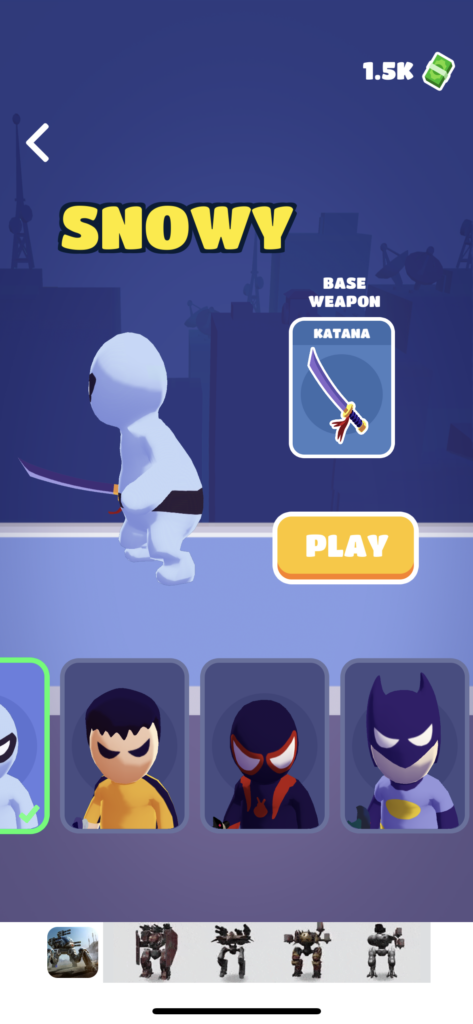 Stealth Master has some rather lazy control issues.  Understandably,  there's just moving in the game, but when you get weapon upgrades, namely guns and rifles, there's no aim or any other button to press.  Just walk up to get in range, and if you're lucky, fire a shot before you get noticed.
While the simplicity of just using one hand is appreciated, I feel that there should be a bit more to gauge your shots.
The Power of in-app Purchases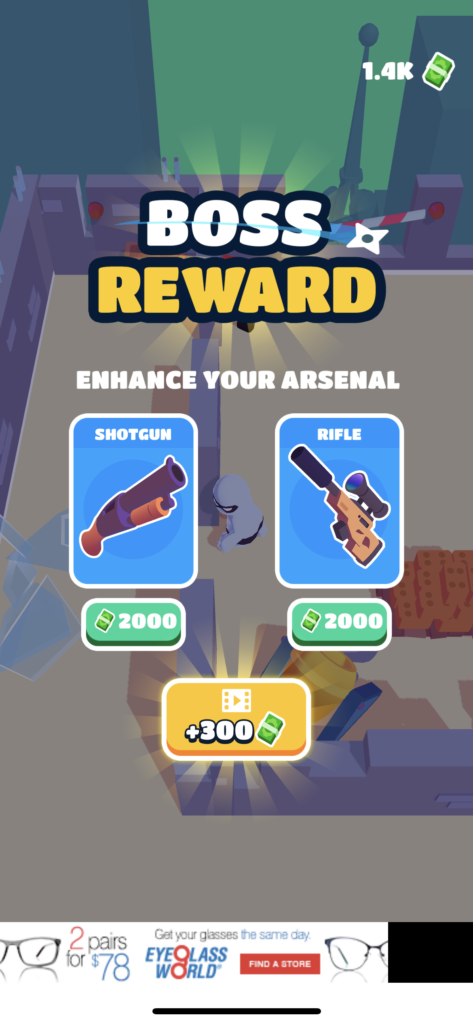 Thankfully, Stealth Master is not a money pit.  There's not even an in-game store!
That said, Stealth Master is a commercial fiesta.  Most ads will triple your money from completing a level, but I really wish there was a way to turn off the ads.  if there was anyway to make that happen, I would play more.
This is not to say that it's not playable without paying, but it would make a difference when you grind.
The Verdict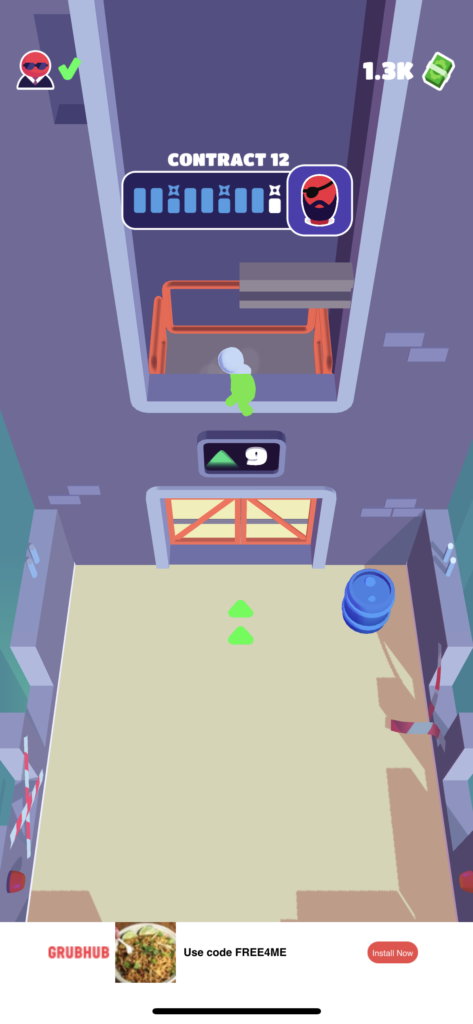 Overall, Stealth Master is decent enough to keep on your phone.  There's tons of ads to take the face, but the action is decent enough to put your phone down for 30 secs and get back into the action.
If you want a casual app that can kill boredom in 30 seconds, this is your app to play!
On contract 99 and want to show off?  Drop a line in the comments below and let us know how you made it!
Happy gaming, and as always, stay casual!
Stealth Master Overall Score: 3/5
Stealth Master Links:
iOS Link: https://apps.apple.com/us/app/hellcopter/id1508334081
Android Link: https://play.google.com/store/apps/details?id=com.gamepie.airpolice&hl=en_US&gl=US
Company: Say Games LLC
Genre: Games
Rated: 12+
Offers in-app Purchases
About Post Author