https://www.youtube.com/watch?v=0WJ5SXsqFqY&feature=youtu.be
Potion Punch 2 Review!
"Go on a brand new cooking adventure in the fun fantasy world of Potion Punch 2!
Join Lyra, a determined young alchemist, on an epic magical quest to cure her mentor Noam's mysterious gnomified condition.
Play as a traveling shopkeeper and run an assortment of shops; from fantastical taverns, mystical restaurants, and enchanted diners, to every magical item shop in between. A new and exciting gameplay experience awaits you in every chapter!
FUN FANTASY COOKING ADVENTURES
Journey around the world and discover a new way to play in each location.
Combine ingredients in a dash to cook delicious food and create fantasy items.
Test your time management skills across many addictively fun levels and game modes.
Master fresh and original cooking game mechanics such as color mixing and more.
A GROWING CAST OF UNIQUE CHARACTERS
Win the heart of your customers and turn them into loyal patrons.
Throw epic parties to attract, collect, and unlock new adventurers.
Discover their stories and reap the benefits of the bonds you build.
STRATEGIC UPGRADES AND DECORATIONS
Decorate and renovate to increase your shop's popularity in each location.
Upgrade your equipment to survive the frantic kitchen craze and maximize your profits.
Do it your way and choose the right upgrades for your play style.
HEROES VS VILLAINS
Summon legendary heroes and use their magic to overcome numerous challenges.
Defend your shop against dastardly villains who are up to no good."
Potion Punch 2 Links:
iOS Link: https://apps.apple.com/us/app/potion-punch-2/id1463550435
Android Link: https://play.google.com/store/apps/details?id=com.monstronauts.potionpunch2&hl=en_GB
Company: Monstronauts Inc.
Genre: Cooking Game
Rated: 4+
Offers in-app Purchases
Gameplay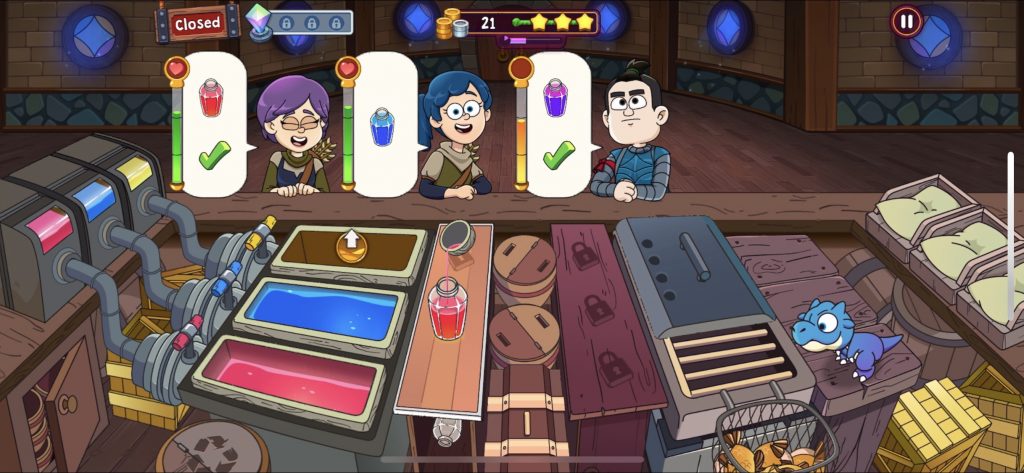 I thought I had seen every cooking game on the market, and they're all pretty similar when it comes to the actual plot. You get left a restaurant by a dead relative, and it's your job to revive it – it usually goes something like that. But with Potion Punch 2, it's slightly different because it's set in the medieval times and you're initially selling potions.
There are colored potions (pink, blue, and yellow) and you can mix them up to make different potions that your customers might want. Once you've made a few potions, you then move onto food and it gets progressively harder as you add more foods.
Graphics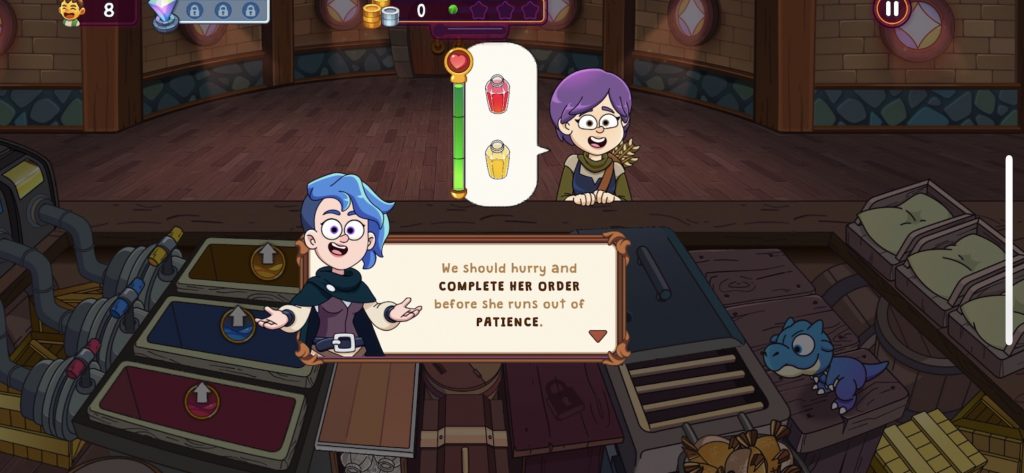 When it comes to Potion Punch 2 visually, I knew I recognized it from somewhere. The characters look the exact same as the ones on Hustle Castle: Kingdom Game. As they're made by different developers, I don't think they're linked in any way, but I'm very surprised by how similar they are.
Apart from that weird similarity, I liked the graphics and style of Potion Punch 2.
Music & Sounds
The music is definitely based around the medieval times with the customers saying "hi" and "yay" as they appear and leave. The faster you complete their order, the more enthusiastic they'll sound. Like I say with most games of a similar genre, the music and sounds do get annoying after a while.
Controls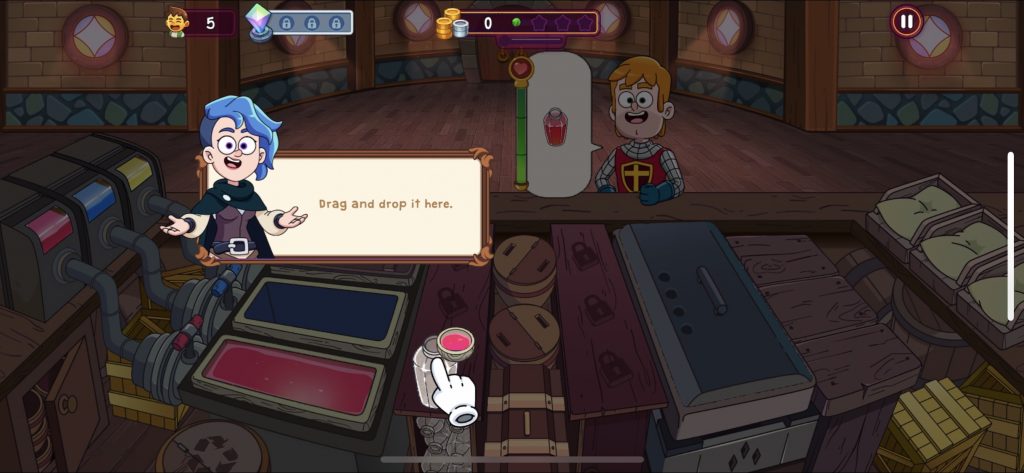 When a customer places an order, you have to click on that item, wait for it to fill up and then drag it to them. Once they've walked away and left their money, you have to tap to pick up the money otherwise new customers can't come in. The controls are super simple, easy to follow and they're pretty similar to other games in the same genre.
The Power of in-app Purchases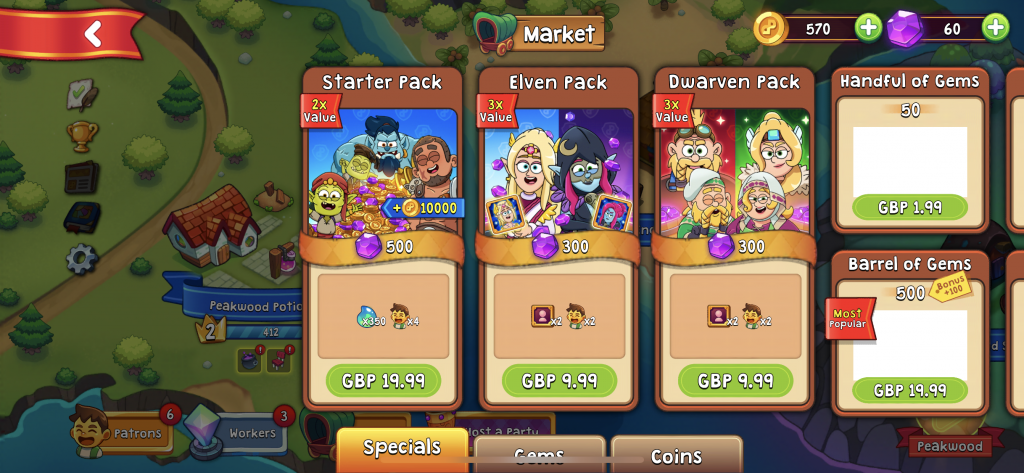 Specials
Starter Pack for £19.99
Elven Pack for £9.99
Dwarven Pack for £9.99
Gems
50 gems for £1.99
125 gems for £4.99
250 gems for £9.99
500 gems for £19.99
1250 gems for £48.99
2500 gems for £99.99
10 gems by following on Instagram, Facebook, and Twitter
Coins
1500 coins for 30 gems
4500 coins for 80 gems
12000 coins for 200 gems
100 coins by watching an ad
The Verdict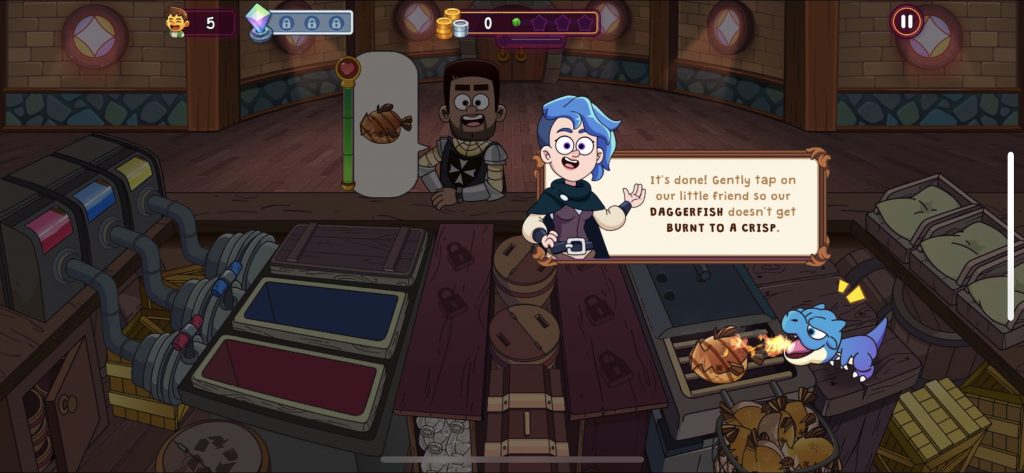 As I've mentioned before, cooking is definitely one of my favorite genres when it comes to app games. Potion Punch 2 is definitely going to stay on my phone for the time being as I found it super addicting – and I am pretty sure you will too.
If you decide to download Potion Punch 2, let us know what you think and if you agree or disagree with the things we said. Happy gaming and stay casual!
Potion Punch 2 Overall Rating: 4/5
iOS Link: https://apps.apple.com/us/app/potion-punch-2/id1463550435
Android Link: https://play.google.com/store/apps/details?id=com.monstronauts.potionpunch2&hl=en_GB
Company: Monstronauts Inc.
Genre: Cooking Game
Rated: 4+
Offers in-app Purchases
About Post Author