Fishdom Review!
"Never Fishdomed before? Then take a deep breath and dive into an underwater world of match-3 fun!
Engage in challenging and fun match-3 gameplay with unique twists as you decorate tanks to create cozy homes for your lovely fish. Feed them, play with them, and watch them interact with each other. Hey, your finned friends are waiting for you—SO DIVE IN NOW!
Features:
 Unique gameplay: swap and match, design and decorate, play with and take care of fish—all in one place!
 Hundreds of challenging and fun match-3 levels
 Get to explore an exciting aquatic world with amusing 3D fish, each of which has its own personality, that you'll be excited to meet!
 Fish tanks you can liven up with breath-taking underwater decor
 Amazing graphics all yours once you grab your scuba mask
 Buddy-diving time: play with your Facebook friends!"
iOS Link: https://itunes.apple.com/gb/app/fishdom/id664575829?mt=8
Android Link: https://play.google.com/store/apps/details?id=com.playrix.fishdomdd.gplay&hl=en_GB
Company: Playrix Games
Genre: Puzzle
Rated: 4+
Offers in-app Purchases
Match-3 games, you either love them or you hate them. We love them… but only when there's more to do than just matching 3 blocks. Let's see what Fishdom is all about then…
Gameplay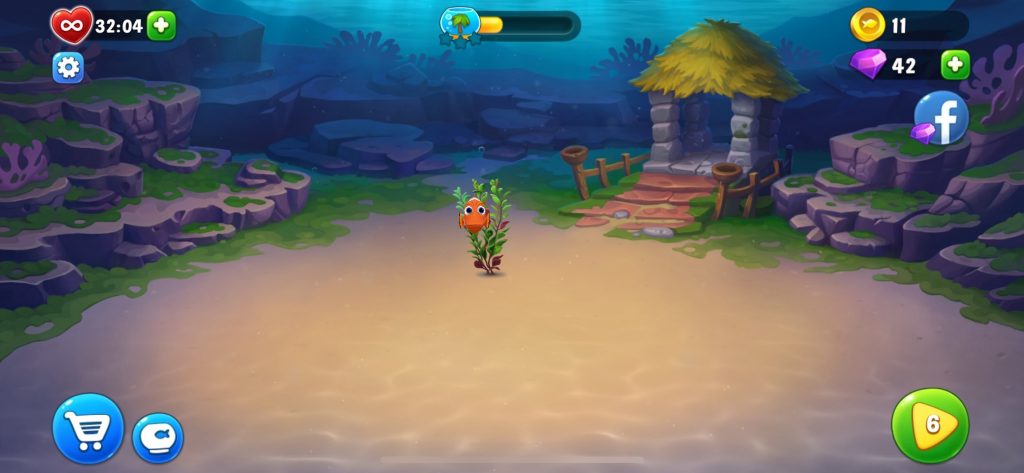 If you're used to playing match-3 games, Fishdom will feel very familiar to you. However, there is something extra to it. So, you play your average match-3 level, matching as many blocks as you can until you run out of moves. Once you complete the match-3 level, you're rewarded with money and with that money you can purchase a fish or decorations for your tank. The match-3 levels do get pretty hard but it's also very addicting and rewarding when you manage to purchase a new fish.
Graphics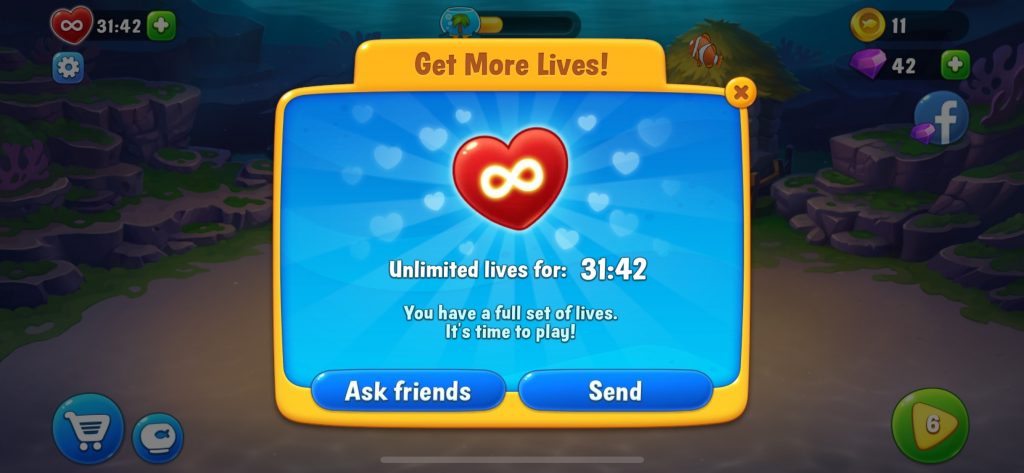 Fishdom's graphics are fun, playful and colorful. This is definitely a game for all ages and genders, however more for children and women. I like how everything is so bright – there is no lagging and the app doesn't crash. There's no pixelated images or badly made characters – everything as far as visuals go seem perfect.
Music
When you're in the tank, there is some kind of tropical music going on to fit into the music of being under the sea. However, when you're in the match-3 game the music turns into your more average "app game music". Matching blocks and winning a level adds extra sounds along with when your fish talks, there is a pop-up noise, however, they don't actually say any words. I think it would be cool if the fish all had their own individual voices. But, I can also see why that wouldn't be a feature on a free game.
Controls
Fishdom's controls, like any other match-3 game, is based on dragging your blocks to match them together. It's not something that'll take a whole tutorial to get used to – after a while I wanted the damn tutorial turtle to leave.
The Power of in-app Purchases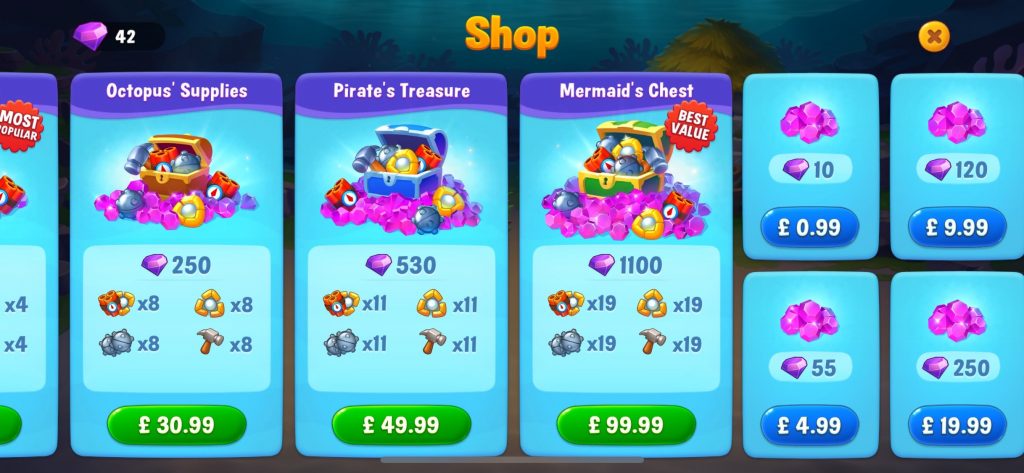 Fishdom's shop is where you can purchase packs, gems, and power-ups. There's no way to skip forward but the items you can purchase in the store certainly do help. Here are a few things you can purchase in the store:
Packs
Wonderous Collection – 15 gems and 3 power-ups for £1.99
Hatchling's Cache – 55 gems and 6 power-ups for £6.99
Crab's Finds – 120 gems and 16 power-ups for £15.99
Octopus' Supplies – 250 gems and 32 power-ups for £30.99
Pirate's Treasure – 530 gems and 44 power-ups for £49.99
Mermaid's Chest – 1100 gems and 76 power-ups for £99.99
Gems
10 gems for £0.99
55 gems for £4.99
120 gems for £9.99
250 gems for £19.99
530 gems for £38.99
1100 gems for £69.99
The Verdict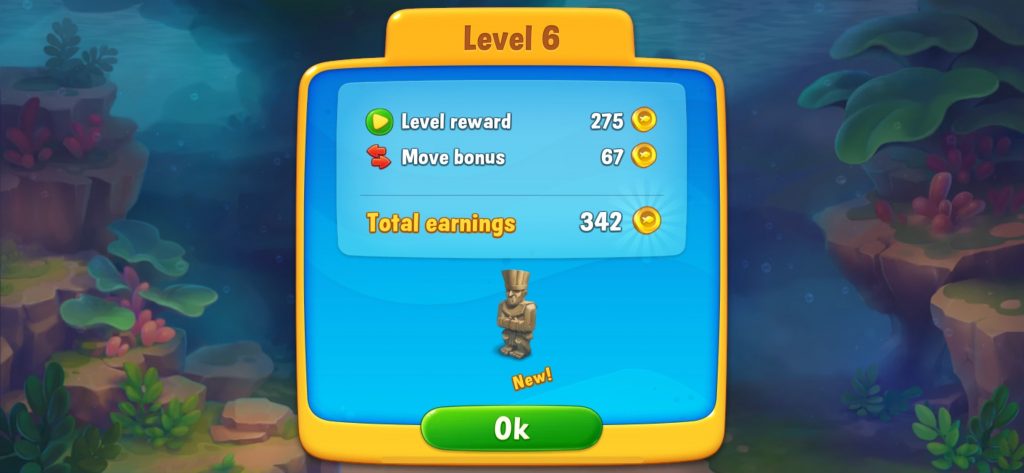 If you're looking for a quick game to play to kill some time, this is for you. Like Gardenscapes or Wonka's World of Candy, it's a very simple game to play where you match-3 and it will keep you addicted for hours (or until your lives run out).
Of course, Fishdom isn't anything new or original in the slightest, however, I do like the rewarding feeling of collecting the fish and taking care of them. There's a lot of these games around on the app store so it can be hard to decide which one is for you. But I definitely liked this one and I will continue playing.
Fishdom Overall Rating: 3/5
iOS Link: https://itunes.apple.com/gb/app/fishdom/id664575829?mt=8
Android Link: https://play.google.com/store/apps/details?id=com.playrix.fishdomdd.gplay&hl=en_GB
Company: Playrix Games
Genre: Puzzle
Rated: 4+
Offers in-app Purchases
About Post Author