Zombie Blast Crew Review!
"The Blast Crew update is finally here. Pick your favorite survivor and use their unique stats, skills, and weapon to define your own playstyle. Agile Karen's flamethrower? Bulky Bill's shotgun? All up to you!
It has been 11 months since the infection started. Everyone fled the cities, mass panic in the streets. The zombies took over our towns, our buildings, our block. Now we sleep outside while they roam our streets.
We waited on the army, and the army didn't come, so we picked up sniper guns. We waited on a hero, and a hero didn't come, so we were left to survive. Now we're done waiting. Will you lead us in the face of (not really) certain doom?
We've organized into hunting parties, to take our block back and push the evil residents away. We officially declare that from today onwards, our city is a Zero Z Zone. We're the Zombie Blast Crew. We crush the infected. Join the team."
Zombie Blast Crew Links:
iOS Link: https://apps.apple.com/gb/app/zombie-blast-crew/id1455256869
Android Link: https://play.google.com/store/apps/details?id=com.vividgames.modernpioneer&hl=en_GB
Company: Vivid Games S.A
Genre: Strategy
Rated: 9+
Offers in-app Purchases
Gameplay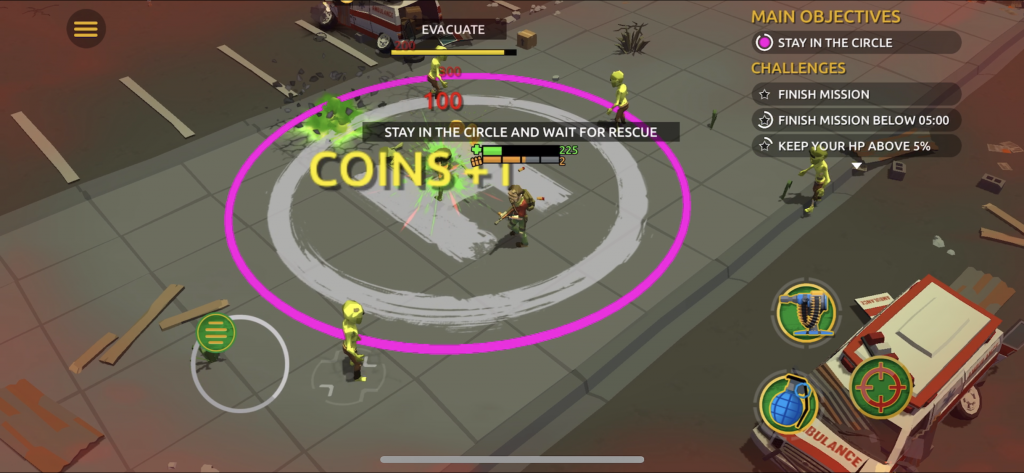 A zombie apocalypse has been going on for 8 months, and the main character (you) in the game has taken it upon themselves to kill all the zombies and get back their city. When I first entered the game, I was told to follow the arrow, finding zombies and other obstacles on the way. Once I had completed all the main objectives on the right-hand side of the screen, I had to go to the pick-up point where I had to stay in the middle of the circle while fighting off anything that attacks me.
The gameplay is definitely addicting, I won't deny that, but there are a lot of zombie apocalypse games on the market. How will Zombie Blast Crew differ from others with graphics, music, and controls?
Graphics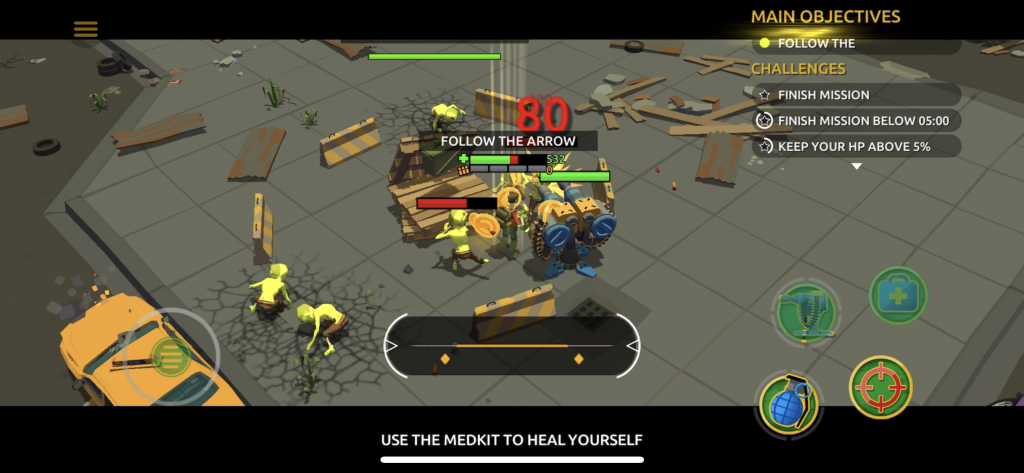 The birds-eye point of view makes it much easier for you to see if zombies are coming after you and where exactly the circles are on the map. If Zombie Blast Crew was in first-person or third-person, it wouldn't work quite the same and would be harder to play – which isn't necessarily a bad thing!
The graphics are pretty simple with not much added to them, but I feel as if this was done on purpose judging by other similar games I've seen.
Music & Sounds
In terms of sounds and music, there's quite a lot going on from the shooting to the grunts the zombies make as they're running after you. It's pretty disgusting and gets annoying. I can only assume there's a button to turn it off, but getting engrossed in the gameplay happens quickly.
Controls
The controls consist of moving the joystick around to run, following the arrow as you do so. Approaching any zombies, you tap the button on the right-hand side of the screen to shoot at them. As time goes by, you're given better attacks that come in handy as you're trying to escape the clan.
I like the simplicity of the controls, although I would prefer automatic shooting.
The Power of in-app Purchases
Offers
Welcome Offer for £4.99
Extreme Offer £19.99
Chests
Free chests daily
Big chest for 55 gems
Mega chest for 130 gems
Cards
Michael x20 for 1000 coins
Frag Grenade x20 for 1000 coins
Gun Turret x20 for 1000 coins
Coins
50 coins for free
2500 coins for 55 gems
9000 coins for 160 gems
27500 coins for 400 gems
80000 coins for 1000 gems
250000 coins for 2750 gems
Gems
5 gems for free
60 gems for £1.99
200 gems for £4.99
500 gems for £9.99
1200 gems for £19.99
3500 gems for £48.99
The Verdict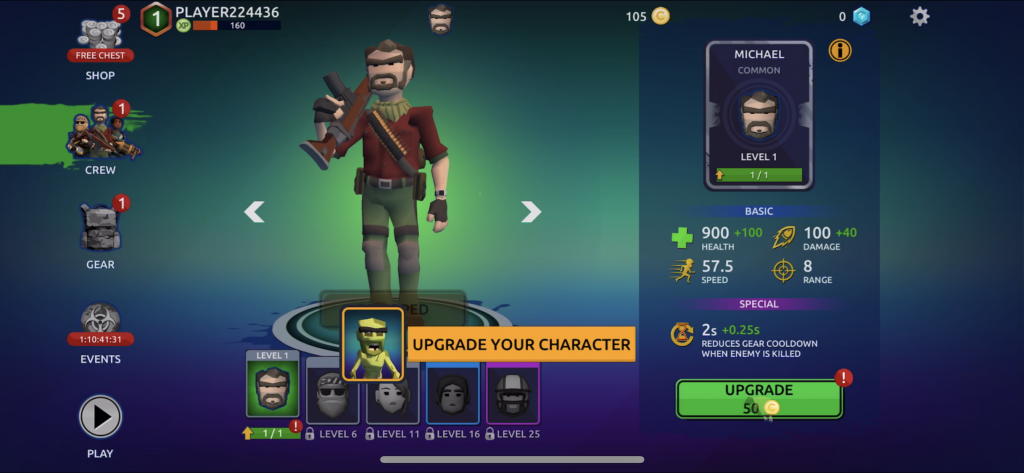 Zombie Blast Crew is definitely a fun game to play, with great graphics and even better controls. I found myself playing level after level without any hesitation. The only problem is, there isn't anything particularly unique to this as a zombie apocalypse game. That being said, I would definitely play this again.
If you decide to download Zombie Blast Crew, let us know what you think and if you agree or disagree with any of the things we said. Happy gaming and stay casual!
Zombie Blast Crew Overall Rating: 3/5
iOS Link: https://apps.apple.com/gb/app/zombie-blast-crew/id1455256869
Android Link: https://play.google.com/store/apps/details?id=com.vividgames.modernpioneer&hl=en_GB
Company: Vivid Games S.A
Genre: Strategy
Rated: 9+
Offers in-app Purchases
About Post Author