Worms Zone.io
Open Worms Zone and join the battle of brave worms in an enormous arena!
Grow your worm to be the largest and earn yourself a champion's title. And don't forget, a champion must stand out from the crowd. Choose a skin for your worm in the wardrobe or create your own cool design.
There are several tactics for becoming a champion: "fighter", "trickster", or "builder". Which will you be?
Regardless of the tactics you choose, there is one simple rule to remember: if you collide with an opponent — you lose! But if you manage to encircle the enemy you not only eliminate them but also steal all the tasty treats they'd picked up from them.
There are also different bonuses in the arena that improve your worm's stats. Use them wisely, and they will help you achieve your desired goals! Good luck, little worm!
Worms Zone.io Links
iOS Link: https://apps.apple.com/us/app/wormszone-io-hungry-snake/id1357967682
Android Link: https://play.google.com/store/apps/details?id=com.wildspike.wormszone&hl=en_US&gl=US
Company: Azur Interactive Games Limited
Genre: Games
Rated: 4+
Offers in-app Purchases
Hey Casual Gamers!
Ever been ready for bed but your casual gaming brain is still on solving puzzles and levels?  Worms Zone.io might be that fix to give you the high score needed to drift away.
This casual app is easy to play, simple to master, and suprisingly competitive!  Ready to see if this is worth your casual phone space and time?
Gameplay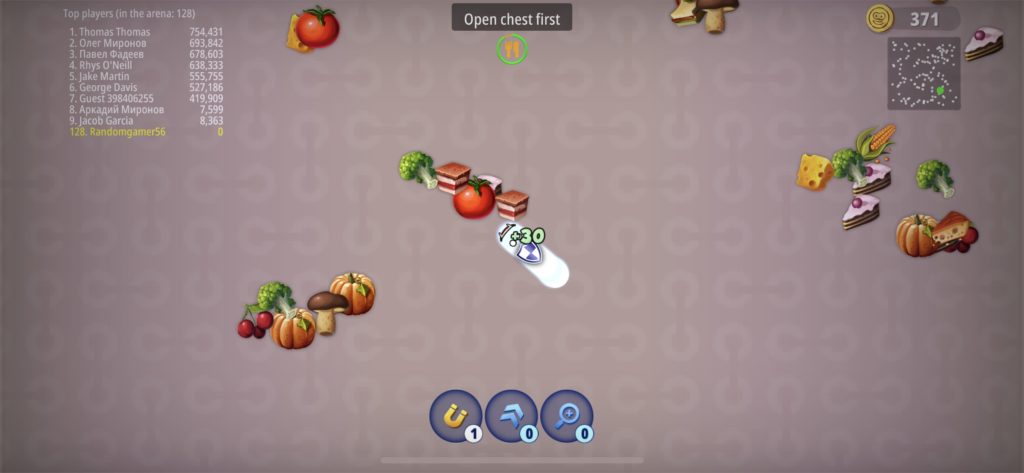 The Gameplay for Worms Zone.io is casually simple.  Players start off as a worm on a table full of food!  The more food consumed along the way, the bigger the score and the worm.
The worm with the biggest score sits high above a leaderboard and probably the biggest body on the board.  But fear not!  The reason Worms Zone.io becomes a competitive race to live is becasuse there's at times 50 other worms on the same table looking to do the same thing!
Should you run into another player's body it's game over and your body is converted back into food, feeding the killer so they can grow bigger.  Alternatively should a player run into your worm, then the bigger the kill, the bigger the feast had.
Who knew that life could be explained in such a casual app?
Graphics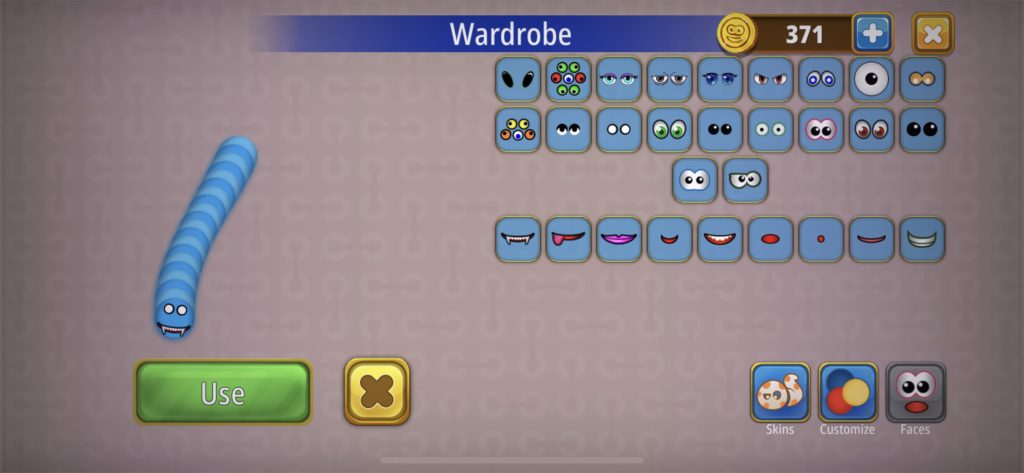 Worms Zone.io has boast looks that will entice you to keep playing!  Everything is customizable and pleasing to look at sometimes.
There's usually not the best combo of playablity and good looks when it comes to app games, but Worms Zone.io has found a sweet spot for casual gaming.
Not that the entire game seems to overburden graphic cards or anything, but it is nice when a casual game has some nice polish.
Music & Sounds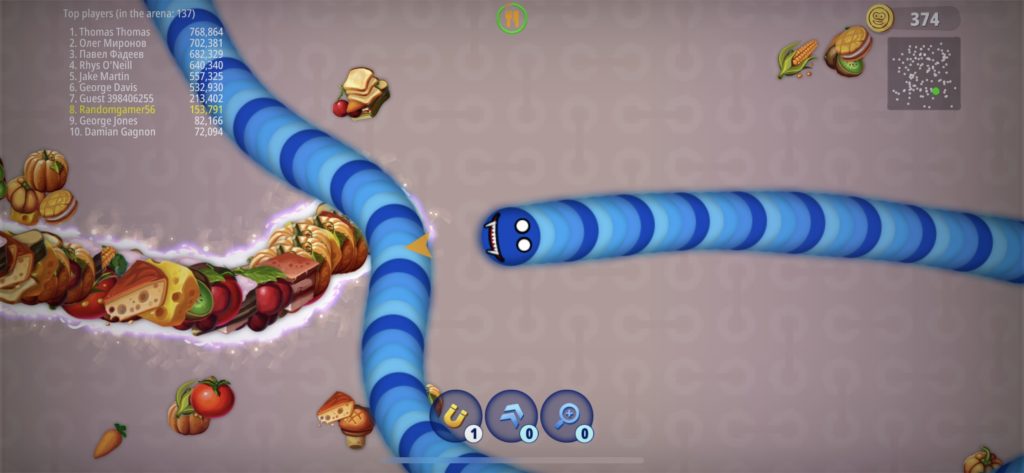 I'll have to be honest, there's no real reason to turn the sound on Worms Zone.  There's a looping theme song but outside of the minimal sounds effects, it's pretty meh.
I mean there's really not a need for epic music for this casual app, so take what i'm saying with a bit of salt.
Worms Zone.io is littered with a few ad bombs here and there, and they can sometimes be loud cus, ads work better when they scream at you I guess.
Controls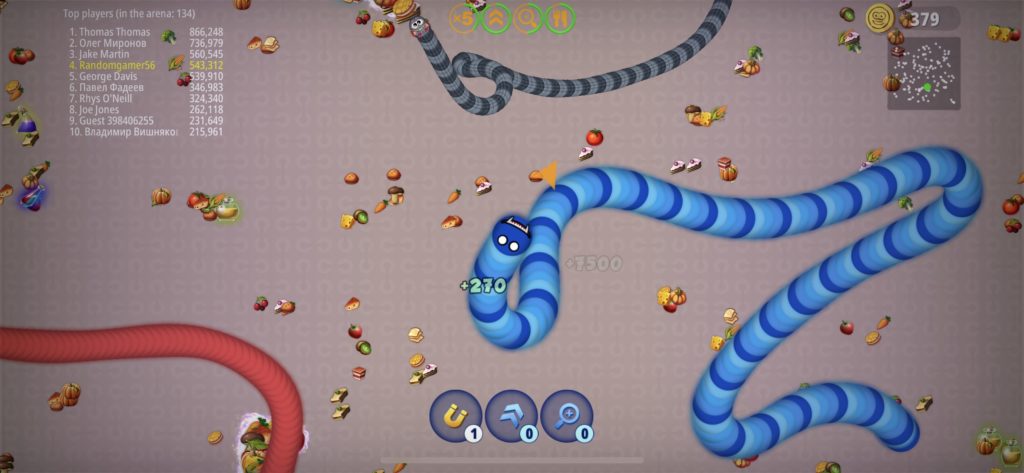 For something that promotes Worm murder and eating, the controls are rather simple.  Just move a thumb or finger in any direction and the worm will follow.
There are a few power ups that will help gather food or increase speed to help along the way.  There is a natural way to speed up by tapping the phone and holding down, but it will come at a cost of body weight.
Overall simple controls leads to better focus on killing…and not being killed!
The Power of in-app Purchases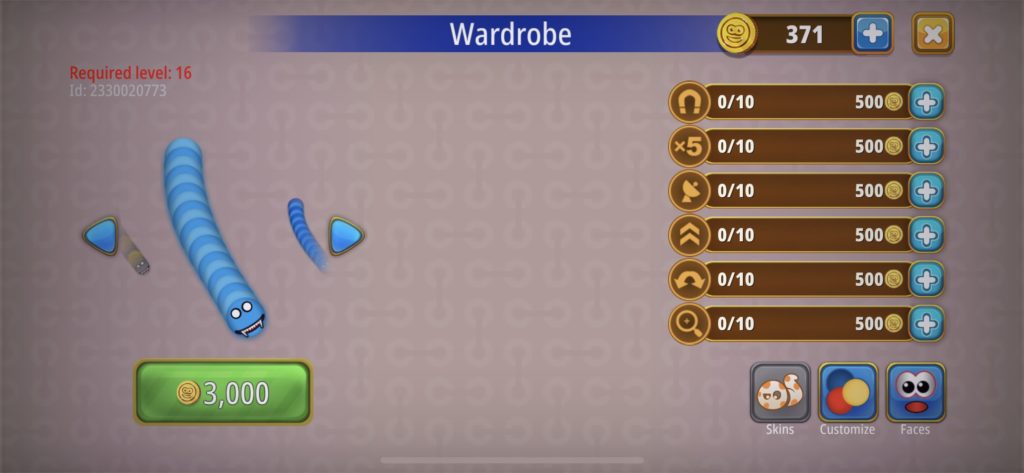 Now this is a casual app that you pay for nothing but skins.
Thankfully there is a sale to remove ads for 2.99, but there's exceptions.  This will get rid of the ads during the game (sometimes) and at the end of a game.  Ads will still play when getting rewards.
To me that's kinda of a letdown.  Removing ads should also remove the ads when collecting rewards!
Outside of that, theres skins that can be purchase.  Worm Zone.io offers interesting skins, but some of the prices seem a bit much.
Should bundles of a few skins ever be a thing, it would be worth the purchase!
The Verdict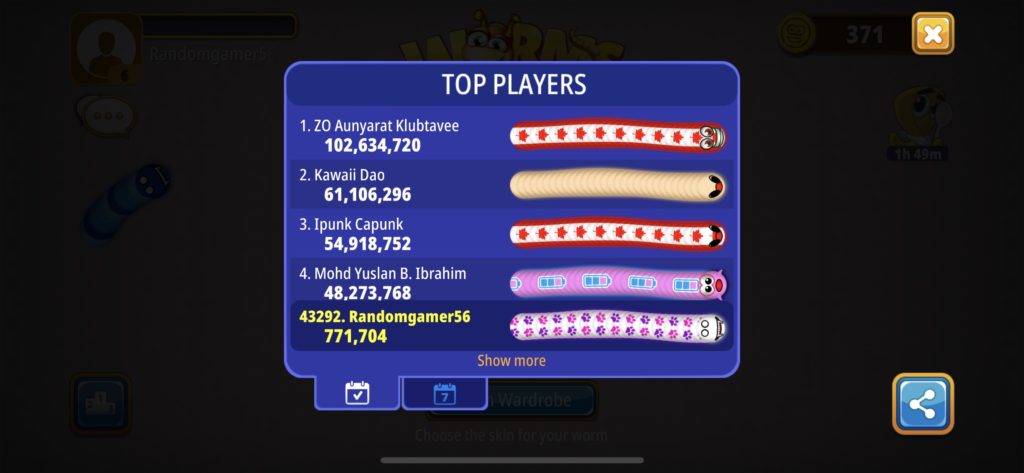 Overall, this is a solid keep on my phone and tablet!  I don't play everyday, but when it's time to grind a few sessions it's highly enjoyable.
Simple controls, good visuals and a soundtrack that pretty chill makes Worms Zone.io an enjoyable escape from reality.  That is until someone hooks you unexpectdly.
Already at the top of the leaderboard and want to show off?  Drop a comment in the section below and tell us about your greatest glory!
Happy Gaming, and as always, keep it casual!
 Worms Zone.io Overall Rating: 4/5
Worms Zone.io Links
iOS Link: https://apps.apple.com/us/app/wormszone-io-hungry-snake/id1357967682
Android Link: https://play.google.com/store/apps/details?id=com.wildspike.wormszone&hl=en_US&gl=US
Company: Azur Interactive Games Limited
Genre: Games
Rated: 4+
Offers in-app Purchases
About Post Author