Wordle Review!
"Are you a word games master? Whether you are a fan of classic crossword puzzles or are just hopping on viral new word game trends, Wordle! will get you thinking. Take on daily brain teasers and train your mind with our fun word games.
With several unique game modes, Wordle! will challenge your mind and spelling skills. Want a fun and viral challenge? Try 6 Guesses mode, where you will have to find out the word with only 6 guesses. Each time you get a letter correct, the tile will turn yellow if it is in the word or green if it is in the right spot. It's just like the viral word game, but on your phone!"
iOS Link: https://apps.apple.com/us/app/wordle/id1095569891
Android Link: https://play.google.com/store/apps/details?id=com.vottzapps.wordle&hl=en_GB&gl=US
Company: Goldfinch Studios
Genre: Word Games
Rated: 12+
Offers in-app Purchases
Gameplay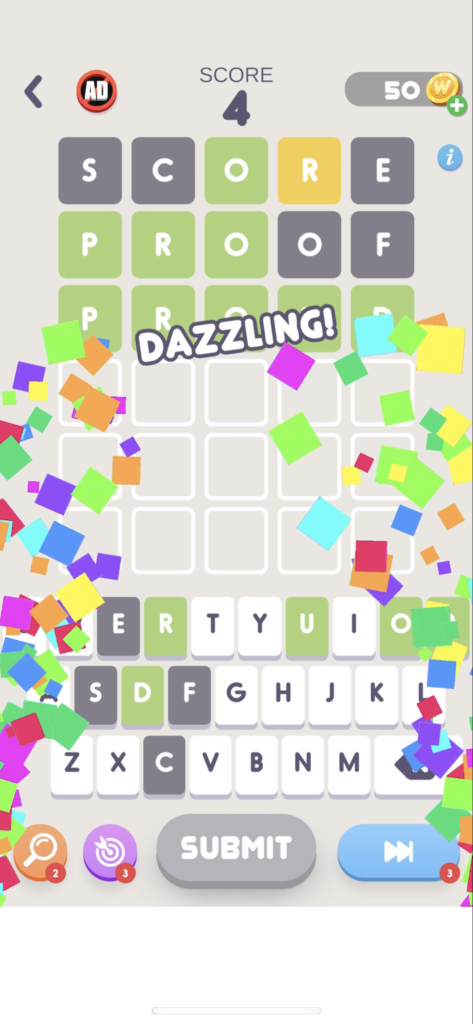 Without a doubt, you've heard of Wordle by now… The original game isn't actually an app but a game available on the NY Times website.
However, with the original version, you only get one Wordle a day and it's the same for everyone. Don't worry, if that isn't enough, there's an array of apps that'll allow you to play all day long if you like!
Rules: 
Guess the Wordle in six tries. 
Each guess must be a valid five-letter word. After each guess, the color of the tiles will change to show how close your guess was to the word. For example, if any of the letters turn green, they're in the right place and if they turn yellow, it's a correct letter but not in the right place. If any of the letters are grayed out then it's not in any spot! 
The rules are the same for this app game, except you can play as many levels as you want that add up to your high score!
Graphics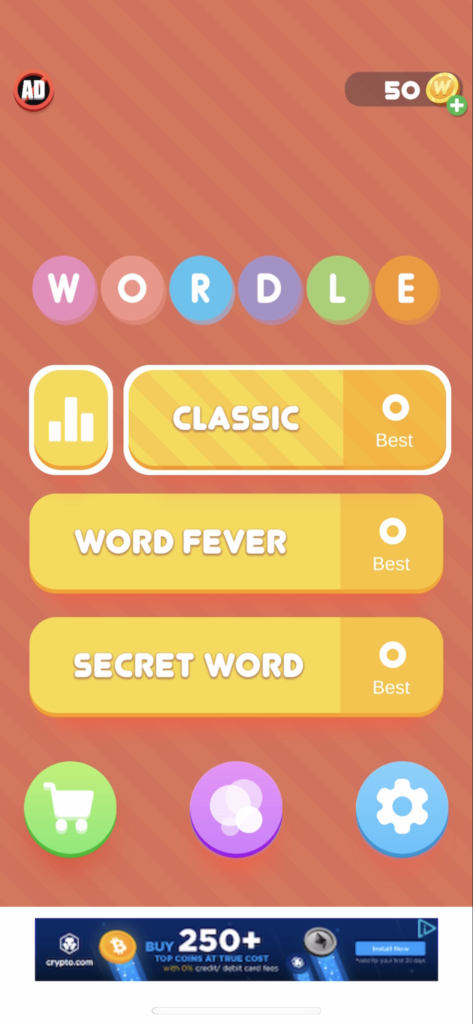 The graphics are pretty basic but perfectly acceptable for a word game as you don't want it to get too busy.
Music & Sounds
This game is almost completely mute with the exception of a few noises as you make the words. I don't mind this as you really have to concentrate so I'd rather it have no sound than generic music playing in the background!
Controls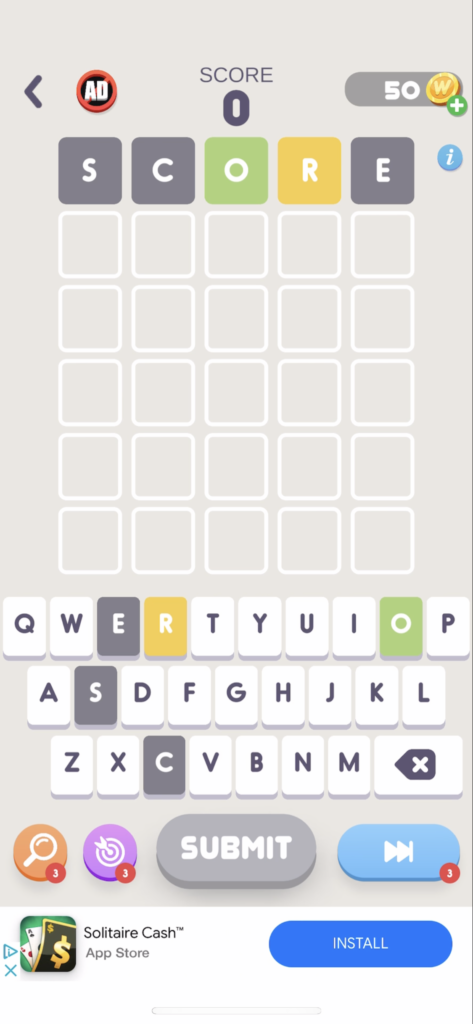 At the bottom of the screen, there's a keyboard, and you simply type when it comes to guessing a word! There are also a few power-ups at the bottom that'll help you if you get stuck!
The Power of in-app Purchases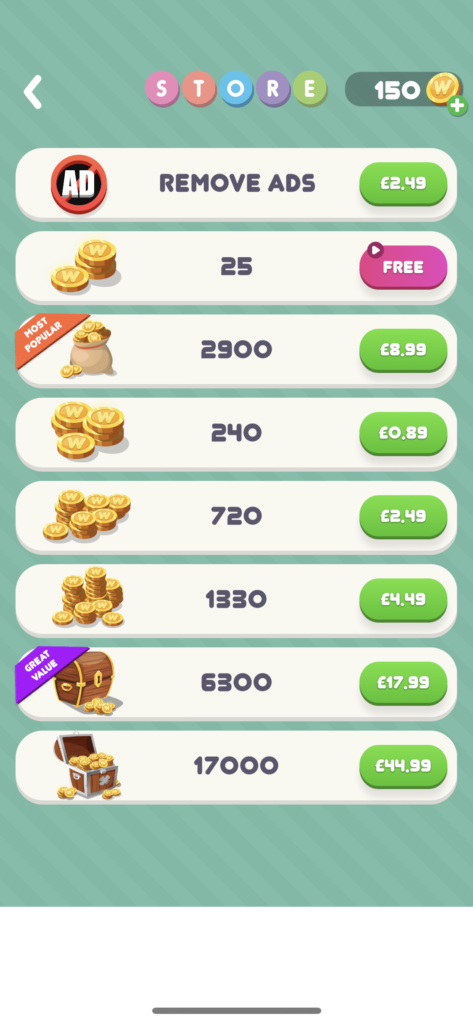 Remove Ads
Remove all ads for £2.49
Coins
25 coins for free if you watch an ad
2900 coins for £8.99
240 coins for £0.89
720 coins for £2.49
1330 coins for £4.49
6300 coins for £17.99
17000 coins for £44.99
Similar Wordle Games – How do they Compare?
There's an insane amount of similar games on the app store, but we thought we'd check out a few more to see how they compare to the original…
Word Guess
iOS Link: https://apps.apple.com/us/app/word-guess-word-games/id1603978681
Android Link: Currently unavailable
The gameplay on this one is super basic. In fact, it looks the most familiar to the NY times version. There are no power-ups or even in-app purchases available. On top of this, there's a bonus game called Word Connect which is very similar to Word Cookies.
PuzzWord
iOS Link: https://apps.apple.com/us/app/word-games-puzzword/id1602799021
Android Link: Currently unavailable
PuzzWord, again, consists of a very simple board with no power-ups to help you. However, there are in-app purchases to unlock all game modes. The game modes are:
Easy (4-letter words)
Normal (5-letter words)
Hard (6-letter words)
Impossible (7-letter words)
Celebrity (Celebrity names and variable word lengths)
Places (Cities, states, and countries from around the world)
Wordful
iOS Link: https://apps.apple.com/in/app/wordful/id1604429350
Android Link: Currently unavailable
This is another one where there's just a board with no power-ups. However, you can switch between normal mode and 10-sec challenge. The 10-sec challenge is where you have to input the word within 10 seconds, instantly making the game harder. You can also pick whether you want the level to be 5 words, 6 words, or even 7 words.
The Verdict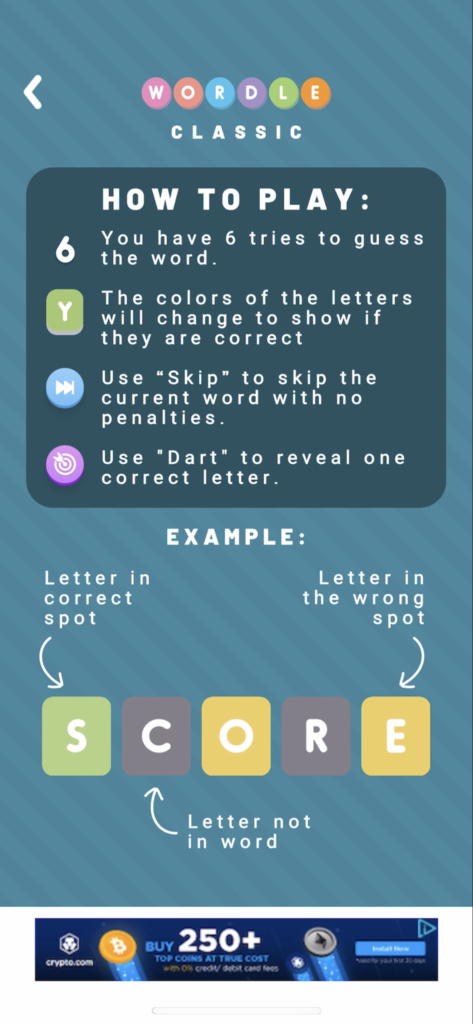 I can understand why this game has taken the internet by storm, however, it's not for me. I'm not a fan of games where I have to do too much thinking, especially when it comes to word games. Of course, there has to be a level of difficulty but with this gameplay, you guess from absolutely nothing. No clues. No nothing.
If you decide to download Wordle, let us know what you think and if you agree or disagree with any of the things we said. Happy gaming and stay casual!
Wordle Overall Rating: 3/5
iOS Link: https://apps.apple.com/us/app/wordle/id1095569891
Android Link: https://play.google.com/store/apps/details?id=com.vottzapps.wordle&hl=en_GB&gl=US
Company: Goldfinch Studios
Genre: Word Games
Rated: 12+
Offers in-app Purchases
About Post Author