Word Cookies Review!
"The Best word searching puzzle game "Word Cookies" is here! Word Cookies is a simple yet, exciting word searching puzzle game that literally makes you keep playing!
Are you ready to find all the delicious word cookies at your kitchen oven?
Embrace your brainpower as you discover the words. The aim of the game is to find all of the hidden Words. With this game, you can easily improve your vocabulary, concentration and spelling skills."
Word Cookies Links: 
Company: BitMango
Genre: Puzzle Word Game
Rated: 4+
Offers in-app Purchases
Gameplay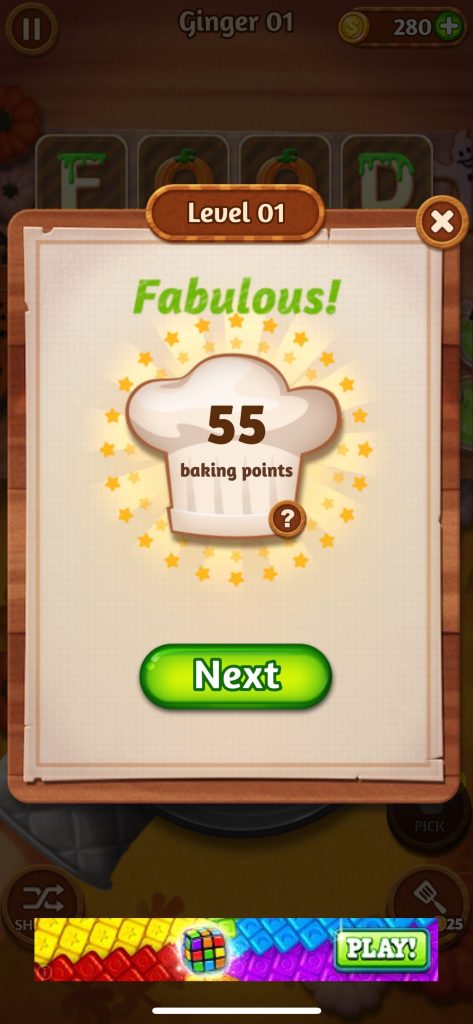 When it comes to games that really get your brain going, this is one of them. With word cookies, the aim of the game is to make a word out of a number of letters on a plate. You're given the factor of how many letters each word contains, and the rest is up to you. Although, there are some things that'll get you further in the game. But we'll get into them later on…
Each section of Word Cookies is named after a baking ingredient, and in those sections are levels. Completing these levels earns you coins that allow you to go further on in the game. You start off as a home baker and end up as an extraordinary chef at the end.
The first few levels only give you 3-4 letters in each plate, and the words they give you are mind-numbingly easy. It's a little bit insulting as your brain doesn't really start working until you get through quite a few levels…
When you complete a level, you'll receive points, which is great and all but points don't actually add any value to the game and can't be used for anything.
Graphics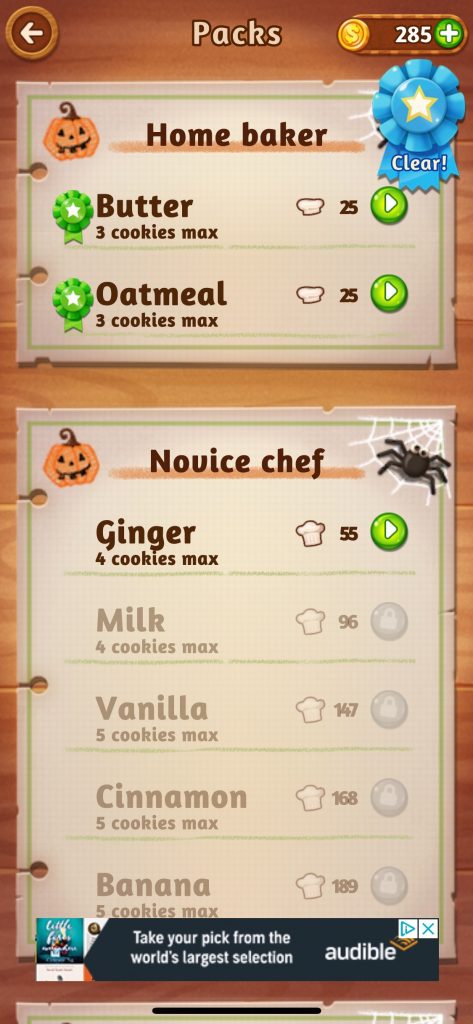 Word Cookies' graphics are pretty standard but they fit the genre of the game perfectly. The graphics are cartoon-like, vibrant, and colorful. Seeing as it's the spooky month now (October), the developer has made Word Cookies' Halloween-themed and I LOVE it. I have played this game in the past, and when I last played it it was Christmas-themed. I do love when games keep up with things and don't just update once a year…
Music
As usual, the music is annoying. You can probably tell if you read our reviews often that it's a common theme with the app games we review. Just avoid the frustration and turn the sound off when you play. Because the game is nice and relaxing, but the music just completely ruins it. I think the perfect music for this game would be piano playing with birds tweeting in the background. That's faaaaaar less annoying!
Controls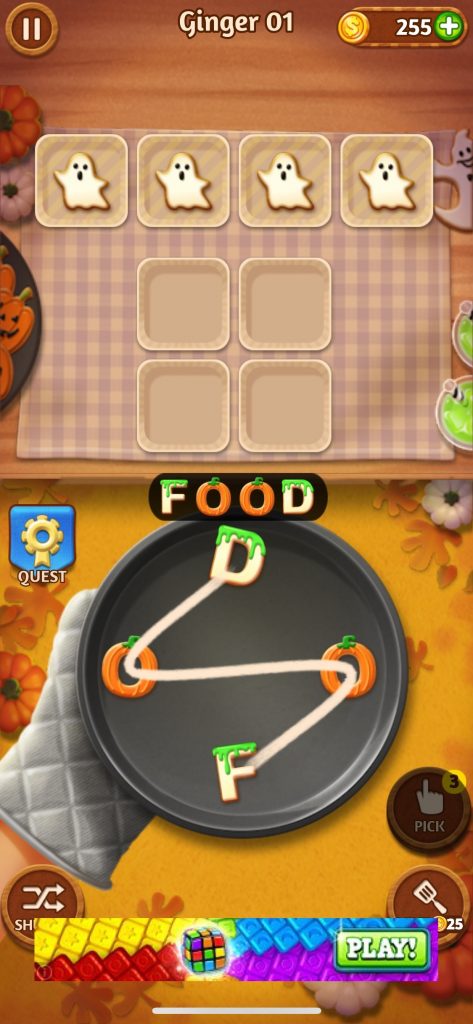 As Word Cookies is simple in all other factors of its functionality, the controls are also very simple. As I said, you have some letters in a plate that you need to make into a word. To do this you drag each letter to make a line, with that line you make the word. It's really that simple. There are no confusing buttons you need to press either, in fact, the screen is pretty clear apart from the ad at the bottom of the screen. But if you have a pretty big phone or an iPad, this really won't bother you!
The Power of In-app Purchases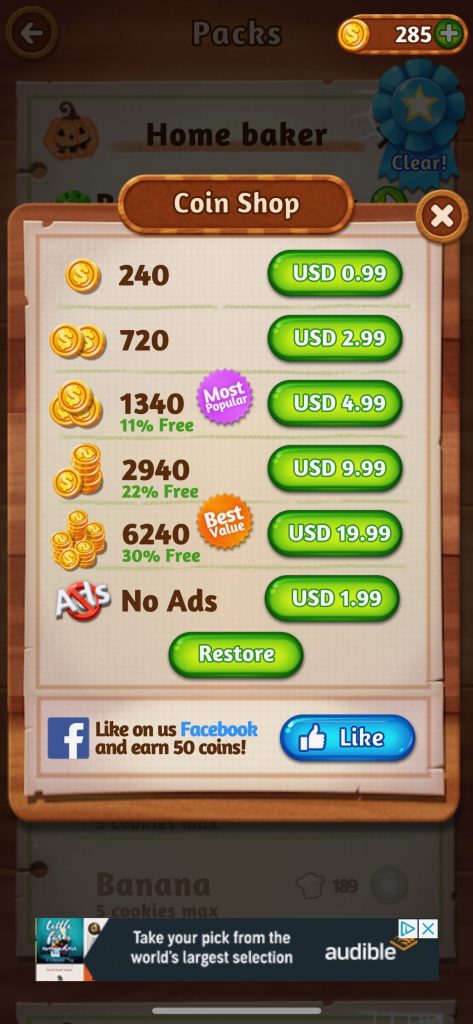 For the first time (I have seen anyway), there's an app game with simple in-app purchases. In Word Cookies, there's simply a coin shop and that's the only form of currency. Here's what you can get with your real cash:
240 coins for USD 0.99
720 coins for USD 2.99
1340 for USD 4.99
2940 for USD 9.99
6240 for USD 19.99
you can also purchase no ads for USD 1.99
If you don't fancy spending your real money, there are ways you can earn coins. There are words in the game that reward gold coins and can be used for hints. There are no rewards for being fast or finding great words, which I think would make the game a bit more interesting. Upon research, I've also found out that several basic words were not accepted, like "his" and "tad". Which funnily enough, are accepted on Hanging With Friends, Scrabble, Letterpress and Words With Friends. They're both words, so why are they not accepted? This is WORD cookies, after all.
The verdict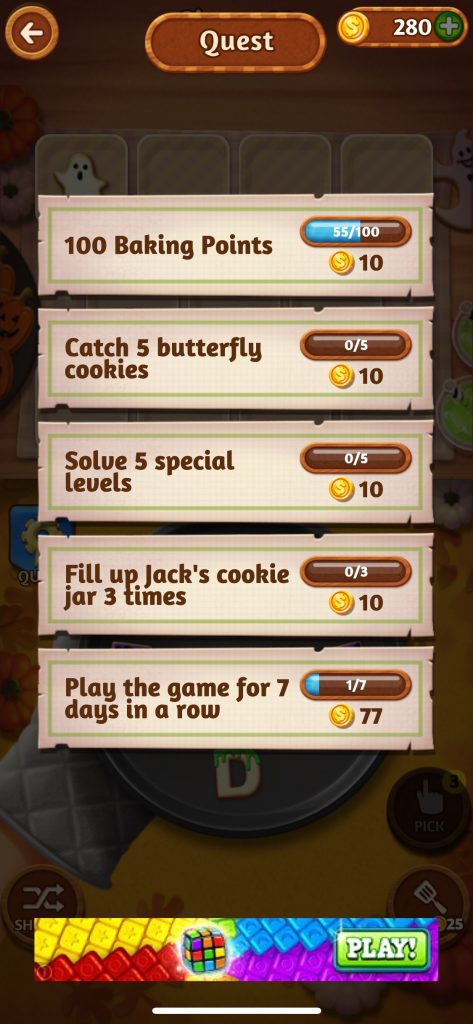 Word Cookies is a fun, light-hearted game that'll keep the fun going for hours on end (as long as you don't run out of coins!) I really enjoyed my time playing Word Cookies and I specifically liked playing it when I first woke up in the morning. It's important to get your brain working in the morning to start your day and I think this game did that perfectly. Think of it as brain training, but fun.
Word Cookies Overall Rating: 4/5
Word Cookies Links: 
Company: BitMango
Genre: Puzzle Word Game
Rated: 4+
Offers in-app Purchases
About Post Author