Wild Words Review!
"Do you have a way with words? Come challenge your vocabulary and train your brain with WILD WORDS, the hottest word puzzle game right now!
Nothing is more satisfying than getting those words off the tip of your tongue! So time to dig deep and use your words!
Have some experience solving crossword, word search or anagram puzzle games? Then you just might stand a chance in Wild Words! Join us, for FREE, today and begin challenging your family, friends and fellow word game enthusiasts across the world! Along the way, you can travel the world and collect expert helpers that can help solve hard puzzles, reach the top of the leaderboards and collect the grand prize!
Wild Word's Features:
Classic, GUESS THE WORDS gameplay, similar to crosswords and word search but with exciting new twists! Addicting and creative word puzzles that you won't be able to put down! CHALLENGE YOURSELF! The word puzzles start easy and grow in difficulty the further you go! The bigger the words the better the PRIZES! Escape to beautiful DESTINATIONS and explore the WILD WORLD! COLLECT a colourful cast of happy to help EXPERTS who got your back! Stumped? Unlock and use handy POWER-UPS like Puzzle Swaps and Free Letters to improve your guess and overcome those puzzle problems! Compete with FAMILY, FRIENDS and FOES to climb to the TOP of the LEADERBOARDS! NEW word puzzles, locations and experts CONSTANTLY being added!"
Company: Uken Inc.
Genre: Word Games
Rated: 12+
Offers in-app Purchases
Gameplay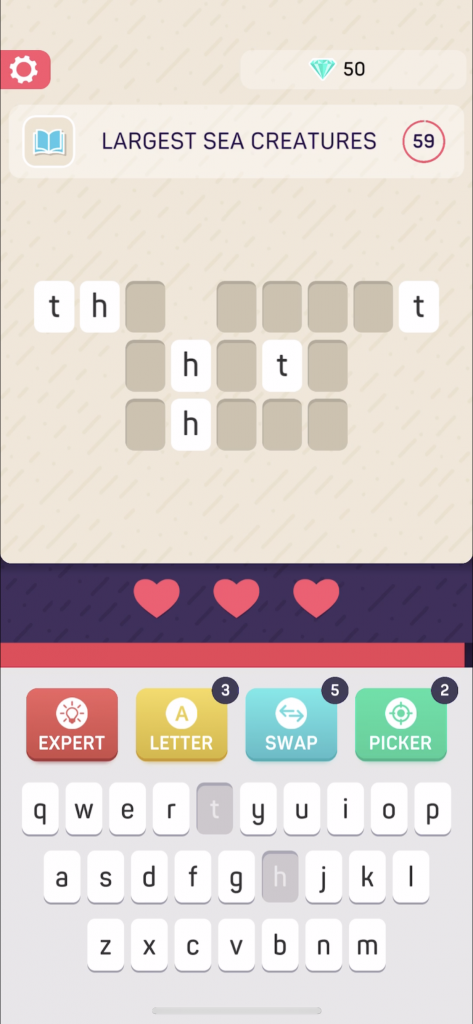 Wild Words' gameplay works in short head to head matches against other players to see who can guess as many words as possible with minimal clues. Work your way up the ladder and the first person to get an answer wrong loses. I found that during all of my matches, I won, however, the clues do get progressively harder.
There's a little lion host called Roary Redmane (cute) who keeps the game in check and explains the rules every time. He isn't needed, but he definitely adds more of a game show vibe to it.
Graphics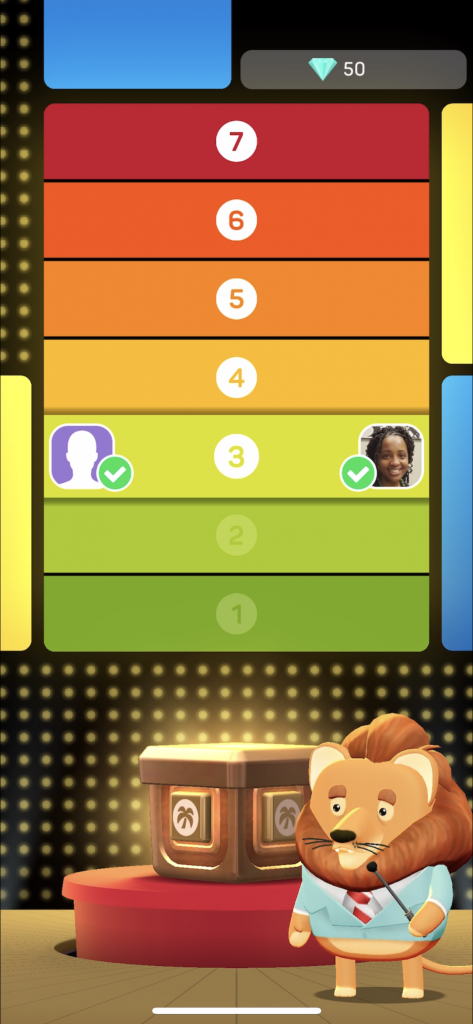 The graphics are definitely good for a word game. It seems that Uken Inc. has taken extra time and money to make sure Wild Words looks as good as the gameplay is. The lion host also brings it all together along with other animals that help you with questions when you get stuck.
Music & Sounds
Unfortunately, the music is quite irritating and frustratingly generic. But what do you expect from a word game? It's hardly going to have the best soundtrack in the world. In settings, there's an option to turn sounds and music off if it is a problem for you.
Controls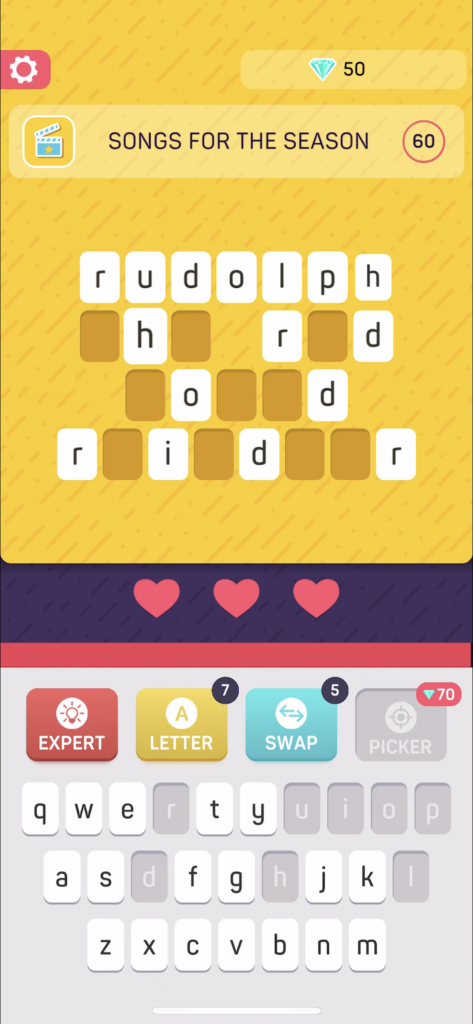 In Wild Words, controls aren't exactly a thing. When the words with the missing letters appear on the screen, you're shown a keyboard along with your 4 powerups. Tap a letter on the keyboard to see if it fits in the word(s) if it doesn't, you will get a strike. If you get 3 strikes, you automatically lose so think logically. I found that the best way to get started if you're not sure on the word straight away is to tap on all of the vowels.
The Power of in-app Purchases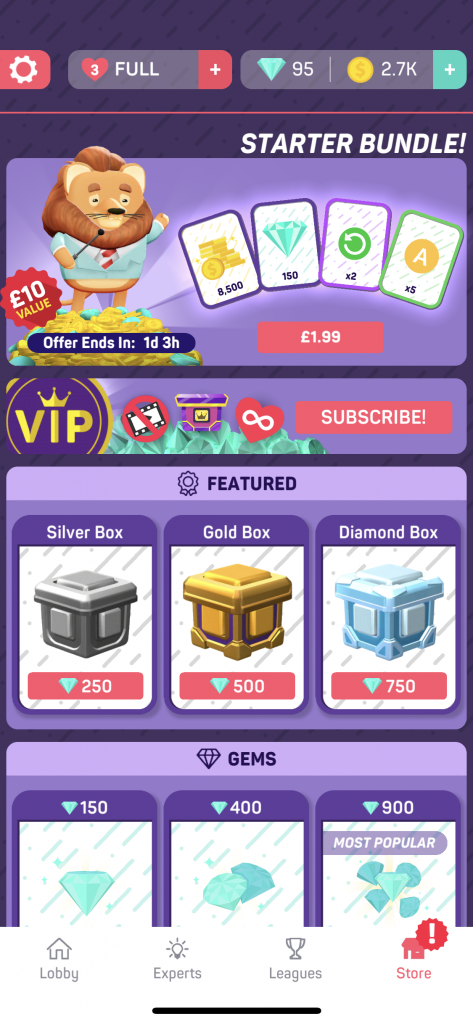 While playing the matches, you can use powerups to help you out. They're sometimes gifted to you if you win a match, but to get a fair amount of them, you need to spend some of your real money.
Bundles
VIP Subscription
Special offers
One-time bonus
Daily VIP box
Daily infinite hearts
Remove ads
Daily gems
All for £9.99 per month, £24.49 for 3 months or £44.99 for 6 months.
Featured
Silver Box for 250 gems
Gold Box for 500 gems
Diamond Box for 750 gems
Gems
150 gems for £1.99
400 gems for £4.99
900 gems for £9.99
The Verdict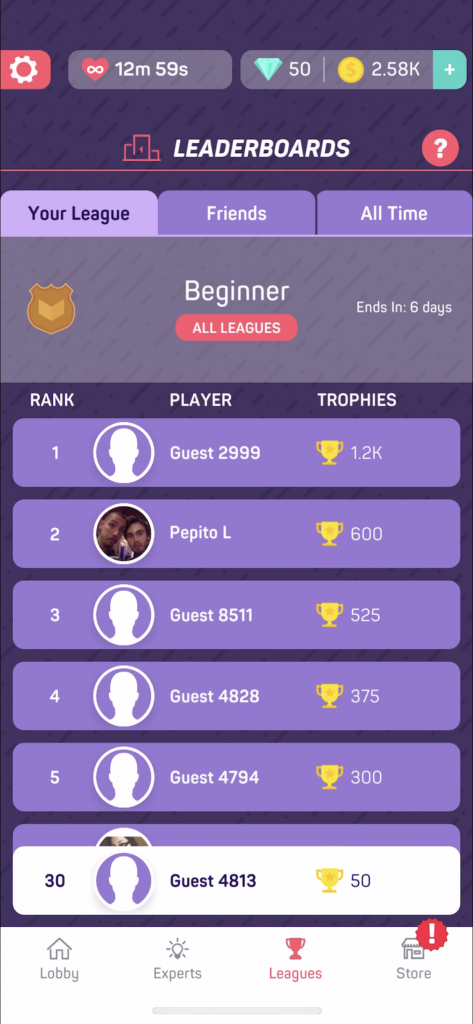 I didn't expect to love Wild Words as much as I did. It's not just a word game, but more of an experience. I'm someone who loves to watch game shows, so to feel like I'm playing in one addicting. I'm actually going to keep this game on my phone as a little time filler when I have a spare few minutes.
If you decide to download Wild Words, let us know what you think and if you agree or disagree with the things we said. Happy gaming and stay casual!
Wild Words Overall Rating: 4/5
iOS Link: https://apps.apple.com/ca/app/wild-words/id1464162027
Android Link: https://play.google.com/store/apps/details?id=com.uken.wordup&hl=en_GB
Company: Uken Inc.
Genre: Word Games
Rated: 12+
Offers in-app Purchases
About Post Author