Stop – Categories Word Game Review!
"Stop is a fun and clever turn-based game you play with friends. Randomly select a letter to start and type a word for each of the 5 different categories that starts with that letter. The player that gets the most correct words wins!
1 letter, 5 different categories. How many words can you form with this letter?
— App Store Editor's Choice in 18 Countries —
Features:
– Turn-based, fast-paced word game
– Find and play with friends on Stop using personalized nicknames, Facebook, or Game Center
– Unlimited fun with challenging categories to choose from
– Levels: earn XP and as you improve, we'll celebrate!
– Achievements to unlock and conquer the game
– Learn a new language! Play in English, Spanish, French, German, Italian and Brazilian Portuguese
Start playing Stop!"
Stop – Categories Word Game Links:
iOS Link: https://apps.apple.com/gb/app/stop-categories-word-game/id687877464
Android Link: https://play.google.com/store/apps/details?id=com.fanatee.stop&hl=en_GB
Company: Fanatee
Genre: Word Games
Rated: 12+
Offers in-app Purchases
Gameplay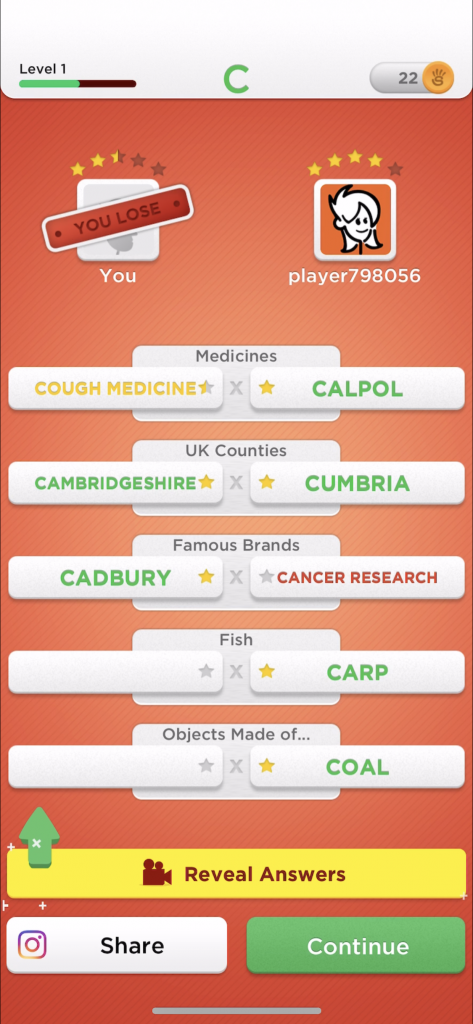 Stop is a game where you get a set of genres and a letter. You have to name an object in the genres that begin with the letter to win. If you're starting the round, you get a minute to answer all the questions. However, if the opposing player starts the round, you get as long as it takes them to answer the questions. So if it takes the opposing player 10 seconds to complete the round, you will only get 10 seconds. But you won't know how long you've got until the time is up, so work quickly. If I'm honest with you, I got a fright every time the timer ended. Some of the people I played with only took 10 seconds – that's insane!
Graphics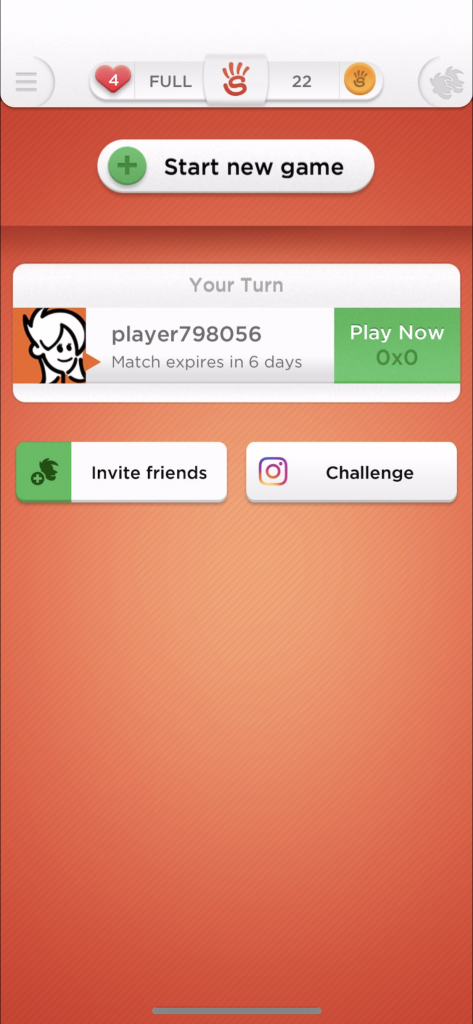 The graphics are pretty standard for a trivia game. There's a lot of block colors and large boxes to fill your answers in with a few animations here and there. But apart from that, there's not much to say.
Music & Sounds
When on the menu, there's absolutely no sounds and music which I thought was a bit weird. It would've been nice with some intro music, but hey, I can deal with it. With sounds, there's countdown noises and the sound of the wheel spinning. But that's about it. During the game, there's also no music so all you can hear is your keyboard typing if you happen to have your phone on loud. If not, you'll hear nothing.
Controls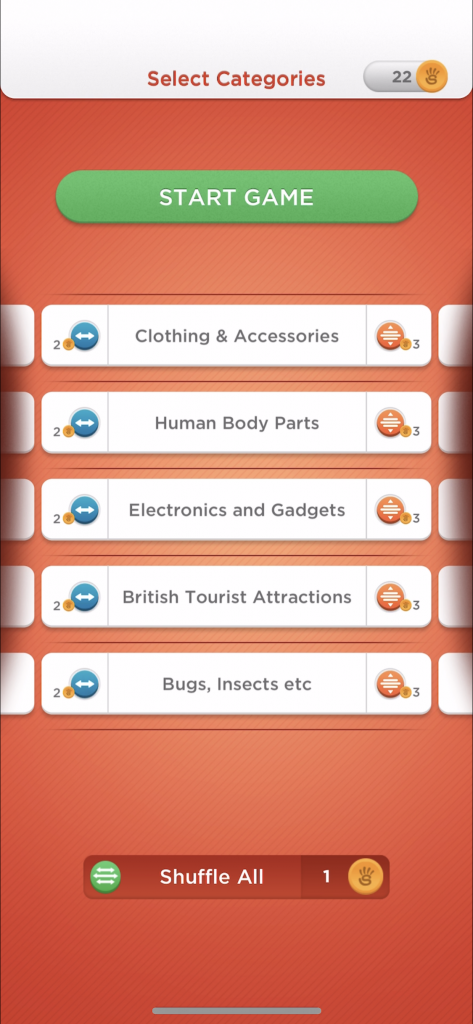 The controls, like the vast majority of trivia games, are based on tapping or typing the answer out. With Stop, you get 5 different questions to answer and you type your answer or tap on the hint on the right-hand side of the screen to get help.
The Power of in-app Purchases
From the store, you can purchase coins, unlimited lives and the removal of ads.
60 coins for £1.99
160 coins for £4.99
350 coins for £9.99
770 coins for £19.99
2200 coins for £48.99
Unlimited lives for £3.99
Remove ads for £2.99
With the coins, you can purchase extra spins, and you can change the questions you need to answer. As I was pretty fussy with the type of questions I wanted to find the answer to, the coins definitely come in handy.
The removal of ads is also a great purchase as ads pop up quite often, and I found it pretty annoying most of the time.
The Verdict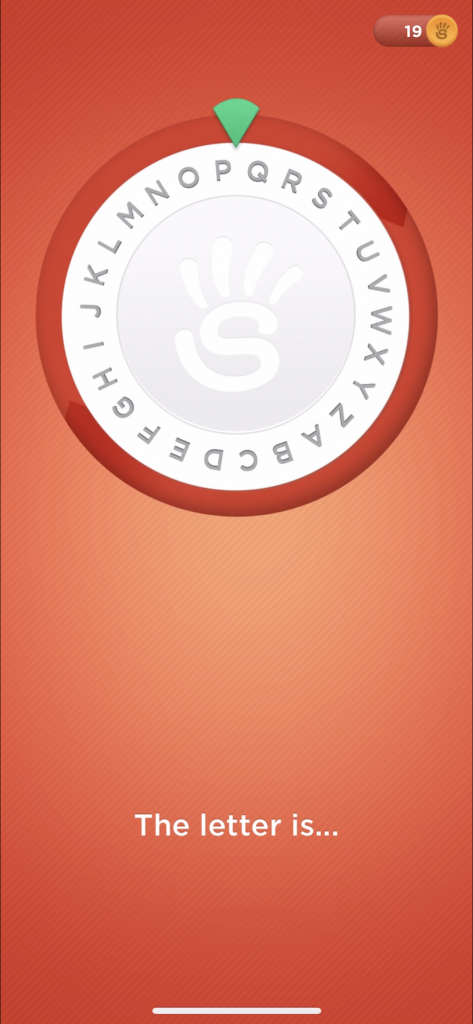 Although word games aren't my go-to when it comes to casual app games, I found Stop to be fun, challenging, and addicting. I liked having to wrack my brain to find the answers, although, most of the time my mind went blank. I think there's a lot of potential with Stop, however, I feel as if it should be a live game rather than turn-based. It became frustrating having to wait for the opposing player!
If you decide to download Stop, let us know what you think and if you agree or disagree with any of the things we said. Happy gaming and stay casual!
Stop – Categories Word Game Overall Rating: 4/5
iOS Link: https://apps.apple.com/gb/app/stop-categories-word-game/id687877464
Android Link: https://play.google.com/store/apps/details?id=com.fanatee.stop&hl=en_GB
Company: Fanatee
Genre: Word Games
Rated: 12+
Offers in-app Purchases