Sonic Forces Review!
"World-famous SONIC THE HEDGEHOG is back and brings you Sonic Forces! RUN and COMPETE with real players from around the world. Find out who is the MASTER of speed! SPRINT, DODGE, ATTACK and SET TRAPS versus other fans in this EASY and FUN MULTIPLAYER game. Download and start your battle NOW!
BATTLE TO WIN
Run faster with on-track dash pads and grind rails
Drive other players into obstacles and Badniks
Attack with Mines, Lightning, Fireballs, Tornadoes and more
Win trophies to unlock a variety of new and challenging tracks
RACE WITH THE ULTIMATE SONIC TEAM
Race as Sonic, Amy, Tails, Knuckles, Shadow, Rouge, and more
Unlock new and rare characters including Omega and Vector
Collect and compete for Rings in every race to upgrade your characters
Complete missions to earn rewards
Top the leaderboards"
Sonic Forces Links:
iOS Link: https://itunes.apple.com/us/app/sonic-forces/id1262362476?mt=8
Android Link: https://play.google.com/store/apps/details?id=com.sega.sprint&hl=en_GB
Company: SEGA
Genre: Action
Rated: 9+
Offers in-app Purchases
We have reviewed Sonic games on The Casual App Gamer before like Sonic the Hedgehog 2 and Sonic Boom and they both received a high rating from us. Because of this, we are very excited to give Sonic Forces a run and see if it lives up to the other games in the Sega series.
Gameplay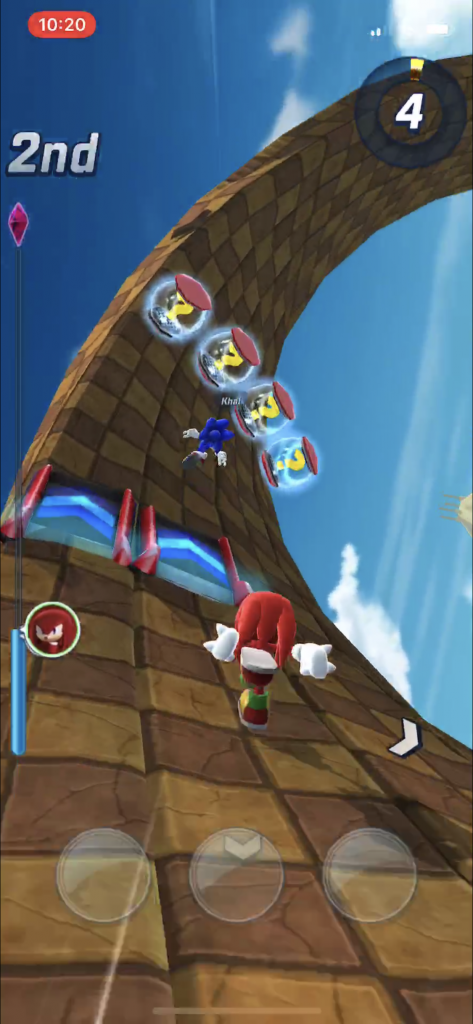 Sonic Forces gameplay reminds me a lot of Sonic Boom due to the obstacles you have to overcome, and how you collect rings and objects to make you go faster. The difference with Sonic Forces is that you can play online – which in my opinion, makes the whole experience a lot more fun.
You can also upgrade your characters. Of course, you start off with Sonic and you're then gifted Knuckles. They all have different skills, for example, Sonic's speed is 10/10 but Knuckles is only 7/10. However, Sonic's strength is a 3/10 and Knuckles is a 9/10. Depending on how good you are at the game, you can choose your character accordingly. So for example, if you're someone who's clumsy and smashes into the blocks that slow you down, you should pick Knuckles because he can withstand the effect, unlike Sonic. On the other hand, Sonic can go a lot faster than Knuckles so if you're good at avoiding the obstacles then he's your best bet.
Graphics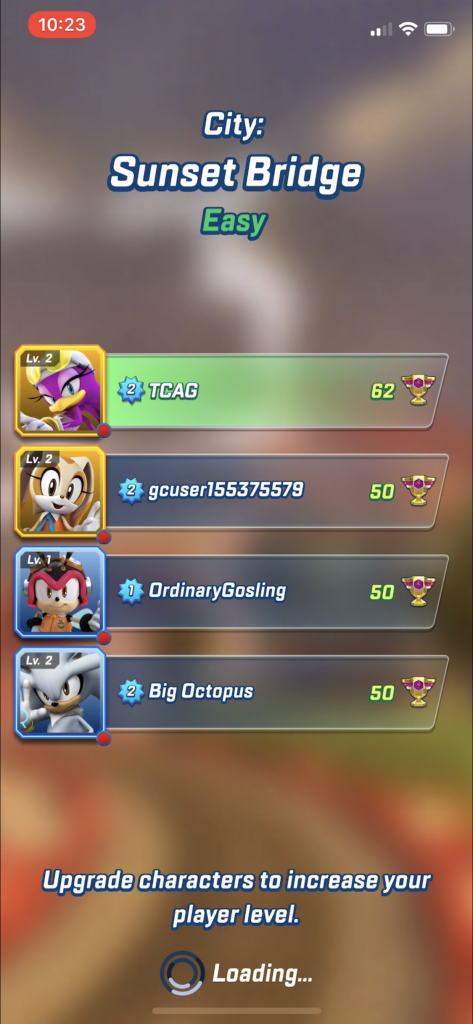 I hate to compare it to Sonic Boom again but the graphics are very similar in terms of how it looks like Subway Surfers and has that bright, colorful 3D cartoon effect. I really enjoy how it looks, but I know that a lot of big Sonic fans do not like POV games and much prefer the games where you view Sonic from the side. It is, however, very common for new Sonic games to be laid out this way, though.
Music & Sounds
If you're a big fan of Sonic games in general, I think you will enjoy the sounds and music. The music reminds me if the original sonic soundtrack and keeps the whole gameplay super intense – I was on the edge of my seat trying to win the race! In terms of sounds, you know what's coming, yes, the rings make noises, don't worry. Apart from that, there aren't really any other sounds that are impressive.
Controls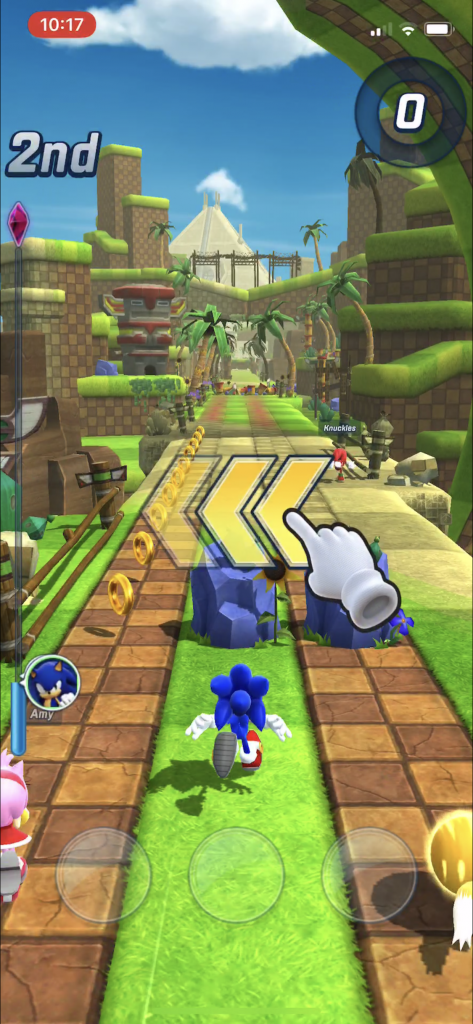 As for the controls, the general rule is to swipe left and right to avoid obstacles, swipe up to jump, swipe down to duck, and click on the power-ups at the bottom to use them. To go faster, all you need to do is collect as many rings as possible along with making sure you run over the boosters.
The Power of in-app Purchases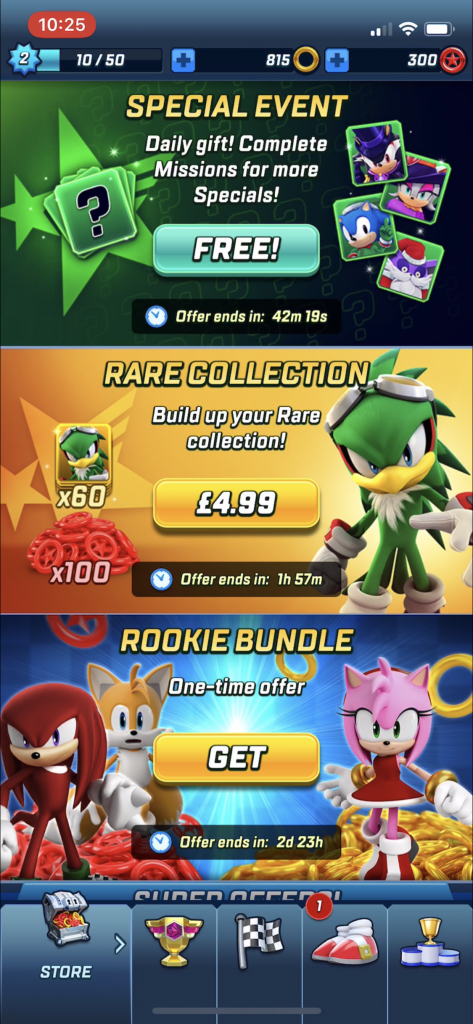 The store is intense with color like the rest of the game and really makes you want to purchase something to improve the in-game experience
Special Event – daily gifts – complete missions for more specials: free
Rare Collection – 60 cards and 100 red star rings: £4.99
Rookie Bundle – 5,000 rings and 500 red star rings: £4.99
Special Platinum Chest: 800 red star rings
Gold Chest: 400 red star rings
Platinum Chest: 800 red star rings
Emerald Chest: 1,600 red star rings
150 red star rings: £1.99
500 red star rings: £4.99
1,100 red star rings: £9.99
2,400 red star rings: £19.99
7,000 red star rings: £48.99
17,500 red star rings: £99.99
1,000 gold rings: 60 red star rings
10,000 gold rings: 500 red star rings
100,000 gold rings: 4,000 red star rings
Although, I don't personally believe that you need to make a purchase to get further in the game. Sonic Forces is based on skill and you get rewards for winning races anyway.
During the whole gameplay, I only got an advert twice which I thought was pretty good for a free game. There's nothing worse than those games who have an advertisement every time you click on something.
The Verdict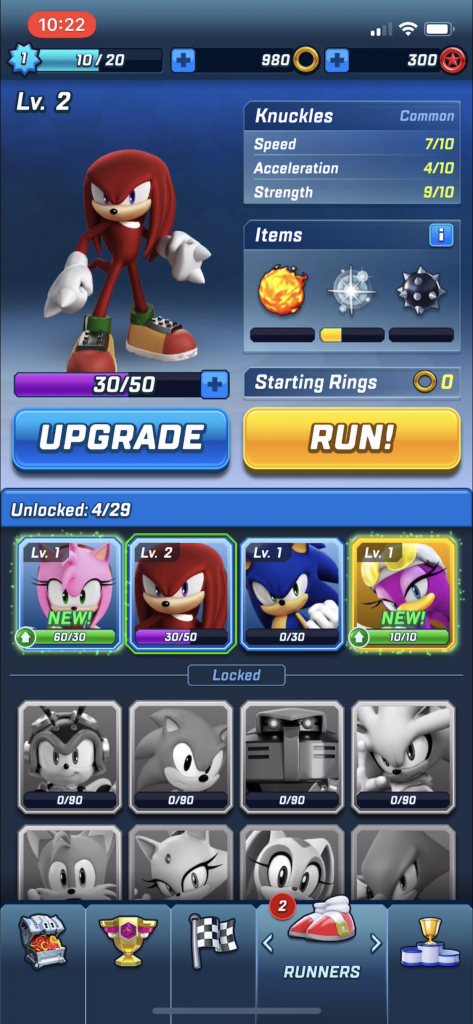 As I grew up with Sega, specifically Sonic, I had high expectations for Sonic Forces but I was definitely impressed. I believe that Sonic Forces deserves a 4/5 due to how addicting it is to play and how it makes me feel really competitive. Multiplayer games are just getting more and more popular now and it is a great way to make friends with people who have similar interests.
If you love Sonic as much as I do, you'll like this. It's fast-paced, addictive and overall fun.
If you decide to download Sonic Forces, let us know what you thought and if you agree or disagree with any of the things we said. Happy gaming and stay casual!
Sonic Forces Overall Rating: 4/5
iOS Link: https://itunes.apple.com/us/app/sonic-forces/id1262362476?mt=8
Android Link: https://play.google.com/store/apps/details?id=com.sega.sprint&hl=en_GB
Company: SEGA
Genre: Action
Rated: 9+
Offers in-app Purchases
About Post Author