Sherlock: Hidden Object Review!
"Investigate mysterious cases with Sherlock in Sherlock: Hidden Object! Solve match-3 puzzles, find hidden objects, meet familiar characters and restore the original plots of the well-known books!
Join the legendary detective Sherlock Holmes in his unbelievable new investigations!
Something wicked is going on in the worlds of well-known books – their plots are changing, with the main characters being defeated while the villains prevail. The magic of literature is at work here, and this magic is real! Now, The Hound of the Baskervilles, Alice in Wonderland, The Wizard of Oz, and many other classic novels are not at all like you remember them.
Help Sherlock Holmes and Dr. Watson restore the original plots of the books and deliver justice by solving tricky match-3 puzzles or unraveling hidden object scenes, and complete thrilling quests while searching for the reasons and patterns behind the events. These world-renowned stories helped to shape the history of mankind, so they carry enormous power – and whoever can control that power, will be able to rule the universe. Make sure it falls in the right hands!
Set off on an exciting detective adventure, solve ingenious puzzles, and investigate crimes without delay before the real world turns upside down too!"
iOS Link: https://apps.apple.com/us/app/sherlock-hidden-object-match-3/id1489732936
Android Link: https://play.google.com/store/apps/details?id=com.g5e.sherlock.android&hl=en_GB&gl=US
Company: G5 Entertainment AB
Genre: Adventure
Rated: 4+
Offers in-app Purchases
Gameplay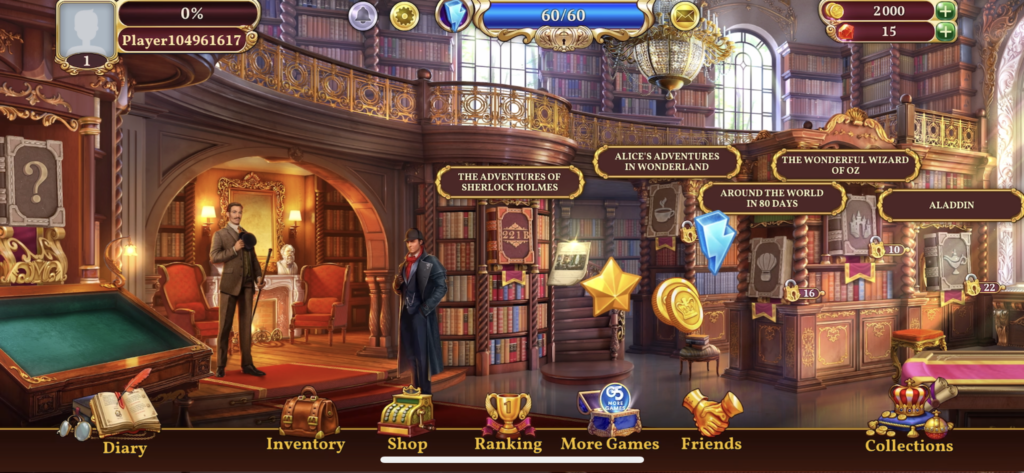 The aim of the game is to help Sherlock Holmes and Dr. Watson restore the plots of the well-loved books that have been tampered with by magic! You will enter scenes and find the missing objects and play match-3 games to discover the truth!
Truthfully, I didn't mind the gameplay as I'm a fan of Hidden Object games anyway and I loved how the game has an actual storyline attached to it. The only part I didn't like was the match-3 games – isn't there enough of this already on the app store?
Graphics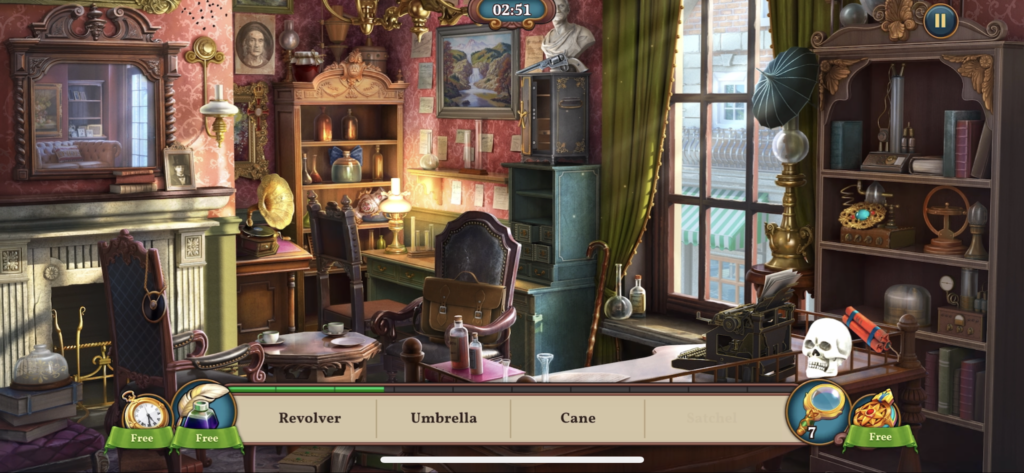 I've noticed that Hidden Object Games love to set their gameplay within the Victorian times but it definitely adds to the whole detective feel it brings. I enjoyed the graphics and didn't find the levels too easy or too hard. However, the main menu is very, very busy – I found it pretty difficult to navigate!
Music & Sounds
Of course, the music and sounds fit in perfectly with the Victorian England theme of the game. I didn't find it to be too much like I do with some other app games, however, it doesn't add anything to the gameplay so you could mute it!
Controls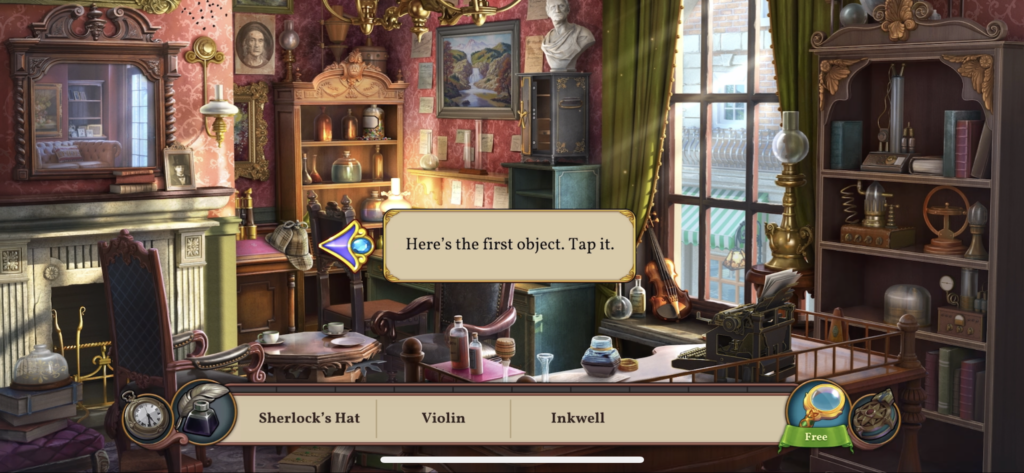 Like all Hidden Object Games, all you have to do is tap on the item if you find it. Once you find it, it will disappear and you simply move on to the next one!
The Power of in-app Purchases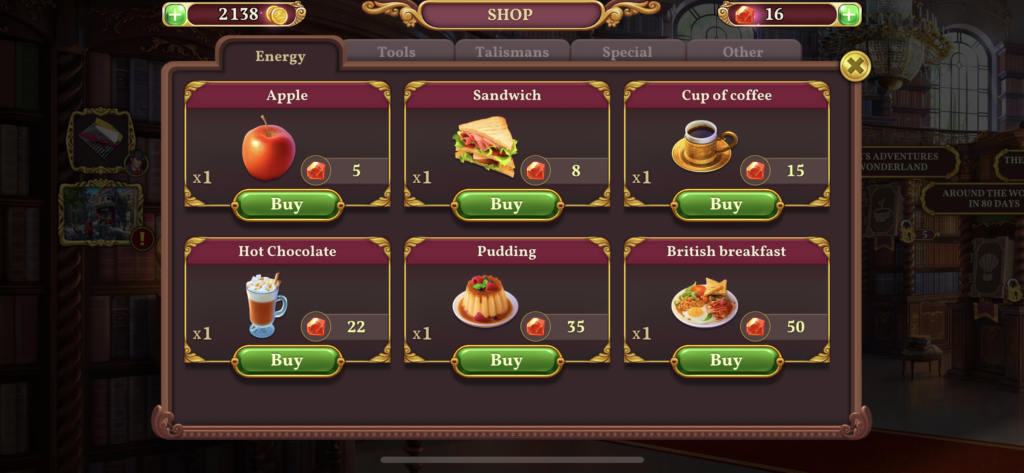 Coins
4,000 coins for £1.79
11,000 coins for £4.49
22,500 coins for £8.99
47,000 coins for £17.99
120,000 coins for £44.99
245,000 coins for £89.99
Crystals
15 crystals for £1.79
40 crystals for £4.49
90 crystals for £8.99
200 crystals £17.99
550 crystals for £44.99
1,200 crystals for £89.99
Energy
Apple x1 for 5 crystals
Sandwich x1 for 8 crystals
Cup of coffee x1 for 15 crystals
Hot Chocolate x1 for 22 crystals
Pudding x1 for 35 crystals
British breakfast x1 for 50 crystals
Tools
In the tools section, you can purchase level-ups for crystals such as:
Watson's Quill
Magnifying Glass
Broken Compass
Well's Watch
Glove
Flare Gun
Dynamite
Noble Lady's Hand Fan
Bookmark
Anti-Bomb
Predatory Pins
Talismans
Again, with Talismans you can purchase:
Order of Merit
Expert's Talisman
Victorian Order
Sage's Talisman
Order of the Bath
Talisman of Luck
Order of the Garter
Talisman of Greater Luck
Doggy Bank
Owl Coin Bank
Golden Piglet
Fruit Tea
Black Tea
Puer Tea
Special
Special items include:
Detective's Suitcase
Travel Suitcase
Adventurer's Chest
Suitcase with Tools
Universal Chest
Chest with Energy
Chest with Artifacts
Rare Chest
Collectible Chest
Legendary Chest
Other
Miscellaneous items include:
Beaker
Watson's Stethoscope
Bullet
Glasses
Lamp
Poison Dart
and more
The Verdict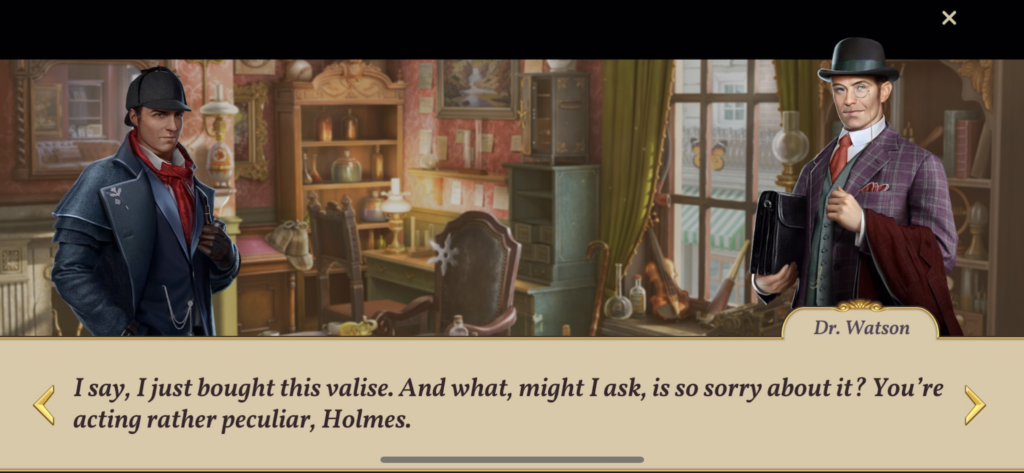 Sherlock: Hidden Object is a fun Hidden Object Game, however, it's nothing special compared to the rest of the games I've played on the app store. If you like Sherlock, then I don't see why not, but if you're just looking for a mystery-themed game in general, try one of these.
If you decide to download Sherlock: Hidden Object, let us know what you think and if you agree or disagree with any of the things we said. Happy gaming and stay casual!
Sherlock: Hidden Object Overall Rating: 3/5
iOS Link: https://apps.apple.com/us/app/sherlock-hidden-object-match-3/id1489732936
Android Link: https://play.google.com/store/apps/details?id=com.g5e.sherlock.android&hl=en_GB&gl=US
Company: G5 Entertainment AB
Genre: Adventure
Rated: 4+
Offers in-app Purchases