Rush Royale
Time for a Tower Defense like no other! In Rush Royale towers are replaced by mighty warriors and wizards!
Base defense games got serious… but are still are a lot of fun! Your heroes are the castle defense, last and best hope against a rush of enemies. Watch them rain arrows and magic missiles in a valiant struggle at horde defense!
It's a unique combination of a turret defense and a collectible card game! Just like random dice rolls decide the fate of battling armies, here you must depend on Lady Luck to win and prevail! Assemble a deck of most powerful tower defense heroes!
It's TD… but with a competitive twist! Rush against your best friends (or worst foes) – the first one to complete the castle defense wins! In a way, it is a real time PvP defense – what few TD games have!
Protect your kingdom! Clash with mighty enemies and fearsome bosses, unleash magic and steel upon your foes in battle! It's one of the most fast paced tower defense games… and it looks as cute as a merge game, too!
Rush Royale Links:
iOS Link: https://apps.apple.com/us/app/rush-royale-tower-defense-td/id1526121033
Android Link: https://play.google.com/store/apps/details?id=com.my.defense&hl=en_US&gl=US
Company: MY.GAMES
Genre: Tower Defense, Strategy
Rated: 4+
Offers in-app Purchases
Social Media Link:  https://www.facebook.com/RushRoyale.game/
Hey Casual Gamers!  Rush Royale is a Tower Defense app that offers quick pvp fights with Tower Defense mechanics thrown in.  Most Tower Defense games will pit you against wave after way of endless minions until you bail out in frustration.  Rush Royale offers those same endless waves, but bounced back between two players.
Gameplay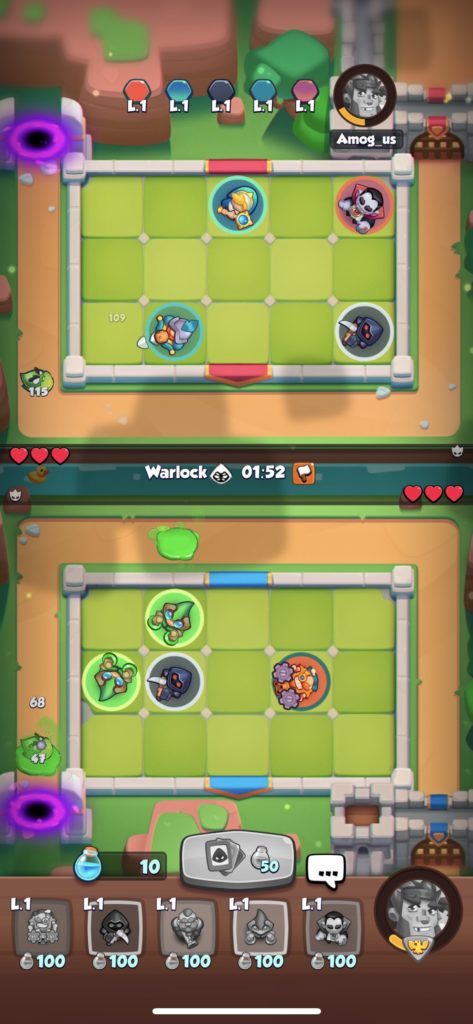 Rush Royale throws you right into the action, at least after a brief tutorial that is.  The object of this casual app is to use mana to created unique towers to slay the waves of minions heading to your base.  While attempting to achieve this task, there is another playing wanting to do the same.  The player who can clear the wave of minions the most effective will flood their opponent with more minions than they can handle.
Towers can be merged with and leveled up when the right conditions are met.  Strategy comes into play as all towers summoned are from a random set of five towers the player chooses before the match.  Even the merged towers can result in a new random tower.
This casual app is slightly addicting!  It puts all the elements of tower defense along with a intense pvp battle!  Most fights last about three minutes and the learning curve is pretty easy compared to other Tower Defense games.
Graphics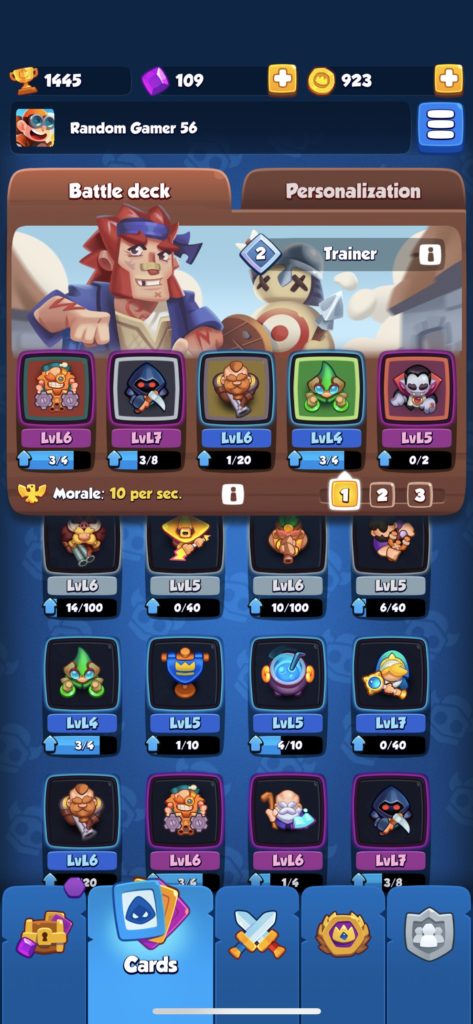 Rush Royale keeps the graphics very appealing with it's cheerful and upbeat colors.  There's not much to be mad at when it comes to how Rush Royale's overall display work as well.
If there was a complaint to be had, it would be the lag that sometimes happens during PVP fights.  It can sometimes take a second or two to see merges fully animate or to have a hero power set off.
Thankfully this casual app makes up in that with visible timers and easy to see mana gauges.
Music & Sounds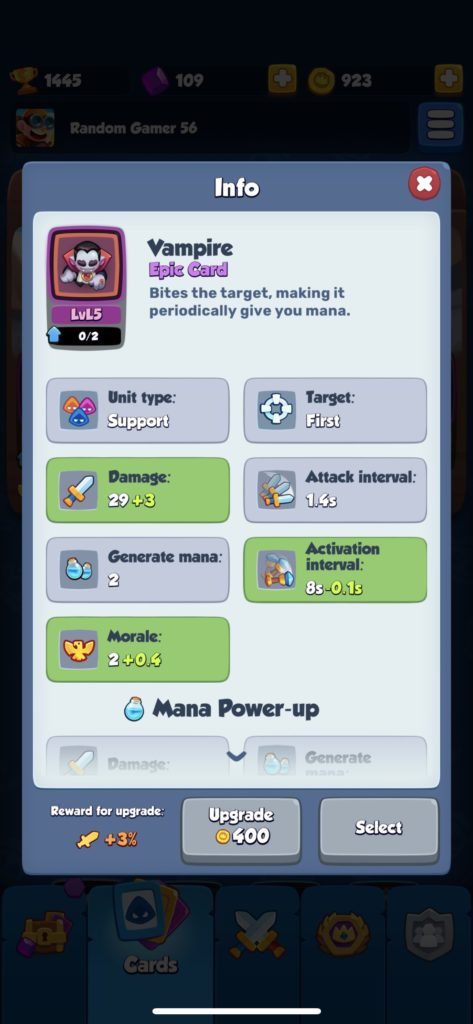 Complete confession, I went a few days without even hearing a sound from Rush Royale.  I mean I have a lot of gaming apps on my iPhone and tablet, so keeping things on the hush while around other people is a norm for me.
But man, I was in for a happy surprise when I did turn it on!
Rush Royale's music is just enough to put you in the mood to fight, but not overbearing enough to be annoying.  All the towers have different sounds as well, but again most of the focus is on the battle, and the boss timer!
This casual app has the seal of approval when it comes to games that should be played with sound!
Controls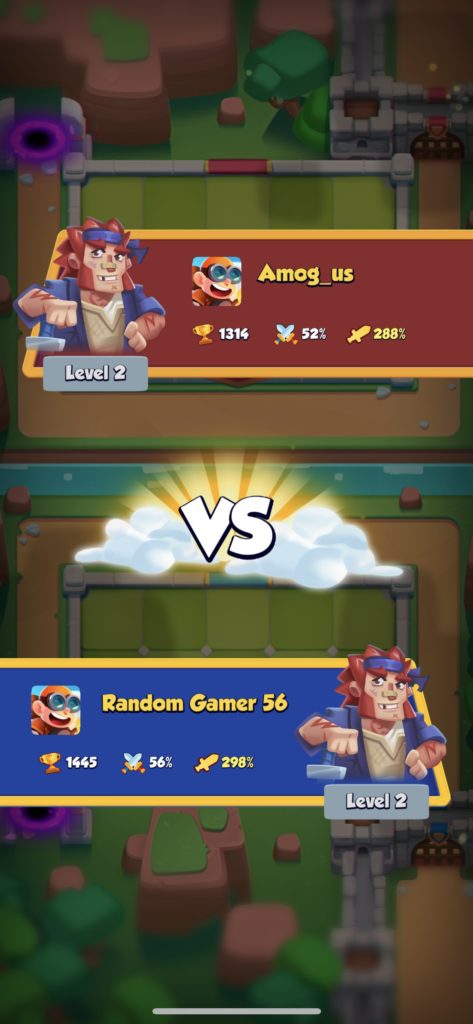 What really makes Rush Royale an enjoyable casual app is the controls.  There's not many actions to find and click through.  Most fights will consist of clicking for new towers and merging the towers already on the field of play.
Mana consumption and having enough towers to take out the incoming wave of minions is one of the key strategies of winning.  Two towers need to be the same level and kind to merge, but the merging tower can be any one of the five towers selected.  You may want to consider leveling up the tower strength instead of merging to keep more firepower on the minions!
The Power of in-app Purchases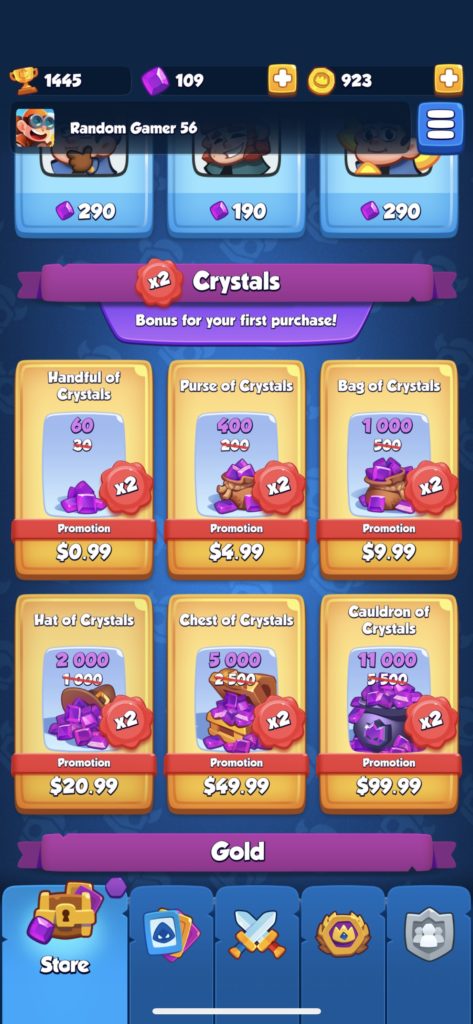 Rush Royale has a vast amount of sales and deals when it comes to paying for gems.  The battle pass has enough rewards to keep a free player happy.  It's possible to play Rush Royale completely free and still be competitive.
That said, there's some really good first time purchases that give that boost needed to reach the next arena.  I'm going to keep towards the mission of free to play and see how far it takes me.
Not to mention, if you hit a losing streak, Rush Royale offers support packages at the expense of an ad to the face.
The Verdict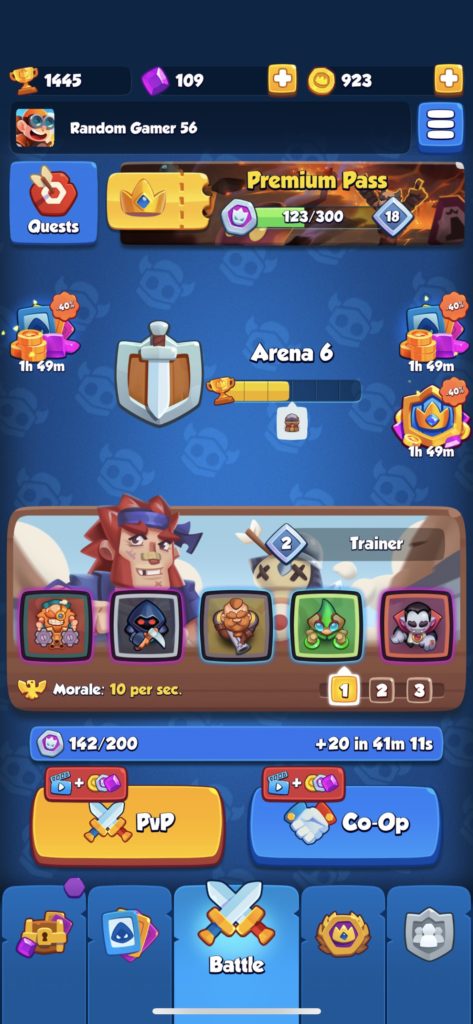 If you haven't sense it already, I'm a huge fan of Rush Royale.  It's Tower Defense, it's PvP, and it's to the point.  A casual gamer couldn't ask for much more out of an app.  When you are tired of fighting random people, the Co-Op mode puts you with other people to defense one life from a vast army of many!
The additional perk to this casual app is the thriving community of players on it's social media pages.  With weekly contests and random promo codes given, staying up to date on Rush Royale news give in-game benefits!
Already made it to legend status and want to brag about it?  Drop a comment in the section below and tell us how you did it!
Happy Gaming, and as always, keep it casual!
Rush Royale Overall Score: 5/5
Rush Royale Links:
iOS Link: https://apps.apple.com/us/app/rush-royale-tower-defense-td/id1526121033
Android Link: https://play.google.com/store/apps/details?id=com.my.defense&hl=en_US&gl=US
Company: MY.GAMES
Genre: Tower Defense, Strategy
Rated: 4+
Offers in-app Purchases
About Post Author