Roach Master Review!
"Meet Reggie, a tough roach caught in a unique arcade game bursting with content, characters, and modes. Want to play a game that feels like an animated movie come to life? Here's your chance!
Features:
Dozens of addictive mini-games
The Arcade Corner – featuring a host of endless casual games
Tight and challenging gameplay
A daily challenge mode
Epic boss Fights
The Lootboard – a place to win power-ups and currency
Lots of funny and sometimes crude moments
A unique and state of the art animation"
Company: Party Poopers
Genre: Arcade
Rated: 9+
Offers in-app Purchases


Gameplay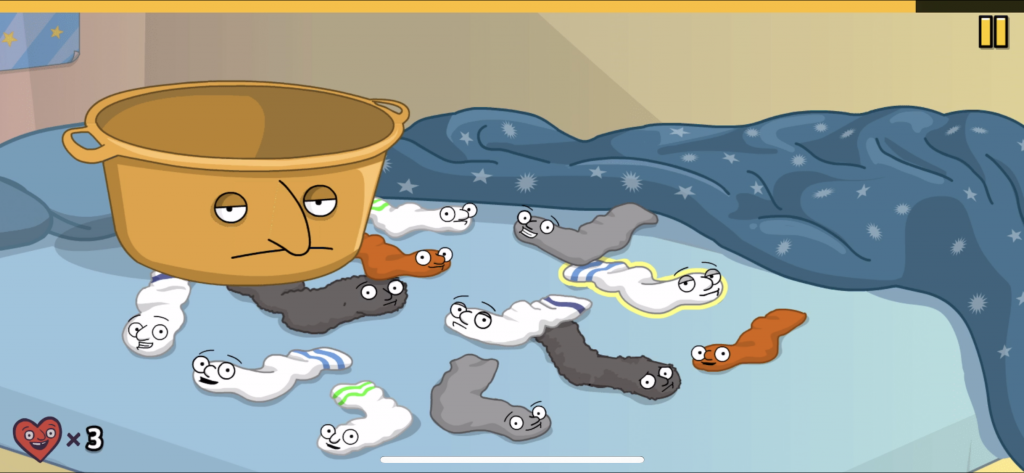 When I first found Roach Master on the app store, I didn't think much of it. But seeing as it was under the "What We're Playing" section I thought, if it's good for Apple, it's good for me. I had no idea what this game was going to be, I thought maybe it would be a game about a roach trying to get through a kitchen without being killed. But that's not it at all. And I am so glad.
The best way to describe Roach Master is like Dumb Ways to Die, but 100% better. And harder. You start on the menu which feels a lot like a console game, and that gave me the instinct that this was going to be good. There's a main game button, arcade corner, the lootboard, and heart buddies. The main game includes lots of mini-games that you need to complete within a time frame. You have 3 lives and the idea is to get to the end of the string of mini-games without losing them all. If there's a particular mini-game you like, you can find them in the arcade corner.
Sort pairs of socks, fill up a kettle, find the missing fridge item, take the colored clothes out of the washing machine and so much more!
Graphics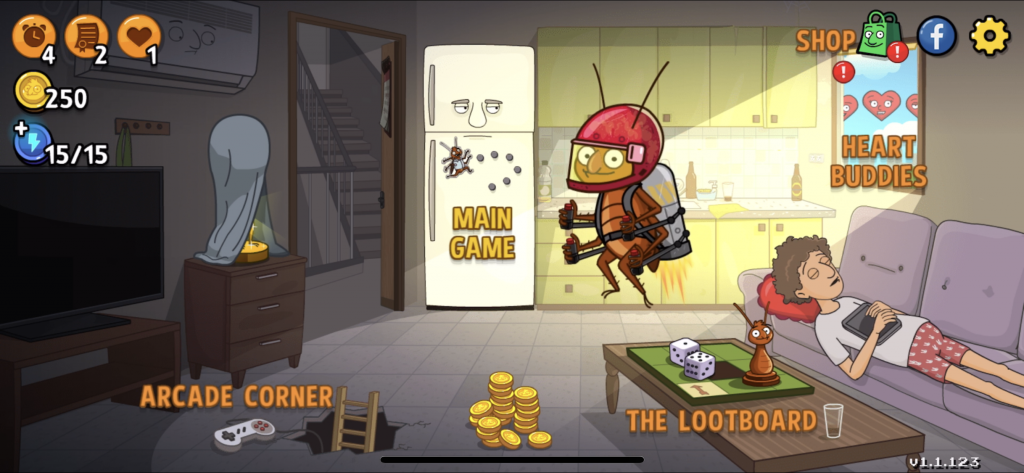 As for the graphics, they're definitely as of console-quality for its genre. The animations were really well done and each scene had an inanimate object that had its own personality.
Music & Sounds
Following on from the amazing graphics, the sounds are also brilliant and need to be on for the ultimate experience. Each inanimate object in the mini-games talks, along with the lives shouting "YOU ROCK" when you complete a level. I found this such a nice feature as with the vast majority of app games, you have to do a lot of reading.
Controls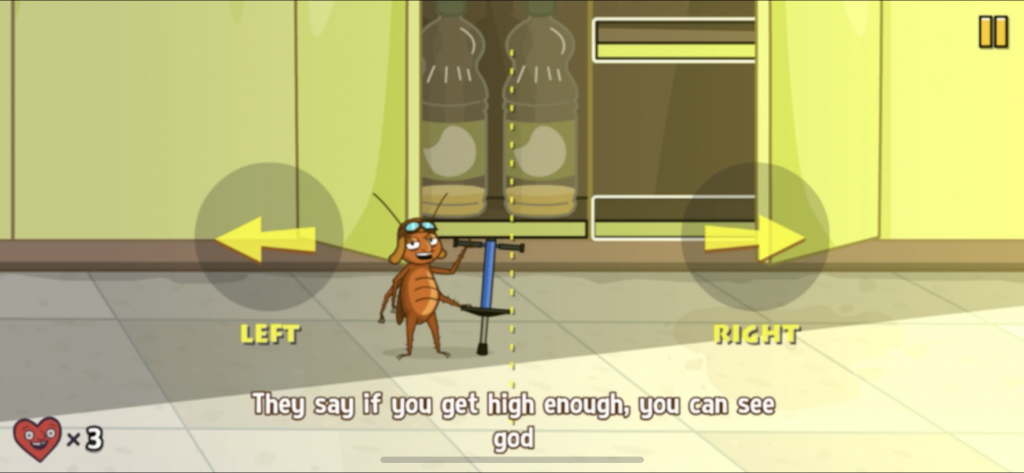 The controls depend on each mini-game but generally, it's a tap and drag kind of deal. You get told the controls a few seconds before the level starts, so it can become tricky to remember. However, that adds to the rush of being able to do it in the time limit.
The Power of in-app Purchases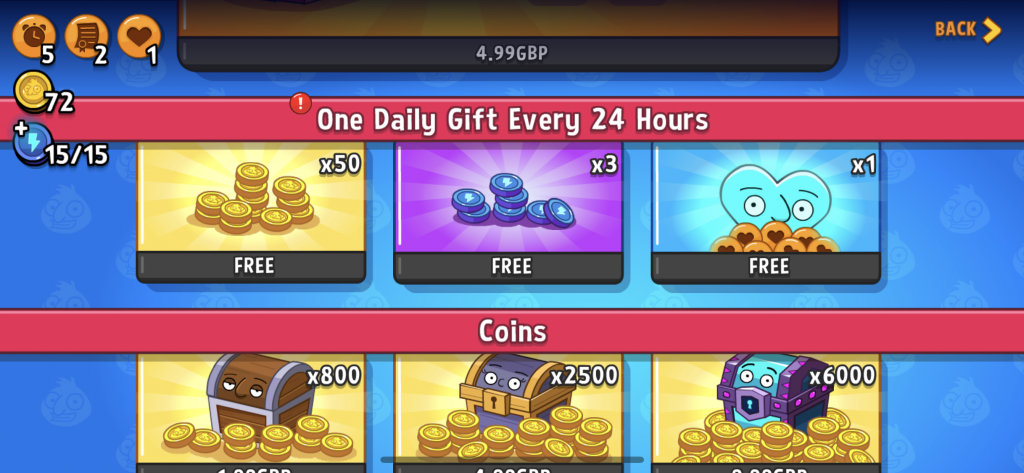 Bundles
Beginner's Bundle for £1.99
Mega Bundle for £4.99
One Daily Gift Every 24 Hours
50 coins f0r free
3 energy tokens for free
1 life for free
Coins
800 coins for £1.99
2500 coins for £4.99
6000 coins for £9.99
Energy Tokens
15 energy tokens for 300 coins
40 energy tokens for 600 coins
2 energy tokens if you watch an ad
Power-Ups
1 time power-up for 200 coins
" pass level power-up for 350 coins
" life power-up for 250 coins
9 time power-ups for 1500 coins
" pass power-ups for 2750 coins
" life power-ups for 2000 coins
The Verdict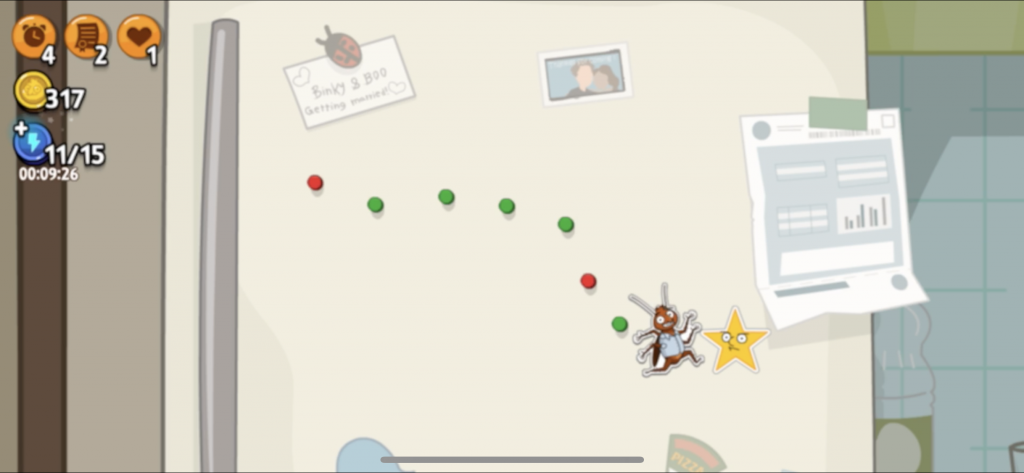 Roach Master gets a solid 5/5 from me because this game has clearly been thought out and it shines through in the gameplay. It's one I'm definitely going to keep on my phone so expect to see it on a round-up post!
If you decide to download Road Master, let us know what you think and if you agree or disagree with any of the things we said. Happy gaming and stay casual!


Roach Master Overall Rating: 5/5
Company: Party Poopers
Genre: Arcade
Rated: 9+
Offers in-app Purchases
About Post Author