Rival: Crimson X Chaos
IOS Link:  https://itunes.apple.com/us/app/rival-crimson-x-chaos/id1300704524?mt=8
Google Play:  https://play.google.com/store/apps/details?id=com.sectionstudios.rival&hl=en_US
Company:  Section Studios, Inc.
Genre:  Card Battle
Rated:  12+ (Mild Sexual Content and Nudity, Intense Cartoon or Fantasy Violence, Mild Profanity or Crude Humor, Mild Realistic Violence, Mild Mature/Suggestive Themes)
Offers In-App Purchases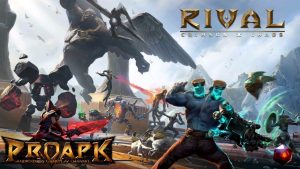 Ready for a card battle that is also a tactical defense game at it's core?  Enter Rival: Crimson X Chaos!  You are divided into two sections of the map, each one defending three towers. To win, you must set up a solid mixture of cards so that the enemy can not attack and destroy your main house. You then need to destroy the defense of the opponent, along with their main house. The game ends when one of the two players destroys the main base.
The twist with RIVAL: Crimson x Chaos is that you can actually choose one of your cards to be your leader and the leader can be used at any time as long as it's not on 'cool down'.
If you don't want to lose, you must choose the right card to match your strategy. Each card is divided into different classes, with their own attributes and skills. When you upgrade your card to a maximum of 5 stars, then the tactics that you set out will be much simpler.
Rival: Crimson X Chaos' Graphics
The graphics for this game are great for a mobile app. RIVAL: Crimson x Chaos has a very sharp and clear 3D style, simulated realism to it. From a bird's eye view, the overall look of the game can be viewed from the very beginning to the very end. I love the way the characters move and don't lag. This really adds to the real-life battle feel of the game. I'm surprised it doesn't lag due to the app having great graphics and me only playing on an iPhone 5s, so it's good to know that RIVAL: Crimson x Chaos works on many different devices, even if they're quite old.
The game is designed with the interface, every detail in the game is meticulous. The game control makes a great impression in the eyes of players. From the design, the interface and the image, it's an extremely detailed simulation that creates a special highlight for this product.
Rival: Crimson X Chaos' Music
The background music for RIVAL: Crimson x Chaos is very vibrant that for sure helped stimulate my curiosity. The music plays a big part in keeping this game interesting and increasing the appeal.
While playing, you will hear lots of shouting and grunts from other characters which makes the game a whole lot more effective. During the game, you're connected with a random person and you can get the chance to send pre-made chat messages to them that make their own noises. There's a chat message that laughs, one that says hi, one that laughs, one that cries, one that makes some weird un-explainable noise, and one that makes an angry noise.
Rival: Crimson X Chaos' Controls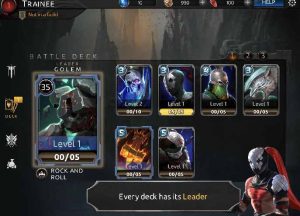 The control system for RIVAL: Crimson x Chaos is very simple, but maybe a little too simple for my liking. All you have to do is touch the virtual home button, insert a hero card into the explosion to block the enemy attack, the low defense, and the main tower. When you encounter rivals tactics with a 5-star card, things will get more difficult.
You will prepare different types of warriors before entering the battle and over time, you need to destroy all enemies. The system will increase Mana points every time you get a kill.  You will use this score to summon different characters and increasing the strength of your army. On top of the distribution of troops, keeping a strong card set is very important and is one of the key determinants of winning.
Rival: Crimson X Chaos' The power of in-app purchases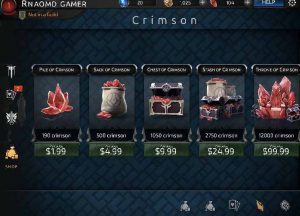 I was a little bit confused about in-app purchases. For some reason, you can't unlock the store until you've reached a first rank victory. And I reached a few victories so I thought I'd be able to buy something but I couldn't in the time I was playing this game which is annoying. However, I do believe that this game is very easy to play without spending your own money – which is rare for your average free game. I didn't see any ads randomly pop up either, which was nice because it can sometimes get annoying receiving ads every time you complete a new level in the game you're playing!
Rival: Crimson X Chaos' Overall game play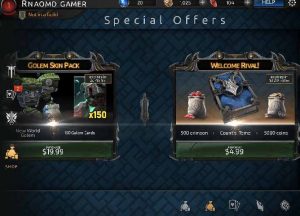 Overall, this is an impressive game with great overall game play.  The more I played it, the more I understood what to do.  There's a learning curve for this game if you have never played any card battle games, and two if you never played any kind of arena games. I felt like I needed to teach myself how to play as the tutorial wasn't very long and it was forgettable (although that might've just been my fault).
RIVAL: Crimson x Chaos is a highly addictive game and you could easily play it for hours on end. It's very similar to Clash Royale.  The game is overall good and I could definitely imagine myself playing it again in the future and recommending it to friends.
Rival: Crimson X Chaos' Overall Score:  4/5
IOS Link:  https://itunes.apple.com/us/app/rival-crimson-x-chaos/id1300704524?mt=8
Google Play:  https://play.google.com/store/apps/details?id=com.sectionstudios.rival&hl=en_US
About Post Author