https://www.youtube.com/watch?v=n3Qlw7tQv6M&feature=youtu.be
Restaurant DASH: Gordon Ramsay Review!
"JOIN GORDON RAMSAY AND COOK YOUR WAY TO SUCCESS!
Travel around the globe and master your skills in unique restaurants w/ Gordon Ramsay as your guide! Build your restaurant empire!
BATTLE OTHER PLAYERS ONLINE!
Use strategy along with your culinary skills and battle other players or friends online to reach the top of the leaderboards!
CHOOSE YOUR CHEF'S LOOK!
Create your chef's own personal look with the all-new avatar system, a first for any DASH game!
CELEBRITY CHEF BOSS BATTLES!
Got what it takes to compete with the best? Face Gordon Ramsay and others in new Boss Battles!
EARN AND TRADE ITEMS FOR BETTER RECIPES!
Upgrade your recipes for even better rewards by collecting rare and unique items throughout the game!"
Company: Glu Games Inc
Genre: Strategy
Rated: 9+
Offers in-app Purchases
Get the chance to run a restaurant with one of the world's top chefs – Gordon Ramsay! But don't expect him to go easy on you… Check out what we thought of Restaurant DASH: Gordon Ramsay.
Gameplay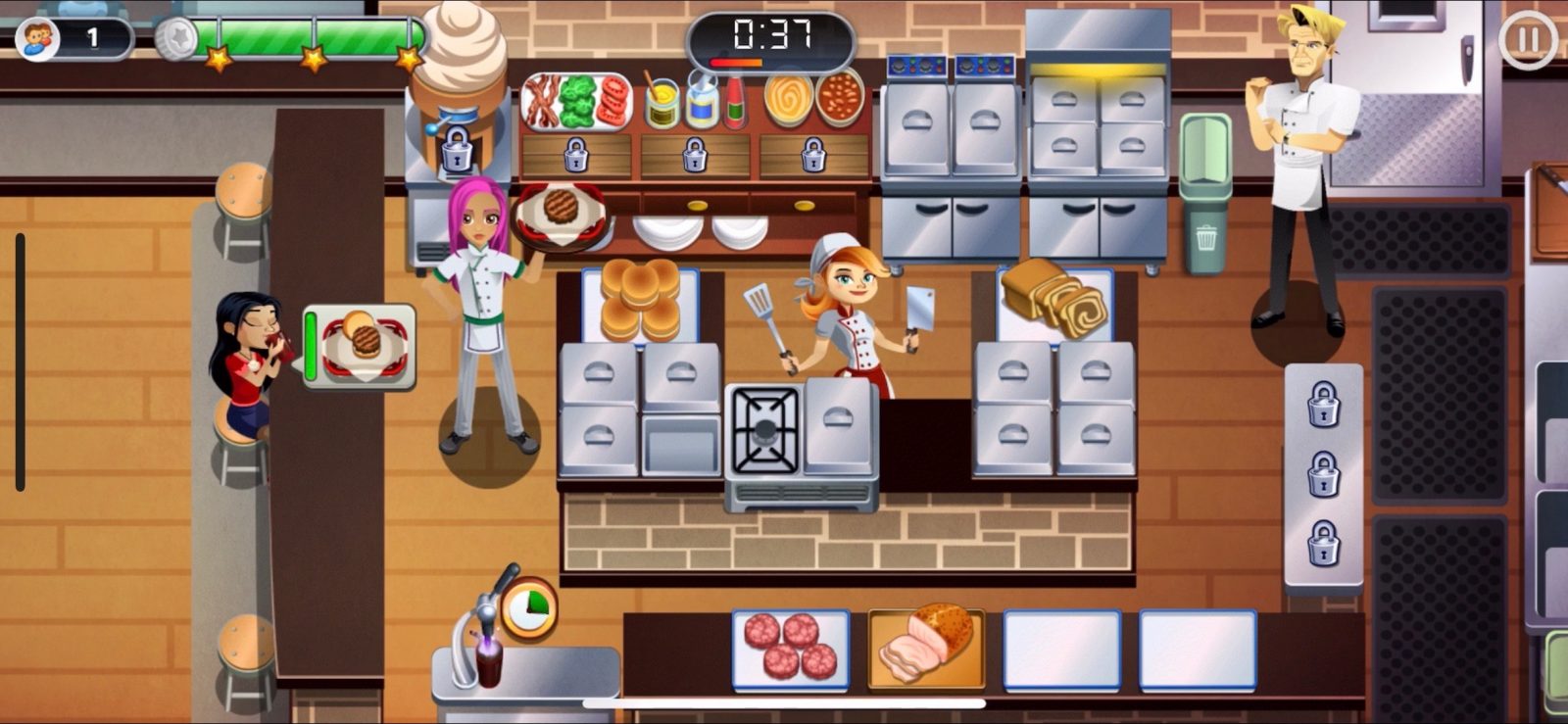 The game starts off with you having to make a paleo burger for a few customers in less than 2 minutes, this just consists of grilling the burger and serving it to the customer without a bun. Next, you're instructed to make a normal burger, which of course includes a bun so it's already a little more tricky than the first. However, it's still ridiculously easy…
As time goes by, turkey sandwiches are added to the menu along with a glass of cola. The customers mix and match their orders so it's important to keep an eye on requests without burning or getting orders wrong.
If you get an order wrong, Gordon will tell you off and he will then let you know how to actually do the order – much like real life. Once I got to around level 8, I found it increasingly harder to get 3 stars and was finding myself overwhelmed by all the orders I needed to fulfill. In some levels, you can tap on Gordon and he will do all the orders for you within seconds which is great if you're short for time. Unfortunately, you can't use this all the time, though.
Graphics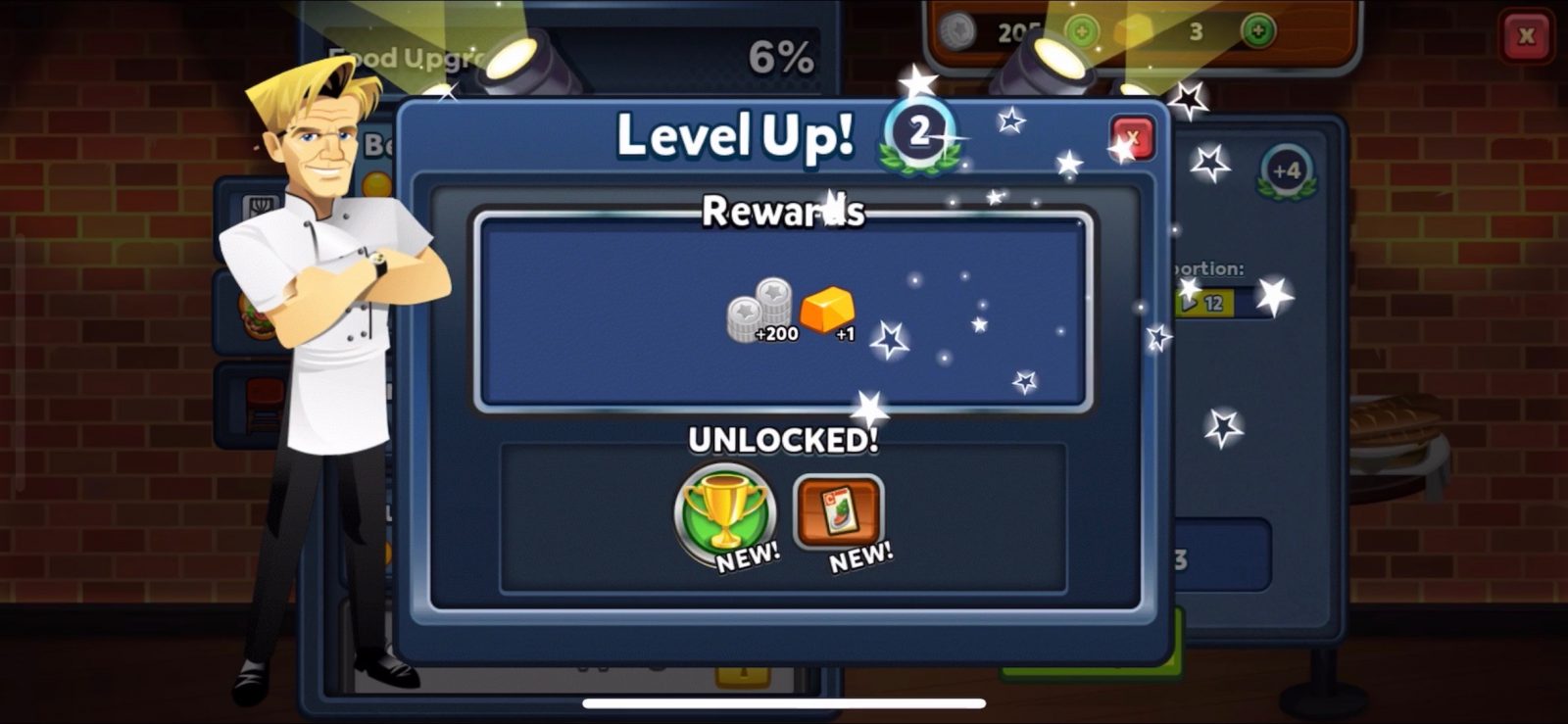 As this is a spin-off of the game Cooking Dash, the graphics are extremely similar. You view Restaurant DASH: Gordon Ramsay from a bird's eye view, with Gordon in the top right-hand corner assessing you, a chef in the middle and your character moving around to serve the goods on time.
Music & Sounds
I'm not entirely sure if this is true, but upon researching, Gordon Ramsay's real voice is used in the game which is quite impressive and shows that Restaurant DASH: Gordon Ramsay had a high production budget. If you've ever wanted to be shouted at by him, then now you can – he even swears too!
The music, however, is a little bit annoying but there is an option to turn it off if you want to. I definitely would say it's easy to forget there is any music at times due to how intense the gameplay can become.
Controls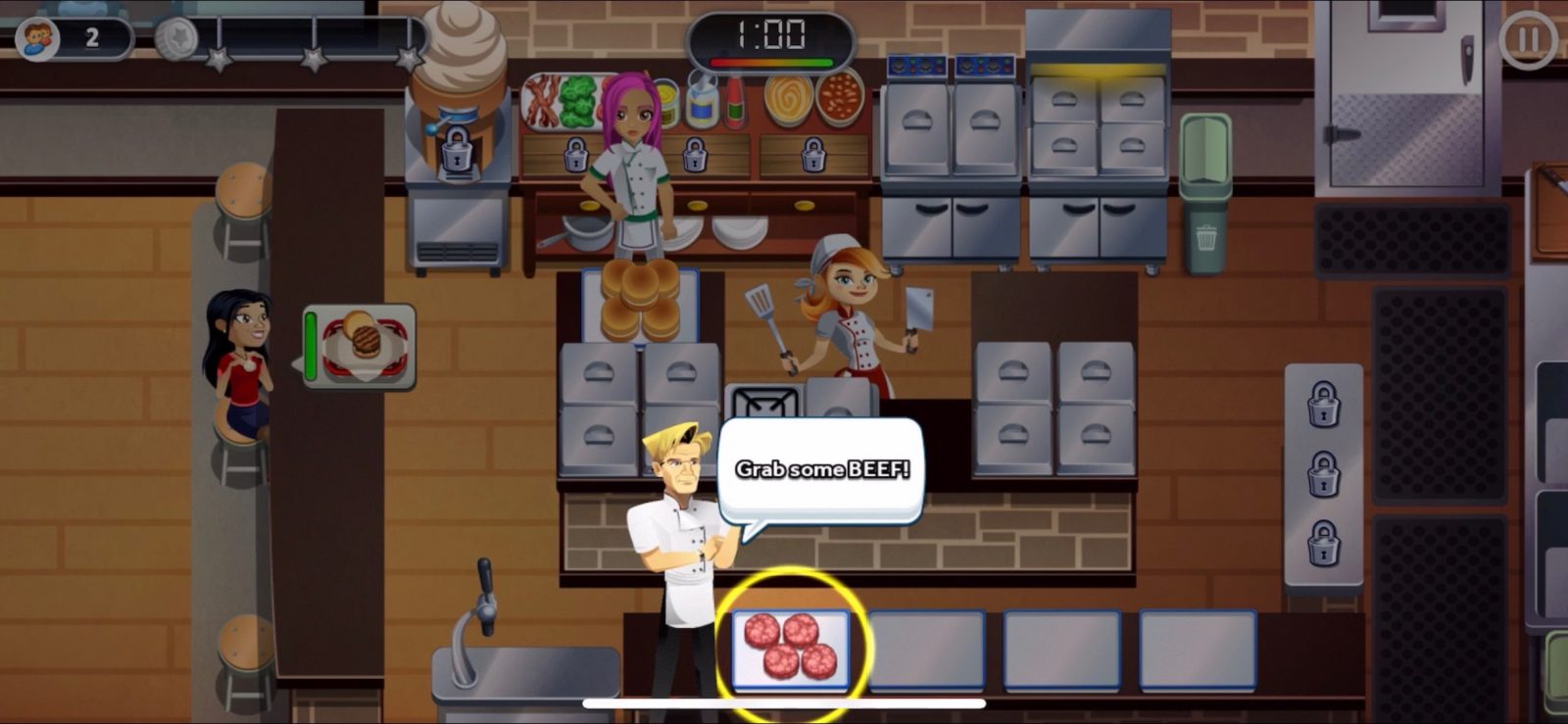 The controls consist of tapping on objects to cook them, chop them up and serve them. For example, when you click on the burger, your character will go to where the burger is and so on. That's it apart from the pause button that's on the top right-hand side of the screen which allows you to turn the music and sound off, or quit the game.
The Power of in-app Purchases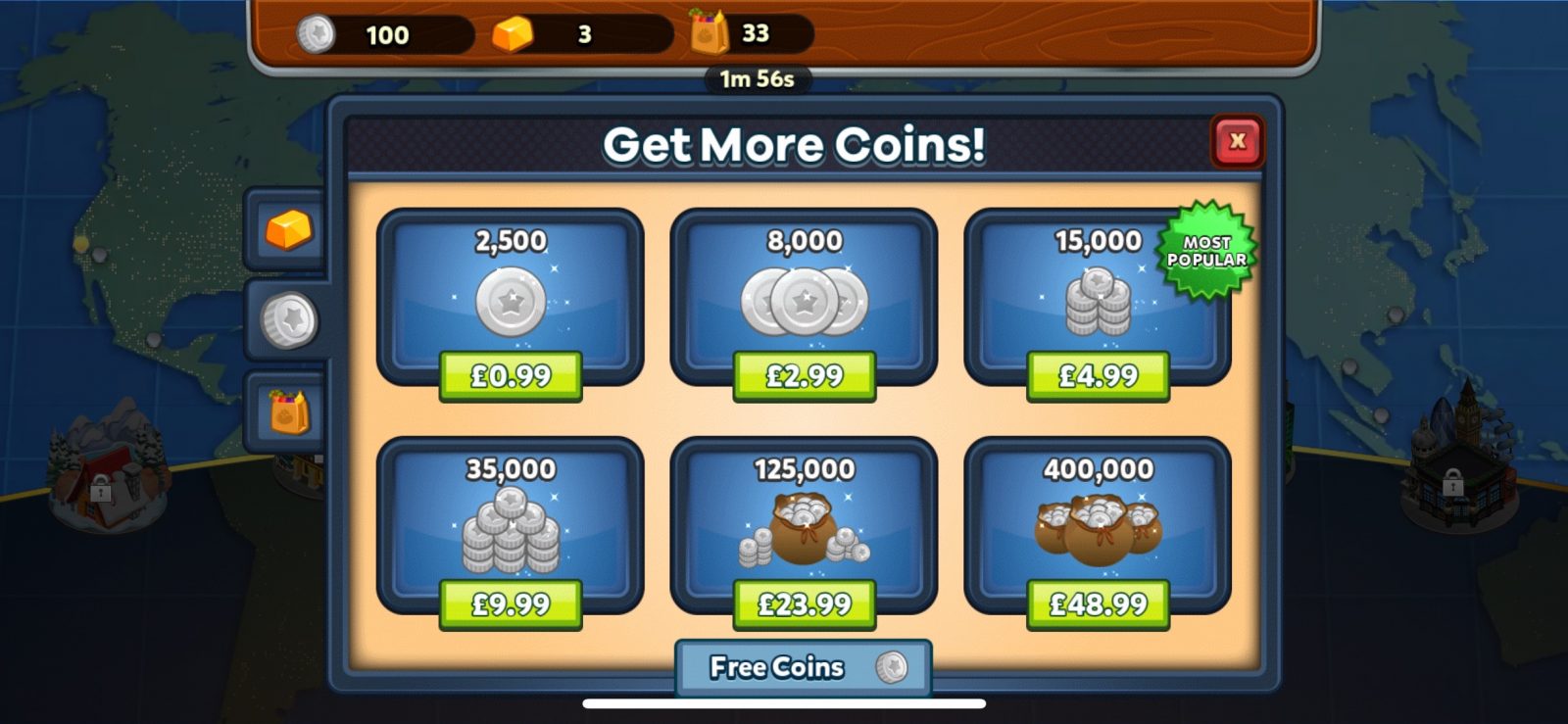 The store allows you to purchase gold, coins, and supplies to help you get through the game. Here's a breakdown of the prices:
Gold
10 gold for £0.99
35 gold for £2.99
125 gold for £9.99
300 gold for £19.99
1,000 gold for £49.99
2,500 gold for £99.99
Coins
2,500 coins for £0.99
8,000 coins for £2.99
15,000 coins for £4.99
35,000 coins for £9.99
125,000 coins for £23.99
400,000 coins for £48.99
Supplies
50 supplies for 10 gold
115 supplies for 20 gold
250 supplies for 40 gold
The coins allow you to purchase food and appliance upgrades, however, it is worth noting that you make coins through playing the game. So if you're willing to persevere, there isn't any reason to purchase anything from the store.
The Verdict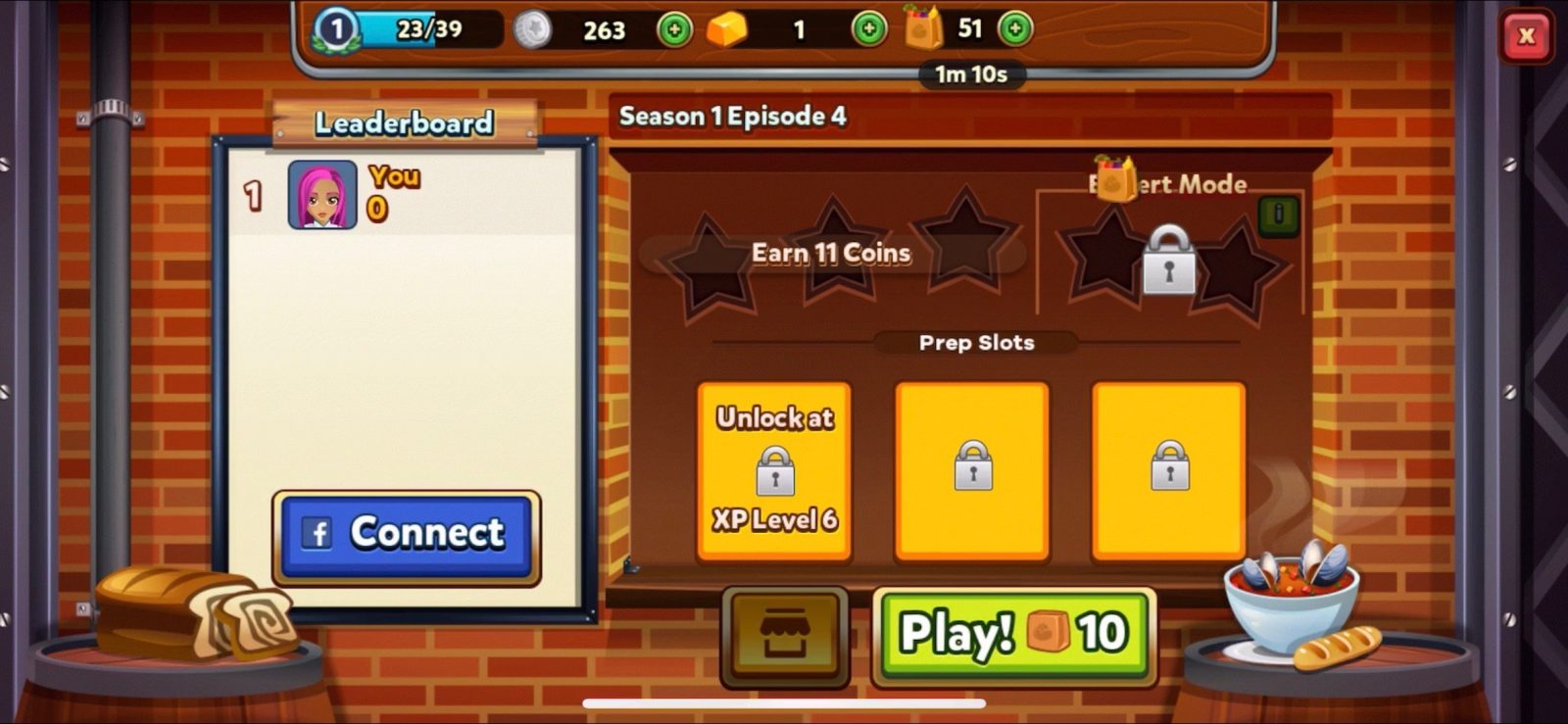 Restaurant DASH: Gordon Ramsay is a really entertaining game to play when you have a few minutes spare. However, it does become addicting so if you need to be somewhere, I'd say give it a miss. The absolute satisfaction of getting 3 stars and serving all your customers is like no other, and I love how much voice acting is included in the game rather than having to read from the script. I prefer this version to Cooking Dash, mainly because Gordon Ramsay is in it but it's funny how he swears and tells you off if you get the order wrong.
If you decide to download Restaurant DASH: Gordon Ramsay, let us know what you think and if you agree or disagree with any of the things we said. Happy gaming and stay casual!
Restaurant DASH: Gordon Ramsay Overall Rating: 4/5
Company: Glu Games Inc
Genre: Strategy
Rated: 9+
Offers in-app Purchases
About Post Author