Quick Hit Slots – Spin to Win!
**Discover the Best of Vegas Slots – ONLINE!**
EVERYONE loves the intrigue of Las Vegas casinos… Everyone loves the craziness of the casino floor – the suspense of poker games, roulette wheels clicking away, card dealers yelling 'BlackJack!'… But you know you love the slot machines most!
**Slots with Fabulous Features!**
PLAY to WIN! Hit Blazing 777s, Wild Jackpots and the Quick Hit multiplier!
-Discover the thrill of spinning the U-Spin bonus wheel
-Win BIG! Up to 50x your bet in the Money Bags Bonus games
-Get spoiled with amazing Coin Bonuses
-Share coins between friends online
-Boost your cash payout with each mini game
SPIN your way to the Jackpot today with Quick Hit Slots™ & the Bally Slot Machine games you love!
Quick Hit Slots Links:
iOS Link: https://itunes.apple.com/us/app/quick-hit-slots-spin-to-win/id945621521?mt=8
Android Link: https://play.google.com/store/apps/details?id=com.ballytechnologies.quickhitslots&hl=en_US
Company: Appchi Media Ltd.
Genre: Casino Games
Rated: 17+
Offers in-app Purchases
Hey Casual Gamers!  If you've never had the fun of a trip to Las Vegas, I would suggest start making plans!  You won't fully enjoy it if you aren't over 21, (You must be 17 to actually download this app!) but if you are the correct age, you can have your hand at Quick Hit Slots!  Is it worth your casual time?  Lets find out!
Gameplay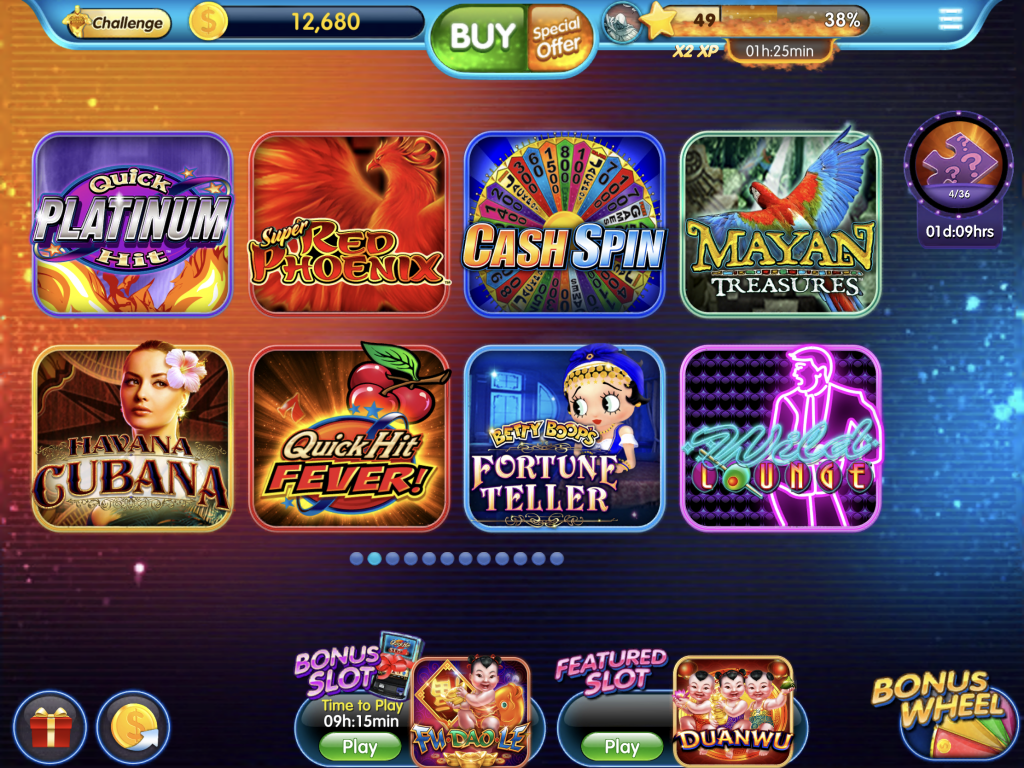 Quick Hit Slots offers a huge list of playable online slots!  Many of the slots in this casual casino app are the same ones in the casino floors of Las Vegas!  Starting off is extremely easy and there's a number of ways to collect tons of free coins!
After gaining a few levels, more slots open up and the race begins towards your favorite game!  Each slot offers it's own bonus, and some of the feature slots are tied to a multi-million coin progressive!
Graphics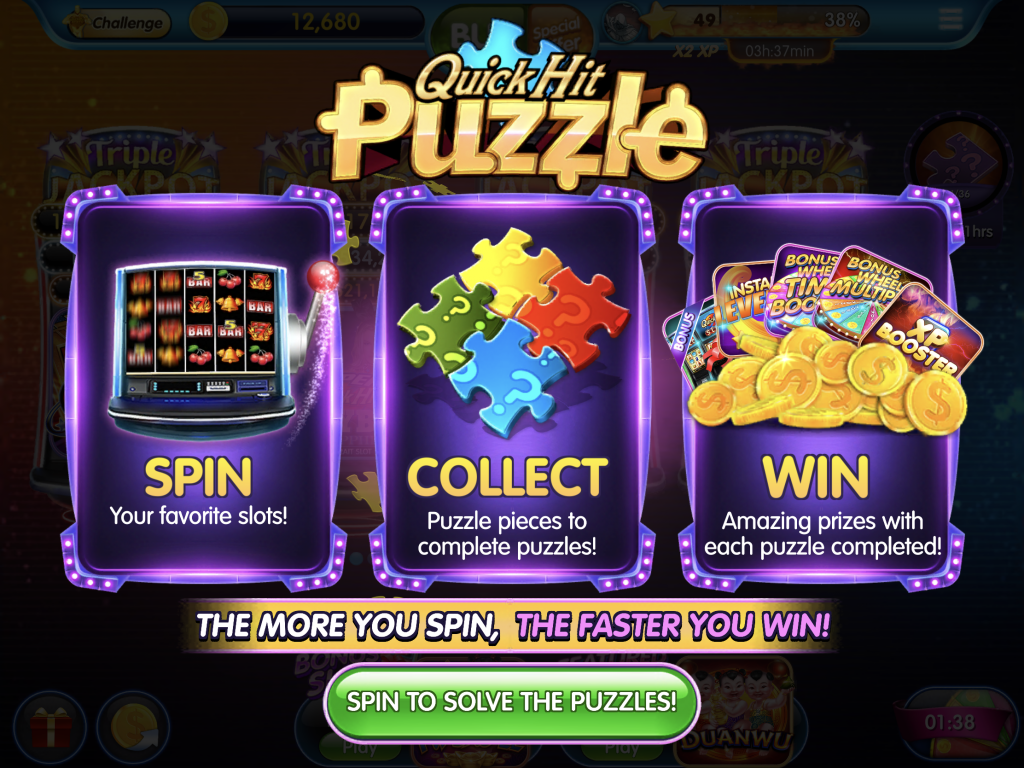 Most of the slots presented in Quick Hit Slots seem to be ports, meaning that you can spin the reels and get the same results at home like you would on your favorite casino floor!  Some of the additional menus like tournament rankings can block a reel or two, but it never seems to be too overly done.
Getting a big win is mesmerizing as all the digital gold and diamonds rush the screen in joy.
Music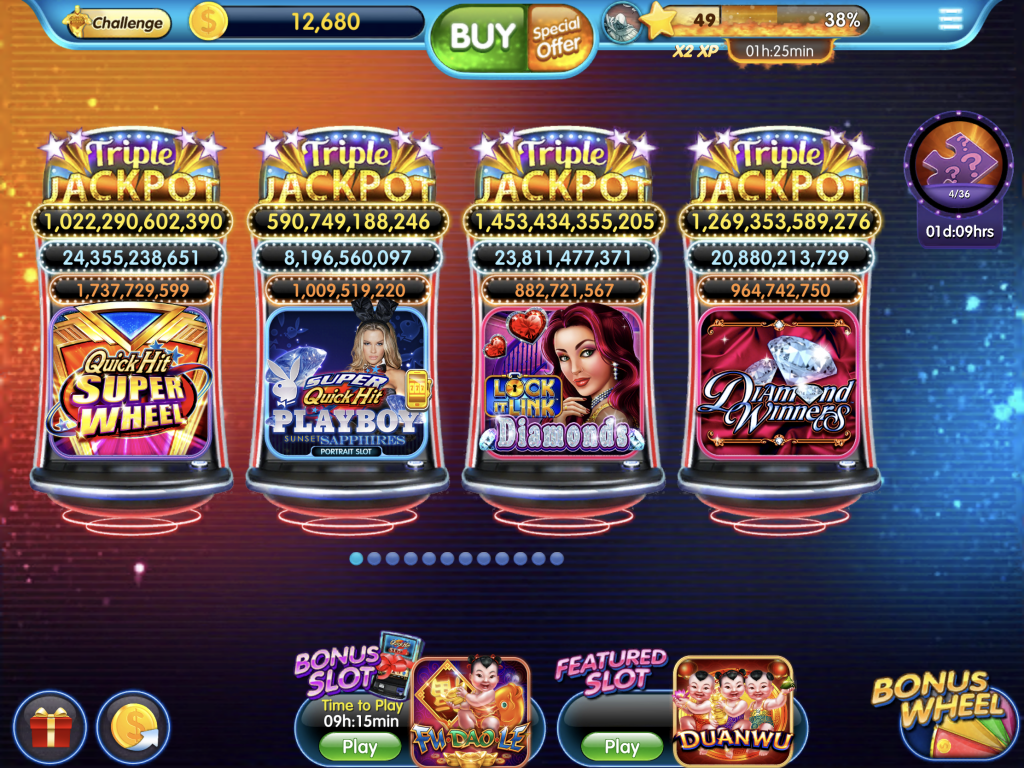 Thankfully, the music is what you would expect.  Tons of coins and the tension of almost hitting a bonus feels immediately real thanks for the wonderful sound effects!  The music is what a casino machine would offer, but easier to hear!
No cigars or strange people to interrupt the flow and sound of this casual app!  I can almost find the noises hypnotizing as the auto-spin guides me to the next bonus!
Controls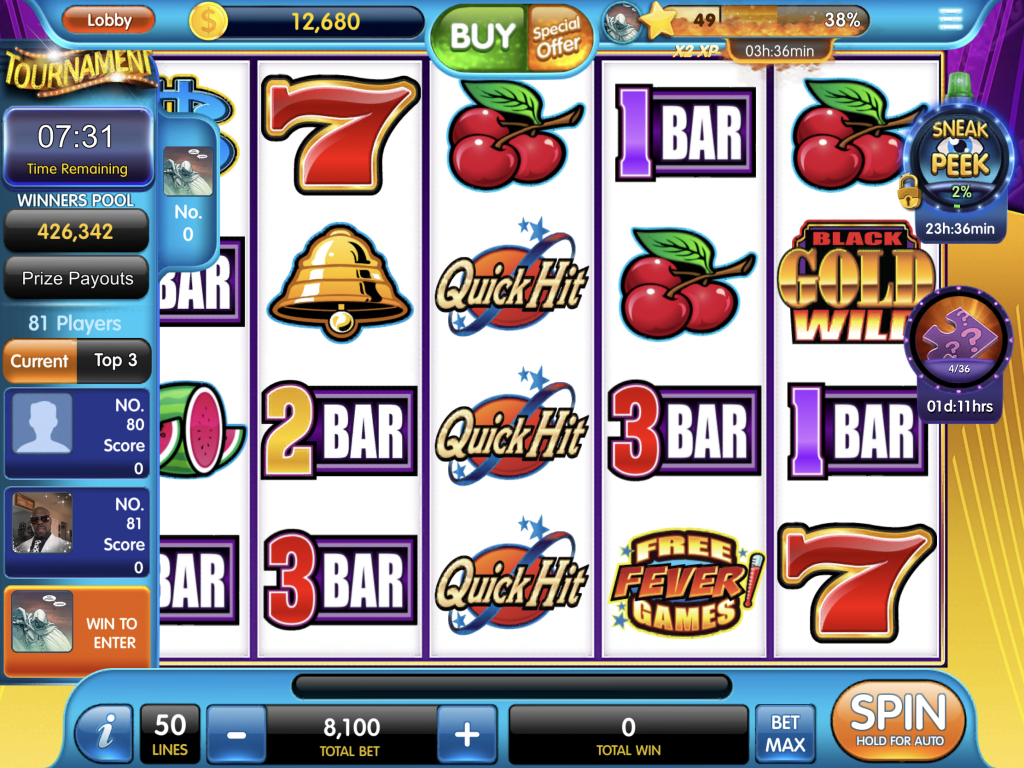 These controls are about as easy as pushing a button on a slot machine!  There are a few menus to navigate through but nothing that's completely off-putting.  It does take some time to get through the opening offers and bonuses, but consider it your one in-game ad!
There are setting tabs in the upper right of the app to adjust anything for this casual app.  Although, I didn't find an instant win button!
The Power of in-app Purchases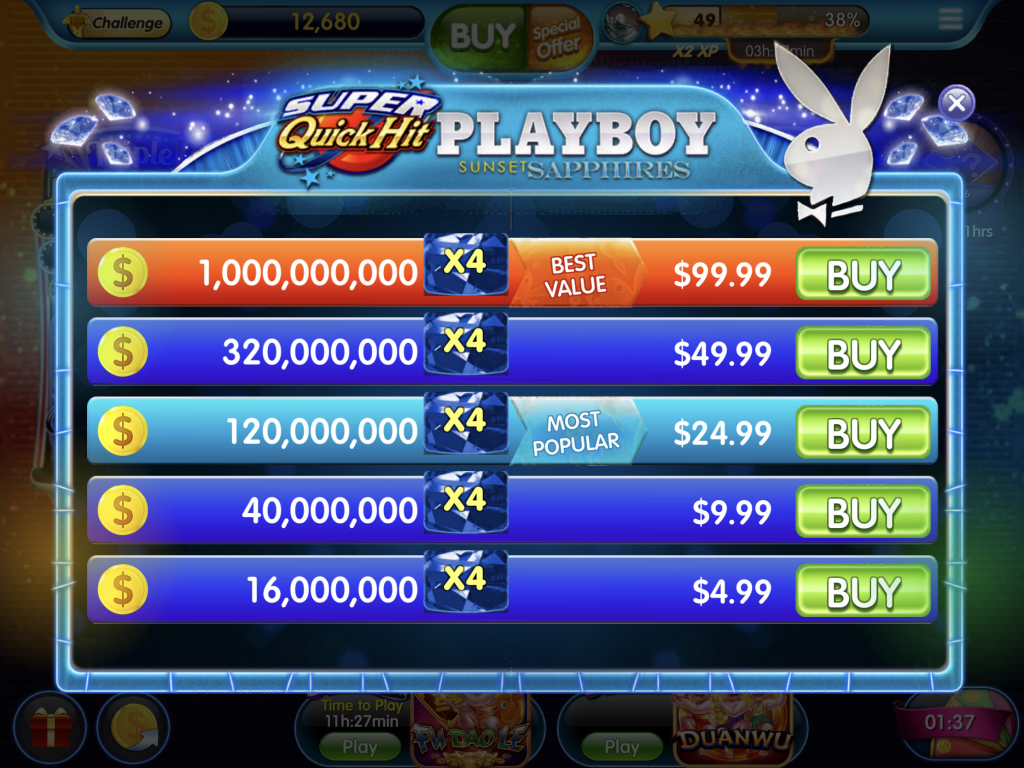 Honestly, I haven't made a single purchase on this app.  I just couldn't talk myself into buying coins for…well, nothing!  There's no achievements or impossible gear to get, it's all about the luck of the reels!  There's also no real guarantee that any of the slots will be looser.
The only real reason I could support a purchase here would be for training. If you know how a slot machine app works, then you know what you are looking for when you are in front of the real machine.  It could be a viable strategy.
It's all a shot in the void.  There's too many random factors in slot machines in general to predict.  The internal workings of a slot machine has calculations that are done in milliseconds.  That's faster than we normally blink.
Ultimately, it's all being lucky at the right time!  Luck is something that's made by oneself.  So, if you want to ever feel casually lucky, just think lucky!
The Verdict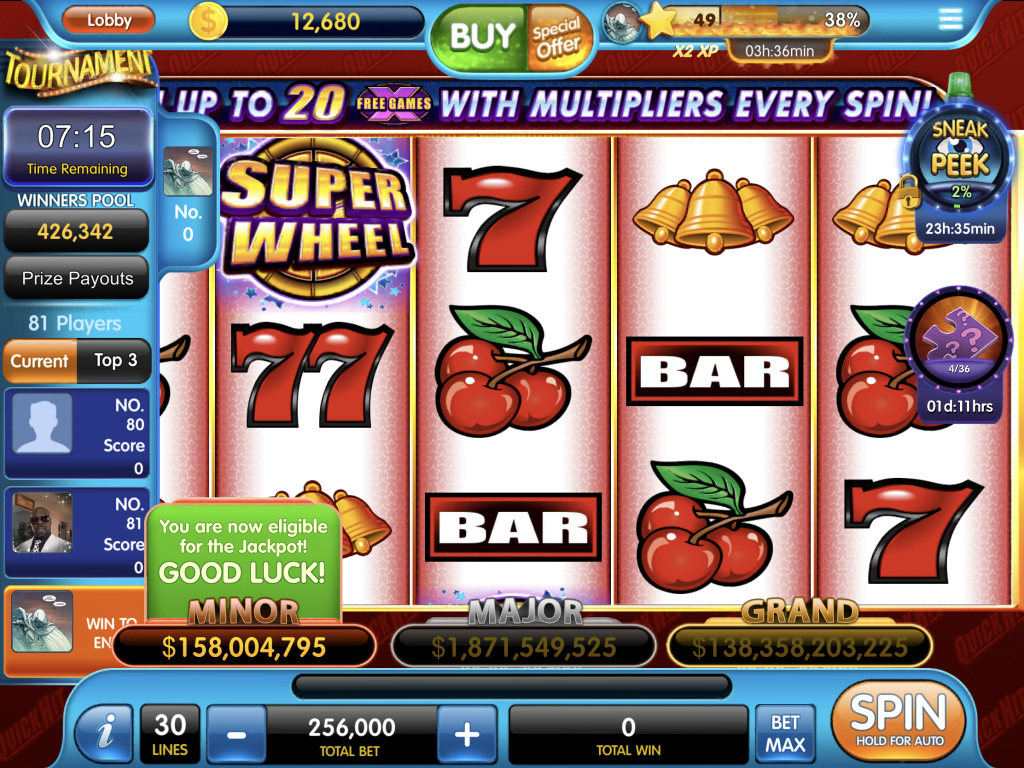 Overall, this casual casino app is pretty enjoyable!  Quick Hit Slots offers tons of free in-game coins and most of the slots have reasonable bets. The auto-spin function is a great way to go idle casually do other things until the bonus summons you back!
I'm still on the fence about a purchase.  I normally make it a habit to purchase something in a casual app I enjoy, but there's not much going on here!  Besides feeling like I'm giving money to a casino, but I know for sure I'm not getting anything back!
Actually, that's how I do feel about it!  Guess life imitates art on this one!
Well, should you manage to download and play Quick Hit Slots, write a comment below and lets become in game friends!  One of the better ways to get free coins!
Happy Gaming, and as always, keep it casual!
Quick Hit Slots Rating: 4/5
iOS Link: https://itunes.apple.com/us/app/quick-hit-slots-spin-to-win/id945621521?mt=8
Android Link: https://play.google.com/store/apps/details?id=com.ballytechnologies.quickhitslots&hl=en_US
Company: Appchi Media Ltd.
Genre: Casino Games
Rated: 17+
Offers in-app Purchases
About Post Author