Papa's Wingeria To Go Review!
"Fry and toss tons of saucy wings and things in Papa's Wingeria To Go!
It's your lucky day! After winning a trip to the glitzy and glamorous Starlight City, you take a chance on the Mega Prize game and win the jackpot: A new career at Papa's Wingeria!
You'll need to run the fryers and toss chicken wings in a variety of flavorful sauces. The restaurant is known for its famous wings, but you'll also add other meats to the menu, as well as a wide array of delicious sauces and plenty of sides and dips. Starlight City celebrates different holidays year-round, so get ready to unlock new festive sauces, sides, and dips as you play through the holidays!
Your customers expect a great presentation, so arrange the fried foods with sides and dips so they're pleasing to the eye — and their stomachs! The familiar hands-on gameplay of the series is back, but this time you'll especially have to focus on presentation and how to best layout the plate with all of the food ordered. Learn a variety of patterns for arranging the food to earn the best scores from your customers, and earn big tips to spend in the Shop!"
iOS Link: https://apps.apple.com/us/app/papas-wingeria-to-go/id1451873044
Android Link: https://play.google.com/store/apps/details?id=air.com.flipline.papaswingeriatogo&hl=en_GB
Company: Flipline Studios
Genre: Cooking
Rated: 4+
Offers in-app Purchases
Gameplay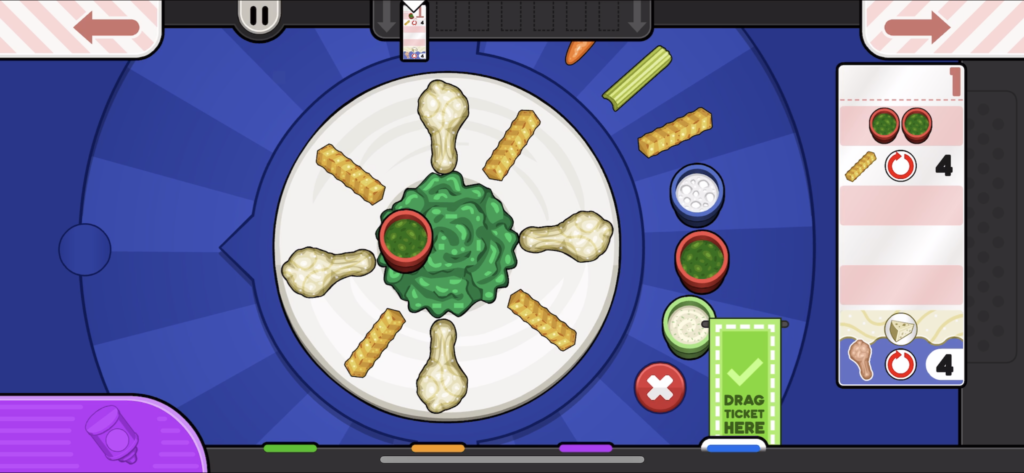 If you've played any of the Papa's games on coolmathgames.com, chances are you were a cool kid! But did you know they have their own mobile app versions of the series? When I saw it advertised to me on the app store, I couldn't help but get really excited! Papa's Wingeria has been around since 2012 so let's see if it lives up to the flash online game we all know and love.
The game starts with you taking over Papa's Wingeria restaurant. In a straight forward tutorial, you're shown how to work the food stations. There's the order station, fry station, sauce station, and the build station and you get a rating based on each section.
When your first customer comes, they'll order their food on a ticket and it's your job to keep up with all orders and serve them in the best quality possible. The main difference between this app game and the flash game is that you now have a delivery driver. This adds a more updated element to the game and makes it slightly more challenging – I loved it!
Graphics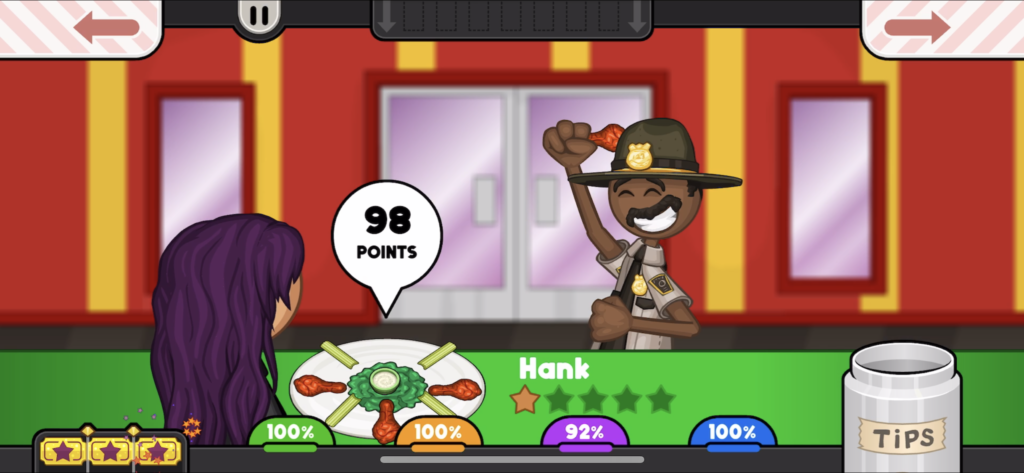 The graphics for Papa's Wingeria haven't been compromised for mobile which I love. There's something very nostalgic about the cartoon-like visuals along with the borderline creepy characters. I would be so upset if they changed the game visually!
Music & Sounds
Again with keeping it nostalgic, the music is the same catchy music you know and love from the original Papa's Wingeria game. Along with this, the sounds are the same too. This game really is a big ball of nostalgia.
Controls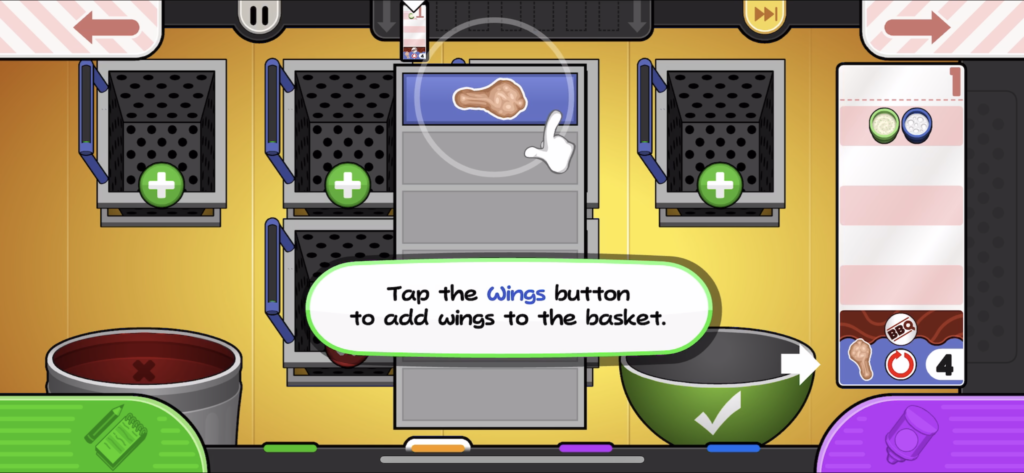 To take orders, click on the customer or the telephone. Once you've received their order, you will need to use a combination of tapping and dragging in order to complete it. It's a fairly simple process, the hardest part is keeping up with the orders.
The Power of in-app Purchases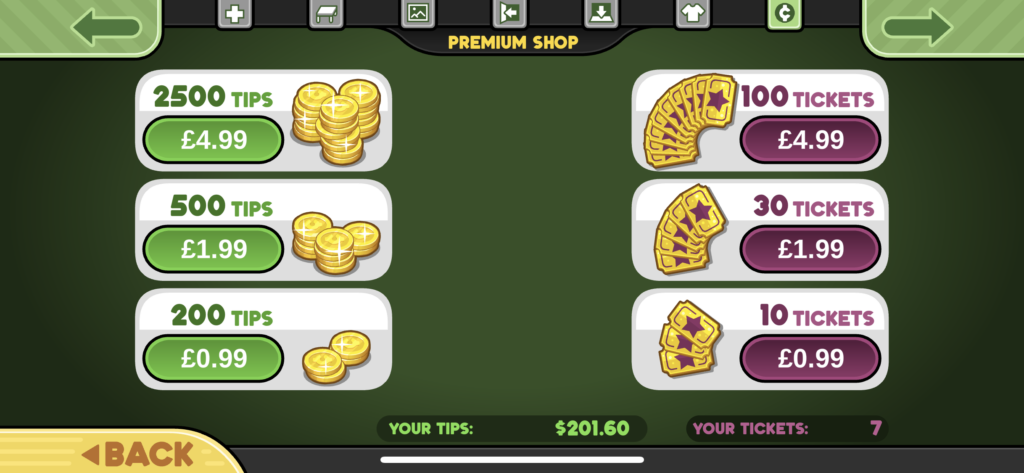 Although this is a paid game ($1.99), there are two forms of in-app currency you can purchase.
Tips
200 tips for £0.99
500 tips for £1.99
2500 tips for £4.99
Tickets
10 tickets for £0.99
30 tickets for £1.99
100 tickets for £4.99
Although the pricing for these purchases isn't too bad, I would suggest not purchasing. It's actually effortless to earn tips and tickets through playing the levels. It's a waste of money in my opinion.
In the store, you can purchase upgrades that'll help you keep up with your customers. These include a doorbell, fryer boosters, fryer alarms, plate guides, customer coupons, and a special sign. All of these can be bought with tips!
The Verdict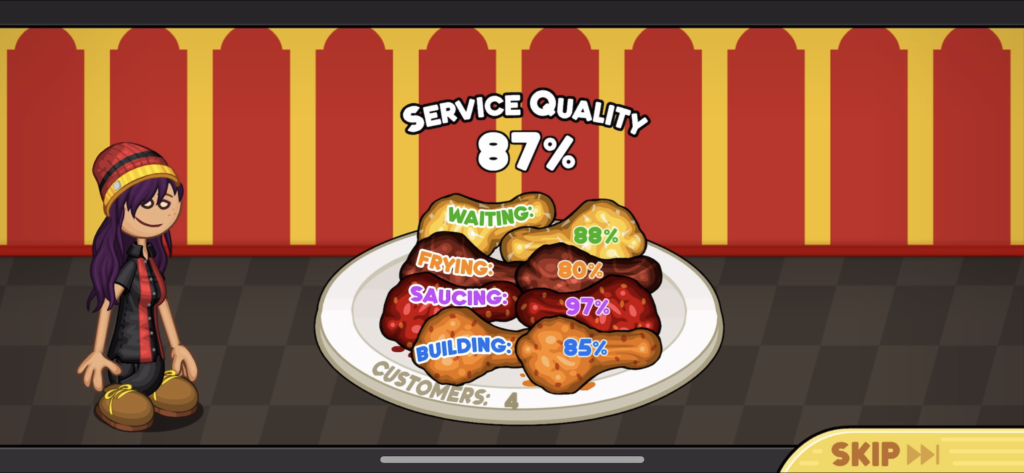 I was nervous about how Flipline was going to change Papa's Wingeria to fit the mobile, but it's worked out perfectly. If you loved playing this game when you were a child, it's definitely worth the purchase because I'm never going to delete it now. It's so fun for those days where you just want to play something casual and not too serious!
If you decide to download Papa's Wingeria, let us know what you think and if you agree or disagree with the things we said. Happy gaming and stay casual!
Papa's Wingeria To Go Overall Rating: 5/5
iOS Link: https://apps.apple.com/us/app/papas-wingeria-to-go/id1451873044
Android Link: https://play.google.com/store/apps/details?id=air.com.flipline.papaswingeriatogo&hl=en_GB
Company: Flipline Studios
Genre: Cooking
Rated: 4+
Offers in-app Purchases
About Post Author