Om Nom: Merge Review!
"Merge Cut the Rope characters and help Om Nom save the forest!
An abundance of fruit has started cropping up throughout the land. What a delicious treat! It's up to Om Nom to restore the balance and save the magic forest. However, he can't do this on his own, there's just too much fruit for one mouth!
The Nommies hold the key to success – Om Nom's special friends can be merged together to unlock new, more powerful breed of Nommies to help munch through glade after glade of yummy treats.
Satisfying, merge-based gameplay:
– Merge similar Nommies to discover new creatures
– Idle away as your Nommies eat fruit and gain you sweet rewards
– Collect dozens of characters with a unique look
– Discover new exciting locations
– Use Om Nom Spells to make fruit grow faster and evolve with double-speed!"
iOS Link: https://apps.apple.com/gb/app/om-nom-merge/id1483037067
Android Link: https://play.google.com/store/apps/details?id=com.zeptolab.omnommerge.google&hl=en_US
Company: ZeptoLab UK
Genre: Simulation
Rated: 4+
Offers in-app Purchases
Gameplay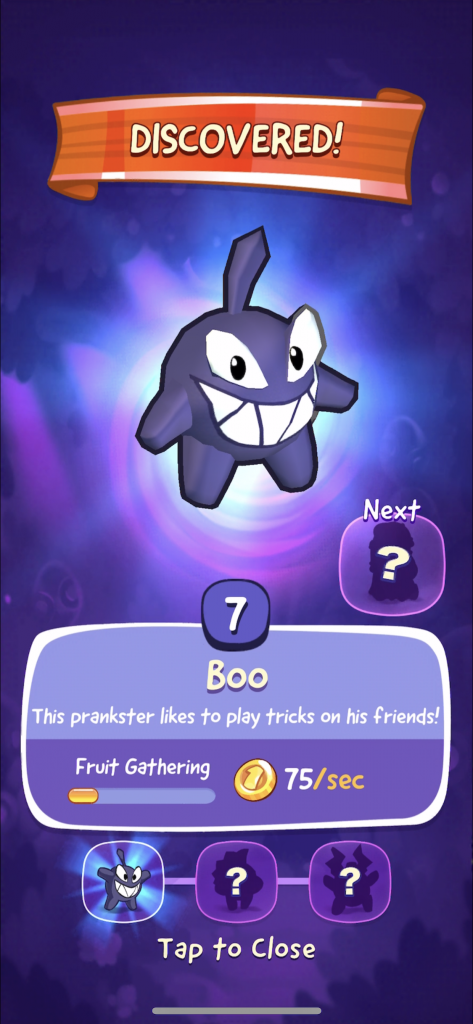 Om Nom: Merge is a simulation-style game where the aim is to eat as much of the fruit that's cropping up throughout the land as possible. Play as Om Nom to restore the balance and save the magic forest. However, this isn't possible on his own. So it's important to merge Cut the Rope characters to make new, faster, and better characters to eat the fruit. These characters are called Nommies, and they can help you unlock new, more powerful breeds of Nommies to help you munch through the fruit.
I found the gameplay fun, addicting, and different from anything else I've played before. I don't know if there are any other games like this, but this is the first I've seen. It was thoroughly enjoyable merging the Nommies together to make new, powerful characters.
Graphics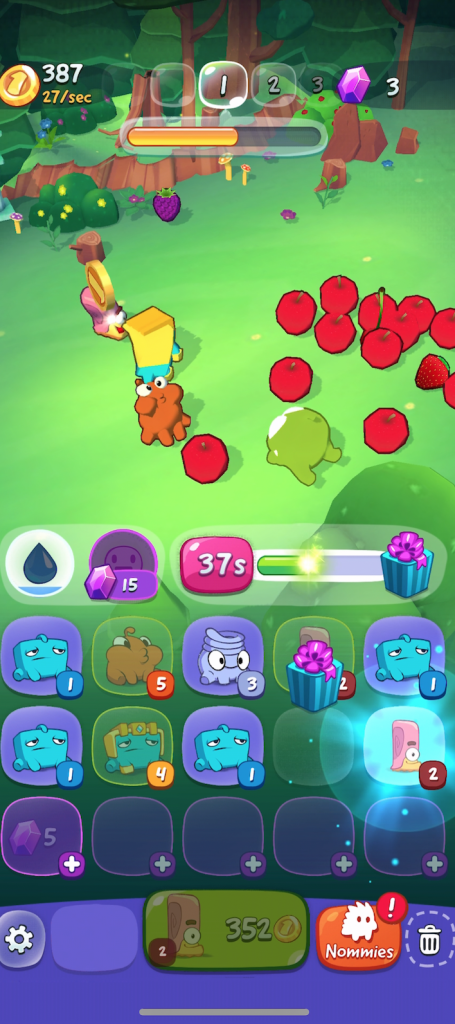 Like Cut the Rope, the graphics are bright, cartoon-like and great for the type of game it is. There is a section at the bottom of the screen where the Nommies spawn, and you put them together to make a new Nommie. They all visually have their own personalities and looks. However, the graphics weren't something that I was blown away by.
Music & Sounds
The music doesn't add any substance to the game, but it definitely fits in with the fun theme of it. The music is upbeat, childlike, and fun. Although, it can definitely become annoying after a long gaming session. Don't worry though, there is a setting to turn of music and sounds.
Controls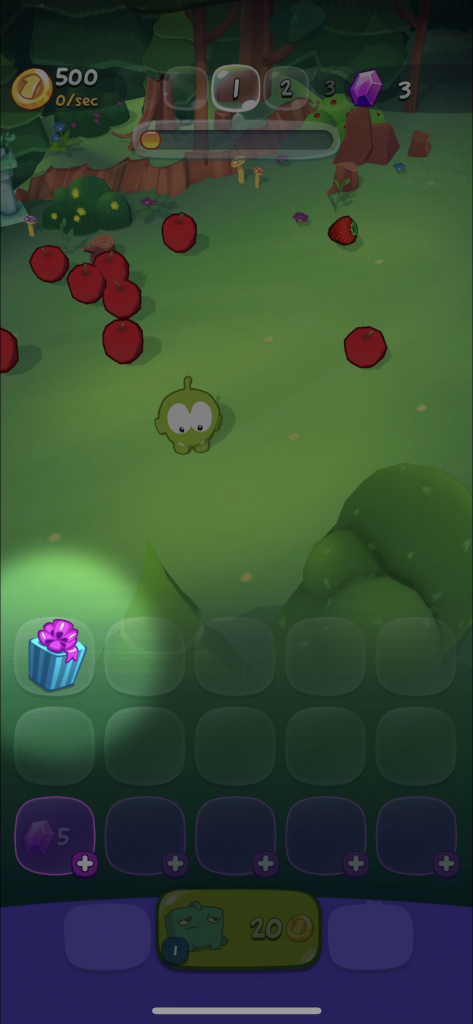 As I said, the bottom of the screen is where you merge the Nommies. To do this, you need to drag two of the same Nommies together to make a new and improved one. To guide your Nommies to a certain fruit, you can tap a place in the forest and a flag will land there.
The Power of in-app Purchases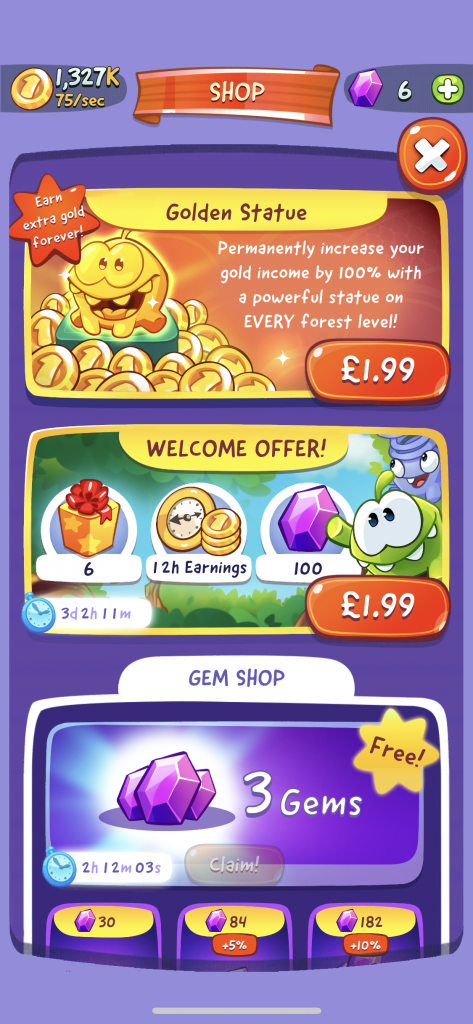 Offers 
Golden Statue – Permanently increase your gold income by 100% with a powerful status on every forest level for £1.99
Welcome Offer – 6 gifts, 12h earnings, and 100 gems for £1.99
Gem Shop
3 gems for free every 24 hours
30 gems for £1.99
84 gems for £4.99
182 gems for £9.99
403 gems for £19.99
1080 gems for £48.99
2375 gems for £99.99
Instant Gold
1hr 639,000 coins for 45 gems
12hr 7,668k coins for 150 gems
24hr 15,336k coins for 275 gems
The Verdict
Om Nom: Merge is one of those games that becomes ridiculously addicting, but it also gets to the point where you can't get any further without purchasing anything. With freemium games, it's hard to say completely whether we think it's worth keeping. However, we won't be. Only because this isn't the type of game we find interesting, not because it's bad. The overall gameplay was good, but the controls and graphics could've been a little more interesting. It's a great game for children, though!
Om Nom: Merge Overall Rating: 3/5
iOS Link: https://apps.apple.com/gb/app/om-nom-merge/id1483037067
Android Link: https://play.google.com/store/apps/details?id=com.zeptolab.omnommerge.google&hl=en_US
Company: ZeptoLab UK
Genre: Simulation
Rated: 4+
Offers in-app Purchases
About Post Author