https://www.youtube.com/watch?v=2RqtpPRAxxA&feature=youtu.be
Need for Speed: No Limits Review!
"Claim the crown as king of the underground as you race for dominance in the first white-knuckle edition of Need for Speed made just for mobile – from the game developer that brought you Real Racing 3.
Build the ride that shows your style with an unbelievable range of cars and customizations. Launch yourself between chaos and control as you hit the pedal and roll into underground street racing. Takedown the competition, up your rep, then kick into more races, more customizations, and more cars. Make your choices and never look back.
CUSTOMIZE EXTREME RIDES
Stock your garage with the real-world cars you've always wanted, from top manufacturers such as Ferrari, Lamborghini, McLaren, Pagani, Koenigsegg, Hennessey, and more. Then trick them out with the hottest customization system on mobile, from spots like the Mod Shop and the Black Market, giving you over 2.5 million custom combos to play with. Your rides are waiting – take them to the streets to go head-to-head with the competition and prove yourself.
DRIVE FAST – AND FEARLESS
Steer onto the streets of Blackridge, accelerate over jumps and around debris, into traffic, against walls, and through high-speed Nitro Zones. Flip on the nitrous and thrust yourself into another level of adrenaline-fueled driving and drifting. Around every corner is a fresh race as you clash with local crews and local cops. It's a world full of wannabe drivers – can you stay in front and earn respect?
RACE TO WIN
Never back down as you race anyone crazy enough to take you on, leave them gapped, and increase your rep. Dig, drift, drag, and roll your ride to the finish line while outrunning the police on your tail. Burn rubber in over 1,000 challenging races – and that's just the starting line. Be notorious, own the streets, and score the world's best cars. Because one ride is never enough!"
Need for Speed No Limits Links:
iOS Link: https://apps.apple.com/us/app/need-for-speed-no-limits/id883393043
Android Link: https://play.google.com/store/apps/details?id=com.ea.game.nfs14_row&hl=en_GB
Company: Electronic Arts
Genre: Racing
Rated: 4+
Offers in-app Purchases
Gameplay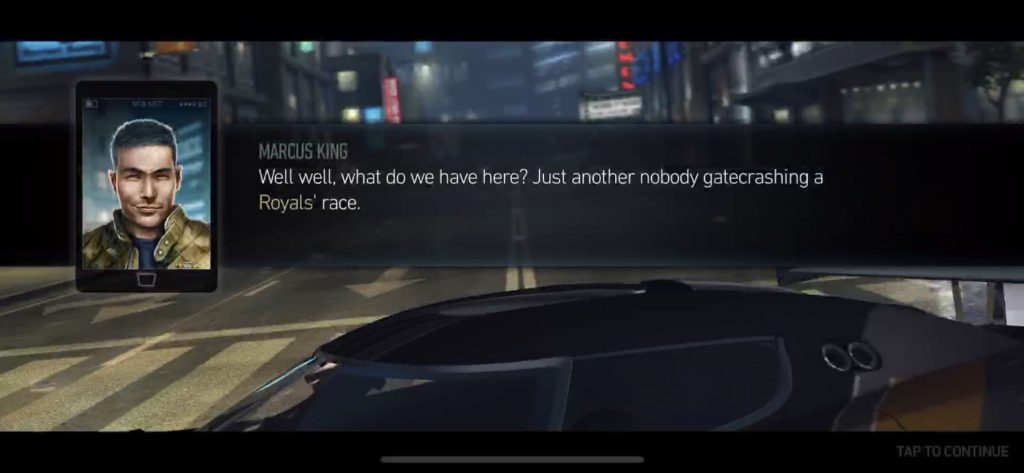 As soon as you enter Need for Speed: No Limits, you're thrown straight into the game. After the race, you find out a bit about the characters. You're approached by Marcus King, who says you're not needed around here and you need to make a name for yourself before messing with the big boys. Next, you're approached by Kim and she tells you to escape the cops without scratching her car – and of course, you do just that. As a thank you, Kim gifts you a premium crate where you collect blueprints to build your own cars. Once you have some cars, it's time to race some more!
Graphics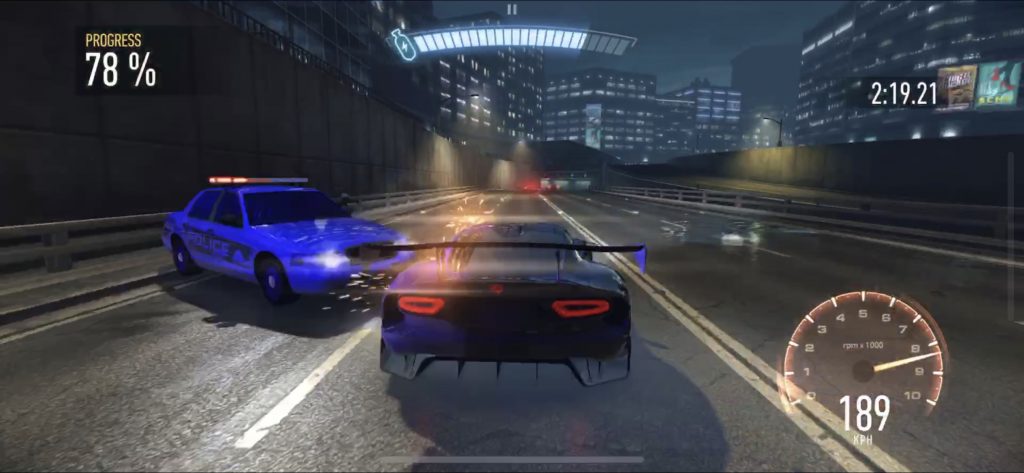 Need for Speed: No Limits' graphics are what initially made me download it. I think they look great, not as good as Asphalt 9 of course, but still visually pleasing. Although they're not console-quality, they're decent for an app game. However, it is lacking the wow factor I look for in games that could very well have outstanding graphics. It's a shame, because of the amazing array of cars available.
Music & Sounds
As you can expect from a racing game, there is a lot of car-themed sounds featured like the revving of engines, crashing into obstacles, and hitting a speed booster. The music that comes with it is heart-racing, getting you fired up to win the race. Overall, the soundtrack gets a yes from me!
Controls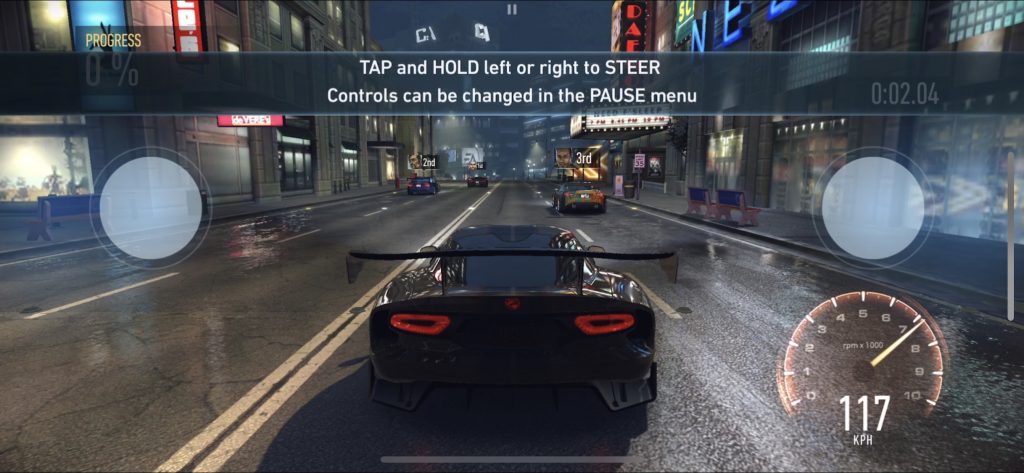 The controls for Need for Speed: No Limits are some of the most simplistic I've seen from a racing game, however, from what you can see on the video I struggled to get the hang of them at first. The reason for this is because the game said "Tap and hold left or right to steer" meaning tap whatever side it doesn't matter. But what it actually meant was that you tap left to go left and right to go right. Seems obvious, I just didn't know.
The Power of in-app Purchases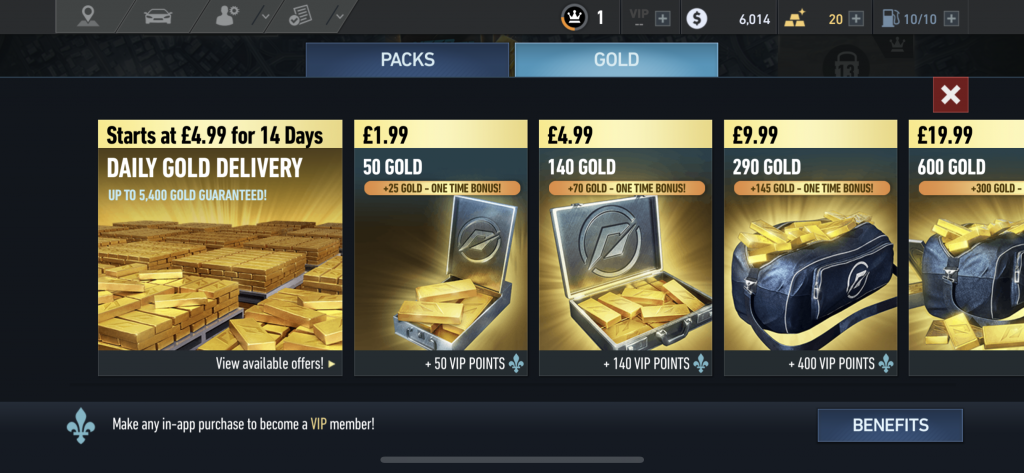 In the store, you can purchase a BMW Coupé progress Pack that contains 15x BMW M3 Coupé (1999) blueprints, 10x Ford Fiesta St Blueprints, Uncommon Street ECU, and 100,000 cash for 475 gold.
Gold
Daily gold delivery: £4.99 for 14 days, £9.99 for 30 days, and £28.99 for 90 days.
50 gold for £1.99
140 gold for £4.99
290 gold for £9.99
600 gold for £19.99
1,630 gold for £48.99
3,750 gold for £99.99
The Verdict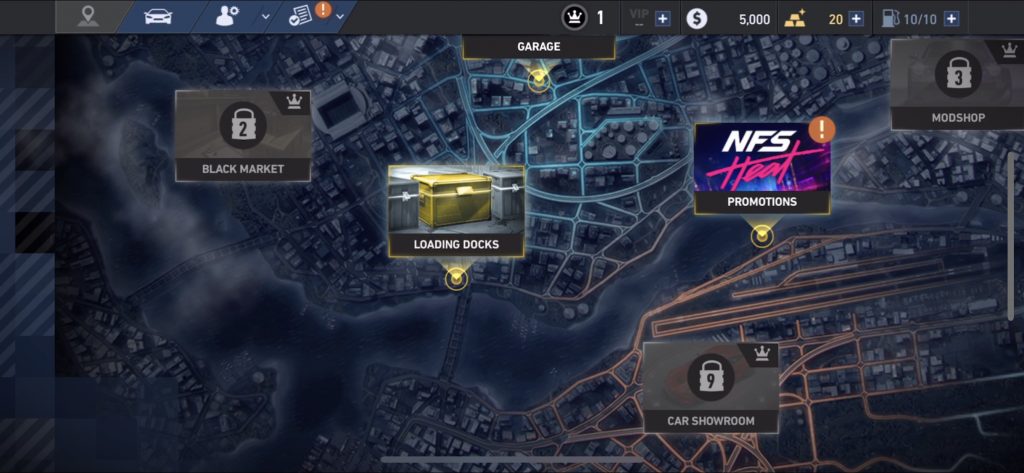 Overall, I enjoyed Need for Speed: No Limits – the touch-responsive controls and the intense gameplay bring it all together. I found myself wanting to keep playing, and it's not often I feel that way with racing games. Although I do think the in-game currency is a little excessive, you don't actually have to purchase anything in order to complete the game. It's definitely a rarity where you can get a free game actually for free – and of course, it'll make you complete it slower so if that annoys you then I'd suggest purchasing something.
If you decide to download Need for Speed: No Limits, let us know what you think and if you agree or disagree with any of the things we said. Happy gaming and stay casual!
Need for Speed: No Limits Overall Rating: 3/5
iOS Link: https://apps.apple.com/us/app/need-for-speed-no-limits/id883393043
Android Link: https://play.google.com/store/apps/details?id=com.ea.game.nfs14_row&hl=en_GB
Company: Electronic Arts
Genre: Racing
Rated: 4+
Offers in-app Purchases
About Post Author