Metal Slug Infinity
The popular arcade game METAL SLUG returns as an IDLE RPG!
Battle with familiar Metal Slug characters and combat vehicles, raise a Slug and send your team through increasingly challenging levels!
Enjoy the story, graphics, soundtrack and effects of Metal Slug, now as an idle tapper RPG.
Tap to play, select your team, level up your units and send them into battle.
Build and command your team. Tap and click to manage your resources, upgrade your tanks and characters, and take active command, or sit back and let the idle game play itself.
Battle other players in asynchronous PvP matches! Climb the rankings with your unique combination of slugs and characters, each with individual skills that can turn the tide of battle. Or just unleash maximum damage with a well-timed Slug Attack!
Metal Slug Infinity Links:
iOS Link: https://apps.apple.com/us/app/metal-slug-infinity-idle-rpg/id1394394348
Android Link: https://play.google.com/store/apps/details?id=com.ekkorr.msf&hl=en_US
Company: Ekkor
Genre: Idle RPG
Rated: 12+
Offers in-app Purchases
Hey Casual Gamers!  Arcade Machines around the world ate a hole in my wallet back in the day when Metal Slug ruled the arcade.  It was always a task to complete each level at 100% and still have a few lives left to burn on a boss.
Skip a few decades ahead to the present, and now Metal Slug is safety tucked into my phone via an idle RPG sort of way.
Is this casual app worth the download?  Hop in your favorite slug, and lets side scroll into this casual review!
Gameplay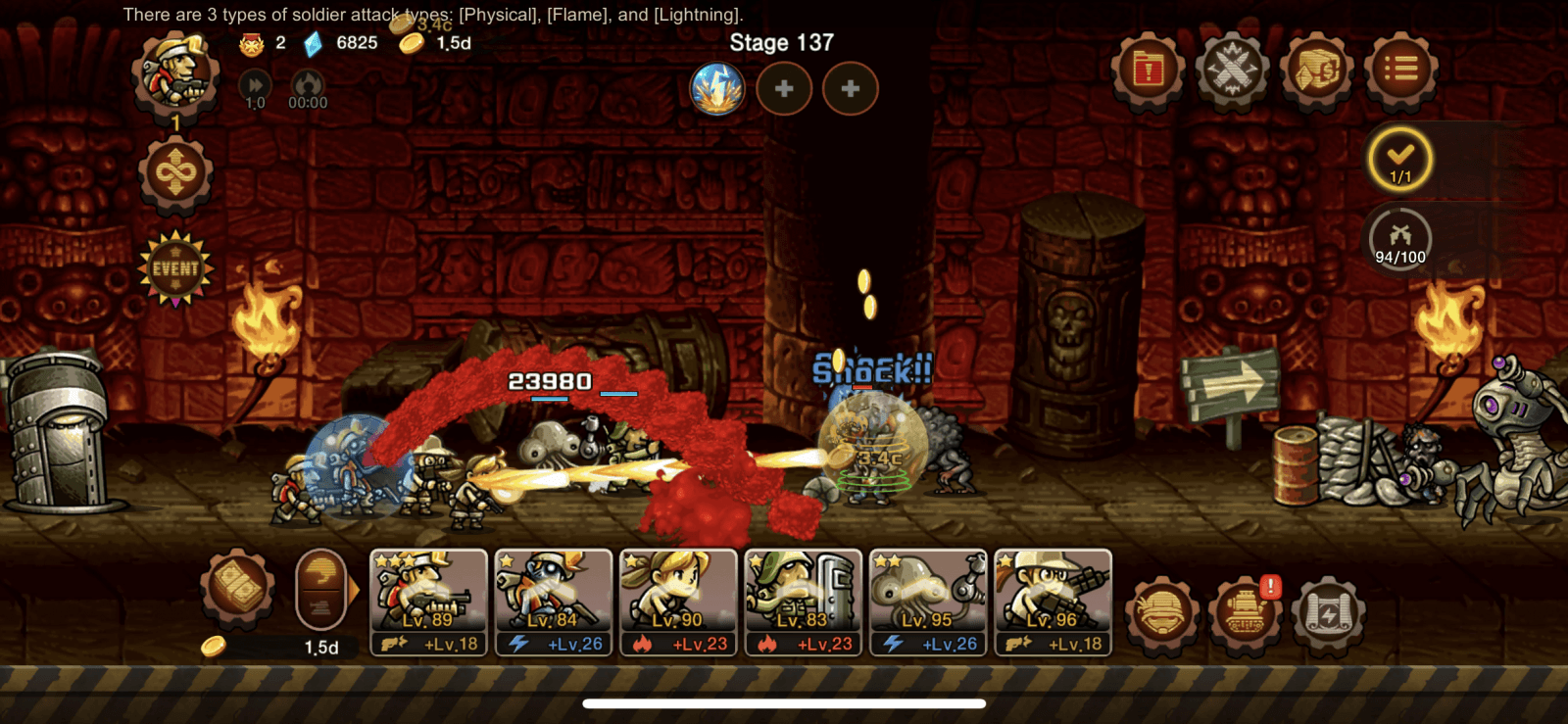 So, I'm going to fanboy brag a bit. SNK games have been a good staple of my childhood along with other great game developers.  Ekkor, who's been producing games since about 2011, has made some very outstanding casual apps, including an old favorite of mine, Endless Frontier Saga 2.
To be a huge fan of both companies and have them merge into an out all Idle RPG war is one of the reasons I asked for a notification when it came out!
To be fair, there were some bumps when Metal Slug Infinity came out.  I never deleted it from my phone, I just didn't see as play worthy yet.
Now that Metal Slug Infinity has received some update love it's quickly becoming my next casual obsession!
So after a few brief tutorials are you are off to wage war against the undead, aliens, and vehicles that would make the Fast and the Furious jealous.
I love a good casual app that's all about getting to work!
Graphics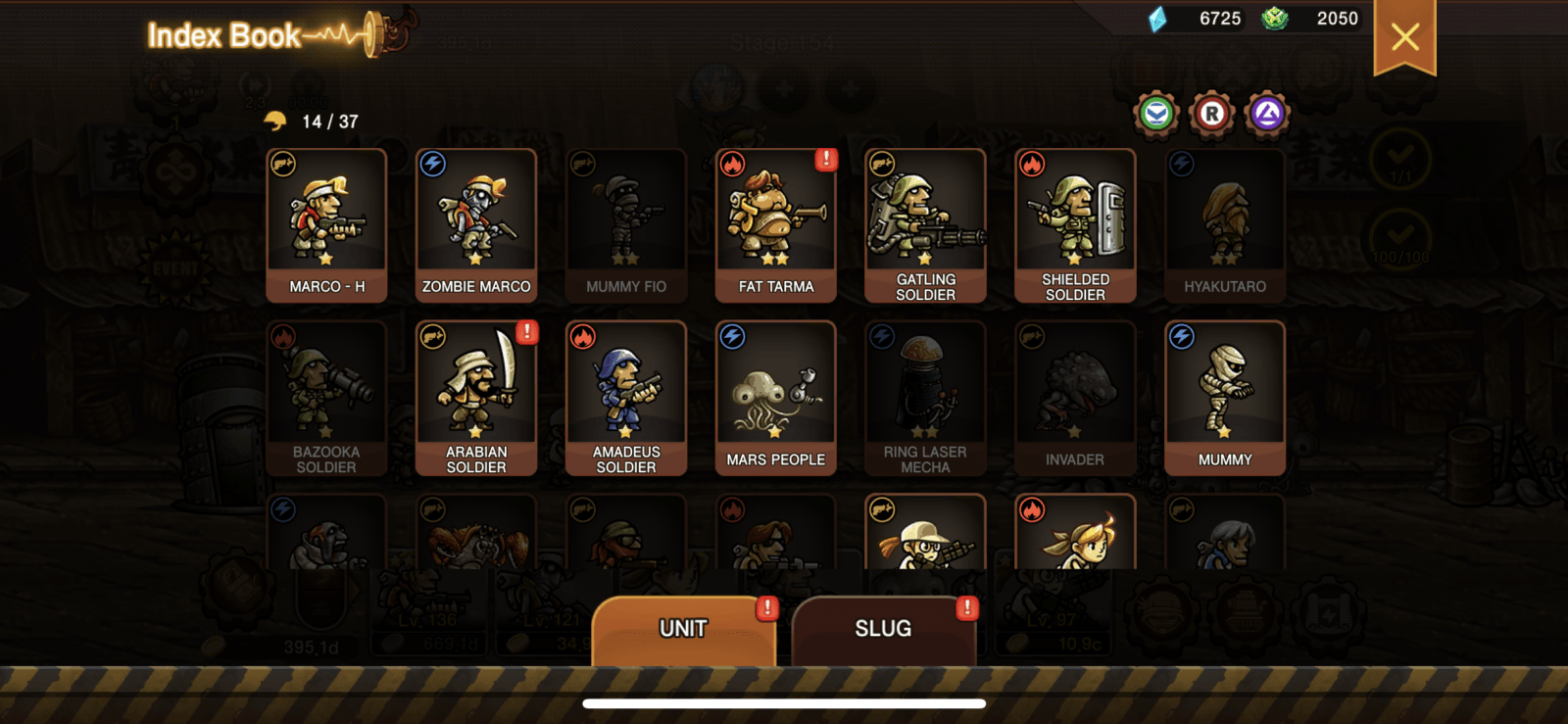 I'm having more fun with Metal Slug infinity on my tablet than I am on my phone.  While everything does work well on my phone, the tablet opens up the board and allows more action to be seen.  It doesn't does give the cramped feeling I rarely feel playing app games.
When I say action, I mean that most of the fighting screen is covered in bombs, lasers, bullets, and whatever the mummy dog spits out.  It's a pretty good watch!
It could be just a me thing, but to really  see all the hard work put in this casual idle app, download it onto a tablet and come talk to me about it later!
Outside of that, everything you seen in the Metal Slug series has been updated and ported on to this app!
Music
The music is pretty basic, just some looped music that tends to change every so often.  The sound effects are golden however.  It's a great way to keep up with the game if you have to step away from the screen for a while.
At some point I had to bring in some background music via a playlist.  Thankfully, everything synced rather well together.
One thing to point out is that any background music will stop once Metal Slug Infinity starts up.  Just pop out of it and press play and pop back in.  All audio should be playing and ready!
Controls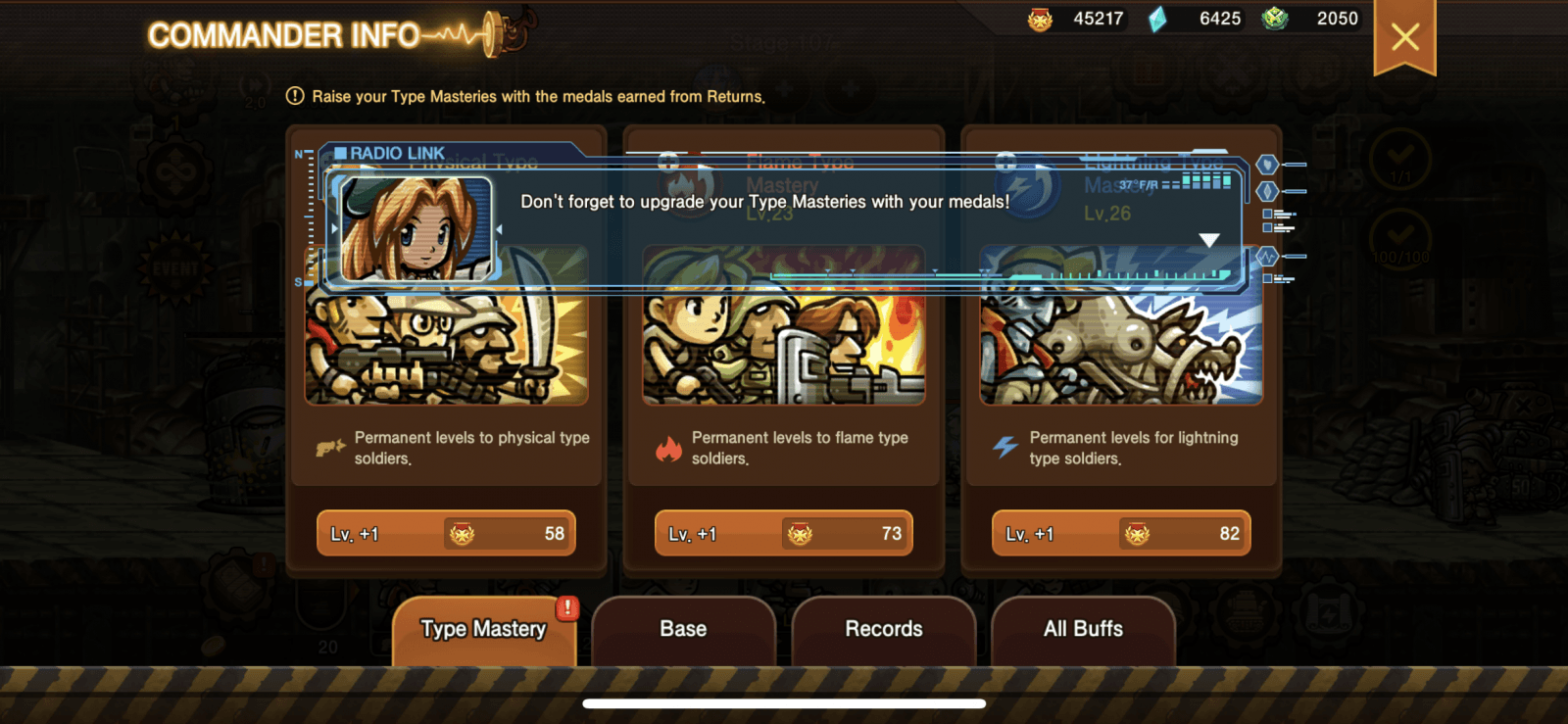 It's stupidly easy how you can get lost in Metal Slug Infinity.  It's important to give some attention to the tutorial to find out where the Boot Camp and additional Dungeons are at.  Winning these various other fights give items to be used in upgrades.
It seems easier to obtain slugs than units.  Leveling up units can be a hassle as well, but easy and rewarding once you are high enough.
Your best bet playing Metal Slug Infinity is to follow the exclamation point when you can.  Saving items received can also be a big help until there's a strategy built on getting stronger.
Most of the buttons to the more frequent menus used are in a trio in the lower right.
The Power of in-app Purchases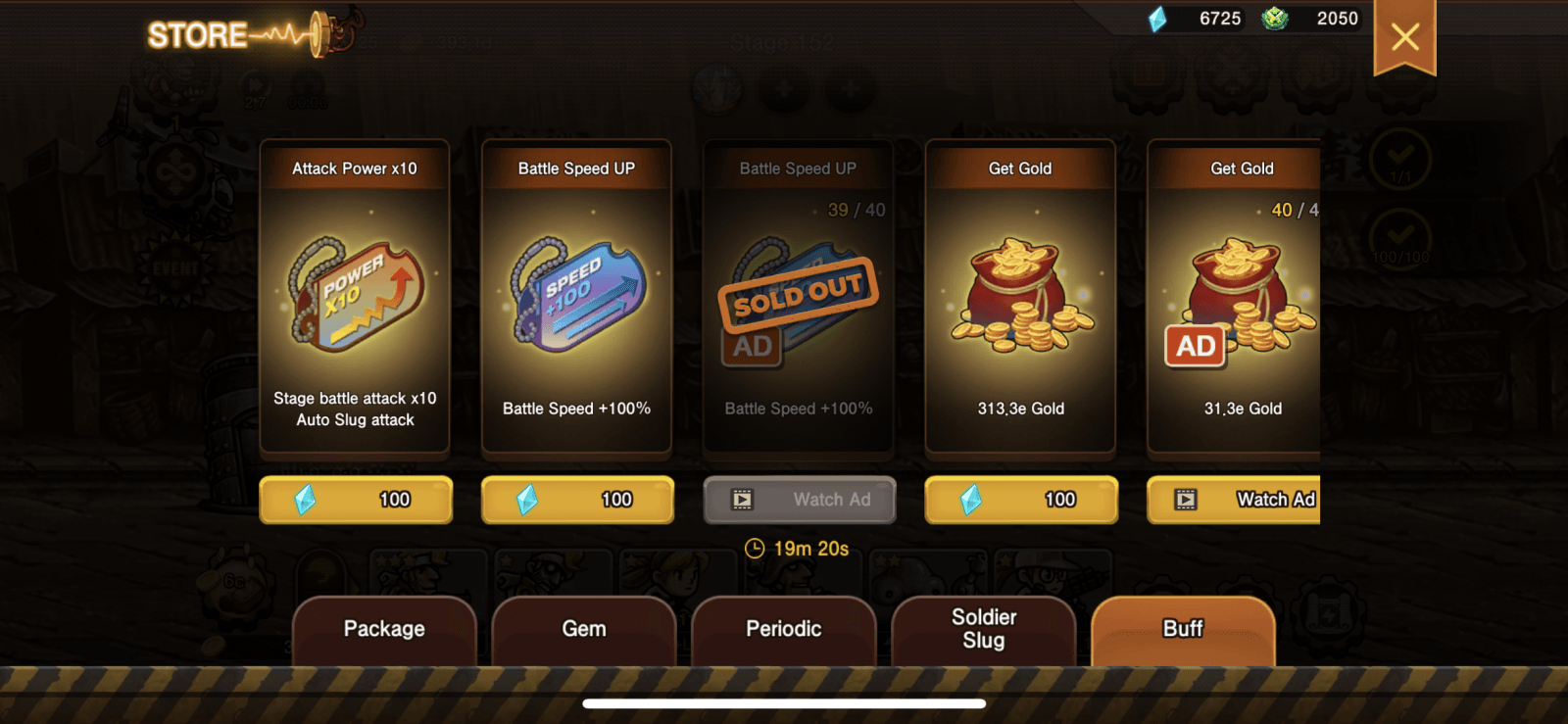 There's a bit of item overload to get past.  While there's more to do than just watching your slugs destroy aliens, trying to keep up with all the tickets and items can be daunting.
Thankfully, there's some epic package sales in game.  Most of these newbie packages are rather plentiful for the price.  It's rather easy to support and enjoy a purchase on this casual app!
If you don't know what to buy, you can't go wrong with gems.  Gems are usually used to overcome a paywall or permanently increase stats for the base.
I don't say this much, but this casual app deserves a good purchase.
The Verdict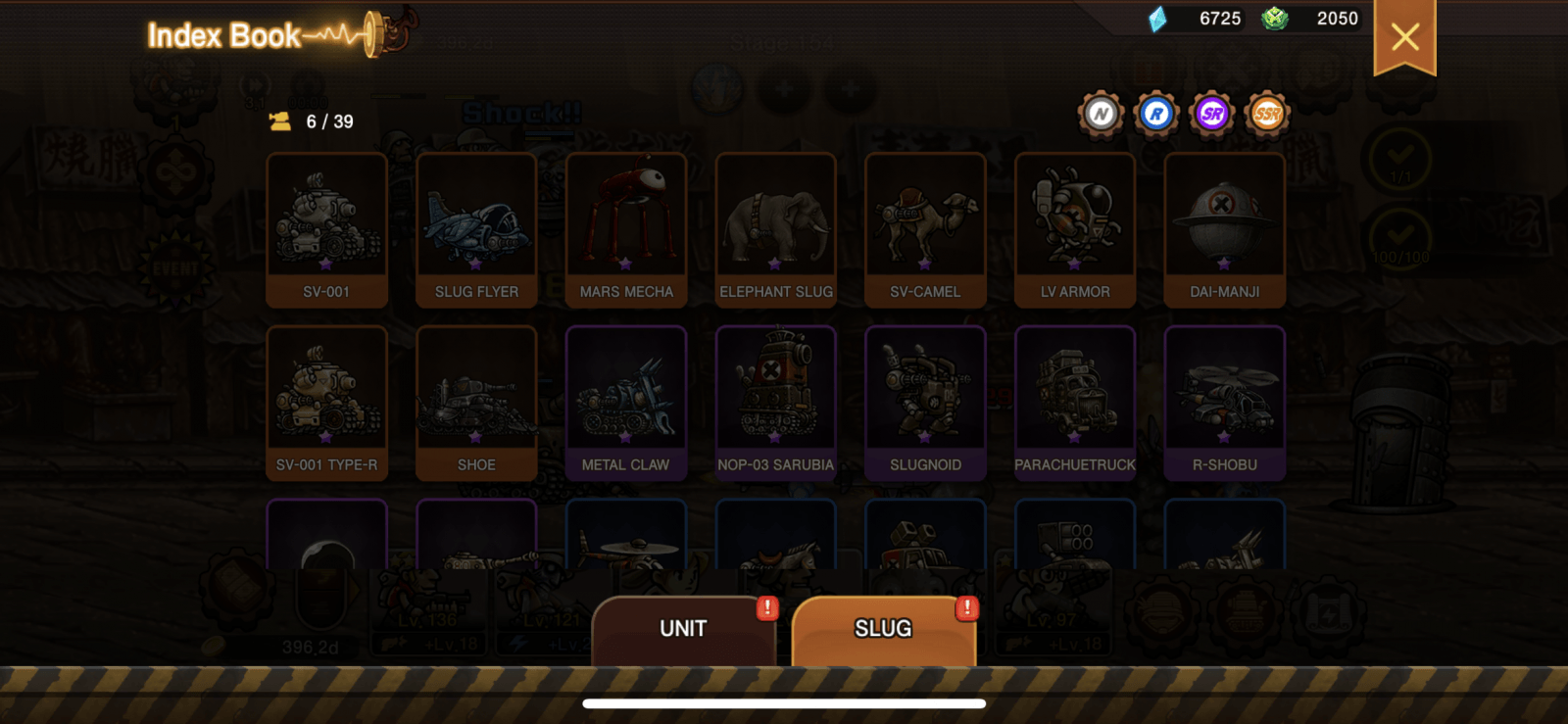 Metal Slug Infinity did not disappoint.  After a bit of a rocky opening, I'm a great fan of this excellent additional to casual Idle RPGs.
There's a little bit of button hysteria to get past, but after that, it's more than a solid casual app.  I was hooked on Endless Frontier for at least a year.  Time to see if Metal Slug Infinity can break that title!
At the top of the leaderboards and ready to show it off?  Drop a comment in the section below and tell us what your favorite slug/unit combo is!
Happy Gaming, and as always, keep it casual!
Metal Slug Infinity Overall Rating: 5/5
Metal Slug Infinity Links:
iOS Link: https://apps.apple.com/us/app/metal-slug-infinity-idle-rpg/id1394394348
Android Link: https://play.google.com/store/apps/details?id=com.ekkorr.msf&hl=en_US
Company: Ekkor
Genre: Idle RPG
Rated: 12+
Offers in-app Purchases
About Post Author