Languinis: Word Game Review!
"Can you solve the most stimulating, complex word games in history? Put your brain to work and join the Languinis on a whimsical word building adventure!
STORY
Thousands of years ago, the Phoenix God summoned the Languinis to name everything in the world. However, as they created word after word, the game grew exhausting and they chose to rest.
The Phoenix God was furious and locked up the Languinis! Master Speller, can you use your vocabulary to free the Languinis from their cells?
As you explore island after island of word puzzles, you will be challenged and tested on your vocabulary, anagram knowledge, and your ability to spell, match & clear new puzzles. With over 1,000 levels to play, enjoy countless hours of word search fun as you save the Languinis!"
Languinis: Word Game Links:
iOS Link: https://itunes.apple.com/us/app/languinis-word-game/id957031988?mt=8
Android: https://play.google.com/store/apps/details?id=com.spotlight.languinis&hl=en_GB
Company: Tilting Point
Genre: Word
Rated: 4+
Offers in-app Purchases
Gameplay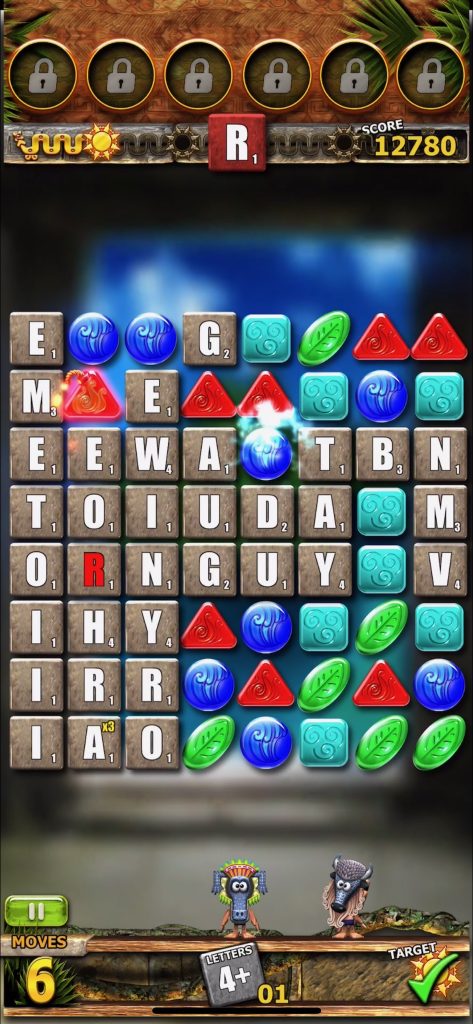 The languinis are were summoned by The Phoenix God and they were told to "go forth and name all things!". They did this for a long time all across the world and it was great fun for them until it became too overwhelming to remember all of the words. The languinis became weary and lazy and The Phoenix God was angry, resulting in punishing them. It is your job as the player to save the languinis from The Phoenix God.
Languinis: Word game is pretty much the baby of a match-3 and a word game. For the longest time, I've been on the search for a match-3 game that has more depth to it than just matching some colors together. I think I've finally found it. Matching 3 unveils letters and with those letters, you need to make as many words as you can to free the languinis, it's a pretty simple concept but I found it really fun to play.
Graphics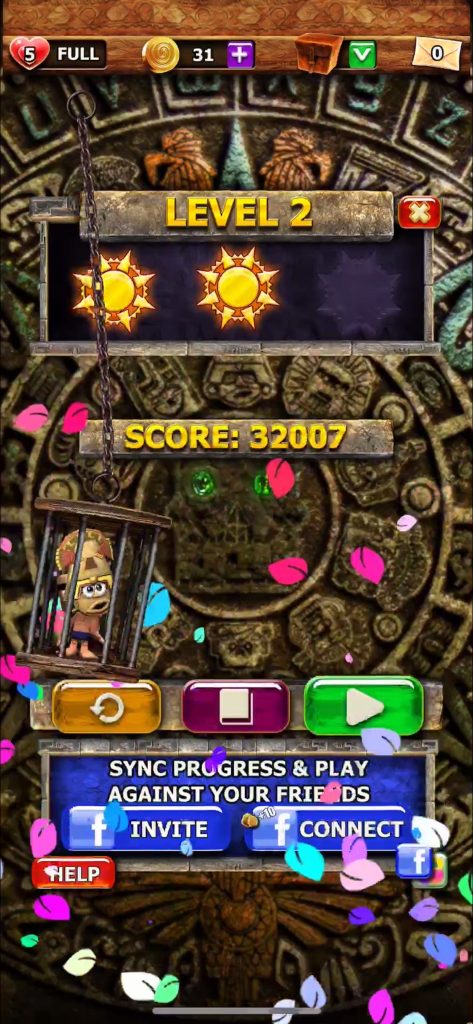 At the beginning of the game, there's a lovely animation that us high in quality and it tells the story well without being too long. In terms of the graphics of the actual gameplay, I found that they were pretty standard for a match-3 game. The little characters at the bottom of the screen are super cute and move around just doing their own thing. There's a lot of flashes in Languinis: Word Game which was a little bit annoying at times. But overall, I think the graphics are good for the type of game it is.
Music & Sounds
The music sounds very tropical but it is very loud no matter what volume setting you have on – especially when you get a word. When you complete a level, there are cheering sounds and fireworks, and when you start a level, the languinis say "get ready, let's go!"
I do feel like the sounds and music fit in perfectly with the game's theme, however, they can become irritating so I'd recommend turning them off if you get annoyed easily.
Controls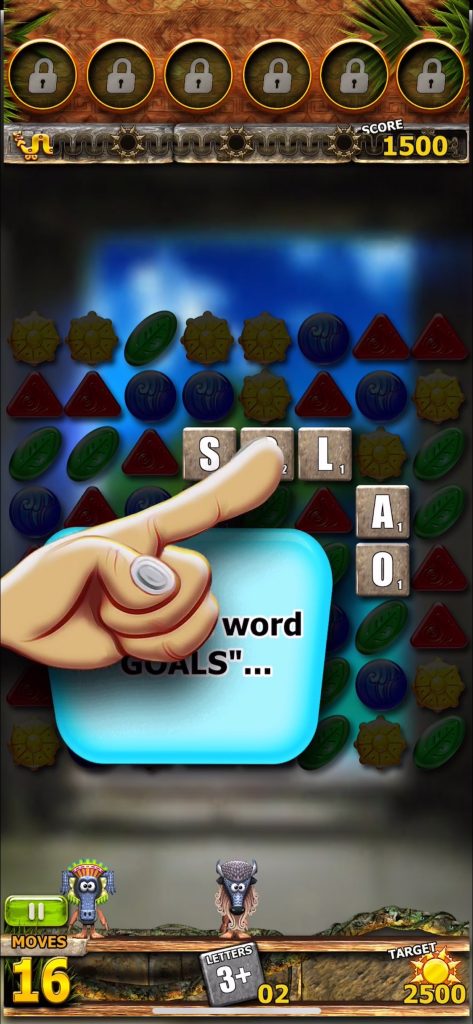 As for the controls, they're pretty simple like a match-3 game is. Drag a color to match-3, and when you find a word you tap on the letters. Once you have your word, you have to press the green tick at the bottom of the screen to confirm.
The Power of in-app Purchases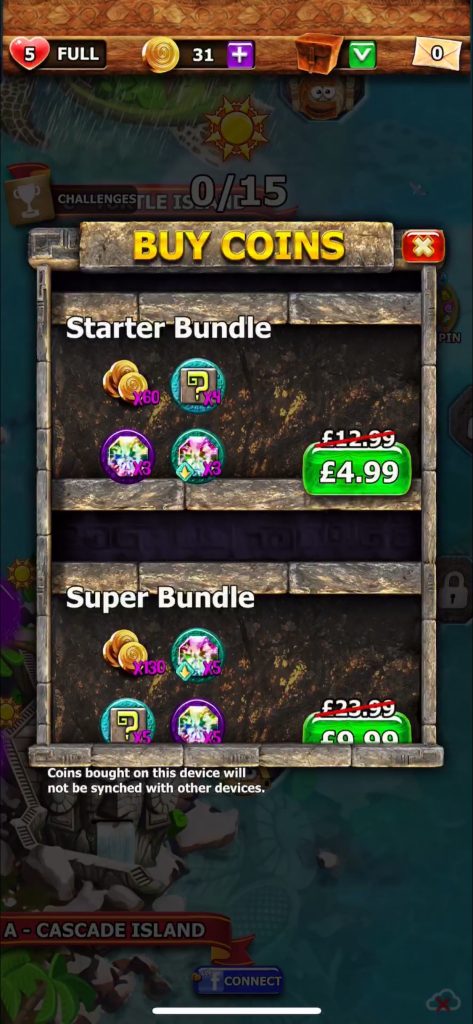 You can purchase coins and bundles from the store.
The bundles start from:
Starter Bundle – 60 coins and 10 power-ups for £4.99 reduced from £12.99
Super Bundle – 130 coins and 15 power-ups for £9.99 reduced from £23.99
Expert Bundle – 280 coins and 24 power-ups for £19.99 reduced from £43.99
Coins:
10 coins for £0.99
22 coins for £1.99
60 coins for £4.99
130 coins for £9.99
280 coins for £19.99
750 coins for £48.99
1600 coins for £99.99
It's not clear what exactly you can purchase with the coins, however, the bundles will help you with the gameplay. If I'm completely honest, I do find the coins to be very pricey – 1600 coins for £100, really? On other games, you can get around 50,000 coins for that price. I'm not sure why they're so expensive, maybe it would be clear to me if I knew what to purchase with them.
The Verdict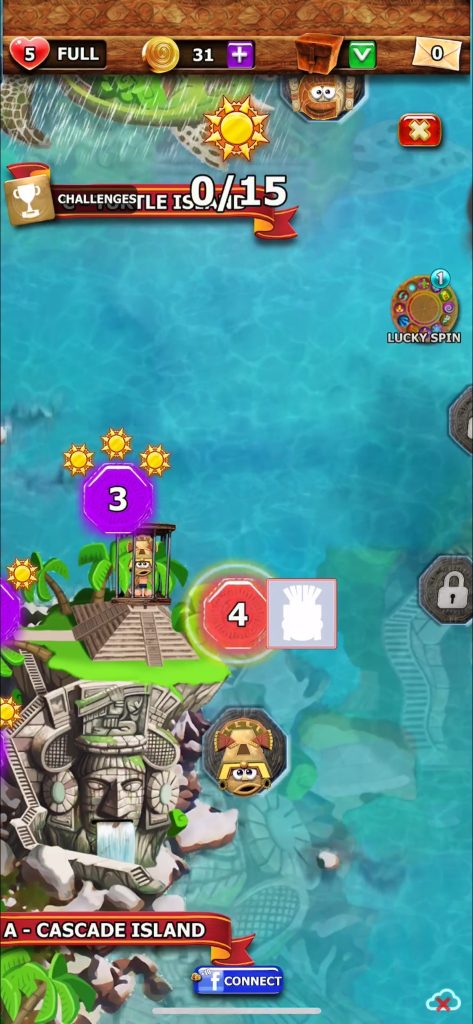 To round it all up, I really did find Languinis: Word Game to be really entertaining and kept my mind on the ball. As there weren't many options to create larger words, I really do think that this game is more aimed at children than adults – especially as it's rated 4+, however, it is a nice game to play to kill some time. Another great feature is that there's no energy limit, although you only have 5 lives so if you continuously fail at a level, you can't play anymore until your lives refill.
Languinis: Word Game Overall Rating: 3/5
iOS Link: https://itunes.apple.com/us/app/languinis-word-game/id957031988?mt=8
Android: https://play.google.com/store/apps/details?id=com.spotlight.languinis&hl=en_GB
Company: Tilting Point
Genre: Word
Rated: 4+
Offers in-app Purchases