Knight's Edge
Choose your weapon and take to the field in KNIGHT'S EDGE! Slay the monsters with your team, racing to see who will come out on top. Do you have what it takes?
GAME ON
Compete against the other team in quick 3v3 multiplayer matches, racing to see who can defeat the monsters first!
Take the battle to the other team to slow them down!
To the quickest goes the spoils! Get loot for your team with every win.
ANYONE CAN TAKE THE FIELD
Pick up and play! Drag to move, release to attack, and use your Special Ability to do even more damage!
DIFFERENT LOADOUT EVERY MATCH
Level up and pick different Perks each match, creating endless options to slay the monsters and opposing players!
GEAR UP
Collect and upgrade weapons of different types and elements to unlock new Perks to choose from.
BE THE BEST
Climb the leaderboards and be the Champion of the KNIGHT'S EDGE!
Knight Edge Links:
iOS Link: https://apps.apple.com/ph/app/knights-edge/id1464249802
Android Link: https://play.google.com/store/apps/details?id=com.lightfoxgames.dungeoneer&hl=en_US&gl=US
Company: Lightfox Games Inc.
Rated: 12+
Offers in-app Purchases
Hey Casual Gamers!
Looking for a fierce battle but your lunch break is going to end in a few minutes?  Knight's Edge offers a 3v3 brawlfest in an active dungeon!  With a enjoyable mix of player vs enviroment and player vs player, this casual app delivers alot of action in a short amount of time.
Is it worth your casual time and phone space?  Gear up and queue up for this casual review!
Gameplay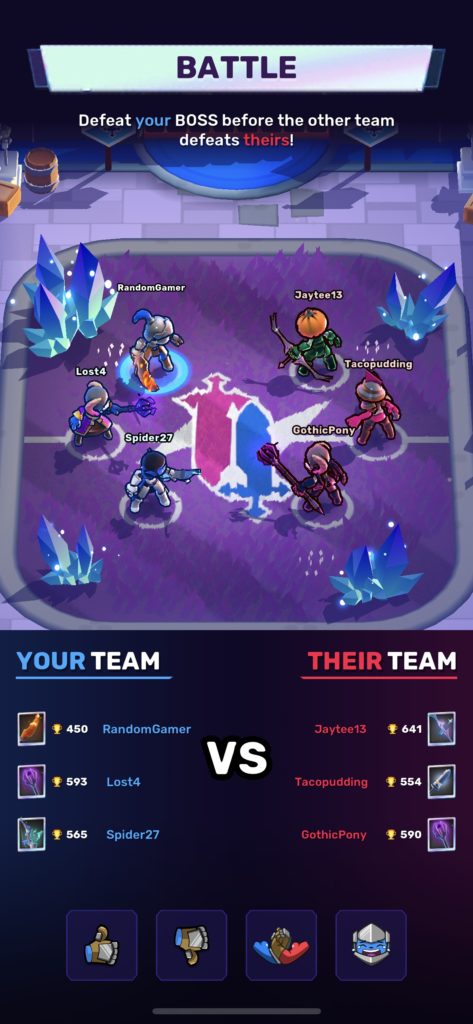 Knight's Edge is one of those casual games that's hard to put down.  The basic objective is to crawl through a three level arena quicker than the opposing group.
Sounds easy enough, but the twist is that after the second level a player from each team can jump into a portal and fight the other players attemping to down a boss.  At the last level more portals appear as everyone tries to be the first group to down the last boss.
Players can select from four different type of weapons with six different element imbuements.  This offers a great deal of replay value as each weapon type has different actions and power ups.
There are also offensive and defensive runes that can be equipped to further enhance fighting upgrades.
Games can get insanely intense as some of the bosses are actually a bit rough to deal with.  Theres a bit of a decision to make of attacking the intruding player or keep damaging the boss.
I can't stress enough how hard it's been to put Knight's Edge down.  The matches are quick and the teamwork is oddly satifying as the race to beat the last boss motivates the team.
Graphics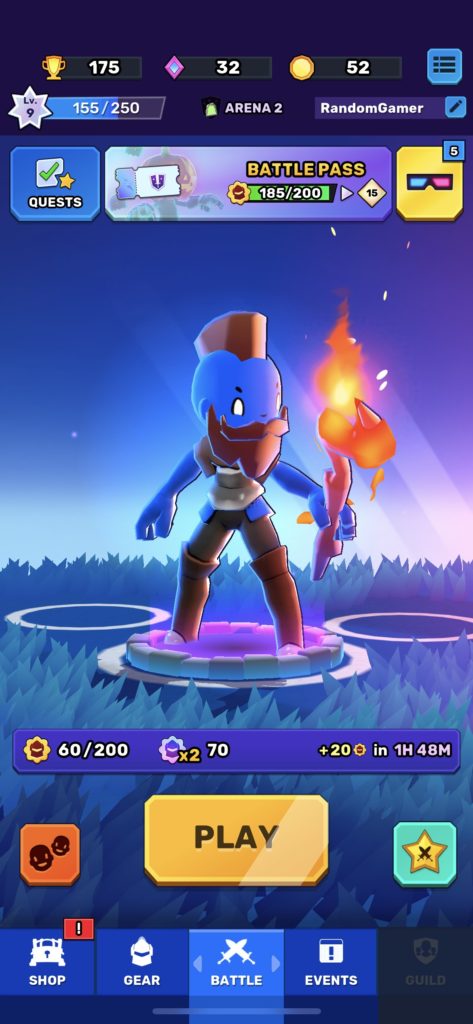 This might be my only gripe about Knight's Edge.  This casual app is really more about the gaming than it is about the presentation.  Don't come here looking for mind blowing graphics.
That said the graphics presented are acceptable.  Outisde of an avatar with no helmet, there's enough going on animation wise that encourages replay value.
It's not all bad, most of the explosions during matches and the weapon animation is satifying.  Some parts, mainly the last level of the arena, can feel crowded.
Music & Sounds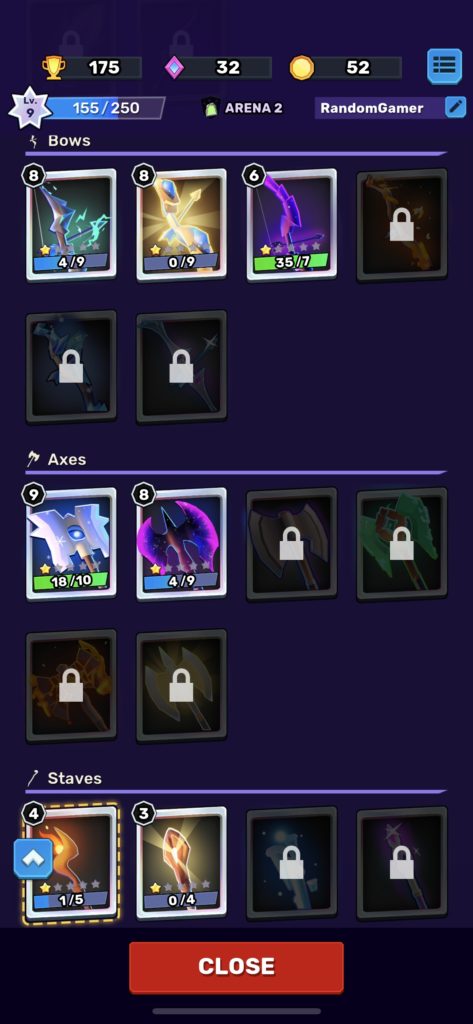 While using headphones is my perferred way of playing, Knight's Edge is still enjoyable muted.
For a casual app that requires a great deal of replay, the music isn't annoying or overbearing.  Most of the time the haptic responses will keep you aware of what's going on should you play without sound.
Gameplay is really the only reason to have sounds on, as there are additional ques that can help with reminders.
Controls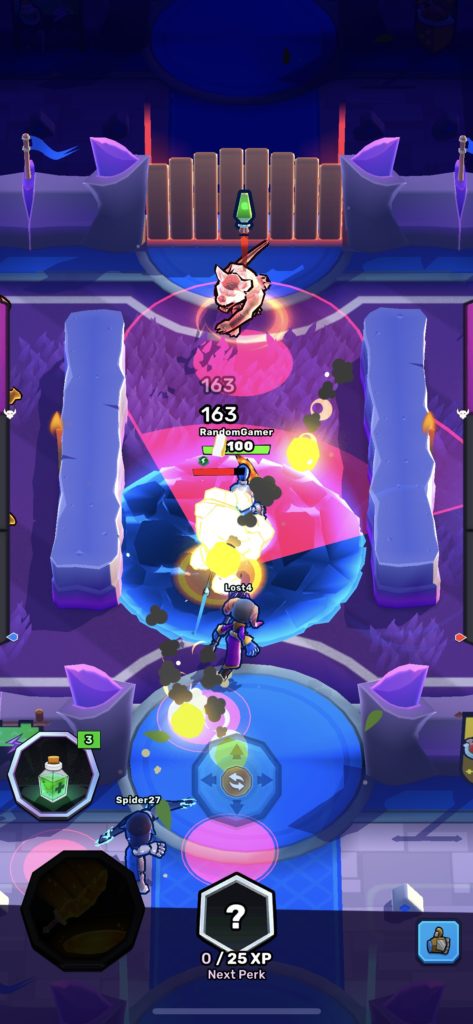 The simple controls in Knight's Edge allows for one hand combat action.  Truthfully, it feels slightly more responsive with two hands.  There's not much for the other hand to do however, except tap on the action button and chugging potions.
Playing on a stable internet connect is paramount in many cases.  The lag can sometime hit you with an attack that's already been dodged.  Not to mention that sometimes a dodge will work and other times you just move up a bit.
It's pretty typical of fighting apps to have sensitivity issues when it comes to precise movements.  Thankfully, they are far and few inbetween.
They are there however, and you will eventually die to it a few times.
The Power of in-app Purchases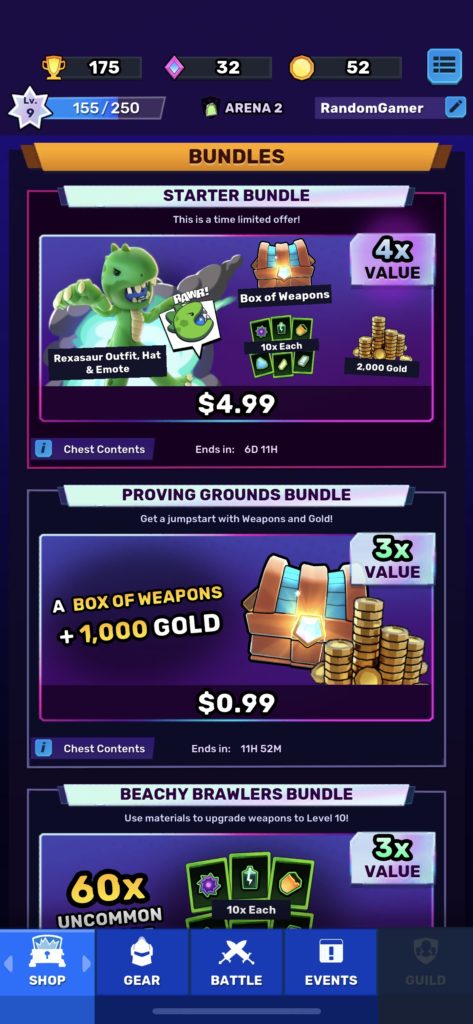 Unfortunately, it has to be said.  Knight's Edge can be a bit pay to win.
It doesn't have to be that way however, as it's rather easy to climb with all the free rewards given.  This casual app isn't overloaded with ads, but they do play a part in gaming for free.
Should you be compelled to make a purchase, the battle pass given is easily the best bang for your buck.  Daily quest are easy to complete and some give a massive amount of battle tokens.
When it comes to the rest of the purchases, It really depends on what is worth grinding.  If you are a costume collecter then there are some clothing outside of the battle pass that's not too expensive.
The Verdict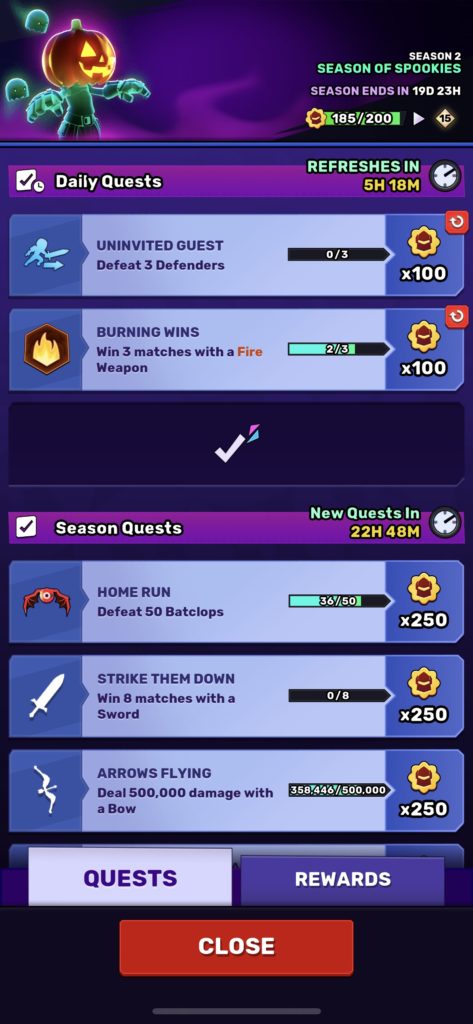 Overall, Knight's Edge is a great casual app that offers intensive gameplay in a span of a litte under 5 minutes.
There's an option to be a whale and overpower everyone, but it tends to bottleneck once you get to a certain level.  That's a great thing as there's room for normal players to shine and be great.
I'm sure i've said it already, but this casual app is hard to put down.  With quick starts, fast matches and loads of customization, I can't wait to see what kind of new updates Knight's Edge will receive in the future.
Already a platinum player and want to show off your best build?  Drop a comment in the section below and show us how you did it!
Happy Gaming, and as always, keep it casual.
Knight's Edge Overall Rating: 4/5
Knight Edge Links:
iOS Link: https://apps.apple.com/ph/app/knights-edge/id1464249802
Android Link: https://play.google.com/store/apps/details?id=com.lightfoxgames.dungeoneer&hl=en_US&gl=US
Company: Lightfox Games Inc.
Rated: 12+
Offers in-app Purchases
About Post Author