Klondike Adventures Review!
"Travel to the time of Gold Rush with Klondike Adventures!
Explore the wild territories of Alaska together with valiant Kate and adventure-savvy Paul. Build a strong and prosperous city in these vast cold lands!
Klondike world is full of exciting expeditions, hidden treasures, great opportunities, and challenging quests!
Welcome to the gold rush era! Go on expeditions to the North and become a true adventurer.
Complete challenging and yet enjoyable quests! Help explorers Kate and Paul solve mysteries of the locals.
Turn a deserted station into a flourishing city! Build factories, mine for resources and craft everything you need for expeditions and quests.
Start your own farm in the wild! Raise animals and harvest crops to make food and clothing for yourself and to trade with the locals.
Enjoy the breathtaking scenery and landscapes! Every corner is packed with wonders and mysteries!
Meet outstanding characters and hear their compelling stories during your journeys!
The wild lands of Alaska hold many secrets and thrilling adventures. Play Klondike Adventures now and enjoy your Gold Rush experience!"
Klondike Adventures Links:
iOS Link: https://apps.apple.com/us/app/klondike-adventures/id1127240206
Android Link: https://play.google.com/store/apps/details?id=com.vizorapps.klondike&hl=en_GB
Company: Vizor Apps Corp.
Genre: Adventure
Rated: 9+
Offers in-app Purchases
Gameplay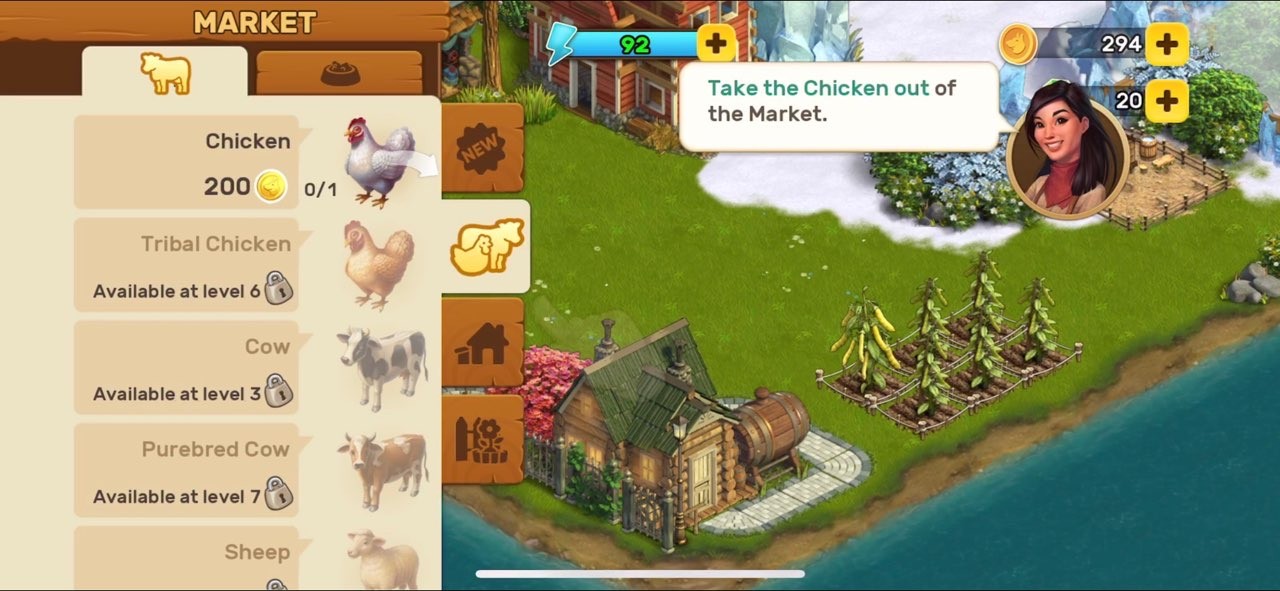 The gameplay starts off with a woman called Silent Shadow telling you to save her friend Paul – he's stuck behind some ice rocks. You save him by using your tools and you're now in charge of building the rest of the scenery from growing crops to raising chickens and cows.
You're taught how to create everything, like the exact materials you need to create something. For example, to repair the barn, you need Sequoia logs.
I enjoyed the gameplay and I found it fun building things to help Paul, at times he did need assistance but most of the game is based on building your surroundings and fulfilling customers orders.
Graphics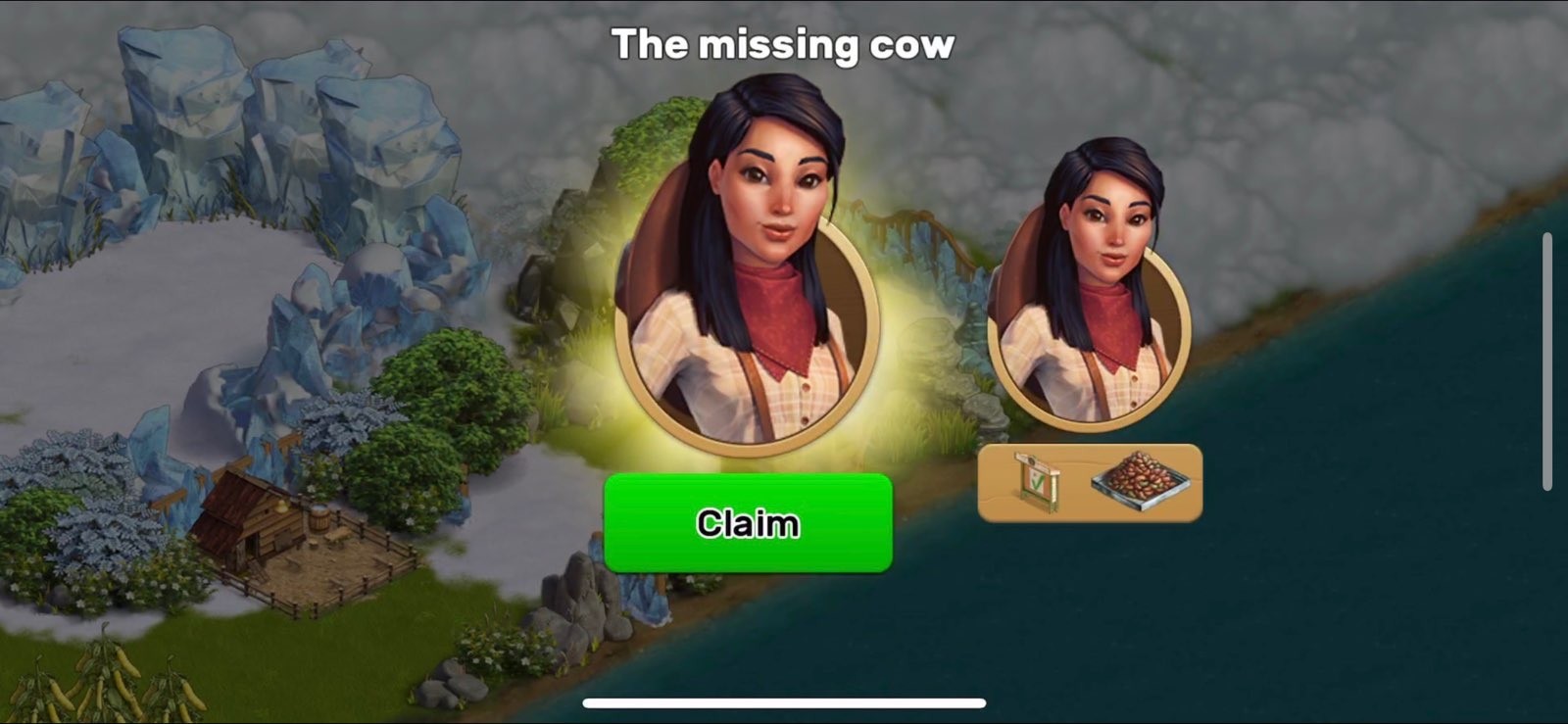 The graphics for Klondike Adventures are definitely basic at best and remind me of Homescapes and Gardenscapes. They're fine for the concept of the game, they don't technically need to be anything amazing aesthetically.
In terms of how they function, I had no problem with how the game worked and it didn't crash at any point even though it's a pretty large game.
Music & Sounds
It actually pained me how irritating and repetitive the music was that I had to turn it off in the settings. It's not even relevant to the game and it definitely doesn't help with the outcome or progress so it's worth turning it off if you feel the same way as I do.
The sounds fit into what you're doing. For example, if you're chopping some wood you will hear the sound of wood chopping which is a nice extra. One thing that did annoy me, though is that the characters didn't have voices and I had to read everything they said and that's definitely not my thing.
Controls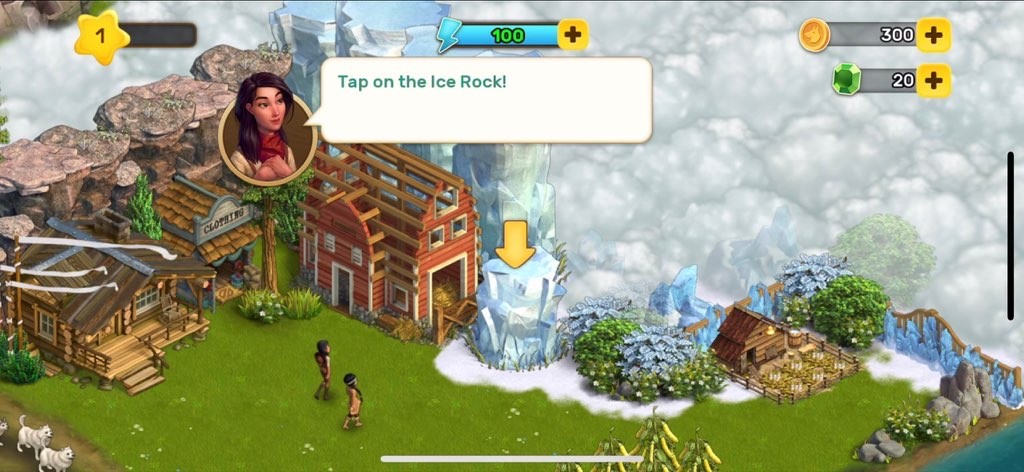 Like many other games that are similar, it's based on tapping on products to create them and waiting a certain amount of minutes for them to be made. You can purchase gems to speed up the process but that costs real life money – read more about it in the next section…
The Power of in-app Purchases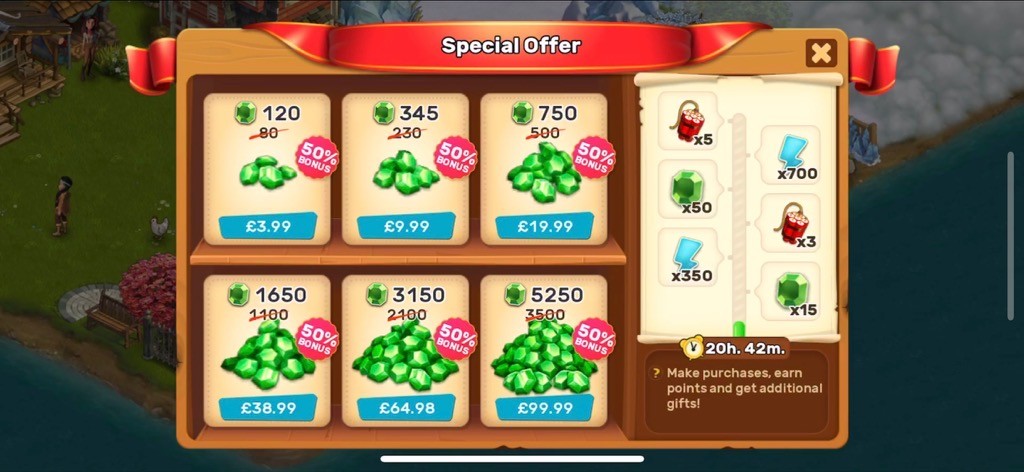 From the store, you can purchase coins and gems.
Packs
Welcome Pack – 5000 coins, 50 energy, and x1 tools for 50 gems
Basic Pack – 25000 coins, x2 dynamite, and x10 hourglass for 250 gems
Welcome Pack – 80 gems, 50 energy, and x1 tools for £3.99
Basic Pack – 230 gems, x2 dynamite, and x10 hourglass for £12.99
Coins
5000 coins for 50 gems
23000 coins for 200 gems
65000 coins for 500 gems
350000 coins for 2500 gems
Gems
80 gems for £3.99
230 gems for £9.99
500 gems for £19.99
If you become glued to this game, it's definitely worth making an in-app purchase due to the energy system and only being able to play a few minutes at a time before your energy runs out.
The Verdict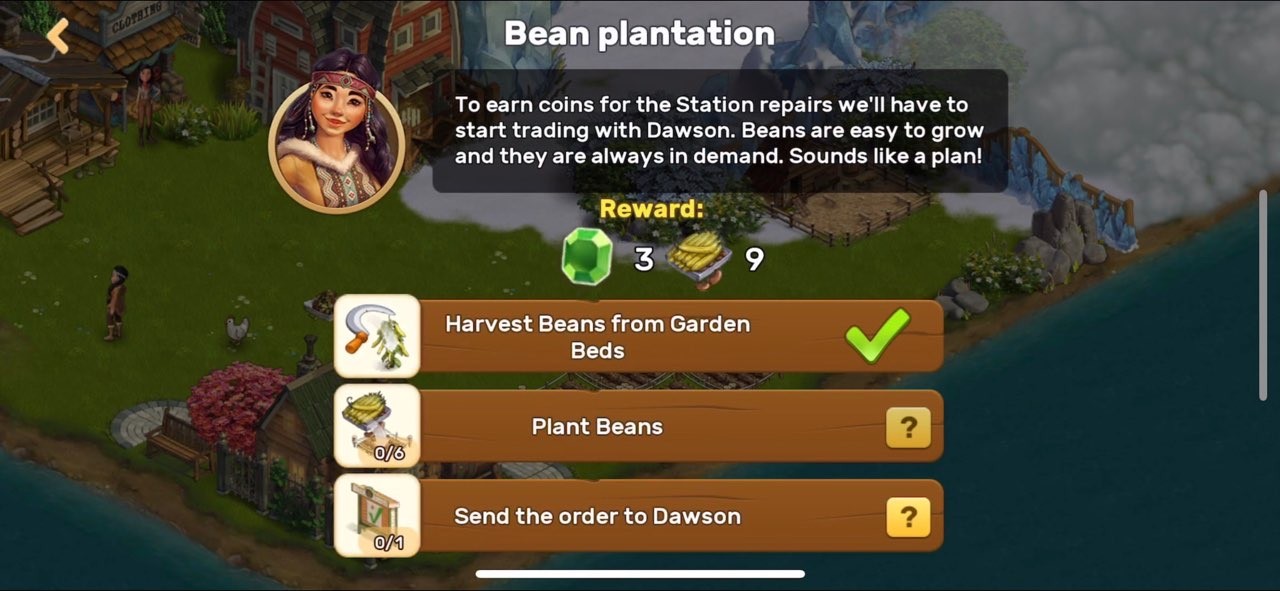 This was a short one, and honestly, there wasn't enough to Klondike Adventures in order for me to say anything remotely interesting about it. I was super excited when I first downloaded it as the storyline looked engaging but it's just another one of those games where you create your own kingdom. I know there are many middle-aged women and children who would have a ball with Klondike Adventures, so it would definitely appeal to some people – just not us.
If you decide to download Klondike Adventures, let us know what you think and if you agree or disagree with any of the things we said. Happy gaming and stay casual!
Klondike Adventures Overall Rating: 2/5
iOS Link: https://apps.apple.com/us/app/klondike-adventures/id1127240206
Android Link: https://play.google.com/store/apps/details?id=com.vizorapps.klondike&hl=en_GB
Company: Vizor Apps Corp.
Genre: Adventure
Rated: 9+
Offers in-app Purchases
About Post Author