King of Crabs Review!
"Fight to become the biggest crab on the island.
Intense multiplayer fun, battle with up to 100 real players per game!
Scrap, scavenge and slaughter your way to becoming the King of Crabs!
Collect weird and wonderful crab species, upgrade and customize them to help you climb the ranks. Team Up with friends to help or fight each other – it's up to you!
A huge island world is waiting to be explored and conquered. Find a variety of funny and dangerous weapons to give you the edge.
This game combines easy to use touch controls with fun-packed game-play.
Incredibly detailed 3D graphics, animation, and sound make the experience come alive.
BECOME THE KING
Climb to the top of the leader-board to prove you're the mightiest crab in the land!
CRAB 'EM ALL
Collect, upgrade and grow a variety of Crabs. Discover advanced skills and collect unique skins.
WEAPONS GALORE
Find an array of crazy and deadly weaponry to help skew the odds in your favor.
MULTIPLE GAME MODES
Test your worth in the intense PvP game mode, or try PvE for a more friendly time!
REGULAR UPDATES
Look out for new Crabs, skins, maps, special events and games modes in the future."
iOS Link: https://apps.apple.com/us/app/king-of-crabs/id1354478141
Android Link: https://play.google.com/store/apps/details?id=com.RobotSquid.KingOfCrabs&hl=en_GB
Company: Robot Squid
Genre: MMORPG
Rated: 9+
Offers in-app Purchases
Gameplay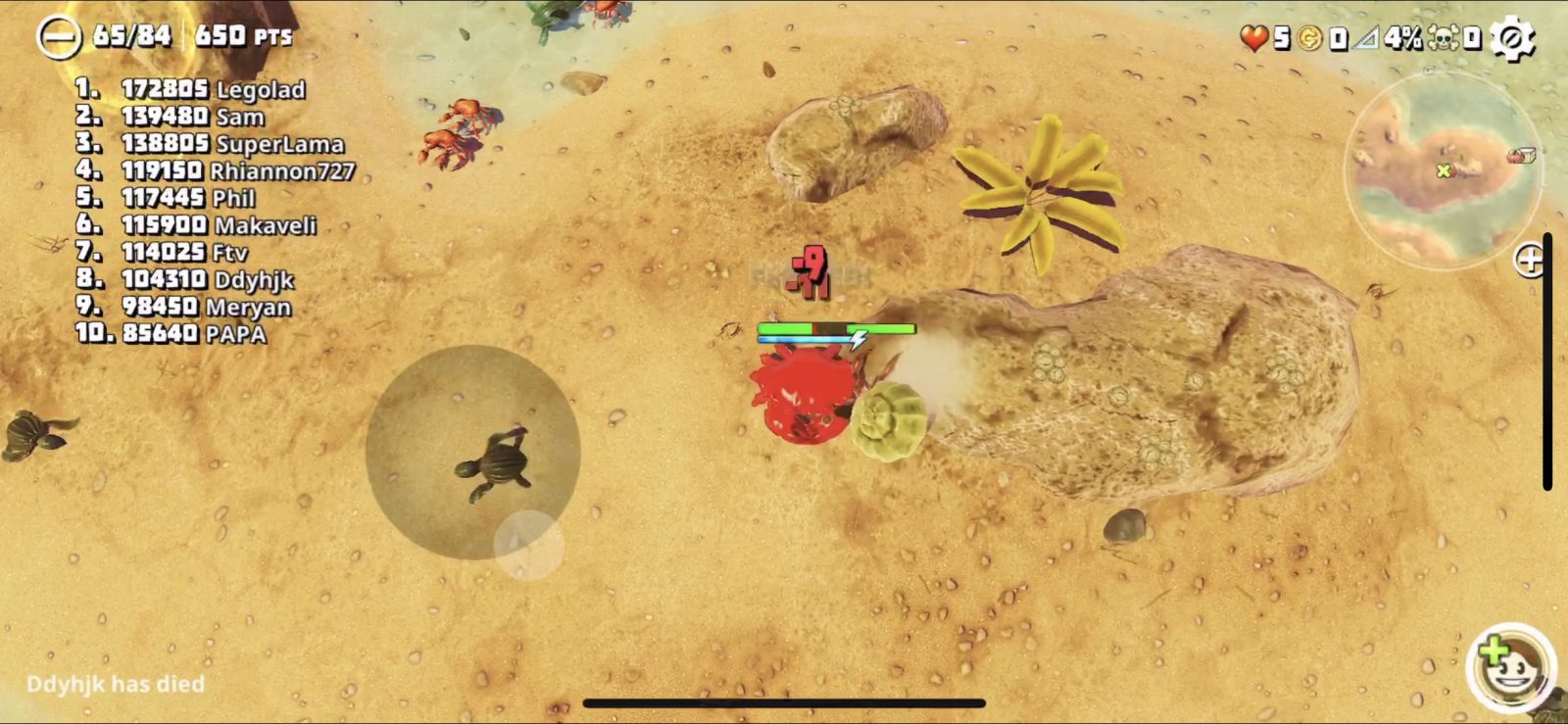 King of Crabs is a survival game where it's your job to become, well, the king of crabs. When you first enter the game you're told how to move and attack, apart from that there's no other tutorial. No warning to watch out for other crabs, no heads up to make sure you eat smaller animals to get bigger. I was very confused at first but after a while, I got used to it and found the game really fun to play.
You need to attack every crab that comes in your sight because if you don't, then the chances are they'll kill you. Watch out for larger crabs as you won't stand a chance next to them and eat smaller animals to get bigger. As you get bigger, the map will zoom out and you will see more of it. This means you'll be able to plan your next attack strategically.
If you're killed/eaten, you can use your lives to regenerate in a different spot but you only have so many lives. Once you're out, you have to pay for more but we'll get to that.
Graphics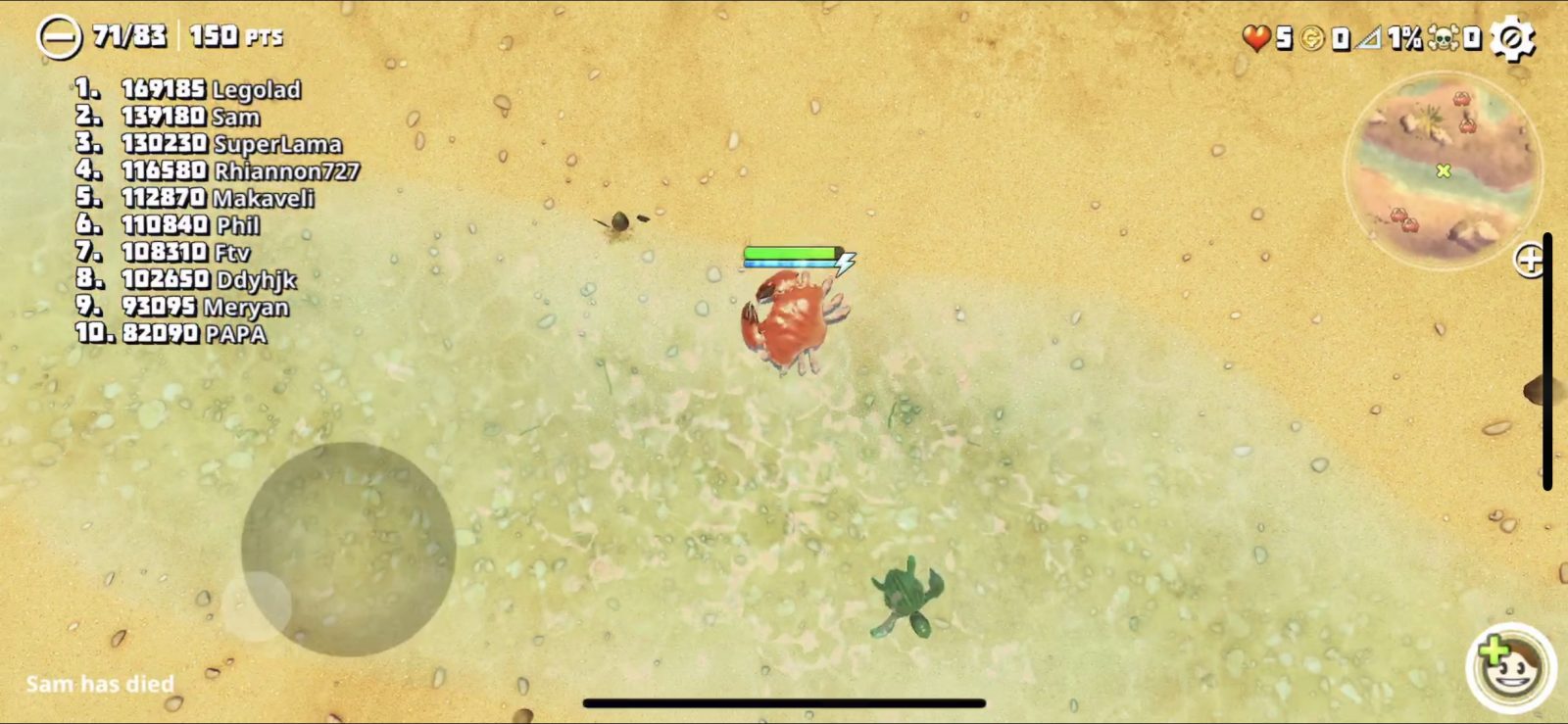 As for the graphics, they're pretty good for the type of game. I found the game to be colorful, well detailed and there weren't too many buttons on the screen. However, it did lag in places which gives the impression that some updates are needed. I hate lagging so much, it just stresses me out and ruins the gameplay.
Music & Sounds
King of Crabs has no specific music, however, the added sounds fit in really well with the theme of the game. As you play, you can hear waves crashing and once you get closer to other crabs, you can hear attacking and you should probably run or attack them depending on how big they are. When you get hit, there's a crunching sound and it's a bit like ASMR to me.
Controls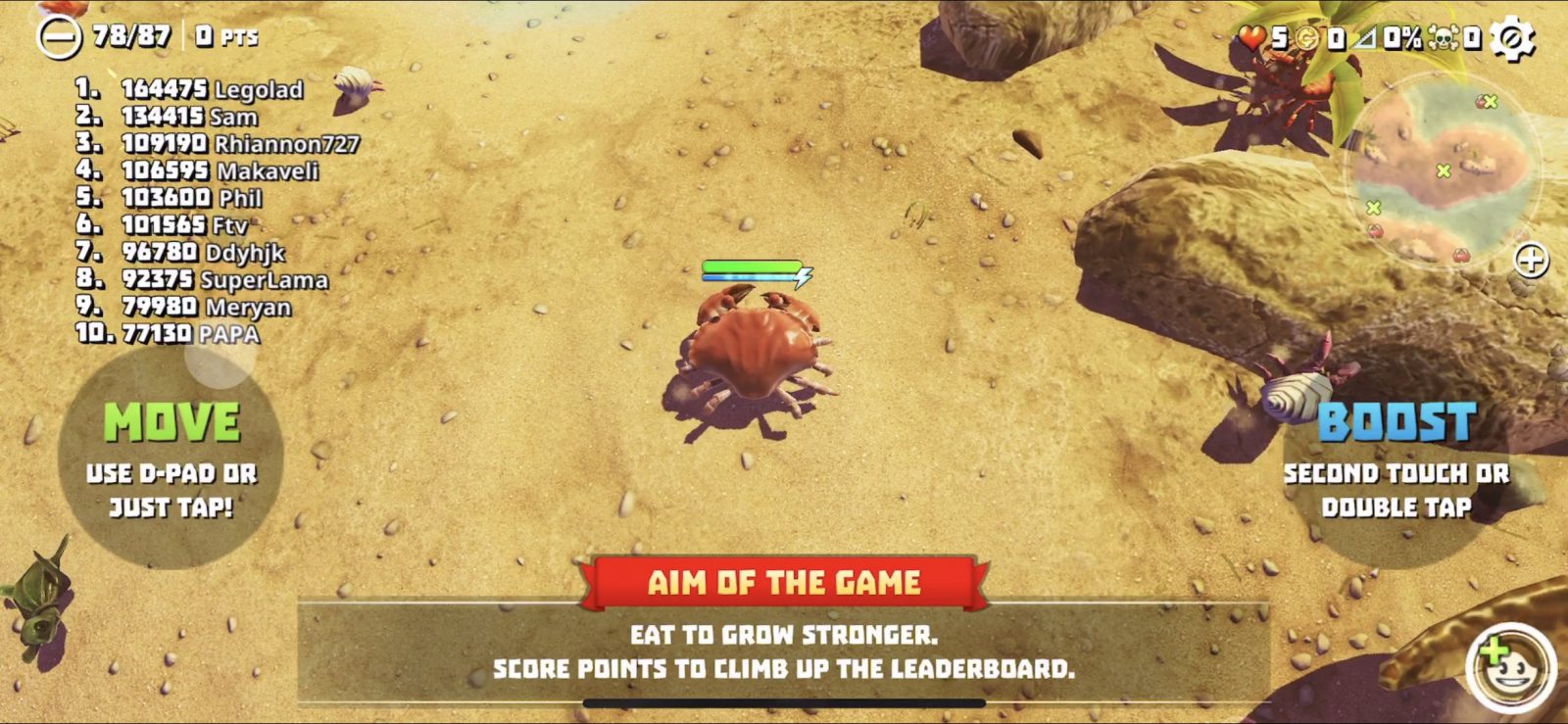 The controls are really easy to follow. To move, use the d-pad on the left-hand side of the screen or tap and to boost, second touch or double tap on the right-hand side of the screen. As there are only two controls, they're easy to get used to. However, they are notably harder to use when you first start the game as your crab is a lot smaller than the rest.
The Power of in-app Purchases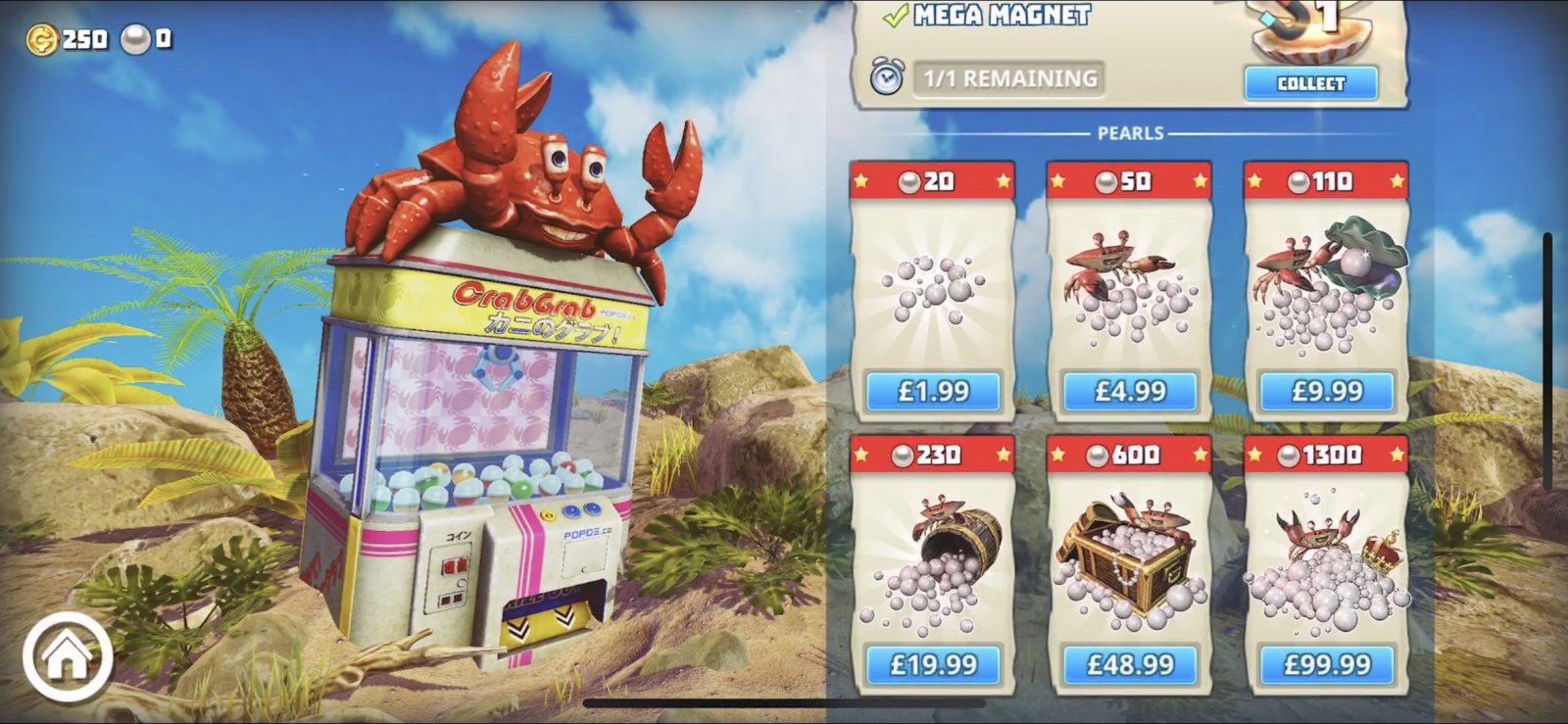 At the shop, you can purchase a variety of things.
Pearls
20 pearls for £1.99
50 pearls for £4.99
110 pearls for £9.99
230 pearls for £19.99
600 pearls for £48.99
1300 pearls for £19.99
Coins
You can earn coins by playing the game.
Others
Rare hat offer (pirate hat) for 10 pearls
Extra lives pack (x50) for 20 pearls
Rare crab offer (stone crab) for 20 pearls
The pearls allow you to purchase crabs and you can also win them with a prize-grab which costs 500 coins.
The Verdict
In conclusion, King of Crabs is a super engaging and fun game to play when you have a few minutes spare, although it can definitely get addictive. The problem with this is that it gets to the point where you run out of lives and you can't play anymore – how frustrating!
I think my favorite part was the overall aesthetic and sounds in the game – I'm a sucker for the beach and it made me feel so at peace. Of course, removing the fact that I was about to be killed by a crab… very relaxing!
King of Crabs Overall Rating: 3/5
iOS Link: https://apps.apple.com/us/app/king-of-crabs/id1354478141
Android Link: https://play.google.com/store/apps/details?id=com.RobotSquid.KingOfCrabs&hl=en_GB
Company: Robot Squid
Genre: MMORPG
Rated: 9+
Offers in-app Purchases
About Post Author