Hungry Shark World Review!
"The Sharks are back in the bigger and badder sequel to Hungry Shark Evolution!
Control a shark in a feeding frenzy and eat your way through many oceans feasting on everything from bite-size fish and birds to tasty whales and unwitting humans! The official game for Shark Week, live every week like it's Shark Week!"
Hungry Shark World Links:
iOS Link: https://itunes.apple.com/gb/app/hungry-shark-world/id1046846443?mt=8
Android Link: https://play.google.com/store/apps/details?id=com.ubisoft.hungrysharkworld&hl=en_GB
Company: Ubisoft
Genre: Games
Rated: 12+
Offers in-app Purchases
Gameplay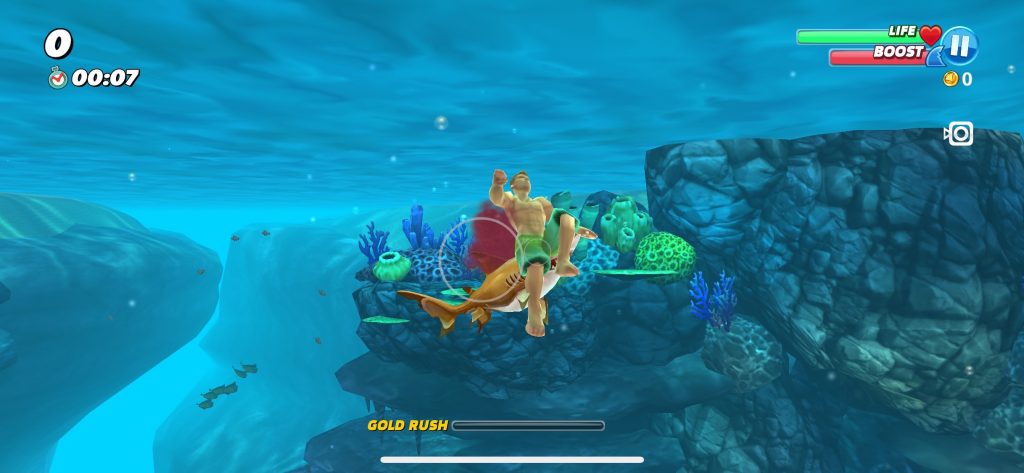 Hungry Shark World is essentially a game about eating. Something that all of us have to do to survive… the only difference is, you're a shark. And you don't care what you eat, as long as it keeps you from starvation.
The idea is to eat everything you see to keep your hunger as low as it can be. There are also challenges to finish that give you extra boosts such as eating a certain number of fish, swim a certain distance, or eat a heck load of humans in a row.
The map is pretty big – I found myself swimming, and swimming for ages which is good. There's nothing worse than reaching the end of a map in a game. The further down you go increases the risk of trying to eat something bigger than you – which makes you take a bit of a beating.
If you don't continuously eat, your health will go down and you will die. Your Gold Rush move will charge up when you collect coins and it lets you use unlimited boost for a short amount of time when it activates.
Some missions that are included in the game encourage short bursts of activity whereas others are only based on accruing something over time until you reach the goal, no matter how long it takes.
Hungry Shark World offers three maps to explore and lots of new animals to accompany you on your rampages.
Graphics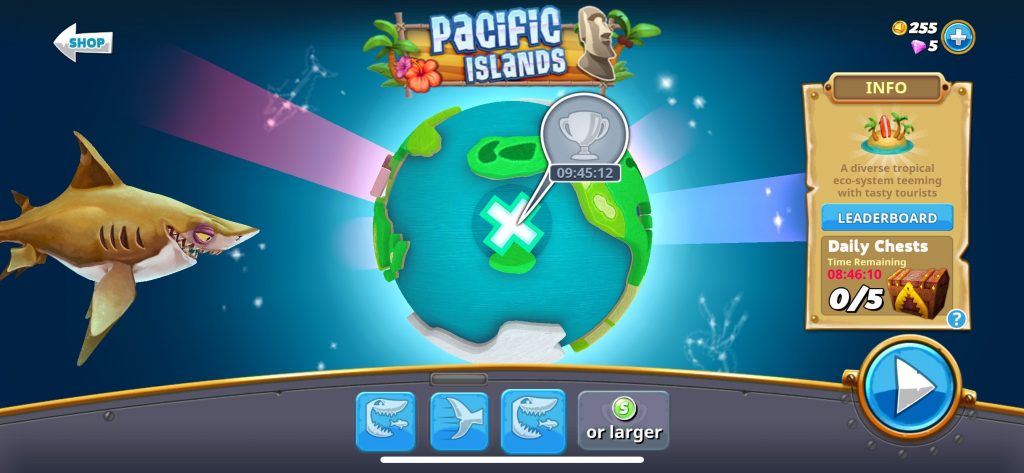 Hungry Shark World has clear and colourful graphics that stand out and have a friendly vibe despite the game literally being about killing things!
I noticed that there were a few bugs in Hungry Shark World. Swimming up on land, jumping out of the water, attacking humans and birds can cause a jumpy screen. This is a little bit annoying but it isn't something that makes the game any worse.
This didn't happen to me but upon researching the game, many people said that Hungry Shark World kept crashing while they were on a roll. This is something that isn't tolerable in a game to me. But seeing as it didn't happen to me, I can only assume that Hungry Shark World has fixed this problem.
Music
Of course, the music fits the game to a T. But it's annoying and repetitive. Don't get me wrong, it gets you fired up for the gameplay but after a while, you'll probably want to turn it off. I know I did.
Controls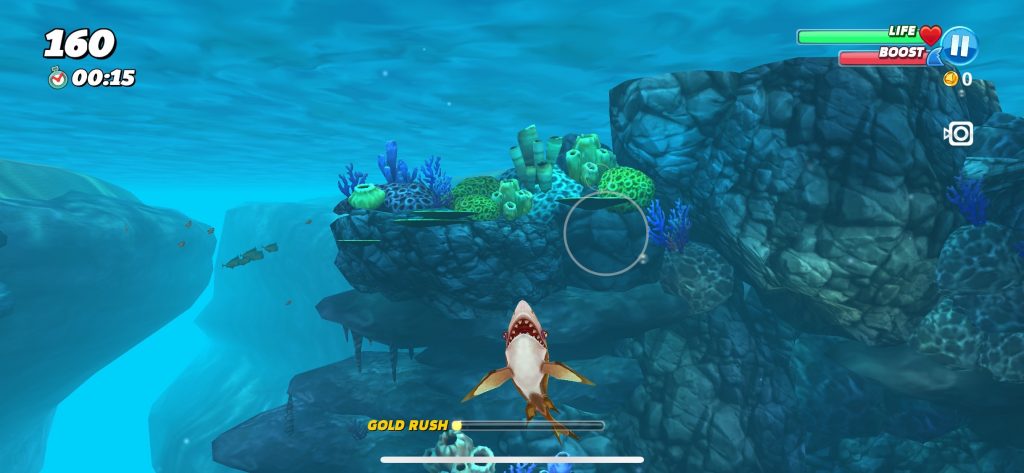 The controls are pretty easy. You have a floating joystick on the right-hand side of the screen that moves you around, and tapping on the screen unleashes a boost that allows you to move faster and kill "food" quicker.
The Power of in-app Purchases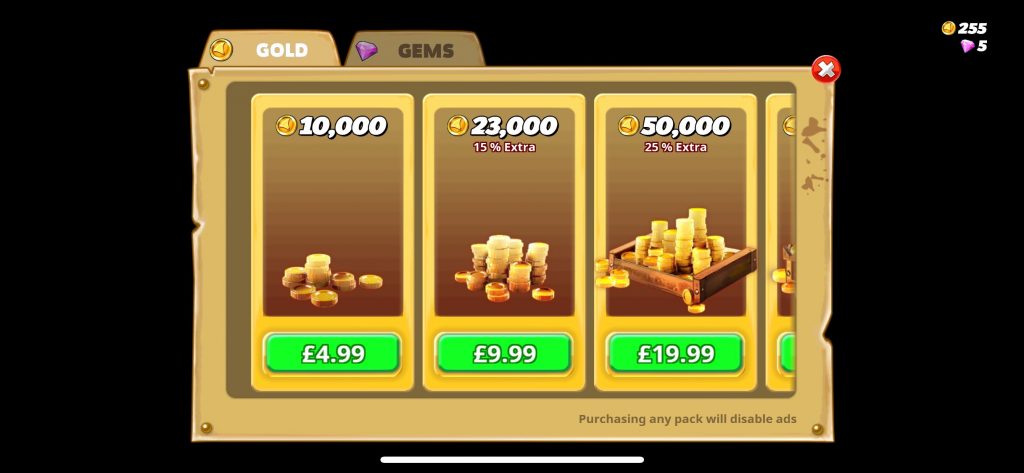 The in-app purchases are pretty overwhelming. You can buy a lot.
84 speed for 25 coins
50 bite for 25 coins
63 boost for 25 coins
Pets
You can buy pets to accompany you – but don't worry if you don't have the money, you can enter a competition to win one.
Boosts
Laser LOCKED until you reach a certain level
Jet Pack LOCKED until you reach a certain level
Recycler Cannon LOCKED until you reach a certain level
Force Field LOCKED until you reach a certain level
Maps
All maps are LOCKED apart from the Pacific Map which is free. However, upgrading it costs 100 diamonds.
Extras
You can also purchase energy boosts and accessories for your sharks such as a sun hat or a hula skirt.
The Verdict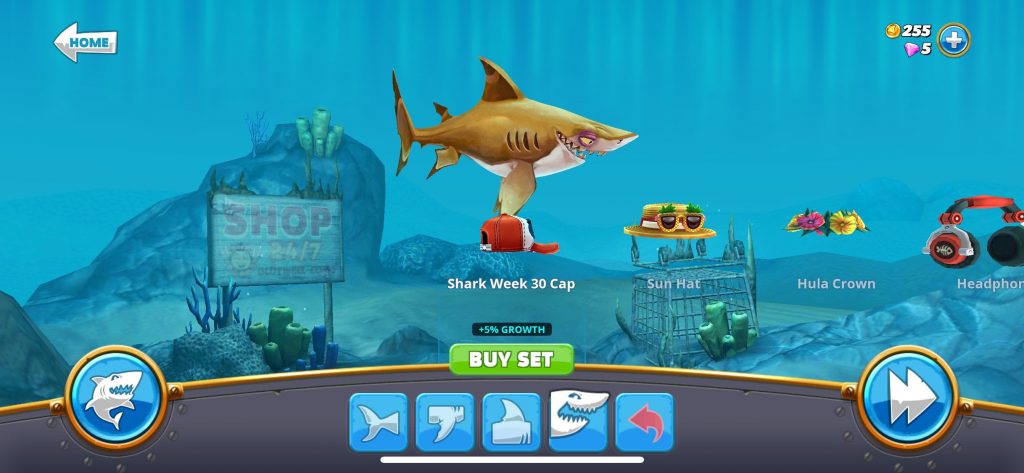 Hungry Shark World is a good game and I can totally understand why someone would like it but it's not something for me and there are a few reasons why. Number one, it's slow. Number two, it can get hard at time. And number three, the music is irritating. But I can't lie, this game is pretty addicting. I might complain but I couldn't stop playing it. I wanted to eat EVERYTHING.
If you love fast games, this is for you. Try it out and let us know in the comments what you thought and whether you agree with this review!
Hungry Shark World Links:
iOS Link: https://itunes.apple.com/gb/app/hungry-shark-world/id1046846443?mt=8
Android Link: https://play.google.com/store/apps/details?id=com.ubisoft.hungrysharkworld&hl=en_GB
About Post Author