Hero Wars Review!
"Many centuries ago magnificent lands of Dominion were thriving and blossoming.
Until the perfect world was invaded by the evil forces of Archdemon who wanted to conquer it. His army is unbelievably strong and extremely cruel, but there has to be someone to fight it.
Gather your army of mighty heroes, train and upgrade them, making them invincible! It's now your mission to clear the attacked lands from evil Archdemon's forces. With your faithful army, you can win and bring peace back to Dominion!
FEATURES
Dozens of heroes with unique abilities
Train your heroes and reveal their new skills
Take part in exciting campaigns and adventures
Fight with bosses to get their power
Participate in events & get rewards or rare items
Battle other players in Arena and Grand Arena!
Find allies and join a guild or create your own fellowship and lead it to victory
Prove your power, become a real legend and play with us now!"
iOS Link: https://apps.apple.com/ro/app/hero-wars-fight-the-monsters/id1158967485
Android Link: https://play.google.com/store/apps/details?id=com.nexters.herowars&hl=en_GB
Company: Nexters Global LTD
Genre: RPG
Rated: 9+
Offers in-app Purchases
Gameplay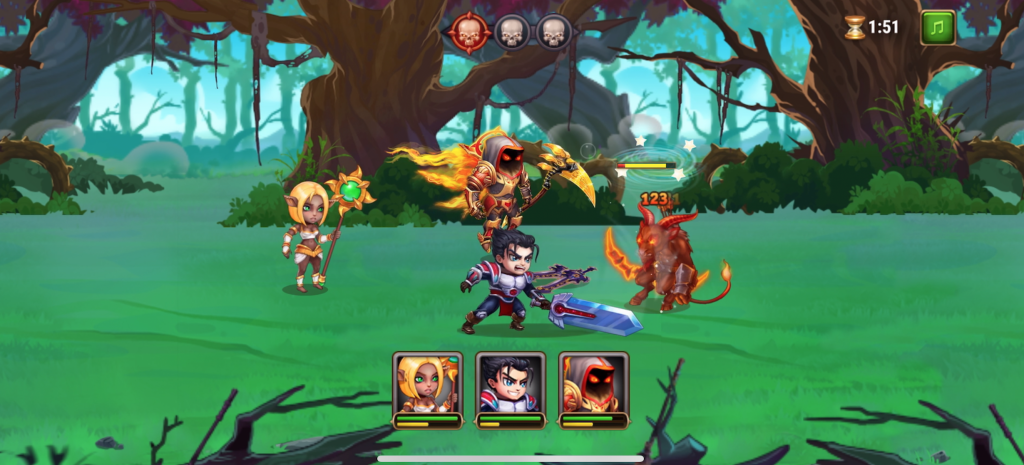 Play as a character who isn't named and fight Archdemons to find Aurora and save her from the curse. Do this in mini-games where you go through 3 battles, the last one being the hardest but luckily each person on your team has their own special move.
As you get through the levels, you collect more characters to join your clan. This helps as the levels get harder. But ultimately, the aim is to collect the keys to locating Aurora.
Graphics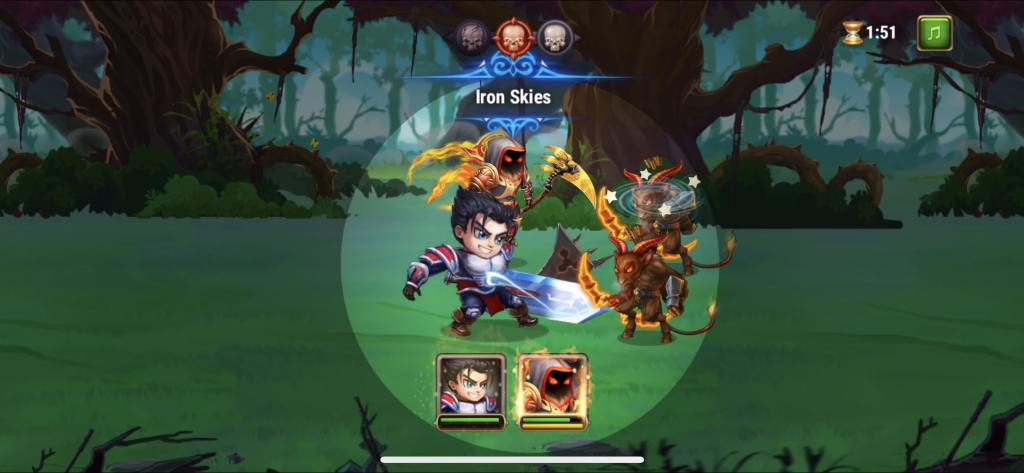 As for the graphics, they remind me of a lot of other RPG games I've come across like SEGA Heroes. They're 2D, the characters don't change facial expressions much but it fits well with the type of game it is. Although the graphics are a little basic, it doesn't stop the gameplay from being good.
Music & Sounds
The music for Hero Wars is very generic, and there is an option to turn it off and just have the sounds on. Personally I prefer the gameplay with just the background sounds but the music does add a more personalized feel. I personally don't find anything special about it and feel as if it could become annoying after a few rounds of games.
Controls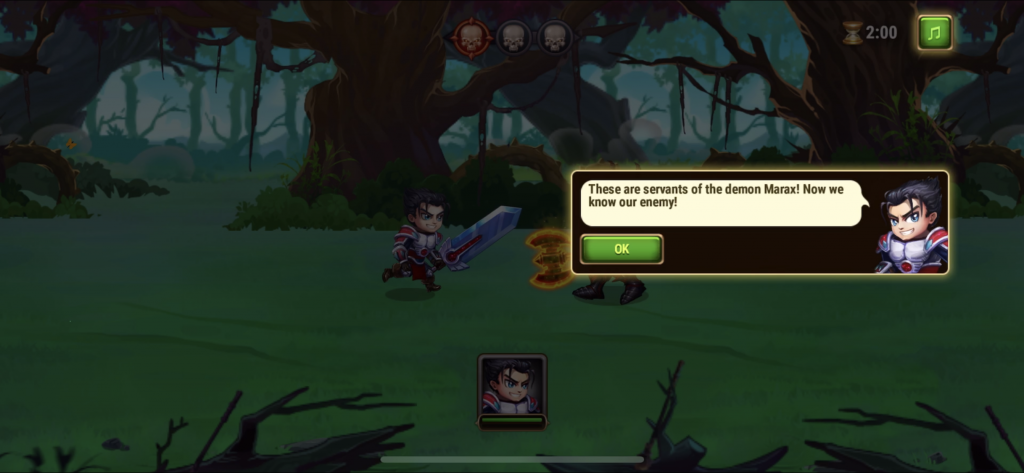 Hero Wars is actually an automatic fighting game where you only need to tap once your special move ramps up. This was interesting to me as I'm so used to tapping frantically when it comes to these types of games. But what you need to do during the gameplay is to make sure you're using the special moves strategically and not randomly. I found that using them when you get towards the end of the level is the most optimal way.
The Power of in-app Purchases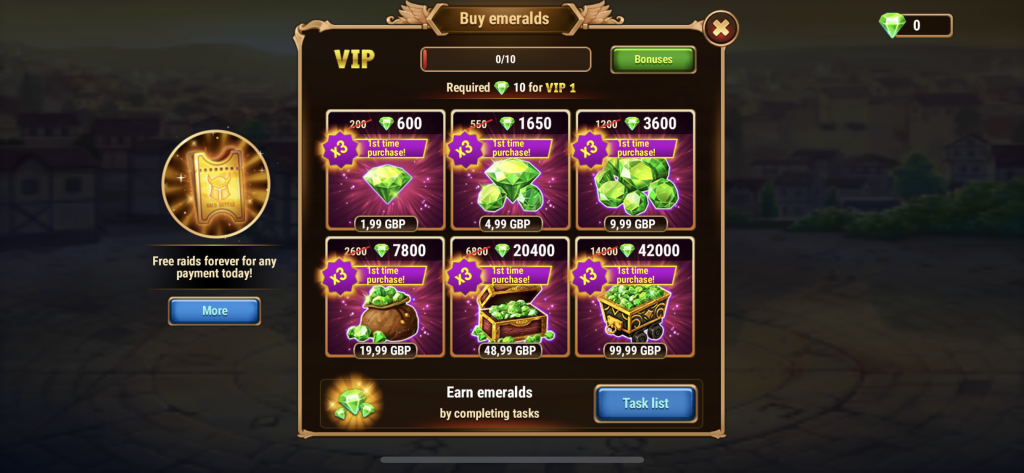 Emeralds
600 emeralds for £1.99
1650 emeralds for £4.99
3600 emeralds for £9.99
7800 emeralds for £19.99
20400 emeralds for £48.99
42000 emeralds for £99.99
earn emeralds by completing tasks
Exchange Shop
There is a spin wheel to earn coins.
roll x1 for 20 emeralds
roll x10 for 200 emeralds
Energy
buy 120 energy for 50 emeralds or watch an ad
The Verdict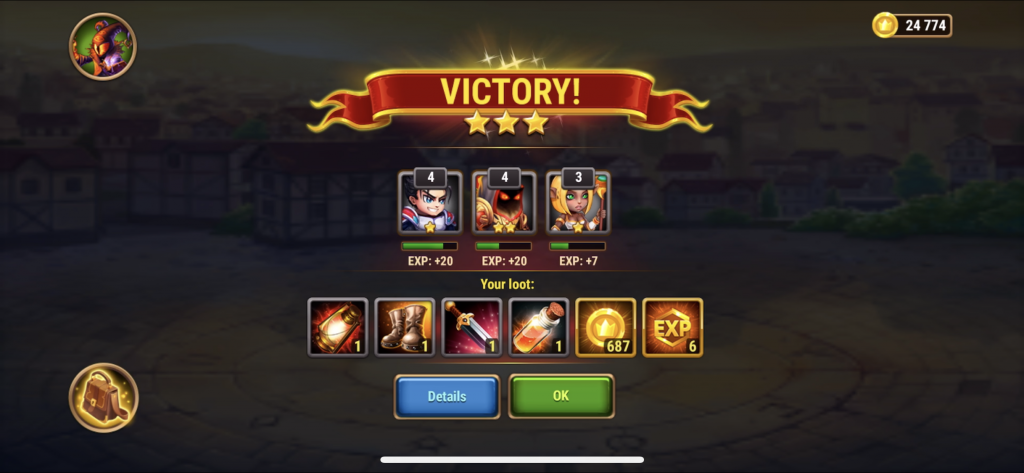 Hero Wars definitely isn't a terrible game – I could think of a number of people who would thoroughly enjoy it. However, it wasn't for me and that is only because I've seen quite a few games already that are exactly the same. The number one aspect I look for when I try a new app game is a uniqueness, and this just didn't cut it.
If you decide to download Hero Wars, let us know what you think and if you agree or disagree with any of the things we said. Happy gaming and stay casual!
Hero Wars Overall Rating: 2/5
iOS Link: https://apps.apple.com/ro/app/hero-wars-fight-the-monsters/id1158967485
Android Link: https://play.google.com/store/apps/details?id=com.nexters.herowars&hl=en_GB
Company: Nexters Global LTD
Genre: RPG
Rated: 9+
Offers in-app Purchases
About Post Author