Hero Hunters Review!
"Build a Powerful Team of Heroes! Play the #1 in Shooting RPG Games!
Recruit 50+ Legendary Heroes to go hunting with!
Join epic games with friends in Co-op Missions and compete world-wide in real-time online PvP survival battles.
The most incredible free team-based battle royale.
The World's Survival depends on you – crush anyone who is part of the Kurtz army kingdom!
Participate in Daily Events, Gauntlet Mode and Boss Raids!
Take charge by shooting and switching between heroes, or use auto-play for idle gameplay!
Gear up for the best free third-person shooter RPG game on mobile!
Collect exclusive heroes, each with their own legendary weapons and special abilities. Assemble the right team to take on the enemy. Mix up your roster to find the perfect combination – keep your tanks and healers on overwatch while your assassins and assault classes take down the enemy. Play as your favorite hero and dynamically switch between heroes at any time during gameplay. Plunder loot after each battle, level up your heroes, upgrade your abilities and perfect your loadout. Immerse yourself in the single-player campaign as you fight against raiders, bandits and worse in a post-apocalyptic cityscape. The battle is never over. Watch your hero squad dominate the battlefield."
iOS Link: https://apps.apple.com/il/app/hero-hunters/id1110217724
Android Link: https://play.google.com/store/apps/details?id=com.hotheadgames.google.free.survivors&hl=en_GB
Company: Hothead Games Inc.
Genre: RPG
Rated: 12+
Offers in-app Purchases
Gameplay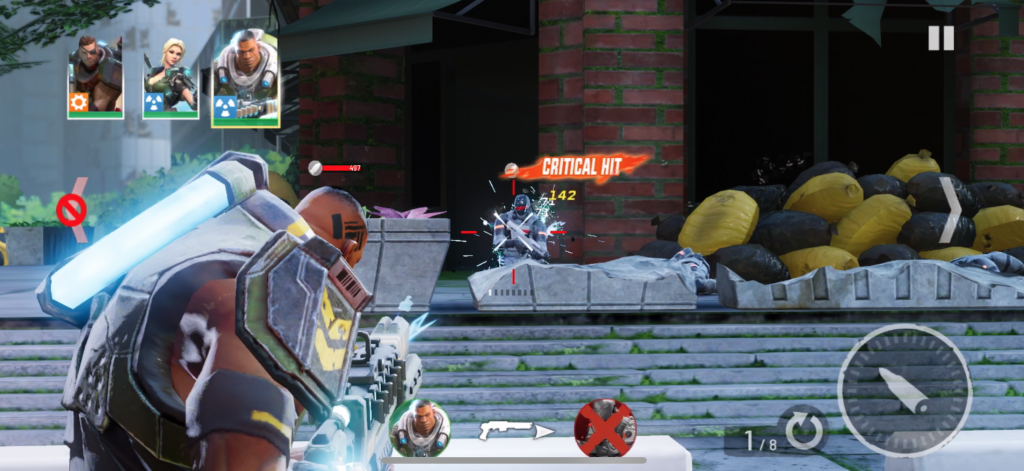 Find your teammates and get ready to battle in Hero Hunters. Destroy anyone who is part of the Kurtz Army Kingdom. Play as anyone on your team with the option to change halfway through depending on where the enemies are. If another player is in a better shooting range to destroy the enemies, switch to them, and then back to the original player. This is one of my favorite things about Hero Hunters as it gives you the fight from different perspectives.
Graphics
I'm absolutely blown away by how great the graphics are. They're not only colorful and well detailed but seem to work efficiently on top of this. The vast majority of the time, I felt like I was playing a console shooter and it felt great. This is the type of quality all shooting games should have if they truly want the player to get a console vibe from it.
Music & Sounds
The menu starts with very intense and motivating music but once you enter a fight, it gets more relaxed. During the fight, you can hear weapons, groans, footsteps, and taunting! I like everything about the music and sounds, and I feel as if it adds a great amount of value to the gameplay
Controls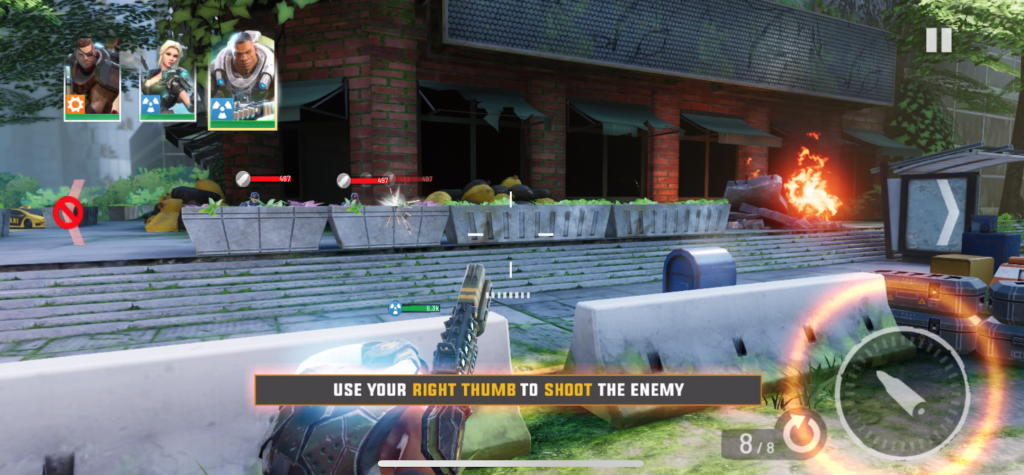 Unfortunately, it isn't an auto shoot game, which I'd usually be upset about. But luckily, the controls are pretty easy to follow despite being quite a bit to remember. Swipe down to duck, swipe left or right to move cover, aim by moving the left side of the screen, and shoot with the right. Once I became used to these controls (it didn't take long), I had such a good time feeling badass and shooting down enemies.
The Power of in-app Purchases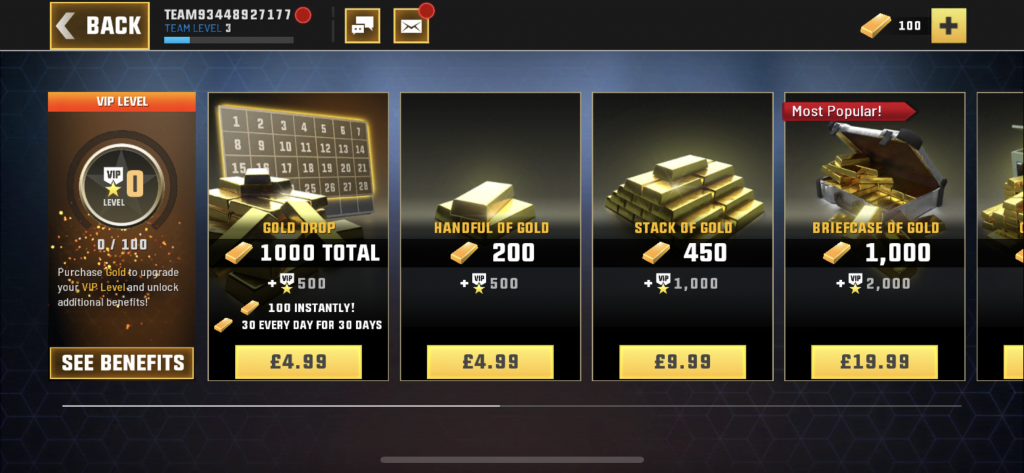 Purchase gold, crates, and special offers from the store!
Gold
1,000 gold (100 instantly, and then 30 every day for 30 days) for £4.99
200 gold for £4.99
450 gold for £9.99
1,000 gold for £19.99
2,600 gold for £48.99
5,600 gold for £99.99
6000 gold (3200 instantly and 400 every day for 7 days) for £99.99
Crates
Hero Crate for 300 gold
Custom Crate for £19.99 a month
Gold Crate for 100 gold
Special offers
Special Starter Bundle for £1.99
Crate Tokens and Gold Deal for £19.99
XL Crate Tokens and Gold Deal for £48.99
Starter Gold Drop for £19.99
Crate Tokens and Gold Deal on sale for £1.99
The Verdict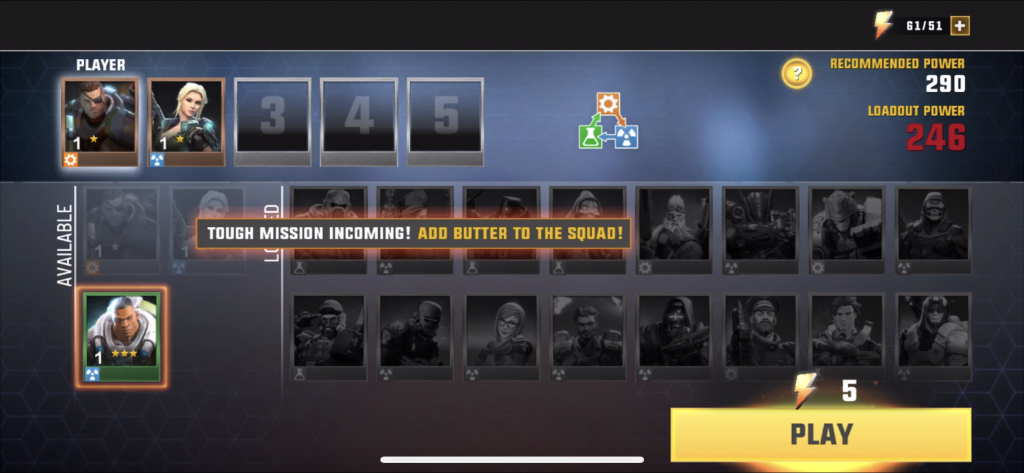 I've got to say it, Hero Hunters has easily become one of my favorites and it's definitely one I'm going to keep. The graphics are of console-quality, the controls are perfect, and the levels aren't too long or too short. I can't fault Hero Hunters at all!
If you decide to download Hero Hunters, let us know what you think and if you agree or disagree with any of the things we said. Happy gaming and stay casual!
Hero Hunters Overall Rating: 5/5
iOS Link: https://apps.apple.com/il/app/hero-hunters/id1110217724
Android Link: https://play.google.com/store/apps/details?id=com.hotheadgames.google.free.survivors&hl=en_GB
Company: Hothead Games Inc.
Genre: RPG
Rated: 12+
Offers in-app Purchases
About Post Author