Harry Potter: Wizards Unite Review!
"From the makers of Pokémon GO, Harry Potter: Wizards Unite is the real-world augmented reality (AR) game inspired by the Wizarding World that puts magic in the hands of players worldwide. Harry Potter: Wizards Unite is co-developed and co-published by Niantic, Inc. and WB Games San Francisco as part of Portkey Games, a label dedicated to creating new Wizarding World mobile and video games inspired by J.K. Rowling's original stories that place players at the center of their own adventure. A calamity has befallen the wizarding world, causing Foundables—magical artifacts, creatures, people, and even memories—to mysteriously appear in the Muggle world. As a new recruit of the Statute of Secrecy Task Force, you'll work with witches and wizards from across the globe to solve the mystery of The Calamity and keep magic safe from Muggle eyes." 
iOS Link: https://apps.apple.com/fi/app/harry-potter-wizards-unite/id1452352832
Android Link: https://play.google.com/store/apps/details?id=com.nianticlabs.hpwu.prod&hl=en_GB
Company: Niantic, Inc.
Genre: Role-playing
Rated: 9+
Offers in-app Purchases
Gameplay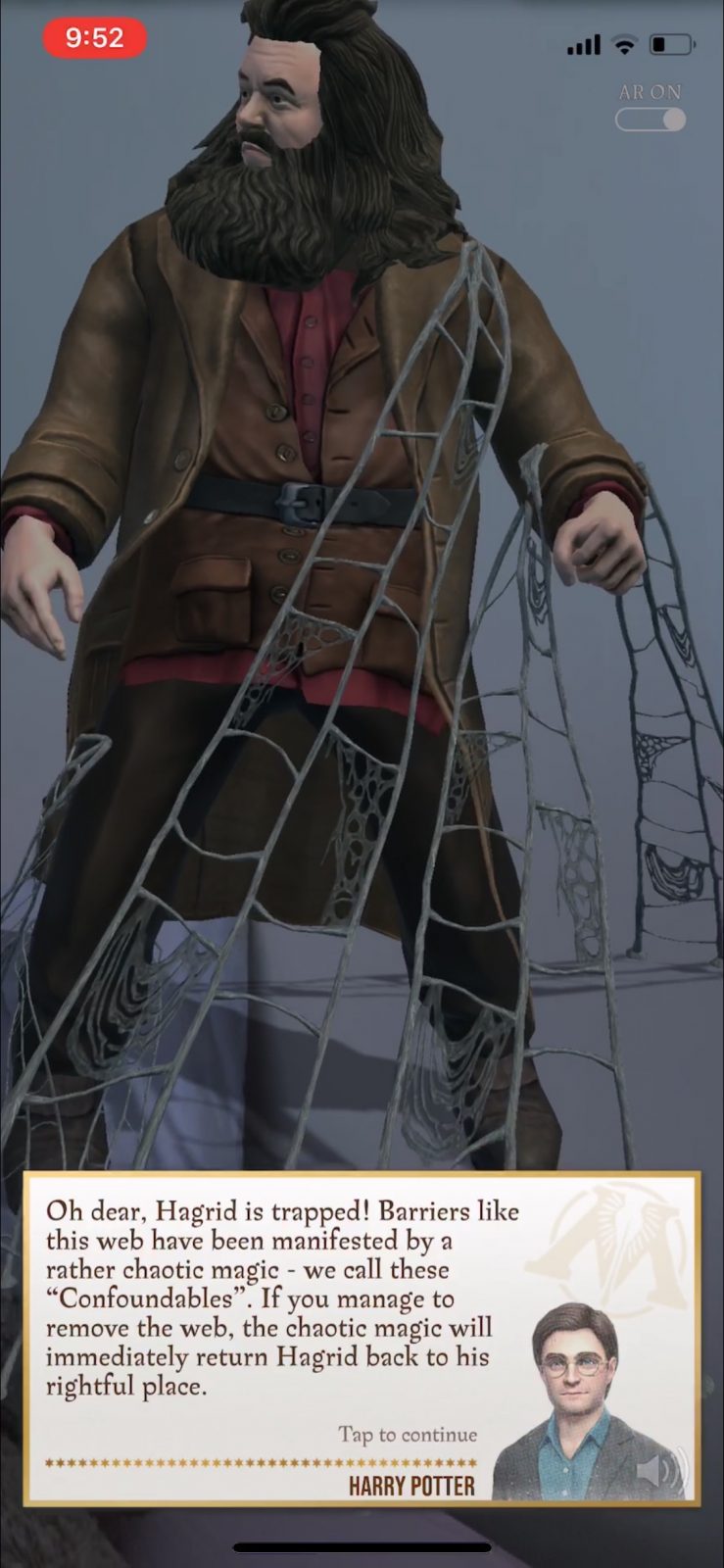 In The Statue of Secrecy task force, there has been a disastrous Calamity. Everything that anyone has ever feared, revered, or held dear in the wizarding world – people, things, and memories have been stolen and displaced across the world. It is your job to return what is lost to make sure The Statue of Secrecy isn't broken.
You're provided with a map, which is actually where you are in the real world. A Foundable, which is left by magic, pops up to be tapped on. Once you tap on it, you go into Augmented Reality and you have to search the area around you to reveal the Foundable.
The first Foundable reveals Hagrid and he's trapped in a web which has been manifested with chaotic magic that is called Confoundables. Removing the web will make the chaotic magic return Hagrid back to where he's supposed to be. To do this you need to align the stars on the screen together which will show you the threat level of the Foundable – this is how likely the Foundable is to expose the wizarding world and breaking the Statue of Secrecy. The greater the threat, the harder it'll be to remove the Confoundable.
To remove the Confoundable, you have to cast a spell and in this case, it's Diffindo. Sometimes the Confoundable will resist your spell, so make sure to do it correctly. Once you've successfully rescued Hagrid, you need to make a note of it in the registry to keep track of your progress.
Graphics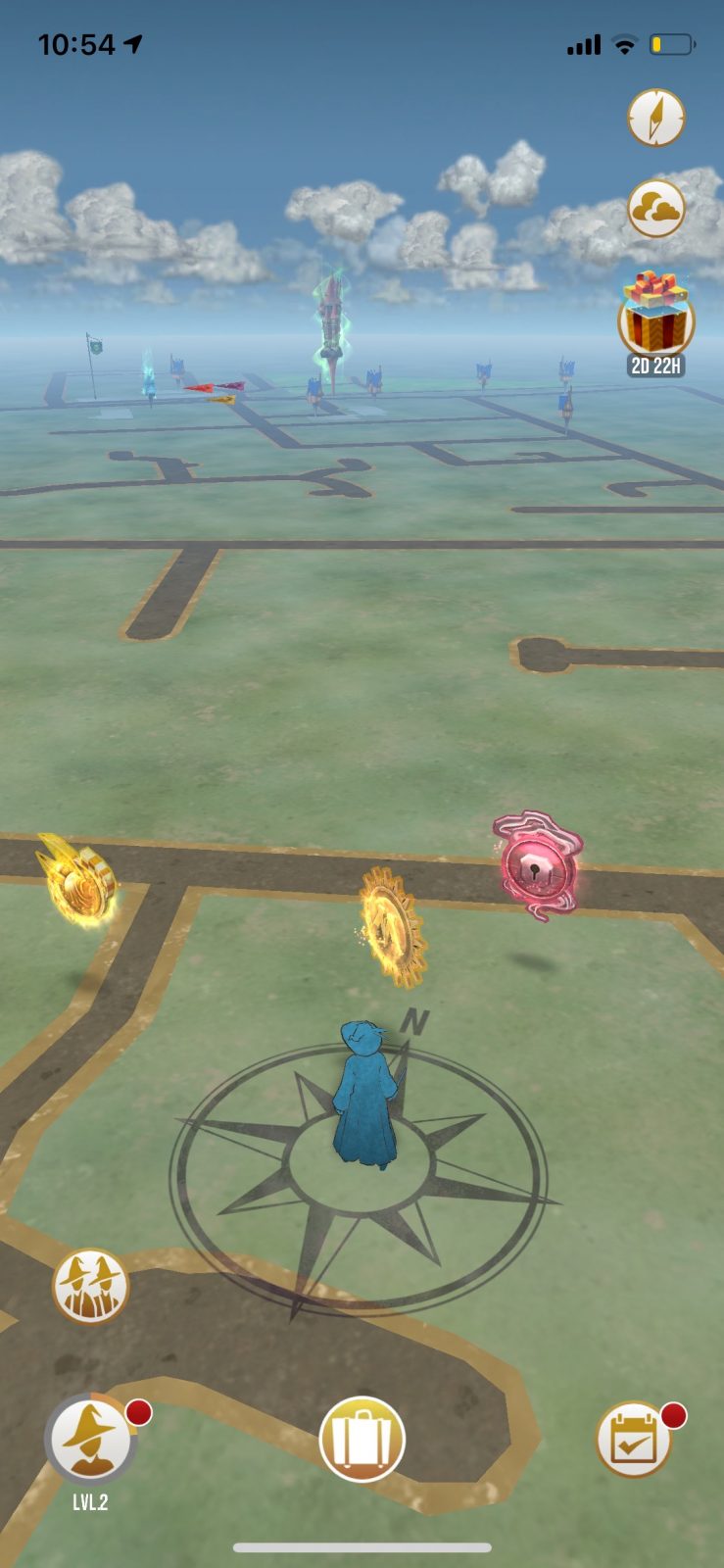 As expected, the graphics for Harry Potter Wizards Unite are very similar to those on Pokémon Go, they are both made by the same company anyway. The graphics are 3D, colorful and the map replicates the space around me really well. When you click on some of the locations, it'll come up with a real picture of it. I really liked this effect.
Of course, the Augmented Reality is super cool and I was fascinated by having all of these Harry Potter characters in front of me.
Music & Sounds
The music is very Harry Potter-y, there are no other words to explain it but you know exactly what I mean if you have watched the film series. The music makes me feel nostalgic and excited to play the game being a huge HP fan myself.
The voiceovers are really nice as you don't have to read the scripts if you don't want to and Harry Potter's voice actually sounds like the actor (I'm not entirely sure if it is him).
Controls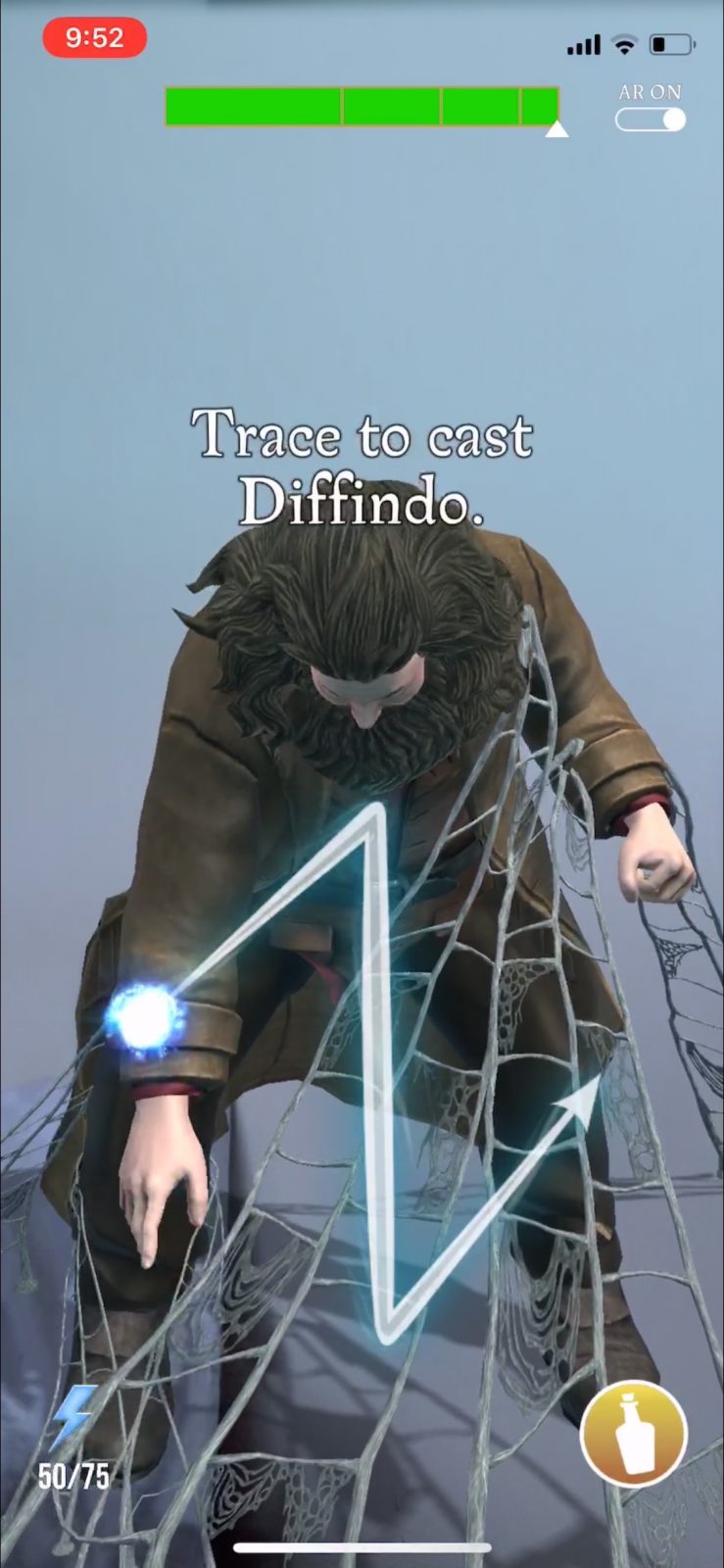 The controls are very easy to use, as the main thing you need to do is cast spells to rescue the Foundables. To cast a spell, you trace the lines on the AR screen. It's as simple as that. I'm a fan of the controls – they're simple and fun to use.
The Power of in-app Purchases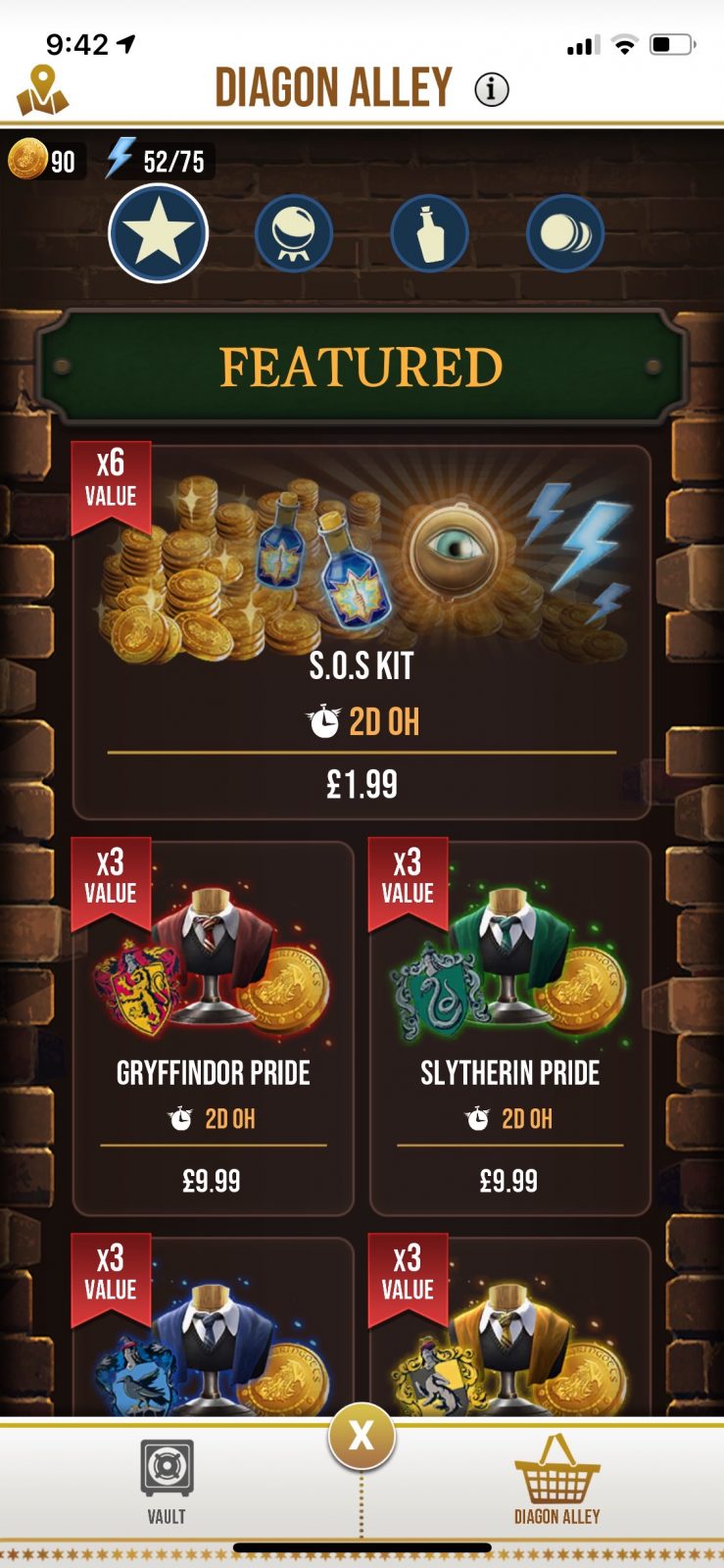 In the store, you can purchase featured items, Wiseacres, Slug & Jiggers, and Gringotts Gold.
Featured
S.O.S Kit for £1.99
Gryffindor Pride for £9.99
Slytherin Pride for £9.99
Ravenclaw Pride for £9.99
Hufflepuff Pride for £9.99
Exstimulo Crate for 800 gold
Potion Variety for 725 gold
etc
Wiseacres 
Silver Key for 90 gold
+4 Silver Key for 325 gold
Dark Detector for 120 gold
+3 Dark Detector for 325 gold
+50 Spell Energy for 100 gold
Spell Energy Capacity for 150 gold
Bag of Runestones for 40 gold
Slug & Jiggers
Baruffio's Brain Elixir for 100 gold
Healing Potion for 25 gold
Exstimulo Potion for 25 gold
Strong Exstimulo Potion for 50 gold
Potent Exstimulo Potion for 75 gold
Potion Variety Crate for 725 gold
Exstimulo Crate for 800 gold
Ingredients Capacity for 150 gold
Potions Capacity for 200 gold
Seeds and Water Capacity for 150 gold
Coins
80 gold for £0.99
425 gold for £4.99
900 gold for £9.99
2100 gold for £19.99
5400 gold for £48.99
12000 gold for £99.99
The Verdict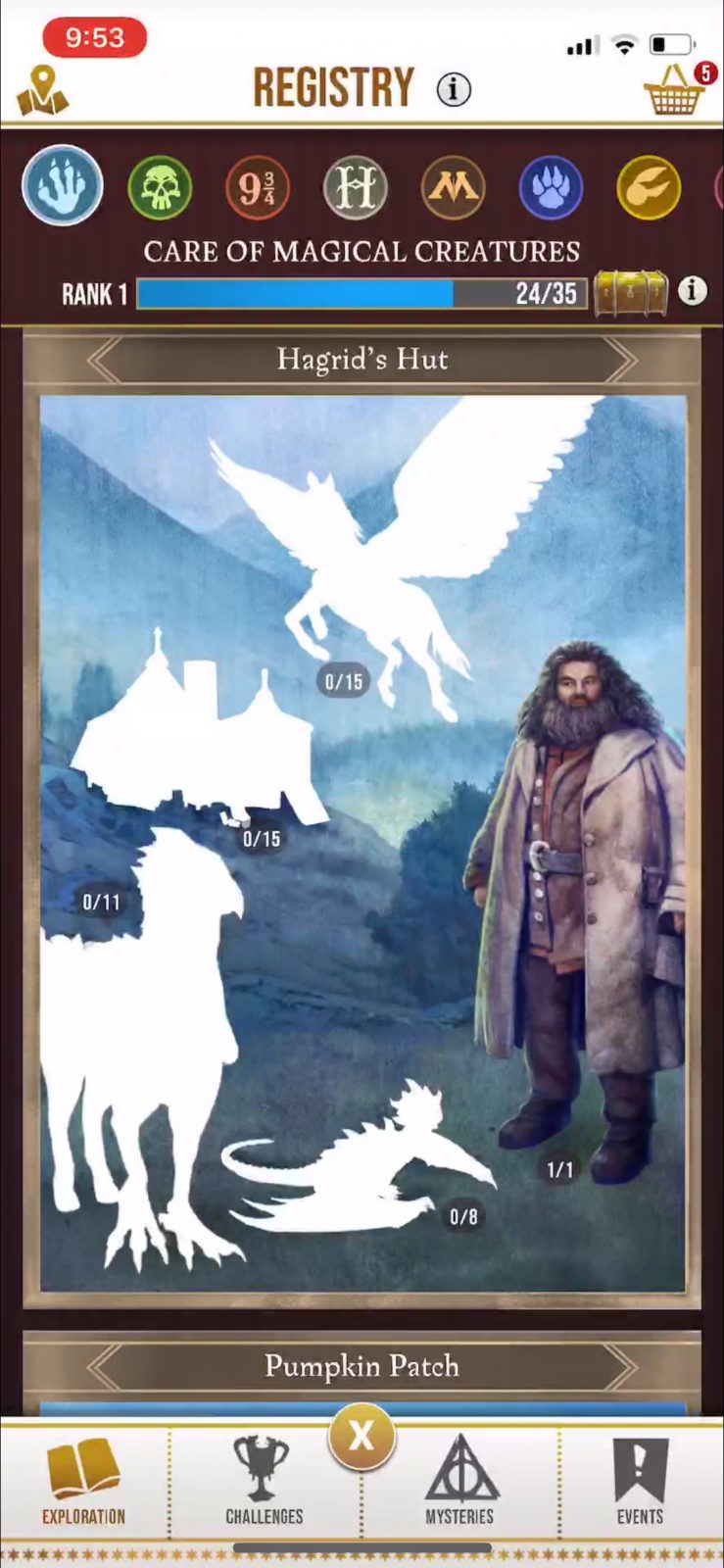 If you enjoy playing Pokémon Go, you will definitely like Harry Potter: Wizards Unite. However, as someone who found Pokémon Go boring, this game was average at best. I definitely do like the idea of a game that makes you go outside as not enough people do that nowadays but I do think that this game can become dangerous if not played properly. They do warn you to always be aware of your surroundings, but there were many reports of Pokémon Go players trespassing to get further.
In terms of the way it looks, I love it as a Harry Potter fan and think it's really cool having HP characters in front of you.
If you decide to download Harry Potter: Wizards Unite, let us know what you think and if you agree or disagree with the things we said. Happy gaming and stay casual!
Harry Potter: Wizards Unite Overall Rating: 4/5
iOS Link: https://apps.apple.com/fi/app/harry-potter-wizards-unite/id1452352832
Android Link: https://play.google.com/store/apps/details?id=com.nianticlabs.hpwu.prod&hl=en_GB
Company: Niantic, Inc.
Genre: Role-playing
Rated: 9+
Offers in-app Purchases
About Post Author