Hair Challenge Review!
"Are you ready for a massive Hair Challenge?
This is an adventure in which you have super long majestic hair! This popular hair runner game is perfect for you!
Do you hate getting a bad haircut? So do we! Especially in this super fun Hair Challenge game!
Pick up weaves of any hair colors as you walk the runway. Watch out for the scissors, blades, and all other sharp obstacles to keep your gorgeous hair from getting cut!
Did you not like your hair color? Or need a makeover? No problem, because this is a hair salon runway. Put your high heels on, pick yourself up a colorful hair dye, and start running on the roof!
Oops! Did your hair get cut? No worries, the hair salon at the shop awaits you! Go visit the hair shop to choose any of the fabulous characters, hair dyes, and hair accessories to unlock and start your cool walking game.
Forget about all the other top free games and popular games! This is the best hair runner game, challenging but super fun! So come join the community and play Hair Challenge now!"
iOS Link: https://apps.apple.com/st/app/hair-challenge/id1560656677
Android Link: https://play.google.com/store/apps/details?id=com.Upperpik.HairChallenge&hl=en_GB&gl=US
Company: Rollic Games
Genre: Action
Rated: 4+
Offers in-app Purchases
Gameplay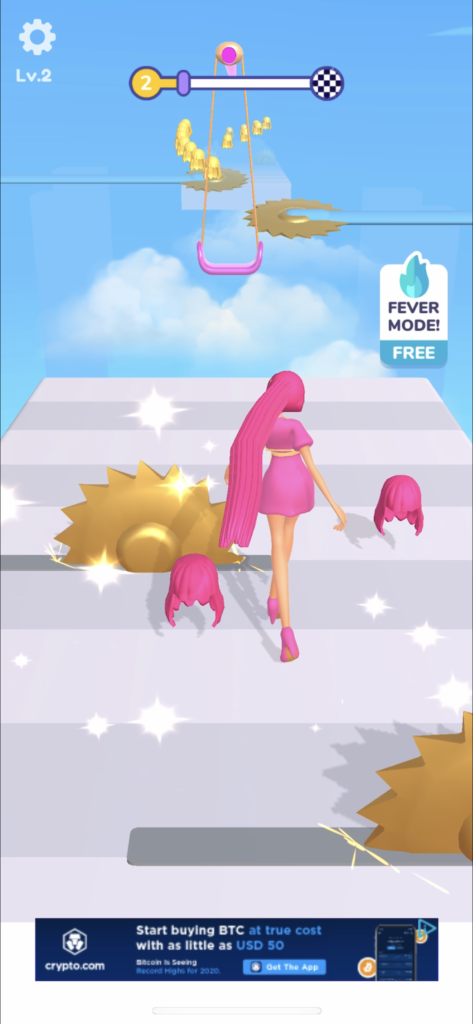 With a very similar concept to High Heels!, Hair Challenge makes you race through obstacles to see how long you can grow your hair. Each obstacle will cut your hair so make sure to avoid them. To grow your hair, collect the wigs.
Your character will fall back to measure her hair against the wall at the end of the level. How long the hair is will depend on how many points you get and you can use the points to unlock new skins.
Graphics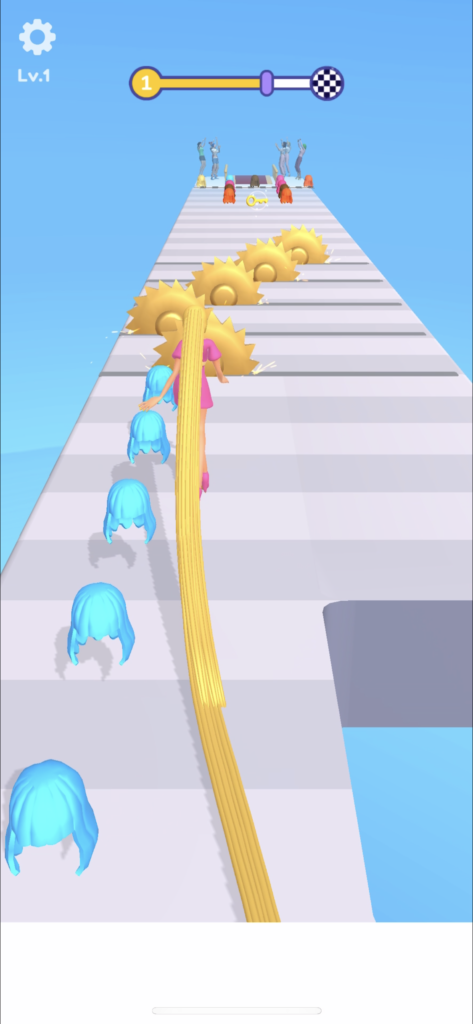 Again with the similarity to High Heels!, the graphics are almost identical. The games are made by different developers so we're not sure if this is a case of inspiration or straight plagiarism, but they're not great.
Music & Sounds
The audio is very generic and I wasn't a fan of it. However, I'd rather this than a mute game.
Controls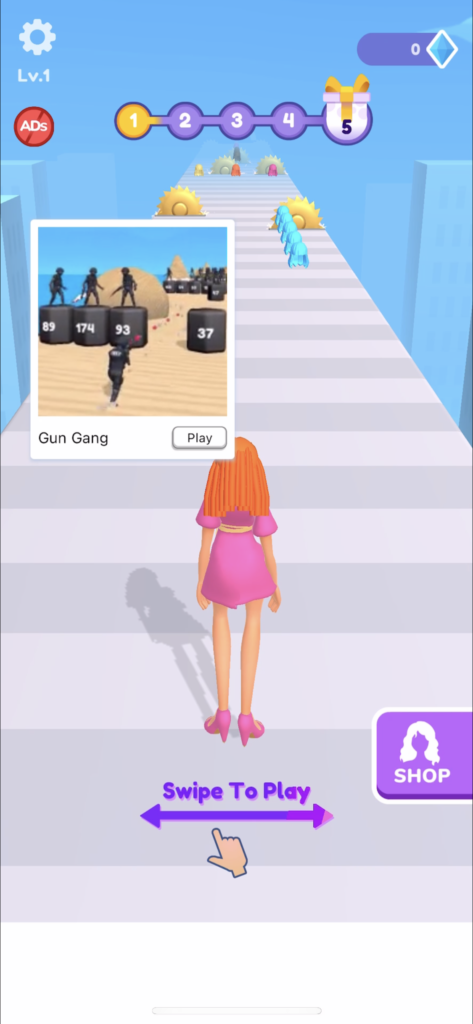 Control your character by dragging your finger around the screen, avoiding as many obstacles as possible.
The Power of in-app Purchases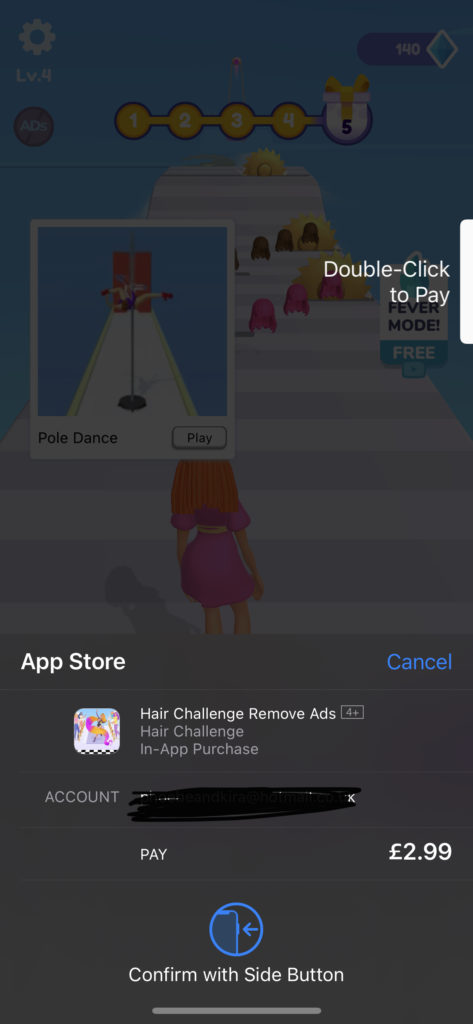 I feel like Hair Challenge missed out on an opportunity to add some really good in-app purchases into the game. There's a fever mode that speeds up everything and removes the obstacles for a fraction of the level. This could've been charged, but you have to watch an ad to use it.
However, you can purchase the removal of ads for £2.99.
The Verdict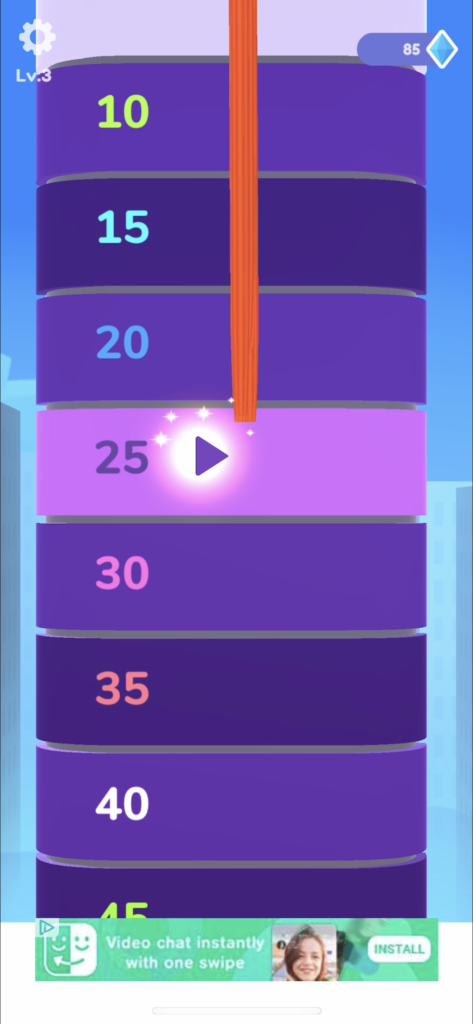 Hair Challenge is a great novelty game, but not something I can imagine people becoming invested in. I would've loved to have seen a few more in-app purchases available and more unique obstacle courses.
If you decide to download Hair Challenge, let us know what you think and if you agree or disagree with the things we said. Happy gaming and stay casual!
Hair Challenge Overall Rating: 2/5
iOS Link: https://apps.apple.com/st/app/hair-challenge/id1560656677
Android Link: https://play.google.com/store/apps/details?id=com.Upperpik.HairChallenge&hl=en_GB&gl=US
Company: Rollic Games
Genre: Action
Rated: 4+
Offers in-app Purchases
About Post Author