https://www.youtube.com/watch?v=qrtP7hmBCuA&feature=youtu.be
Golf Clash Review!
Golf Clash is an arcade-style multiplayer game. This game is focused on the multiplayer aspect where you play 1v1 against a random opponent, bot, or Facebook friend. Rather than playing 18 holes like a regular game of golf, each game is one hole – keeping it short, casual, and simple.
If you're interested in finding out what I thought of Golf Clash, read on…
Golf Clash Links: 
Company: Playdemic
Genre: Sports
Rated: 4+
Offers in-app Purchases
"The sun is shining, it's time to play the real-time multiplayer game everybody's talking about!
Mobile Game of the Year – BAFTA
Game of the Year 2018 – Mobile Game Awards
Game of the Year – TIGA Awards
Play on beautiful courses against players around the world in real-time as you compete in tournaments, 1v1 games and challenge your Facebook friends! Upgrade your clubs and unlock tours as you master your golf skills in the quest to be the Golf Clash king!"
Golf Clash Gameplay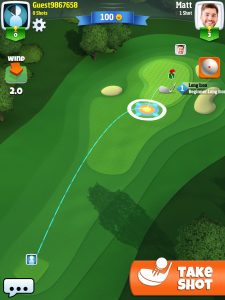 The gameplay for Golf Clash is simple but in a good way. You have to use basic positioning to drag and release technique to aim and control your ball to get into the hole! The game has set entry fees and prizes to be won, you're able to pick your own level of competition and collect new clubs and upgrade existing ones along the way.
You dive into the game with a real player (sometimes a bot if there's no one available). You will take it in turns to shoot your shot, aiming to get the ball in the hole before your opponent. And the winner will go home with a cash prize.
There are three different tournaments to choose from. All of them have an entry fee that you pay with the coins you've earned from winning other matches. After winning games, you will receive chests that open after a certain amount of time. These will give you coins, gems, upgrade cards, and other items. But we'll get into that later…
Golf Clash Graphics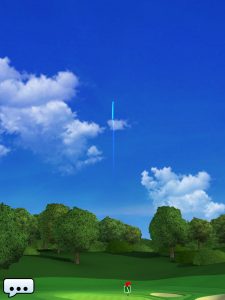 Animated graphics are always popular when it comes to app games but not when it doesn't look good. Elements such as trees, grass, and bushes are very below average, and when you compare them to other games, they look quite out of date.
Golf Clash Music
There are a few different sounds that appear in the game like when you hit the ball, claps when you hit a good shot and there's also a voice that says "Perfect Shot" when you, well, get a perfect shot. There is no background music and no tapping noises when you click on buttons. So music and sounds don't really play a big part in Golf Clash, so you might as well turn them off. I did.
Golf Clash Controls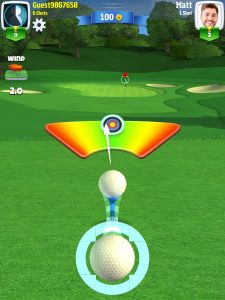 Like I said earlier on in the review, the controls are fairly simple and all you really need to do is reposition the ball to play the game. There aren't too many buttons on the screen so it doesn't get confusing at all. If you're looking for something you can play while doing something else, this is for you, multitasker!
Golf Clash The Power of in-app Purchases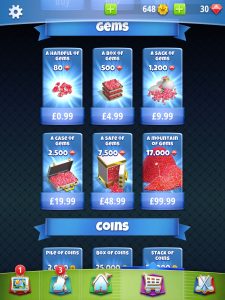 Although this game is pretty based on skill, there are quite a few ways you can improve your gaming ability. But you have to pay a price. Here are a few things Golf Clash have available in their store:
80 gems for £0.99
500 gems for £4.99
1,200 gems for £9.99 etc…
2,000 coins for 60 gems
25,000 coins for 600 gems
75,000 coins for 1,500 gems etc…
The Rocket Club for 1 gem
The Apache Club for 50 gems
The Grim Reaper 500 gems
Gold Chest for 140 gems
Platinum Chest for 320 gems
King Chest for 1,600 gems
and you can buy various balls to improve your gameplay…
Like most games, you are also given free gifts. You can earn chests for winning challenges and logging in every day.
The Verdict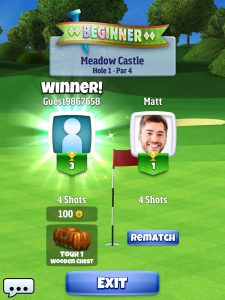 Golf Clash is a really good game with a lot of potential but the way the graphics are laid out and the sounds could be done better. The main aspect that drew me into this game initially was the fact you can play with people around the world. I thought that was awesome. The gameplay is fun and addictive but everything else needs improving.
It's definitely a great little game for those days off work or you could even have a quick game on your train commute to work!
Golf Clash Overall Rating: 3/5
Company: Playdemic
Genre: Sports
Rated: 4+
Offers in-app Purchases
About Post Author