Galaxy Attack:  Space Shooter
Galaxy Attack:  Space Shooter Links:
Company:  Dao Vu Duc Minh
Genre:  Shoot em up!
Rated:  Everyone 4+
Offers In-app Purchases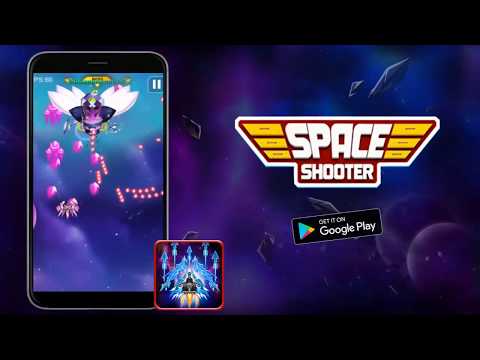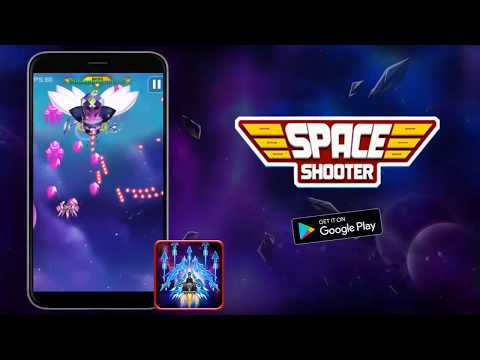 When told about this game and checked it out on the app store, my initial thoughts weren't positive. I thought the game looked pretty bland and it looked like something I'd get bored of within 5 minutes. Everything looked so generic (even the title) that I felt the need to check to see if there were any other games that looked the same.
Galaxy Attack:  Space Shooter's Graphics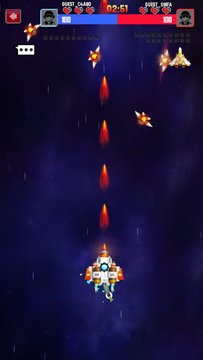 The graphics are pretty average for an app game.  The shots and explosions are crisp and clear, which is good for the realness of the game.  The background is boring and the enemies just look like little flies which was confusing to me.  Their shots were weak because they're so small. I did however love the simplicity of my ship – the small orange and white details on it along with the letters 'QR' on it.
There up to 12 playable ships in game. If this game wasn't so anonymous and included a few humans (or aliens!) then I feel like it would be able to tell a better story and show off its graphics to the best of its ability.
Galaxy Attack:  Space Shooter's Music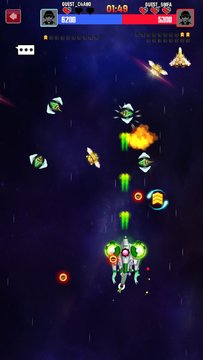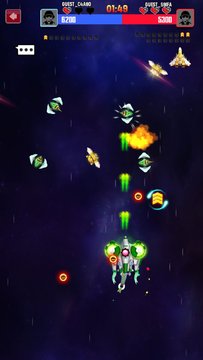 The music isn't the greatest – all it is really is intense music repeated every 20 or so seconds.  The music repeating very often does get annoying after a while so when I was playing this game I usually had my phone on silent.  When you go to click on the level you want to play, the music does speed up, but again it repeats itself and it's very annoying after a short while. During the actual gameplay, there is a person that says random phrases ever so often.
I later realized that there was an option to have sound effects on, but with the music off so it's very handy if you find the music as annoying as I do!  Speaking of sound effects, they're not brilliant either. They feature generic exploding sounds and shooting. Nothing special there. The overall gameplay definitely makes up for the lack of good music.
Galaxy Attack:  Space Shooter's Controls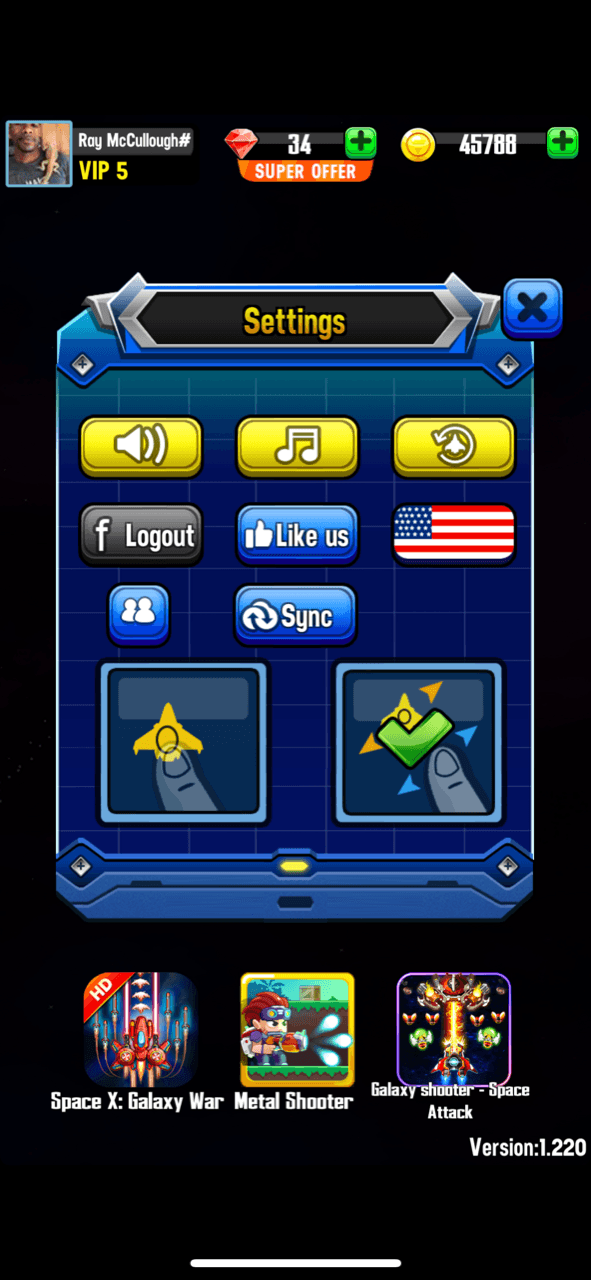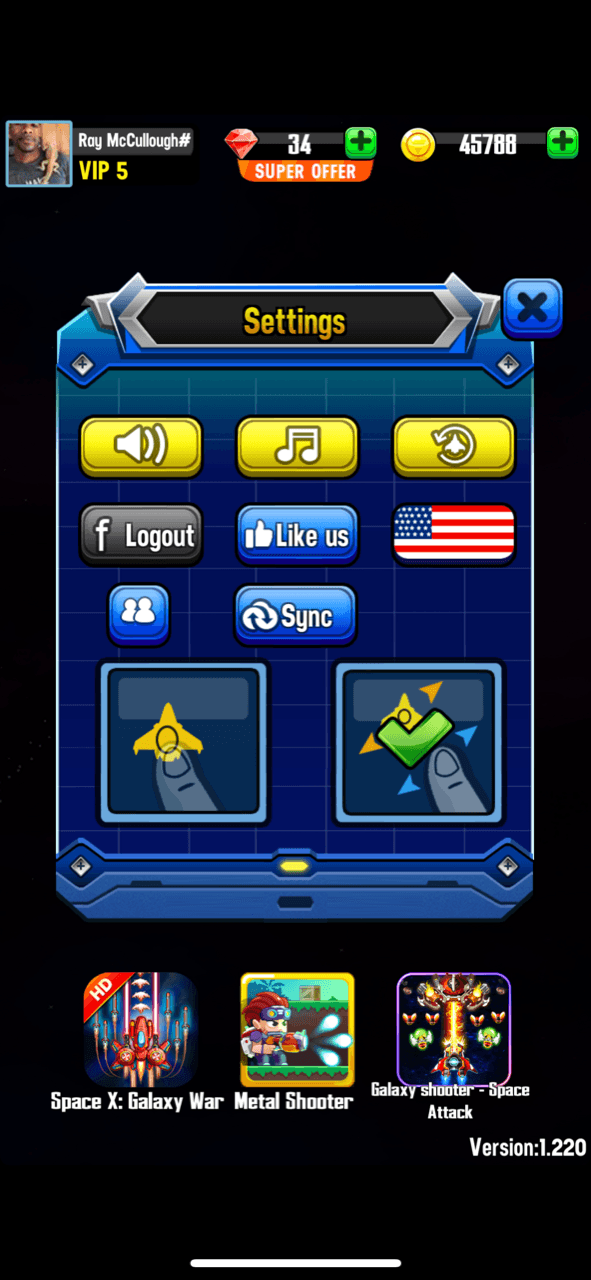 The controls are one touch and extremely simple but I liked that. However, to pause the game you do have to move your attention to the top right of the screen.
The controls are super responsive – your ship locks to wherever you tap your finger, which allows tight maneuvers and fast response to threat and you don't need to hold your finger down the whole time if you don't want to (I did as I found it easier).
Another thing I liked is that you can move your spaceship to the top of the screen if you're feeling brave, rather than keeping the ship at the bottom of the screen and feeling restricted.
Galaxy Attack:  Space Shooter's Power of in-app purchases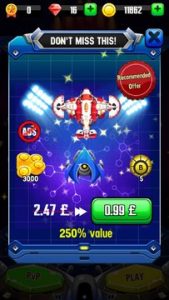 I purchased the starter pack for 0.99 cents which provides you with a new spaceship, 3000 coins, a drone and no ads. I didn't think this was the best in-app purchase as it doesn't necessarily help with the gameplay or make a huge difference to the upgrades. The only difference it made is that I was able to continue the game if I died – for more lives, it cost 2000 coins or 2 diamonds. But apart from this, I wouldn't say it was worth the purchase.
There's currently a special event that's going on in Space Shooter, and it ends in 7 days. It's hard to tell what the event actually is and how it plays a part in the story, but I do know you can win items by collecting masks. The masks cost diamonds: 1 diamonds = 200 masks. So, if you're interested in taking part in the event, it might be a good idea to purchase some diamonds.  The event has ended since my time playing, but the developers still offer cool events via their FaceBook Page
Overall, in-app purchases are pointless for this game as there are many ways to earn diamonds, coins etc. At the top of the home screen, there is a wheel of fortune, and treasure chest where you can earn special items to help you in the game. If you play the game daily, you get a reward and you get rewards for completing levels so this game is great if you just want to play a free game without having to pay. However, ads pop up every time you die which is a little bit annoying so if you get annoyed by them, it only costs 0.99 cents to remove them!
Galaxy Attack:  Space Shooter's Overall gameplay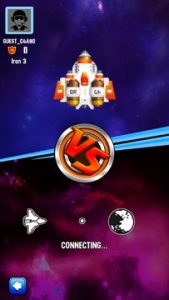 There is a multiplayer mode that connects you to a random stranger to see who can get the highest score in three minutes.  The person with the highest score wins a reward based on the four levels of difficulty available.  Multiplayer mode is more difficult than 'story mode' because everything moves a lot faster and it got to the point where it was pretty overwhelming to play just starting out.  I did die 3 times and still won!
The gameplay is repetitive. Space Shooter didn't have any kind of story or background to it, so it just felt like I was shooting random ships for the sake of it. Personally, I prefer games with a little bit of a story to it because when you complete a level it feels more like a win.
I don't think I would recommend Space Shooter: Galaxy Attack to someone who wants to play a long-term game.  This definitely isn't something you'd play for months on end and never get bored. This game is more fitted for your daily commute to work, during your lunch break, or even if you just have a bit of time to burn. My only wishes for this game is that I would like it to have an actual storyline to it!  Maybe a character and to learn more about the boss stages. What are they protecting? What's their story? The simple questions that could've easily been answered in the game.
Galaxy Attack:  Space Shooter's Overall Score:  3/5
Galaxy Attack:  Space Shooter Links:
Company:  Dao Vu Duc Minh
Genre:  Shoot em up!
Rated:  Everyone 4+
Offers In-app Purchases
About Post Author