Furistas Cat Cafe Review!
"The best adorable cat game! Look after your cute kitties, help your customers match with their favorite cat, and customize your cafe to bring the ultimate joy! Furistas Cat Cafe captures the personalities of real-life cats and will melt your heart.
Some of the features that make Furistas the best cat game:
Adopt & collect a wonderfully weird array of furry friends, based on real cats. Each cat has a fascinating backstory and behaviors specific to their personality but ensures you keep them entertained!
Match cats and customers with similar personalities together to maximize happiness, which unlocks more cute tattoos for you to collect.
Customise your cafe! The cafe is fully customizable from the walls to the floor. This gives you full control of creating your own space. Did you want to turn the cafe into a cute cat animal playground or a cool Gothic lair? It is completely up to you!
There's a gentle animal adoption narrative that runs throughout the game, subtly encouraging ethical pet ownership (many of the cats in the game are rescue cats!)
Meet some of the cute furry family who appears in Furistas Cat Cafe!
Bon Chan and Takeshi are two of the first cats we added to the game – they are both rescue cats, who now live in their forever home with our Lead Artist!
Bon Chan
Personality Trait: Friendly
Bon-Chan is a cute kitty with a big sense of self-confidence. Since her adoption at the Cat Cafe she has found great happiness in supervising and napping with her loved ones.
Takeshi
Personality Trait: Playful
At least twice the size of his sister Bon-chan, Takeshi is a big ball of cute cuddles. He loves to eat, however, is often caught taking a nibble from the food bowls of other cats so watch out. Naughty!
So come be a cute kitty collector; relax and watch your favorite furry friend meow, purr, blep, mlem, and be a happy little neko!"
iOS Link: https://apps.apple.com/nz/app/furistas-cat-cafe/id1350288988
Android Link: https://play.google.com/store/apps/details?id=com.runawayplay.furistascatcafe&hl=en_GB
Company: Runaway
Genre: Casual
Rated: 4+
Offers in-app Purchases
Gameplay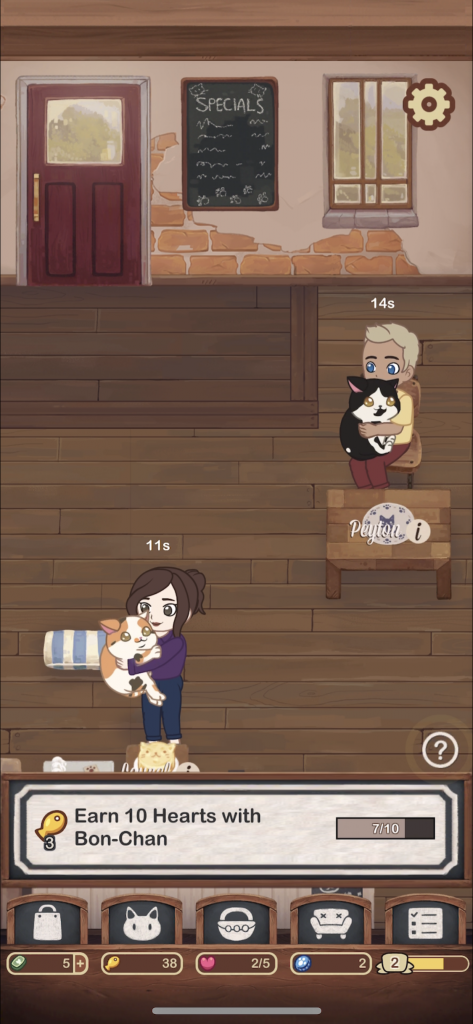 Furistas Cat Cafe's gameplay is very calm and perfect for that end of the day gaming session, however, this isn't for anyone who likes fast games. All you have to do is allow customers to play with cats for a certain amount of time, serve them drinks and clean up the mess. Once they leave, you will get a heart note so you can progress through the game. During the progression, you can adopt new cats and decorate the cafe.
I have to admit, I did find the gameplay a little confusing at first as the tutorial isn't very detailed but it didn't take me long to catch on at all.
Graphics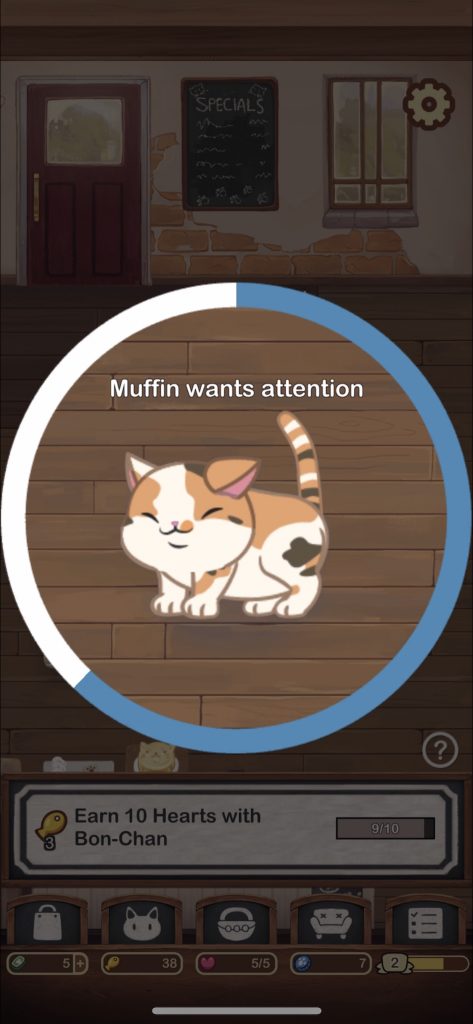 Like the gameplay, the graphics are also very chilled and calm to fit in with the whole vibe of it. The cafe starts off very brown looking and a bit boring but through time, you can decorate it exactly how you want.
Music & Sounds
I found the music to be the most calming part of the game with how gentle it is. The sounds also fit in very well with the music but are very simple. The sounds range from the door opening and the cats meowing and purring.
Controls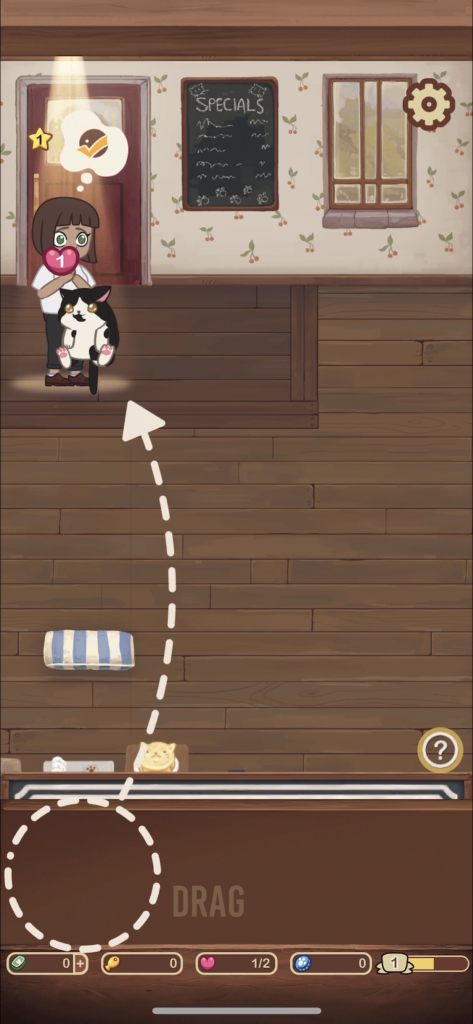 Furistas Cat Cafe controls consist of tapping and dragging. You drag to pair a cat to a customer and to clean up any mess and tap to adopt new cats and change furniture.
The Power of in-app Purchases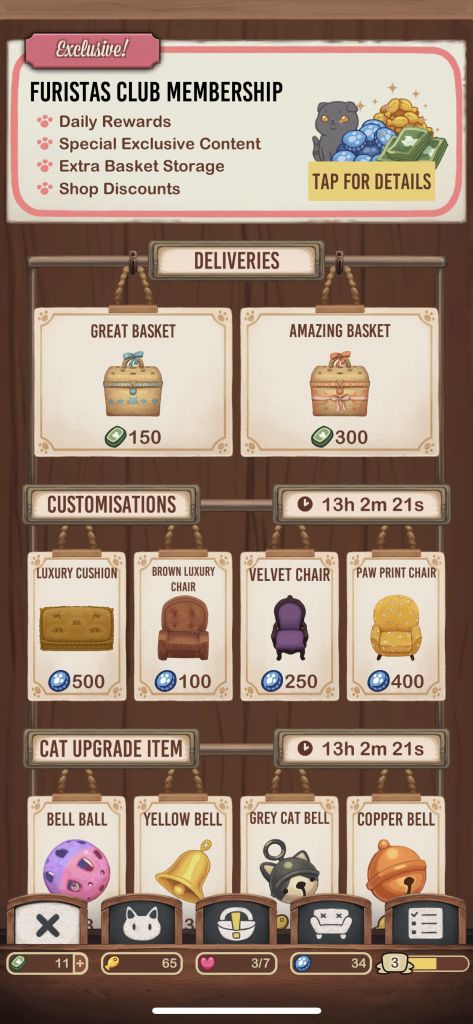 Furistas Club Membership
Daily rewards
Special exclusive content
Extra basket storage
Shop discounts
Deliveries
Great Basket for 150 Kittykash
Amazing Basket for 300 Kittykash
Customizations
Diamond wooden floor for 100 tokens
Decorative display for 700 tokens
Cat hammock for 500 tokens
Paw-print chair for 400 tokens
Cat Upgrade Item
Kittykash
50 Kittykash for £1.99
130 Kittykash for £4.99
275 Kittykash for £9.99
700 Kittykash for £23.99
1,500 Kittykash for £48.99
3,750 Kittykash for £99.99
Fish
200 fish for £0.99
1,900 fish for £8.99
9,500 fish for £38.99
15,000 fish for £54.99
Tokens
1,000 tokens for £0.99
5,500 tokens for £4.99
25,000 tokens for £19.99
70,000 tokens for £48.99
The Verdict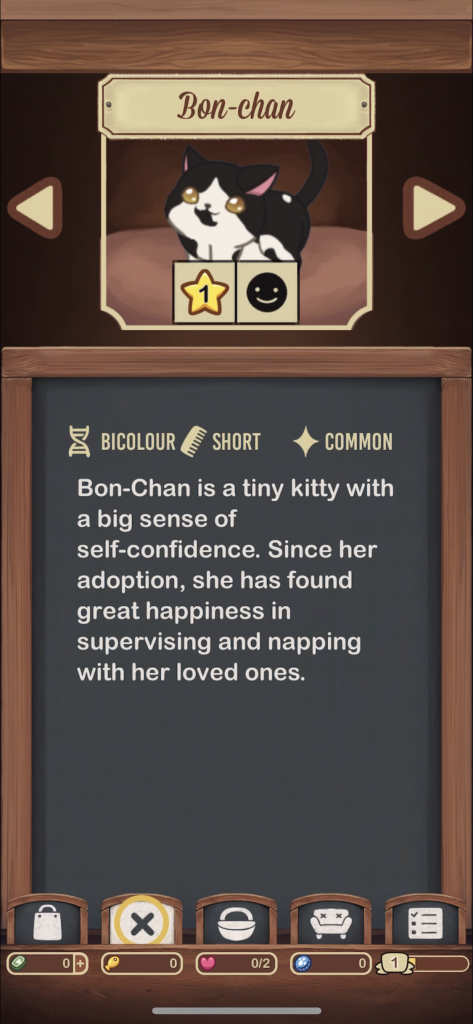 As a result, Furistas Cat Cafe is definitely not one for the fast-paced gamer but if you need to wind down after a long day, this is the perfect game. I found myself completely relaxed while playing this game and allowed me to forget about the outside world for a second.
If you decide to download Furistas Cat Cafe, let us know what you think and if you agree or disagree with the things we said. Happy gaming and stay casual!
Furistas Cat Cafe Overall Rating: 3/5
iOS Link: https://apps.apple.com/nz/app/furistas-cat-cafe/id1350288988
Android Link: https://play.google.com/store/apps/details?id=com.runawayplay.furistascatcafe&hl=en_GB
Company: Runaway
Genre: Casual
Rated: 4+
Offers in-app Purchases
About Post Author