Fruit Ninja 2 Review!
"Collect and upgrade blades and powerups in action-packed fun with Fruit Ninja 2!
Ready your blade, ninja. Everyone's favorite fruit-slicing action-adventure is back with an exciting, real-time competitive edge!
Challenge other ninjas from around the world as you work your way up the ranks to become the Fruit Ninja champion. Whether your reflexes are sharp, wisdom is deep, or you just really hate organic food, Fruit Ninja 2 promises to give you deep, engaging matches in bite-sized slices of time. So what are you waiting for? Draw your blade and prepare to fight!"
iOS Link: https://apps.apple.com/au/app/fruit-ninja-2/id1330898775
Android Link: https://play.google.com/store/apps/details?id=com.halfbrick.fruitninjax&hl=en_GB&gl=US
Company: Halfbrick Studios
Genre: Action
Rated: 4+
Offers in-app Purchases
Gameplay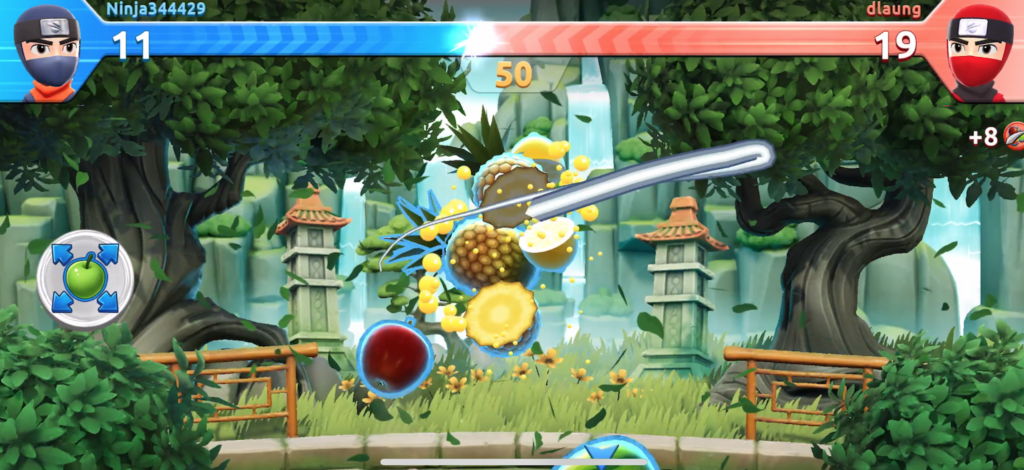 Fruit Ninja is back after 10 years and better than ever. The gameplay has been updated in order to fit in with what today's gamers want. For example, there's now a head to head battle where you have to slice only the fruits that glow in your color. You can also customize your character and change blades depending on your mood.
Fruit Ninja 2 is so different from the first one in the best way possible. It's so much more fun now you can play with real people and compare scores. I absolutely loved the gameplay!
Graphics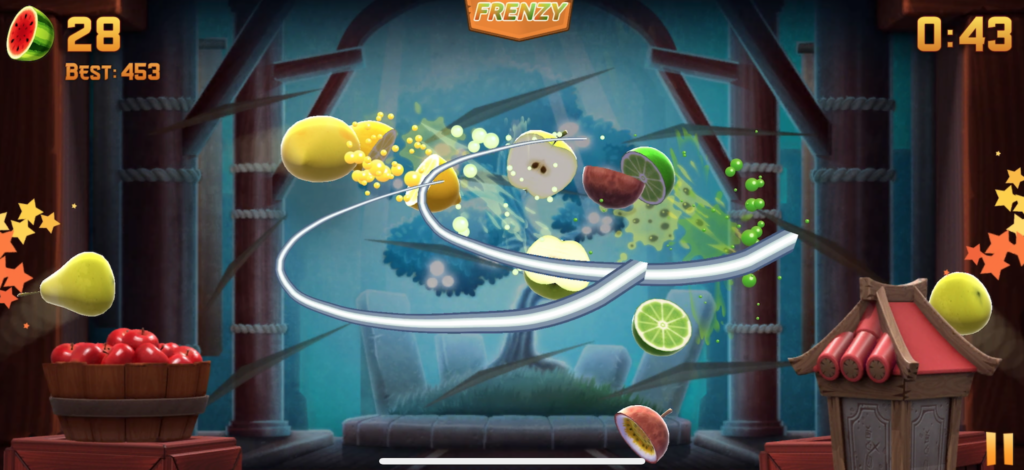 The graphics are pretty much the exact same as I remember, and I'm so happy about this. The developer decided to stick to the nostalgic Fruit Ninja theme and I can respect that. I feel like majorly upgraded graphics would completely ruin the love I have for it.
Music & Sounds
Along with the nostalgic graphics, the music and sounds are also identical to the original game. Again, I think it would've been odd if they had changed the iconic Fruit Ninja sounds.
Controls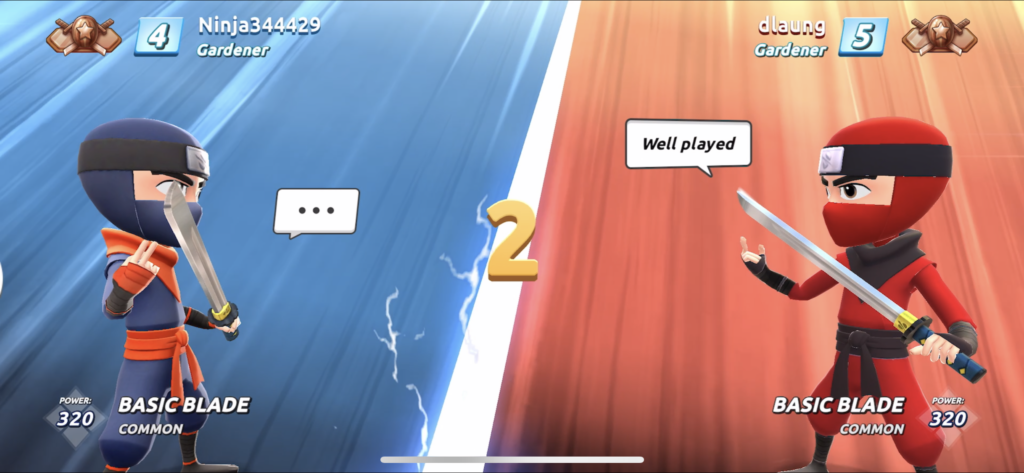 If you've played Fruit Ninja before, you know it's all about swiping and it doesn't change with Fruit Ninja 2. Use your fingers to swipe and cut the fruit, but watch out for the bombs!
Tip: use two fingers to hit more fruits at once.
The Power of in-app Purchases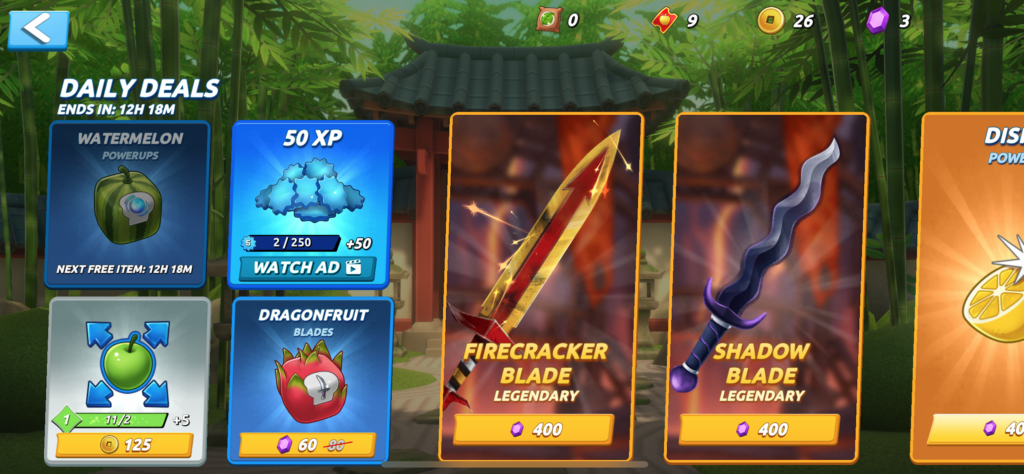 There's quite a lot on offer at the shop, but they're not needed to get a high score in the game.
Daily Deals
Free Powerup
50 XP if you watch an ad
Big Fruit x5 for 125 coins
Dragonfruit Blades for 60 gems
Firecracker Blade for 400 gems
Shadow Blade for 400 gems
Dispel Powerup for 400 gems
E.M.P Powerup for 400 gems
Blueberry Skin for 100 gems
XP Doubler
Doubles your next 2,000 XP x2 for 25 gems
Boxes
Dragonfruit Box for 80 gems
Cosmic Berry Box for 250 gems
Gems
30 gems for £1.99
80 gems for £4.99
170 gems for £9.99
360 gems for £19.99
950 gems for £48.99
2,000 gems for £99.99
Coins
100 coins for 8 gems
500 coins for 35 gems
2,500 coins for 150 gems
10,000 coins for 550 gems
Tickets
1 ticket for 6 gems
10 tickets for 50 gems
25 tickets for 120 gems
50 tickets for 200 gems
The Verdict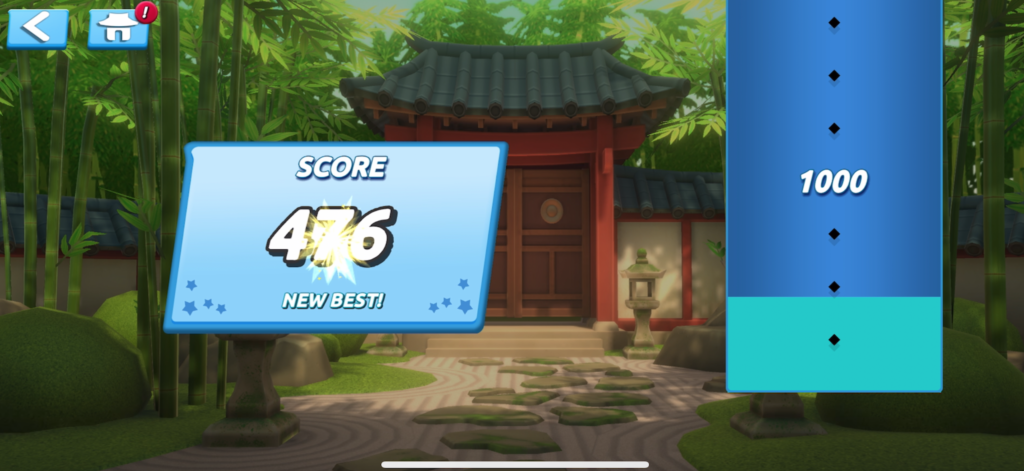 As I was a huge fan of Fruit Ninja back in 2012, I absolutely love the fact they've brought it back bigger and better. This game feels a lot more personal and worthwhile than the first one as you have goals to hit and real people to play against. I'll definitely be keeping this on my phone.
If you decide to download Fruit Ninja 2, let us know what you think and if you agree or disagree with any of the things we said. Happy gaming and stay casual!
Fruit Ninja 2 Overall Rating: 5/5
iOS Link: https://apps.apple.com/au/app/fruit-ninja-2/id1330898775
Android Link: https://play.google.com/store/apps/details?id=com.halfbrick.fruitninjax&hl=en_GB&gl=US
Company: Halfbrick Studios
Genre: Action
Rated: 4+
Offers in-app Purchases
About Post Author