Fortnite: Battle Royale Review!
Fortnite: Battle Royale was released in March, originally by invite-only but now it's available to everyone. By many people, it is described as the full Battle Royale experience with no compromises. It gives those who don't have the full game to be able to join in on the fun. It features the same map, the same content, the same unlockables, gameplay and even the same weekly updates.
Fortnite: Battle Royale Links:
iOS Link: No Longer on App store.  Here's why
Android Link: Not yet available
Company: Epic Games
Genre: Battle Royale
Rated: 12+
Offers in-app Purchases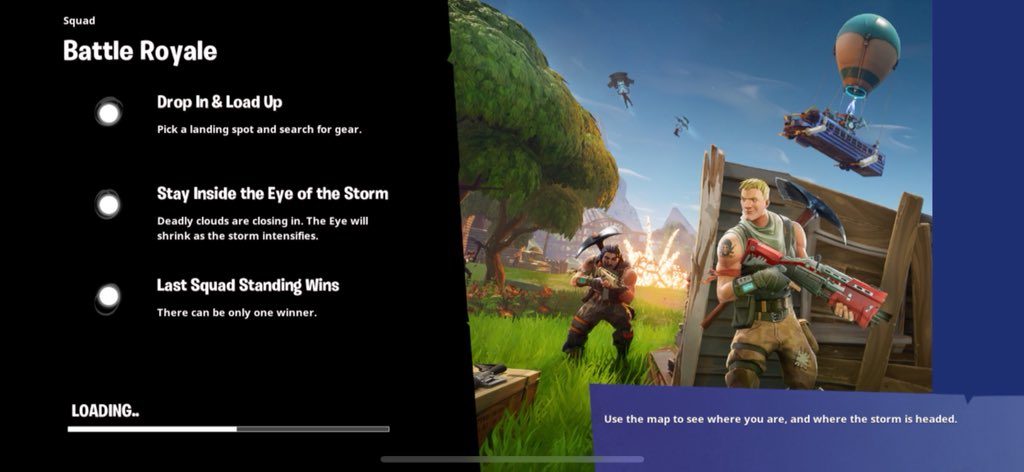 Fortnite: Battle Royale was originally developed as a co-op sandbox survival game that based itself around the concept of fort construction. Damaged by a storm that has caused most of the world's population to disappear. Players work together to collect resources to build defensive structures to defend themselves from the meteorological phenomena and waves of attacking creatures.
The only noticeable restrictions are that you must have an internet connection, and ios 11 on iPhone 6S/SE and later, on an iPad Mini 4, iPad Air 2, iPad 2018, iPod Pro and later. I played this game on the iPhone X, so I'm definitely going to get the ultimate experience. Oh, and the best part of all, it's completely free of charge!
Fortnite: Battle Royale Gameplay
Epic Games promised that Fortnite: Battle Royale on mobile would be the full experience. And from where I'm standing, that seems to be the case.
100 players compete on one island to be the last man standing.
All players start off in a floating bus that flies across the map, and it's your job to skydive and glide down to your desired starting location as quickly as possible. You have no resources or weapons at the beginning except for a pickaxe that can be used to collect resources. You will also be given a melee weapon, forcing you to search buildings and the surrounding environment for weapons and other useful items.
During the course of the match, players have to survive by scavenging items such as weapons and health packs and killing others before you're killed. The island constantly shrinks as time goes on to encourage you to play the game properly and avoid camping. The last person to stand wins the game.
The only mode available is Battle Royale mode in this, you can choose to play solo, duo or in a squad. With the last two options requiring you to team up with your friends or randomly selected players.
Fornite Mobile will always team you up with other mobile players. However, choosing to play with friends in Duo or Squad mode who are using other platforms will put you in a multiplatform server.
Fortnite: Battle Royale Graphics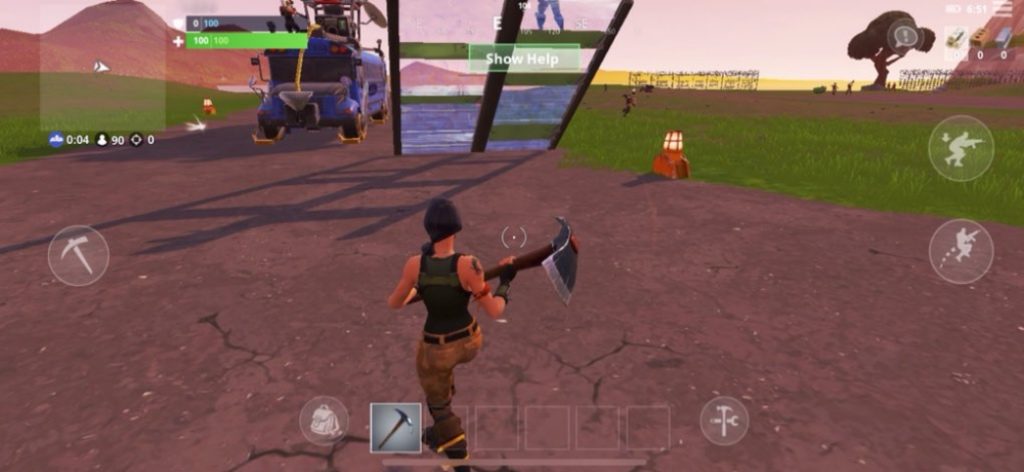 Obviously, the graphics are not as good on the app as they are on console/pc. The difference is pretty striking at first, with the port looking very similar to earlier versions of the PC game. Don't worry though, you'll get so caught up in the game that you won't notice the visual downgrade.
Playing on the iPad makes the whole experience look okay, however, the smaller screen of the iPhone makes the game look a lot more aesthetically pleasing. Playing on the iPad also makes the on-screen buttons further apart. This means you're going to be slightly slower on the draw.
Fortnite: Battle Royale Music
Luckily, Fortnite: Battle Royale adds a few unique features that make the whole process of hunting and killing enemies much simpler than it is on console and PC. For example, some of you may play the game without audio while you're commuting or sitting at work (On your break, we hope!), the game displays an on-screen indicator showing the direction and intensity of footsteps and gunfire. This is also great for those with a hearing impairment – nice work, Epic Games!
Fortnite: Battle Royale Controls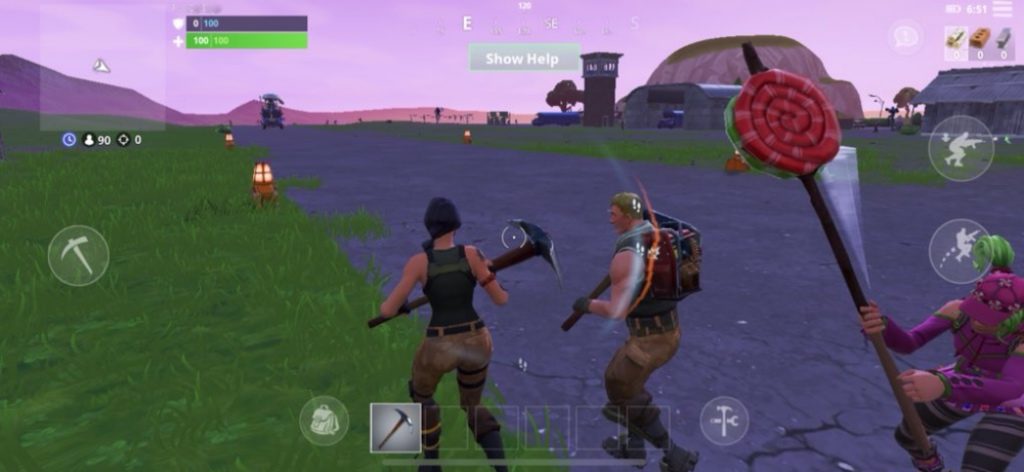 The controls are surprisingly true to the original game, but it's not as responsible as a controller/mouse and keyboard. But that's obvious. It's especially tough to accurately aim at fast moving targets, meaning you definitely won't stand a chance against players on another platform – and I definitely didn't! Building things are also much slower, and the smaller screen doesn't help with long-distance sniping. You slide your left thumb in any given direction to move, and you can either slide it further or double-tap to begin running. To turn, you swipe your right thumb in either direction. And complicated movements, like spotting a target, feel very accurate. However, as you can imagine, your thumbs regularly get in the way and in a game that constantly requires being on the lookout. This leads to a huge disadvantage when going up against players on PC or console.
It's a good idea to start practicing moving, aiming, and shooting simultaneously. There will be many times during the gameplay where you accidentally touch the screen and discharge your weapon. A downside to how the game is laid out is that switching between weapons or building elements will require foregoing movement or aiming. A few other modifications include having the doors open automatically by running over them. The weapons being switched and dropped is also done by tapping. This would be a good thing if Fornite was only about moving and killing enemies. But this game is about building as well. Being great at building gives you both a defensive and offensive advantage against others.
Fortnite: Battle Royale The power of in-app purchases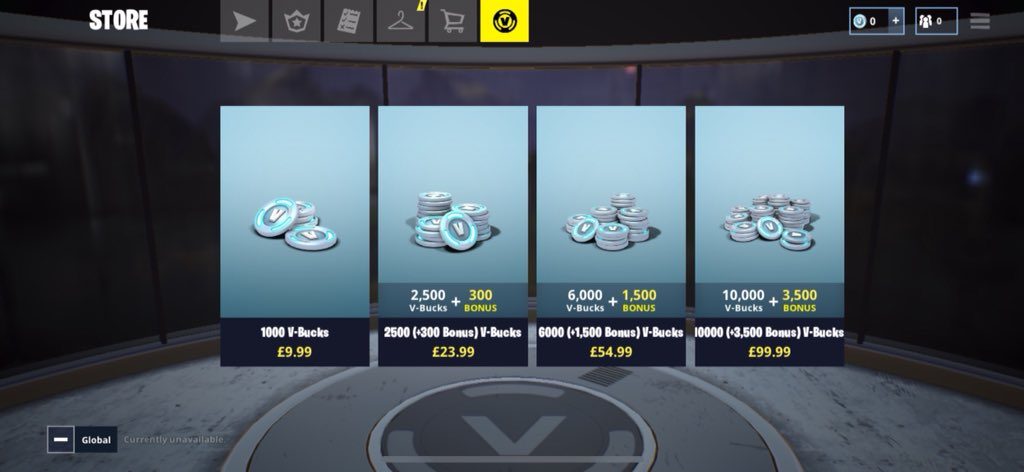 It's absolutely a free-to-play game. However, it is notable that the items in the in-game store only provide cosmetic changes to the player's avatar. This grants no competitive advantage at all. When I played; there was an option to dress your player as a scoundrel, purchase a Nite Owl harvesting tool and other cool features to make your player look badass.
Overall thoughts and feelings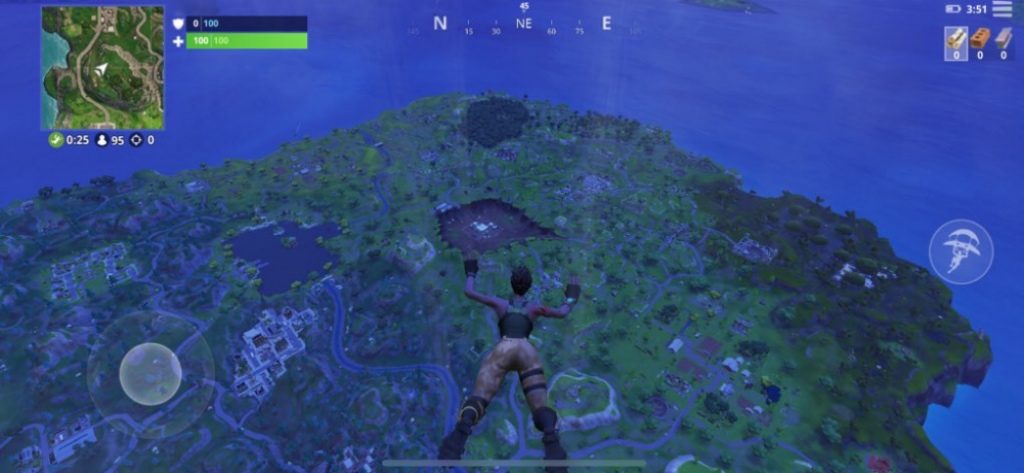 If you don't own your console, travel a lot or simply need a 24/7 Fortnite fix, then this is definitely the app for you. But the question everyone is waiting for is: has Epic Games translated the game as best as they could? Definitely. Epic Games has set the bar ridiculously high for future developers – will they beat them?
The controls are hard to use at first, which is the only thing I can really fault. It's just a fact that you're not going to be as fast at moving and shooting as you are on a computer or console. However, like I said before, this is only a small sacrifice for such a good version of the popular game.
Fornite: Battle Royale Overall Rating: 4/5
iOS Link: No Longer in App Store.  Here's why
Android Link: Not yet available
About Post Author