Food Truck Chef Review!
"Be a Top Chef! Travel across the world with your food truck and cook delicious dishes and desserts in this awesome time management game!
As a Chef, play with a variety of ingredients to cook amazing food from all around the world. From Pasta to Pizza, Cakes to Iced Tea, there are no limits to what you can dream up, cook up and serve up.
Upgrade your kitchen to cook faster and serve more customers. Hunt down better ingredients to make tastier food. Customize and build out your dream food truck experience with furniture, decorations, menu-boards, bookracks and more!
Start with a Pasta Truck, then earn your way up while buying your own BBQ Truck, Pizza Truck, Tex-Mex Truck, Baker's Truck and more! Drive your truck up to the Food Truck Carnival and battle it out against other Food Truck Chefs.
Start your food truck business and expand your empire as you unlock more and more cuisines. Unleash your inner chef and do a restaurant makeover for your prestigious restaurant at tasty hills Dinertown. Do a cafe makeover, participate in culinary fashion and create masterpieces in this awesome kitchen game and become a hero chef. The world is yours for the taking!"
iOS Link: https://apps.apple.com/in/app/food-truck-chef-cooking-games/id1250825794
Android Link: https://play.google.com/store/apps/details?id=com.nukeboxstudios.foodtruckchef&hl=en_GB
Company: Avant Grade Technologies Pte Ltd
Genre: Cooking Games
Rated: 4+
Offers in-app Purchases
Gameplay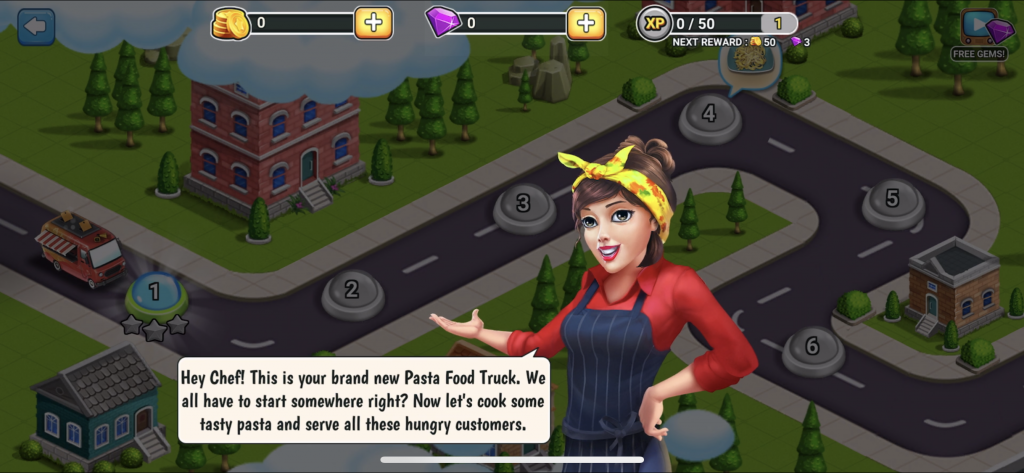 We're quite familiar with cooking games here on The Casual App Gamer, and we won't stop until we review them all! When looking through the popular games section on the app store, I noticed Food Truck Chef and was instantly intrigued.
My first impression was that it looked like a pretty low-quality cooking game, however, I thought the gameplay would make it worth it. And it did to an extent. The gameplay is similar to other cooking games – you have to serve a certain amount of customers the right food before the timer runs out.
The difference between this game and others is that you can't actually see when the food is ready, and you have to listen to sounds to see if it is. Most cooking games have a little timer above the food to tell you when it's done, so you kind of have to have the sound on while playing.
Graphics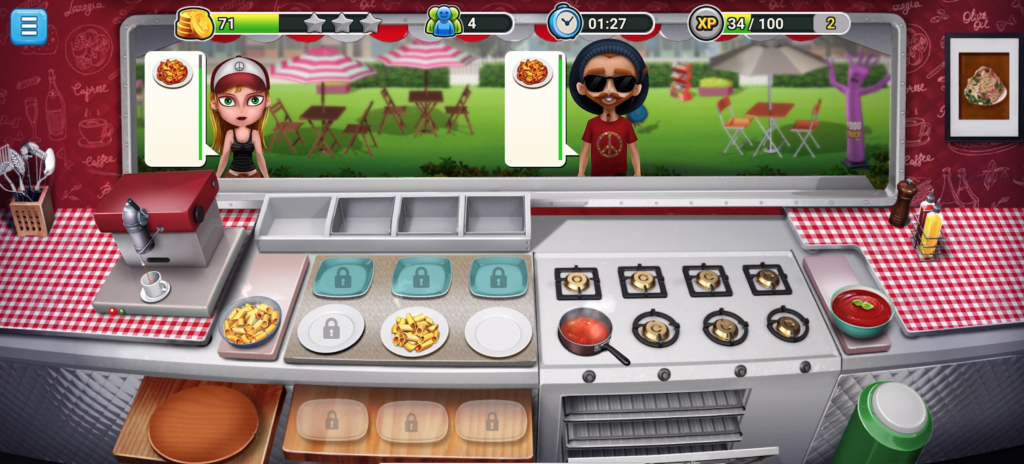 As I said, I thought Food Truck Chef looked low-quality when I first came across it and it definitely seemed that way when I got stuck into the gameplay too. All of the characters are quite generic-looking along with the basic food and basic truck.
Music & Sounds
As you can imagine, the music is generic for cooking games. However, as I said previously, the sounds play a big part in the game as you need to know when the food is done cooking to serve.
Controls
I kept getting confused while playing Food Truck Chef as you have to drag the food to the customers when usually you just have to tap and it'll automatically do it for you. This doesn't make it any harder, it's just a case of me forgetting to do it but after a while, I was used to the dragging.
The Power of in-app Purchases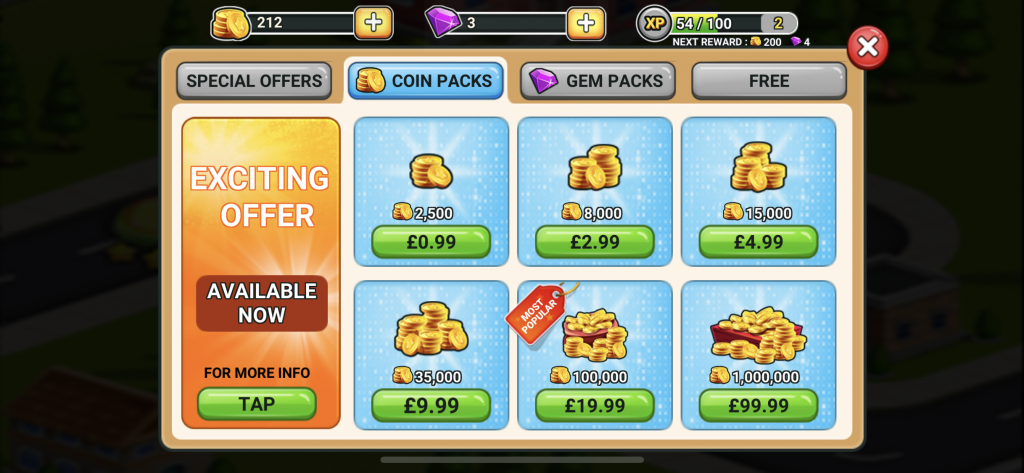 Special Offers
70000 coins for £9.99
250 gems for £9.99
5000 gems and 1000000 coins for £99.99
Coin Packs
2,500 coins for £0.99
8,000 coins for £2.99
15,000 coins for £4.99
35,000 coins for £9.99
100,000 coins for £19.99
1,000,000 coins for £99.99
Gem Packs
1o gems for £0.99
35 gems for £2.99
60 gems for £4.99
125 gems for £9.99
300 gems for £19.99
5,000 gems for £99.99
Free
Log in with Facebook for 150 coins and 1 gem
Invite friends on Facebook for 700 coins and 5 gems
Follow on Twitter for 300 coins and 2 gems
Like on Facebook for 300 coins and 2 gems
Watch an ad for 300 coins
The Verdict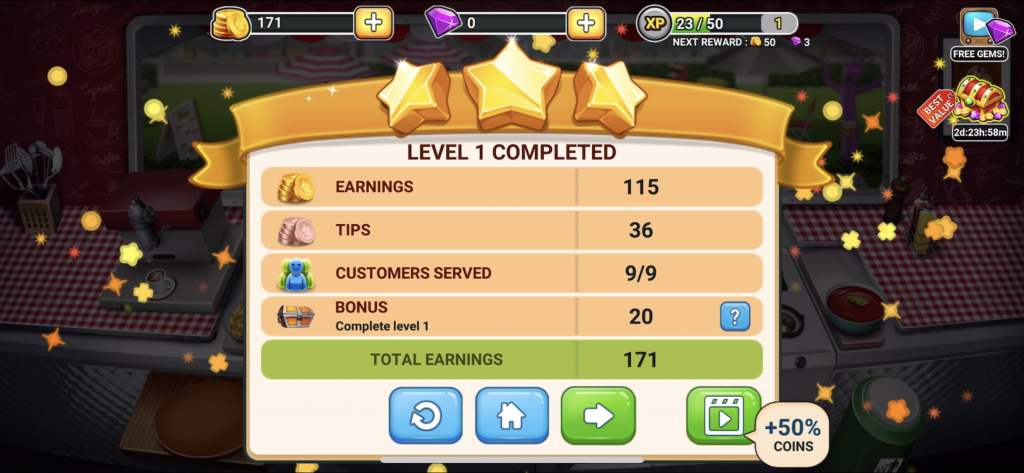 It's no Cooking Craze, but Food Truck Chef is a great casual game for passing time. The main thing I can fault it on is the graphics, but even they could be a lot worse. If you're craving a cooking game in your life, this might just be the one for you.
If you decide to download Food Truck Chef, let us know what you think and if you agree or disagree with the things we said. Happy gaming and stay casual!
Food Truck Chef Overall Rating: 3/5
iOS Link: https://apps.apple.com/in/app/food-truck-chef-cooking-games/id1250825794
Android Link: https://play.google.com/store/apps/details?id=com.nukeboxstudios.foodtruckchef&hl=en_GB
Company: Avant Grade Technologies Pte Ltd
Genre: Cooking Games
Rated: 4+
Offers in-app Purchases
About Post Author