Food Court Fever Review!
"NEW RESTAURANTS AVAILABLE NOW on Food Court Fever!
Need a little more heat in your kitchen? A little more charm in your cooking? Then this is the game for you! "Food Court Hamburger Cooking," the latest and greatest game in the "Food Court Fever" series, has proved itself to be one of the toughest, funniest, and just all around greatest time management and restaurant simulation games on the App Store. Download this FREE TO PLAY game now and find out why!
No other cooking game has the fast and furious action of "Food Court Hamburger Cooking." This exciting NEW adventure takes you to exotic restaurants all across a funky downtown city, upgrading your kitchens as you try to keep your crazy customers happy and well-fed! Do you have what it takes to become a Master Chef? Download now and find out!"
iOS Link: https://itunes.apple.com/gb/app/food-court-hamburger-cooking/id967099322?mt=8
Android Link: No Longer Found On Google Play
Company: FlowMotion Entertainment: Top Free Fun Addictive Cool Games Inc
Genre: Strategy, Cooking Games
Rated: 12+
Offers in-app Purchases
Gameplay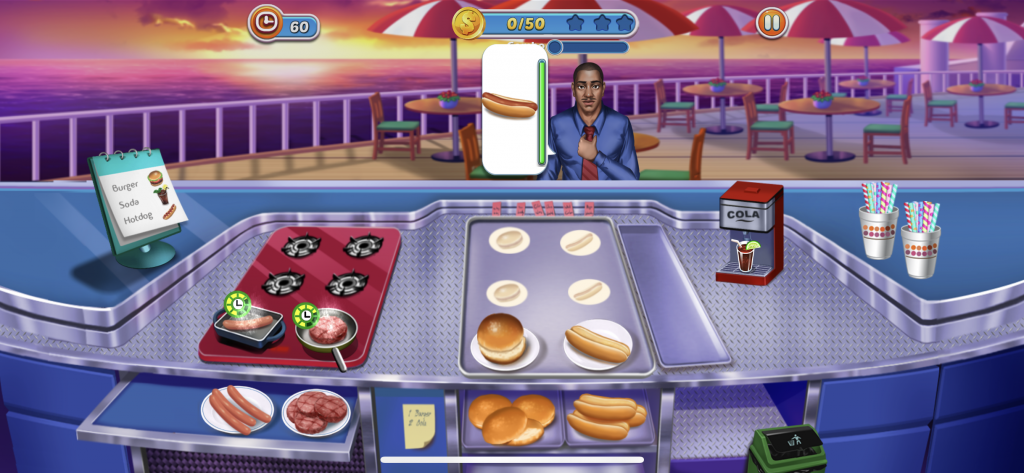 Feel like cooking without the stress of having to actually cook? Well, with Food Court Fever, now you can. You're now the owner of the new, restaurant that has launched in the mall. To begin with, all you sell are burgers and cokes. The first few levels are very easy, maybe a little bit too easy, but as you progress through the game, the orders become more complicated and the customers become more impatient.
You're then introduced to hotdogs, making the levels become harder and the number of customers gets increasingly higher. Keep an eye on the bar next to their order, as that starts decreasing, the angrier the customer gets.
There's not much that's unique about Food Court Fever, it reminds me of Cooking Craze and many other restaurant app games. However, it definitely has addictive gameplay.
Graphics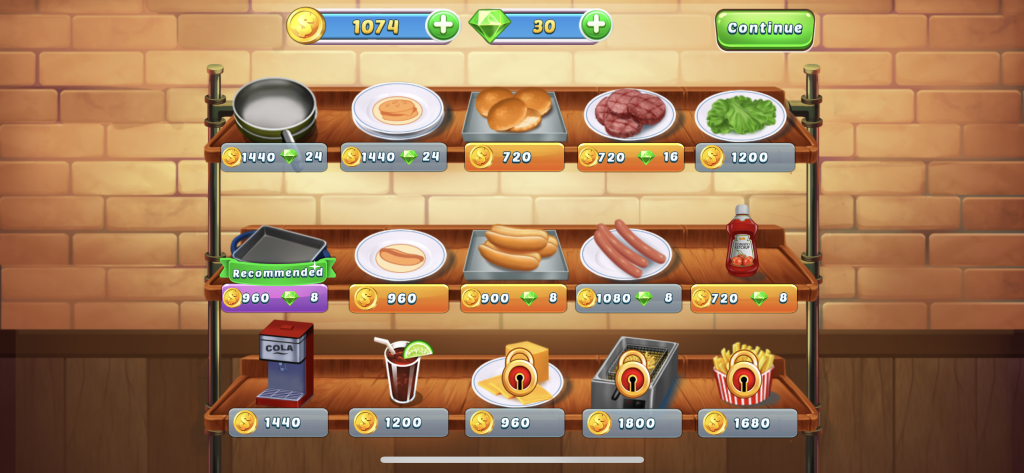 As I mentioned, the gameplay reminds me a lot of Cooking Craze, and so do the graphics. That being said, I do think they're slightly lower quality and that Food Court Fever was made with a lower budget.
I'm not really a fan of how the characters look, I think they're pretty basic and don't show personality through what they order, unlike Cooking Craze. What I do like is how bright the game is and the aesthetic of it makes me want to keep playing it.
Music & Sounds
The music during the gameplay is very cheery and upbeat, it can become annoying at times but not nearly annoying as every customer saying "Mmm" after every order. I feel like it definitely wasn't needed and easily could've been avoided so I'm not driven to insanity. Good news though, in the settings you can turn off sounds and music if it really does bother – I would recommend you do this if you get easily annoyed!
Controls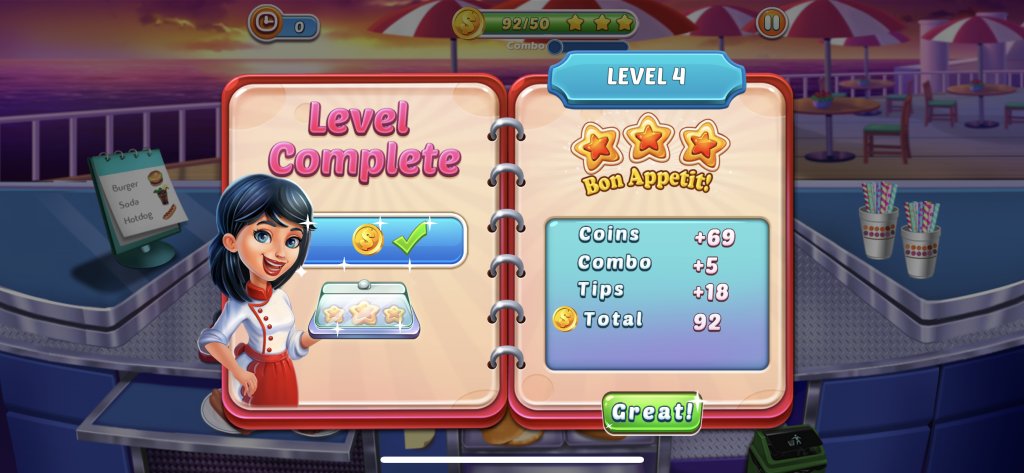 As for the controls, they couldn't possibly be more simple even if they tried. When a customer arrives, tap the correct food to give it to him and that's it. There's also an option to tap the money to collect it, but if you don't it auto-collects so it's not a priority.
The Power of in-app Purchases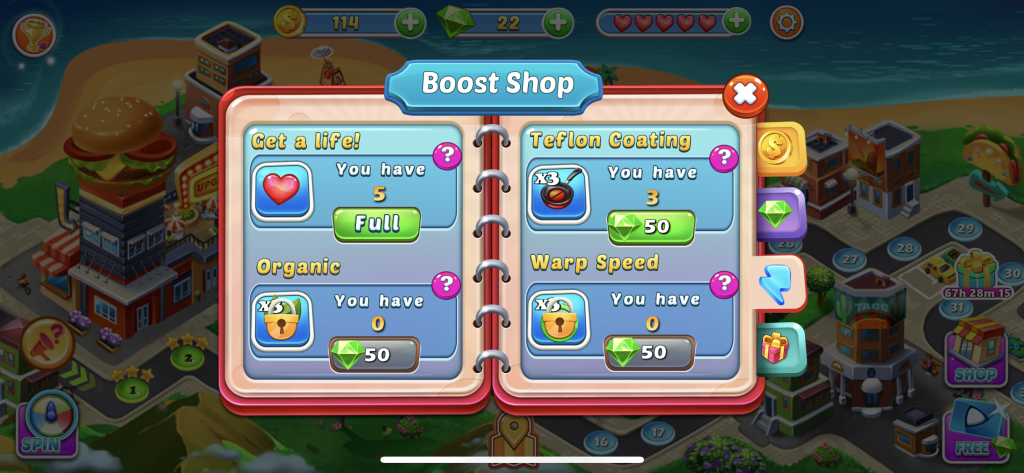 In the store, you can purchase coins, gems, and boosts.
Coins
1500 coins for £1.99
4000 coins for £4.99
8000 coins for £9.99
20000 coins and 1000 gems for £19.99
30000 coins and 1500 gems for £28.99
50000 coins and 2500 gems for £48.99
Gems
150 gems for £1.99
450 gems for £4.99
1000 gems for £9.99
2000 gems and 10000 coins for £19.99
3000 gems and 15000 coins for £28.99
5000 gems for 25000 coins for £48.99
Boosts
Purchase lives
Organic for 50 gems
Teflon Coating for 50 gems
Warp Speed for 50 gems
Purchases are going to help you with your progress on the game. For example, the Teflon coating will mean that you can leave the food on the stove for a longer amount of time and it won't burn.
The Verdict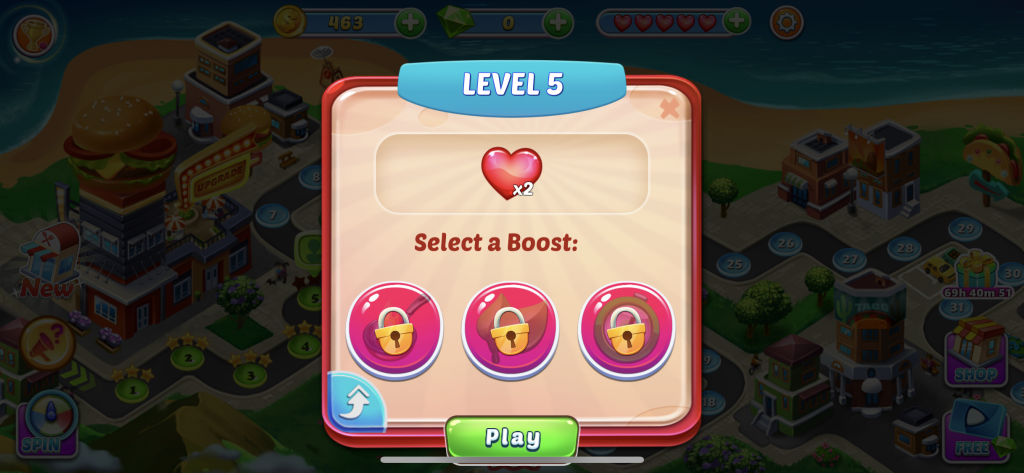 Food Court Fever is an extremely addictive game. It has you saying "one more level and then I'll stop" numerous times… It keeps you thinking, and best of all, you don't have to make any in-app purchases if you don't want to.
Food Court Fever Overall Rating: 3/5
iOS Link: https://itunes.apple.com/gb/app/food-court-hamburger-cooking/id967099322?mt=8
Android Link:  No Longer Found On Google Play
Company: FlowMotion Entertainment: Top Free Fun Addictive Cool Games Inc
Genre: Strategy, Cooking Games
Rated: 12+
Offers in-app Purchases
About Post Author