Fit the Fat 3 Review!
"Your favorite friend is back again…
This time he brought something more than just a love for burgers! Now with a whole new group of friends to challenge… He's now hanging up the jump rope and putting on some running & bike shoes, and hoping you can help him drop some weight. So if you're ready to RACE, smile, and prove you have what it takes to be the best…
**It's time to FIT the FAT AGAIN!**
Enjoy the Game You Love! Now with New Ways to Play!
– Race online and join our heavy hero as he races against some new rivals!
– Collect Fit Points and watch your favorite character sweat his way to a fit body with each new race…
– EAT your favorite dishes!
– Choose between different modes and activities…
– Unlock and collect fun outfits & special finisher poses…
– Discover the story of each character by collecting every missing piece of the comic book that holds the truth behind the mystery of each character…"
Fit the Fat 3 Links:
iOS Link: https://apps.apple.com/is/app/fit-the-fat-3/id1406530780
Android Link: https://play.google.com/store/apps/details?id=com.fivebits.fitthefat3&hl=en
Company: Five Bits, Inc
Genre: Role-Playing
Rated: 4+
Offers in-app Purchases
Gameplay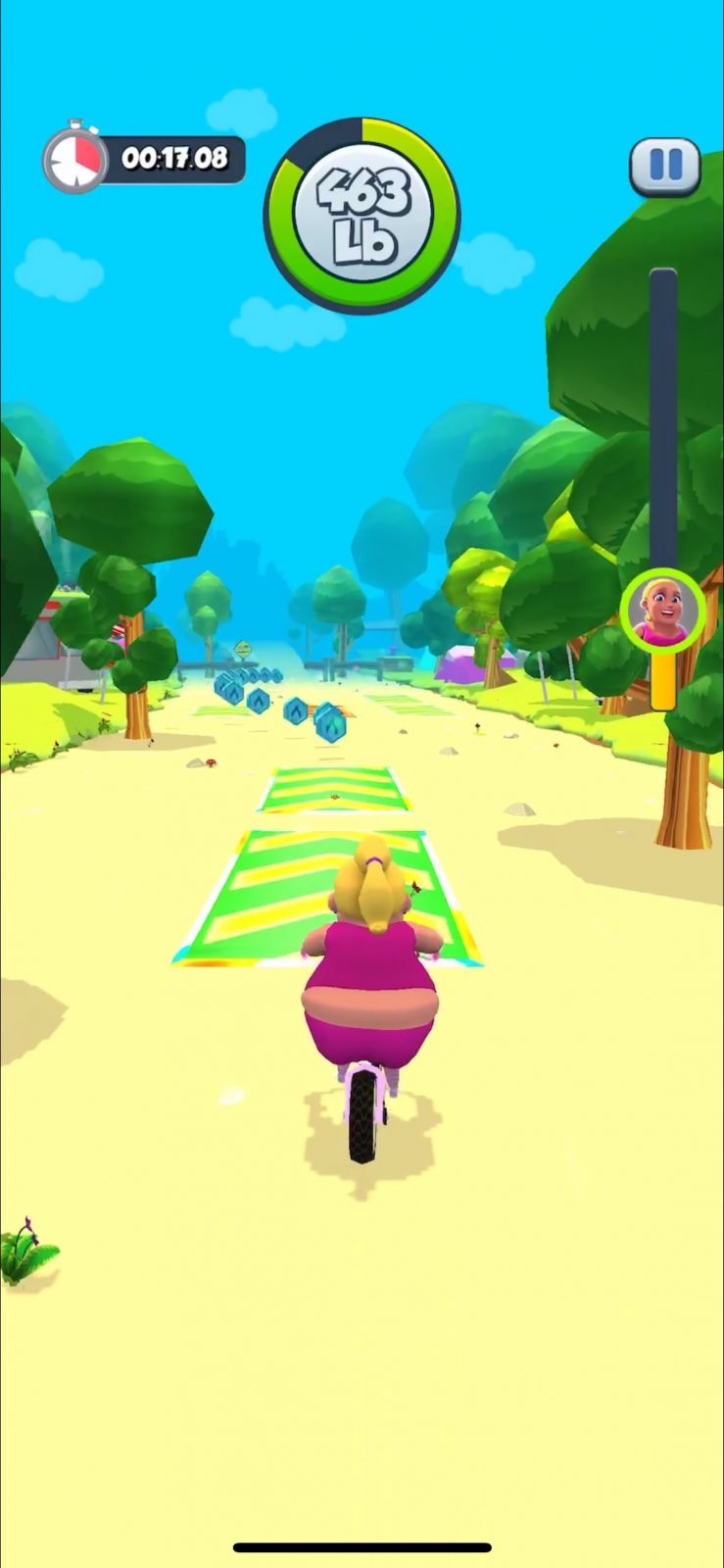 The gameplay starts off with you picking from 4 overweight characters – I went with the blonde woman. The aim of the game is to lose as much weight as you can in a short amount of time through training and racing. You train on a bike and the goal is complete it in the quickest time while collecting Fit Points that'll help you lose weight – you can lose up to 3lbs per training session.
Training and losing weight in the process can unlock running as training and races and the gym where you can run on the treadmill or use a jump rope. All of this will help you lose weight further and the fitter you get, the faster you'll be able to go.
Ever so often, you have to refuel with food otherwise your character won't be able to exercise. The only thing that confuses me is that the food during this refeed is mostly unhealthy with hotdogs, burgers, burritos, fries with the odd salad. You can also collect new looks like Catwoman, Emo, Hippie and more – they unlock as you lose weight.
Graphics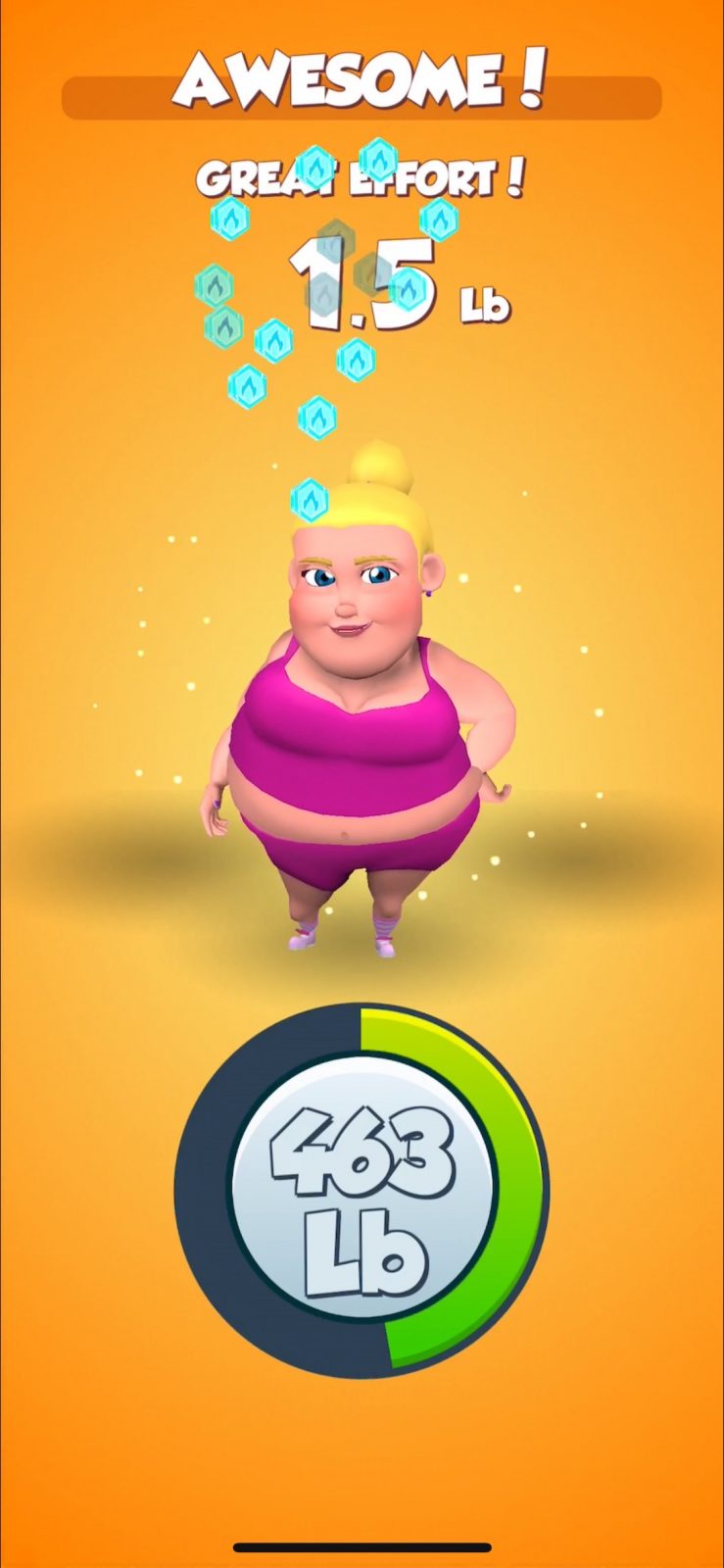 As for the graphics, they follow a cartoon and 3D theme that is really playful and fits in with the overall aesthetic. They remind me a lot of the graphics from Subway Surfers and actually, the cycling training is very similar to the concept of Subway Surfers.
The characters move well and when you tap them they'll say "ouch" which is a cute extra.
Music & Sounds
At first, I found the music to be insanely annoying, but I got used to it after a while and it honestly adds to the fun aesthetic of the game. There's a lot going on in terms of sounds like the character saying "Yahoo!' every 2 seconds, and the collection of fit points to name a few. I did, however, notice that there is an option to turn music and sounds off if it really does bother you but I don't think it would be the same.
Controls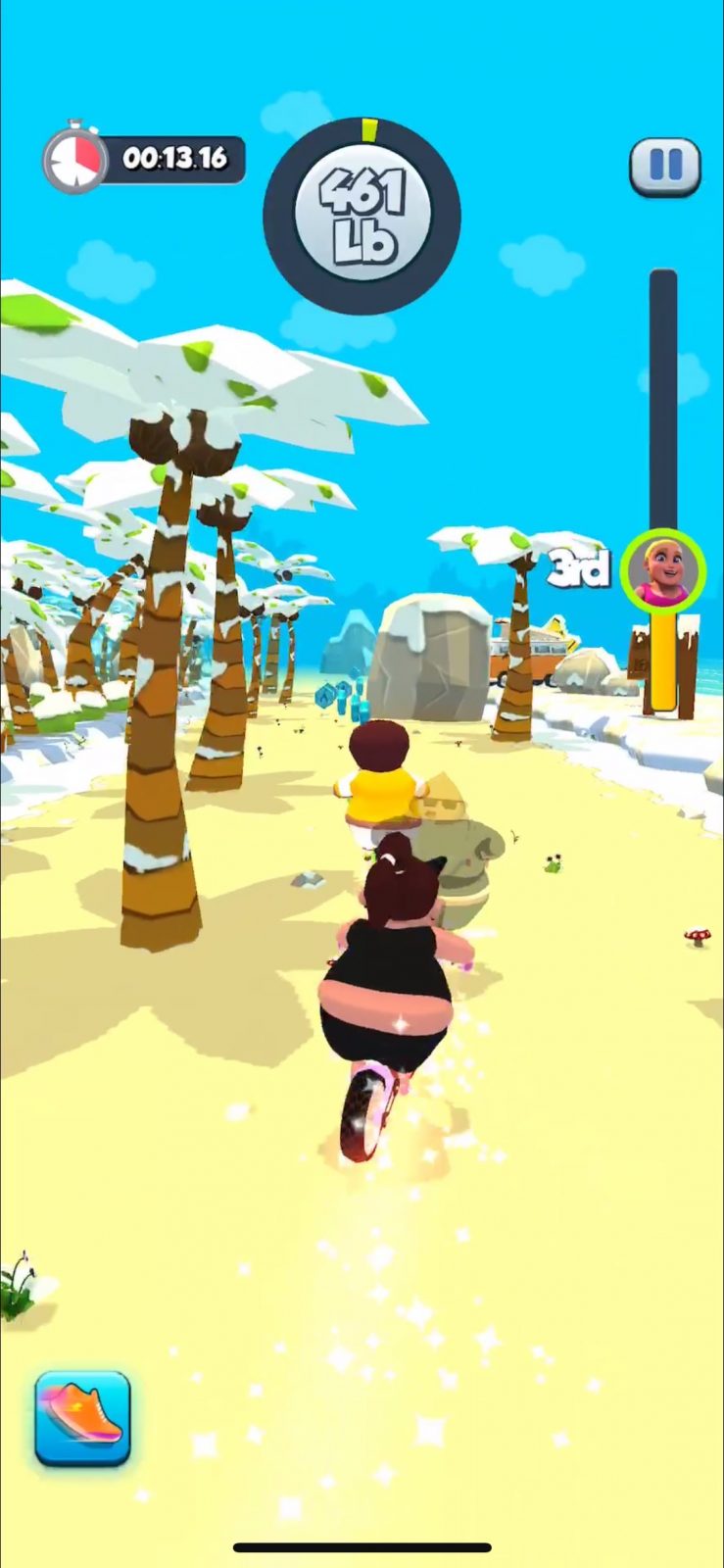 I found the controls to be really easy. When training, your character will ride his/her bike automatically but all you have to do is swipe left and right to move through the obstacles and swipe up to jump. As for the gym, just continuously jump to run on the treadmill.
The Power of in-app Purchases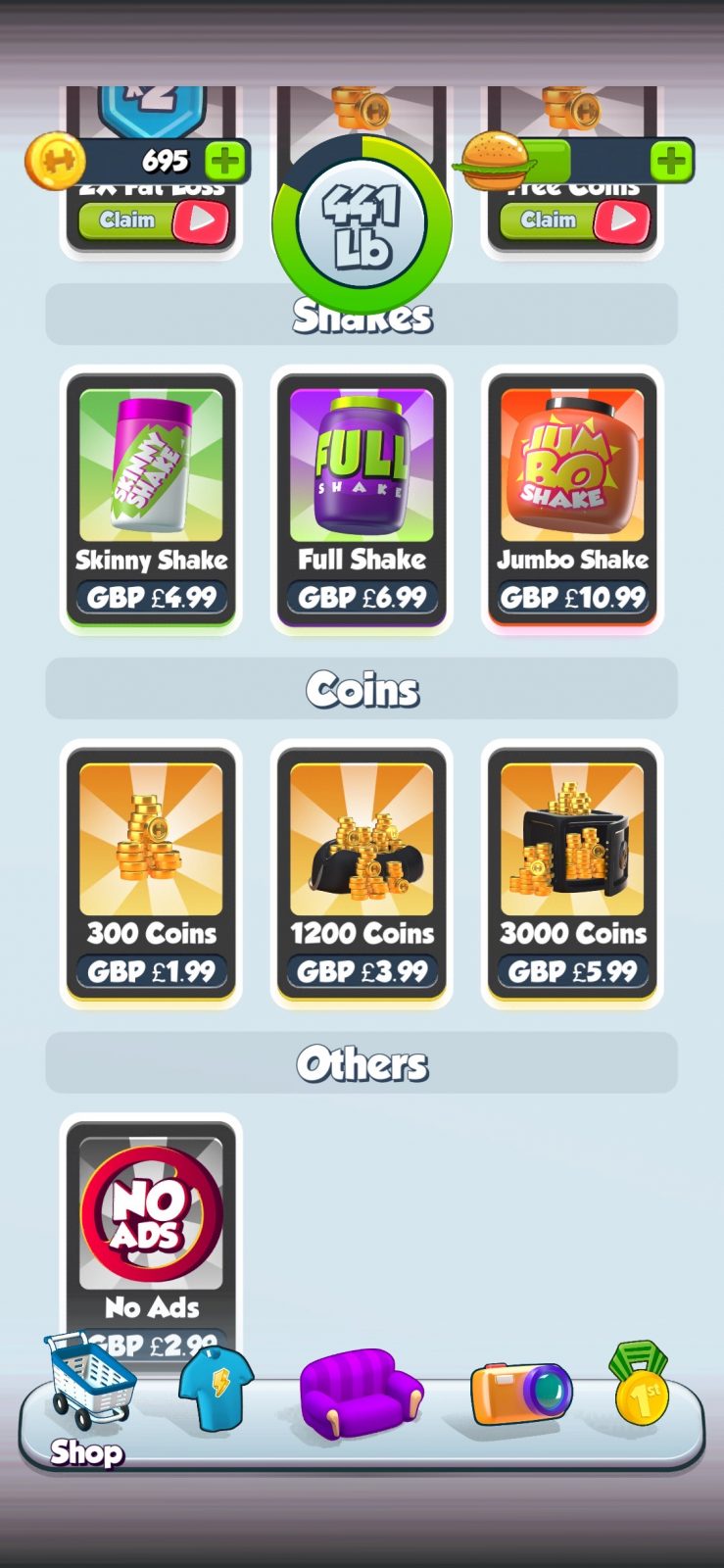 From the store, you can purchase a whole array of products that'll help the gameplay. This includes:
Shakes
Skinny Shake – no ads, 250-450 coins, 300-500 fit points, 2x fat loss 5m-20m, and 0-2 extra items for £4.99
Full Shake – no ads, 800-1200 coins, 700-1000 fit points, 2x fat loss 30m-1h, and 0-3 extra items for £6.99
Jumbo Shake – no ads, 2700-3300 coins, 1300-1800 fit points, 2x fat points 1h-2h, and 0-5 extra items for £10.99
Coins
300 coins for £1.99
1200 coins for £3.99
3000 coins for £5.99
Removal of ads
No ads permanently for £2.99
I see the in-app purchases to not be worth the money, especially as it's really easy to earn fit points and coins throughout the game. Spending money on these items is essentially you paying to not play the game and what's the point in that? The removal of ads, however, is definitely worth the purchase as ads pop up all the time and it's super annoying – £2.99 to get rid of them is an absolute steal.
The Verdict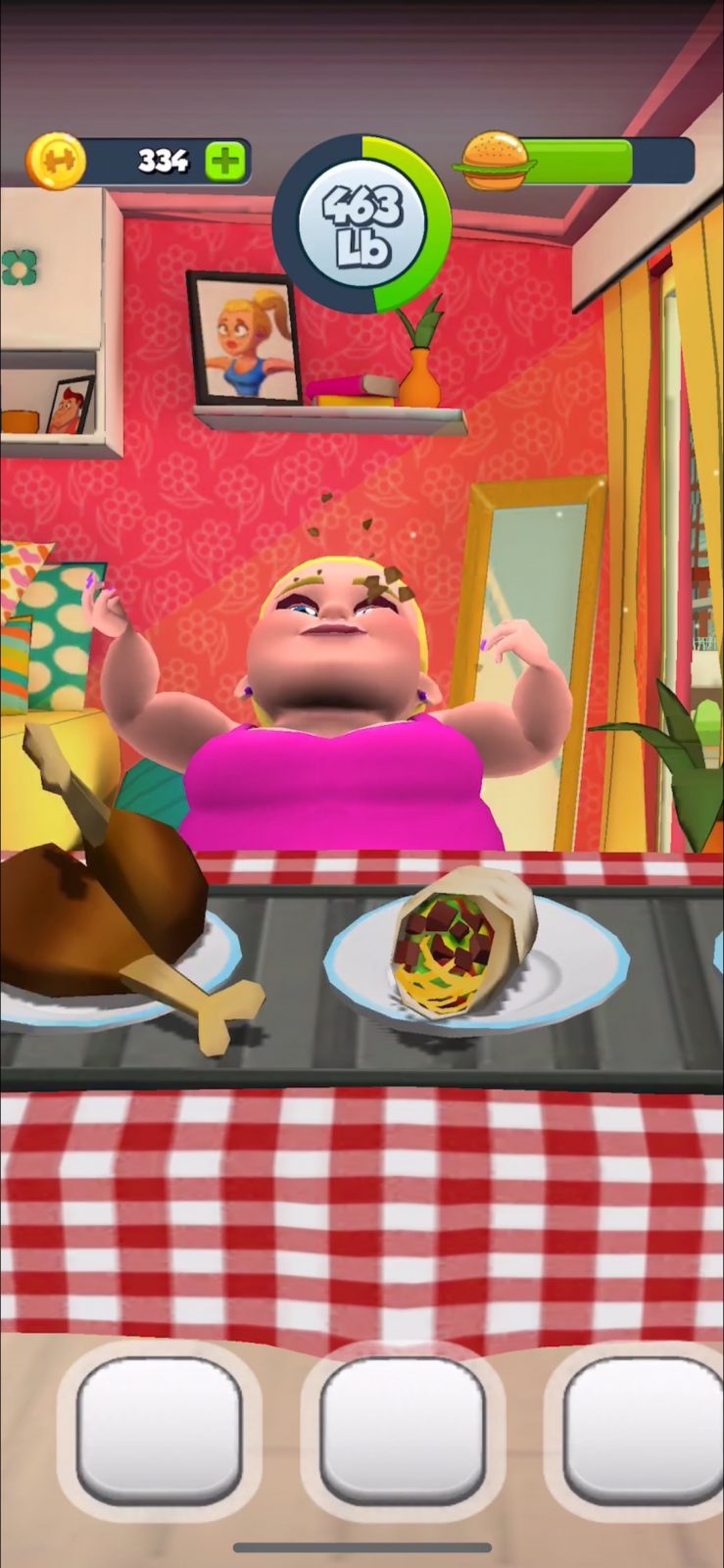 The verdict? Fit the Fat 3 was honestly such an entertaining game despite not entirely agreeing with the message of it. I felt extremely competitive playing during the races and felt as if I absolutely had to win the race, and I love games that make me feel that way.
If you decide to download Fit the Fat 3, let us know what you think and if you agree or disagree with any of the things we said. Happy gaming and stay casual!
Fit the Fat 3 Overall Rating: 4/5
iOS Link: https://apps.apple.com/is/app/fit-the-fat-3/id1406530780
Android Link: https://play.google.com/store/apps/details?id=com.fivebits.fitthefat3&hl=en
Company: Five Bits, Inc
Genre: Role-Playing
Rated: 4+
Offers in-app Purchases
About Post Author