Fallout Shelter Review!
"BUILD THE PERFECT VAULT in Fallout Shelter!
Create a brighter future…underground! Select from a variety of modern-day rooms to turn an excavation beneath 2,000 feet of bedrock into the very picture of Vault Life.
OVERSEE A THRIVING COMMUNITY
Get to know your Dwellers and lead them to happiness. Find their ideal jobs and watch them flourish. Provide them with outfits, weapons, and training to improve their abilities.
CUSTOMIZE
Turn worthless junk into useful items with Crafting! Customize the look of any dweller in the Barbershop.
PROSPER
A well-run Vault requires a variety of Dwellers with a mix of skills. Build a Radio Room to attract new Dwellers. Or, take an active role in their personal lives; play matchmaker and watch the sparks fly!
EXPLORE THE WASTELAND
Send Dwellers above ground to explore the blasted surface left behind and seek adventure, handy survival loot, or unspeakable death. Find new armor and weapons, gain experience, and earn Caps. But don't let them die!
PROTECT YOUR VAULT
From time to time, idyllic Vault life may be disrupted by the dangers of post-nuclear life. Prepare your Dwellers to protect against threats from the outside…and within."
iOS Link: https://apps.apple.com/us/app/fallout-shelter/id991153141
Android Link: https://play.google.com/store/apps/details?id=com.bethsoft.falloutshelter&hl=en_GB&gl=US
Company: Bethesda
Genre: RPG
Rated: 12+
Offers in-app Purchases
Gameplay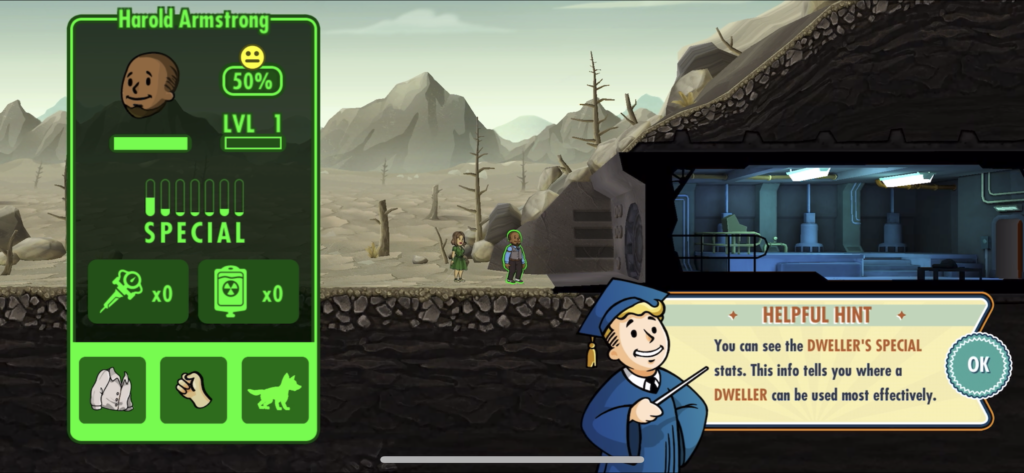 If you haven't played any of the Fallout games, where have you been? We're just joking (kinda) but if you want to delve into the world, then this might just be a good starting point for you! This game puts you in control of an underground vault from Vault-Tec. Your job is to build the perfect Vault, keep your Dwellers happy, and protect them from the dangers of the wasteland.
I love the game and especially love how you can spy on your dwellers to see what they're saying (a cute detail). Unfortunately, this took a lot to get used to as I kept accidentally setting fire to the rooms but after some practice, it's a lot of fun. Of course, the more you play, the harder it gets to control!
Graphics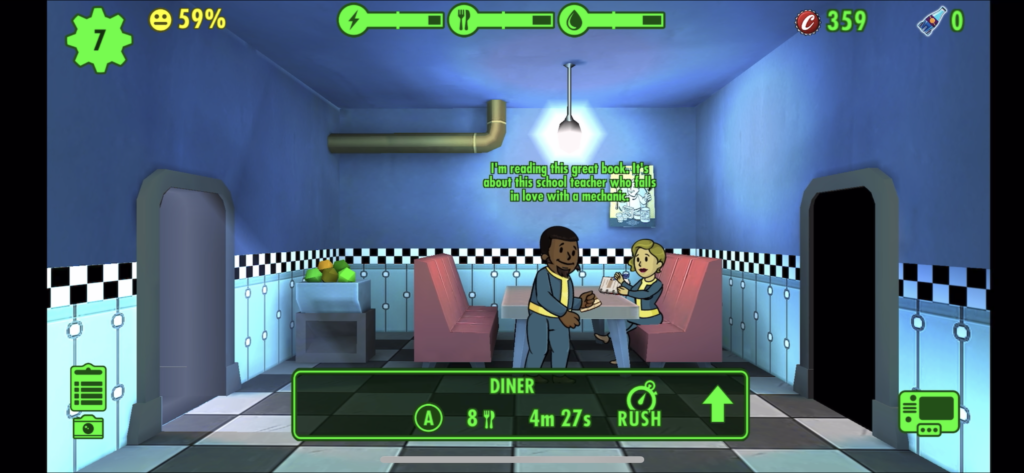 Of course, Vault Boy makes an appearance, I can't believe you'd ever wonder that! As for the graphics in general, they're great with a lot of attention to detail. As I said above, you can zoom in to see certain rooms and there's a lot to look at. I'm really happy with the visuals!
Music & Sounds
The audio will straight away tell you that you're playing a Fallout game, even if it is on mobile! I love the old-fashioned sounds and eeriness of the game through the audio.
Controls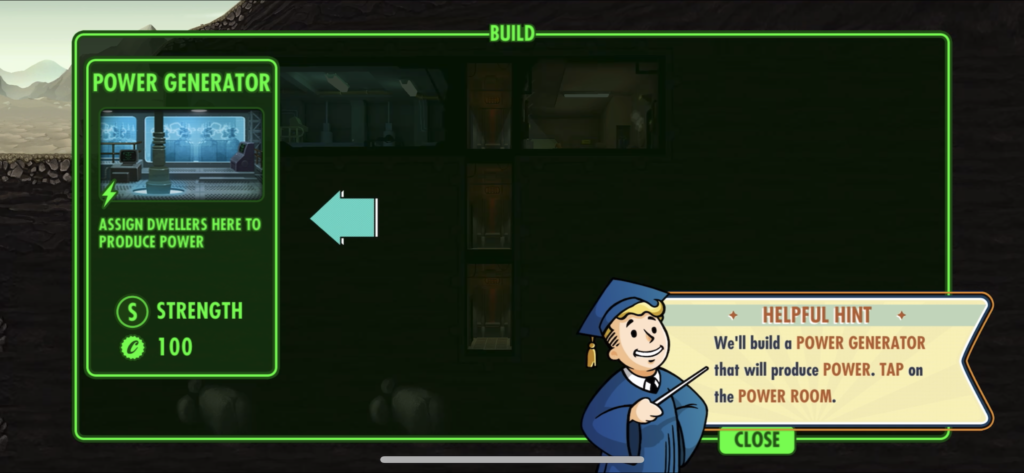 The controls consist of a lot of tapping, and of course, dragging your dwellers into their assigned rooms!
The Power of in-app Purchases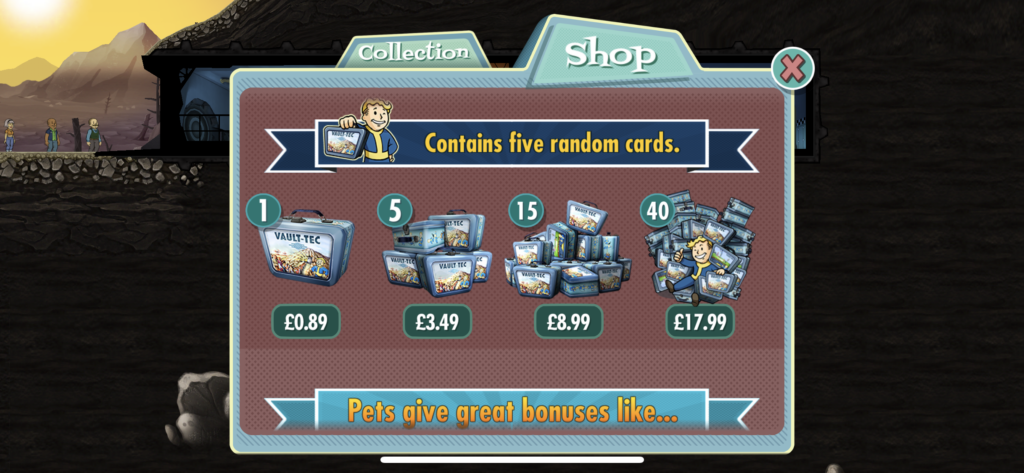 There are a number of items you can purchase to help enhance your gameplay!
Starter Pack
Includes a Legendary Dweller, 2 Rare Dwellers. a Legendary Pet, and a Mr. Handy. Plus Nuka-Cola Quantum and lots of Vault resources.
Nuka-Cola Quantum
6 for £0.89
32 for £4.49
70 for £8.99
150 for £17.99
400 for £44.99
1000 for £89.99
Lunchboxes
Each lunchbox contains items that could be Dwellers, CAPS, Resources, Weapons, Armor, Pets, StimPacks, RadAways, Junk, Mr. Handy, or Nuka-Cola Quantum.
1 for £0.89
5 for £3.49
15 for £8.99
40 for £17.99
Pet Carriers
Each pet carrier contains 1 common, rare, or legendary pet. Pets can be assigned to Dwellers to give them a unique bonus!
1 for £0.89
5 for £3.49
15 for £8.99
40 for £17.99
Mr. Handy
Automatically collects resources from Vaut and CAPS from the Wasteland.
The Verdict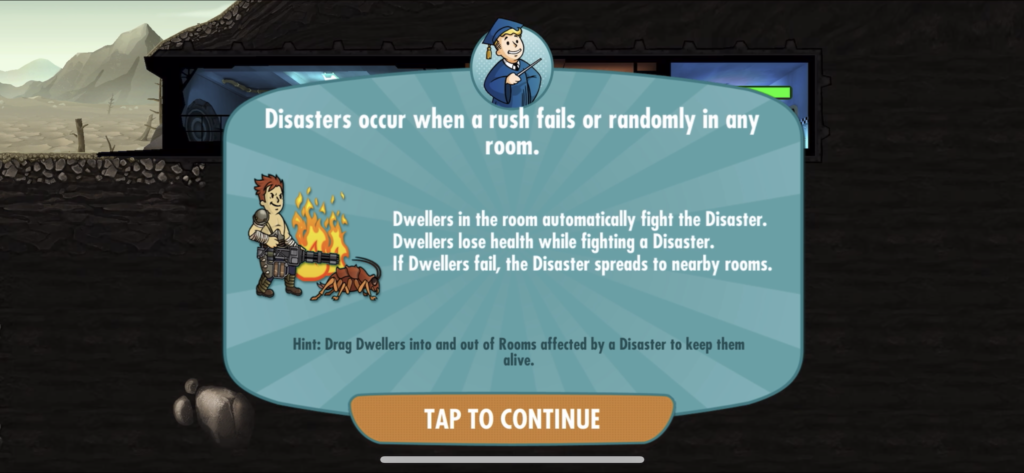 Fallout Shelter is definitely difficult to play at times, but a lot of fun that overrides it! Although this game is great, I do feel as if you need to make an in-app purchase in order to progress in the game which will turn some people off. However, if you're happy to spend your real money, this might just be the game for you!
If you decide to download Fallout Shelter, let us know what you think and if you agree or disagree with any of the things we said. Happy gaming and stay casual!
Fallout Shelter Overall Rating: 4/5
iOS Link: https://apps.apple.com/us/app/fallout-shelter/id991153141
Android Link: https://play.google.com/store/apps/details?id=com.bethsoft.falloutshelter&hl=en_GB&gl=US
Company: Bethesda
Genre: RPG
Rated: 12+
Offers in-app Purchases
About Post Author