Faily Brakes Review!
"While cruising through the mountains, car enthusiast Phil Faily suddenly experiences a complete brake failure, plunging him over the edge of a steep embankment.
In this physics-based driving and crashing game, you must maneuver an endless mountainside dodging hazardous terrains such as trees, rocks, traffic and trains resulting in some fun and hilarious near misses and crashes.
FEATURES
NAVIGATE downhill as far as you can go avoiding obstacles along the way
AVOID trees, rocks, creeks, traffic, and trains
DESTROY obstacles with your shield or weapons
Get to EXPLORE 5 different environments 
COLLECT coins as you go 
Get to UNLOCK unique vehicles and costumes
RECORD gameplay and share to Youtube, Facebook or Instagram
ENDLESS gameplay
ENDLESS crashes
ENDLESS fun!"
Faily Brakes Links:
iOS Link: https://itunes.apple.com/gb/app/faily-brakes/id1063191689?mt=8
Android Link: https://play.google.com/store/apps/details?id=com.spungegames.failybrakes&hl=en_GB
Company: Spunge Games Pty Ltd
Genre: Racing Games
Rated: 9+
Offers in-app Purchases
Faily Brakes is a game by Spunge Games that transforms a tragic situation into comedy. The thought of your breaks not working while going at a fast speed is a terrifying thought, but this game is described as fun, and fast paced. It's even been played by The Annoying Orange and DanTDM!
Gameplay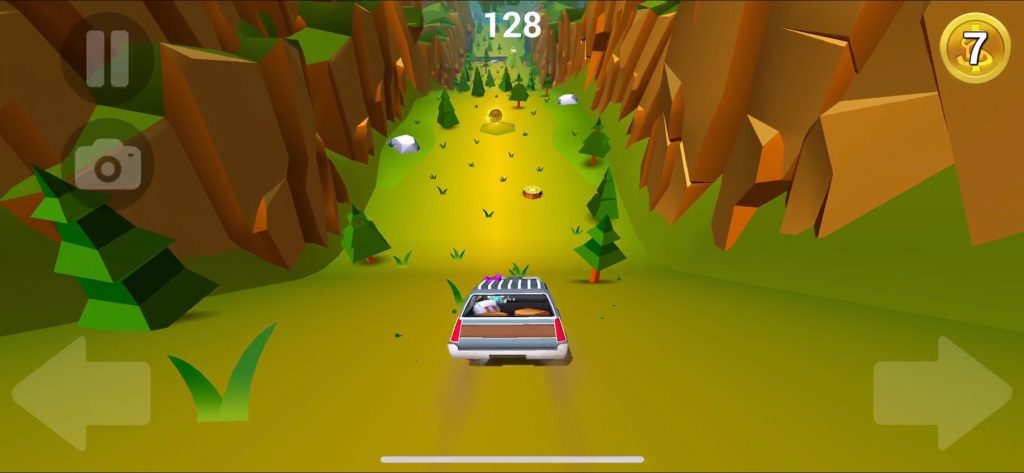 Once you enter the game, you're driving along the road and a sharp turn is coming up so you decide to break to make a smoother turn. Once you turn, you go to break and discover that the breaks aren't working on your car. Because of this, you smash through the barriers and end up off the road where there are a lot of trees, and other obstacles that you will crash into and die. So make sure you avoid them at all costs.
Luckily, there are power-ups you can buy such as shields and guns. With the shields, you can crash into everything and you will survive and with the guns, you can shoot and destroy everything that gets in your way. Both power ups essentially do the same thing but it definitely makes the gameplay a lot easier.
Graphics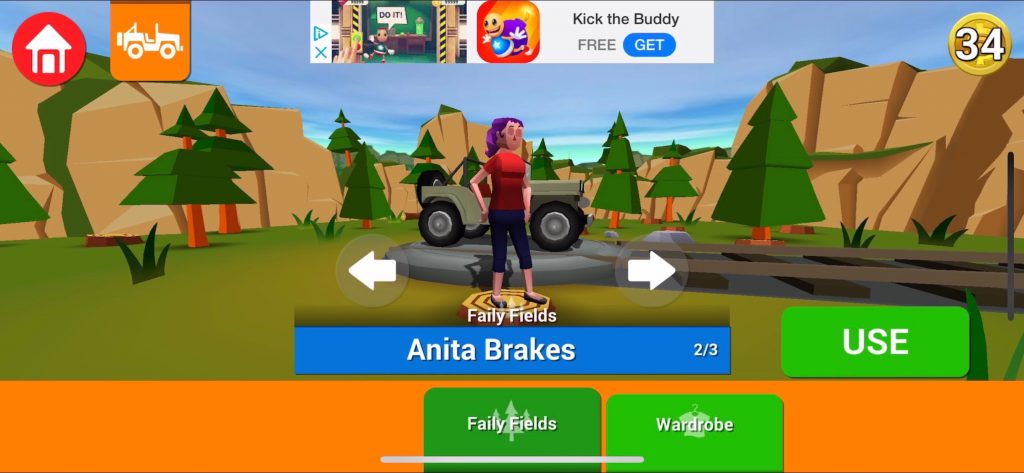 The visuals are nice and super colorful. For an arcade game, they work well and don't need to be super detailed due to how fast you're going. You probably won't even notice half of the time. I enjoy the fact that when you die, you can choose to watch in slow motion – or even sped up if that tickles your fancy.
Another cool addition is that the trees seem to turn into blocks when you smash into them and I thought that was a nice detail.
Music
Once you enter the game, the first thing you can hear is the starting of a car engine. Once you're on the main menu, the sounds of the car driving appear. Tap play and your character will start screaming once he/she finds out the brakes aren't working. As you get into the actual gaming, some kind of fast-paced rodeo music starts playing and if you crash, you're graced with the screaming of your character and the beeping of the car. After you've died, all you can hear are birds chirping which is kind of annoying but it doesn't affect the gameplay at all.
Controls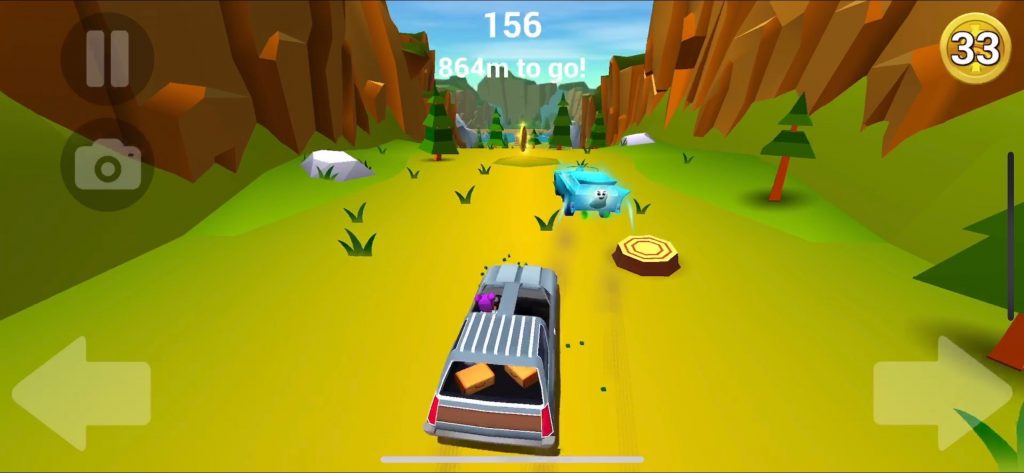 If I'm honest, I'm not the biggest fan of the controls. The reason for this is because they seem quite sloppy – sloppy meaning the arrow buttons don't react well to you touching them. Meaning you have to hold them down harder, therefore, crashing into a tree. It's annoying that it's this way but sometimes you just need to take it slow and the controls really don't allow you to do that.
The Power of in-app Purchases
There's a number of items and packs that you can purchase in the store. I am going to name them as they're all important to talk about:
Faily Mile Club – Earn coins, unlock cars and skip to new zones! Join as an IRON Member and jump ahead 25000m for £0.99
Coins collected are worth double for £3.99
Remove all ads for £1.99
400 coins for £1.99
1200 coins for £4.99
2000 coins £7.99
8000 coins for £19.99
5 machine guns for £0.99
16 machine guns for £1.99
5 missiles for £0.99
16 missiles for £1.99
5 shields for £0.99
16 shields for £1.99
5 armor stacks for £0.99
16 armor stacks for £1.99
1 of each power-up for £0.99
4 of each power-up for £1.99
I think the most worth it item to purchase in the app store is definitely the removal of ads. It seems as if every time the game ended, it would go to an ad. And that was annoying. So if you really love this game, remove the ads!
Another one is the power-ups as they help a lot – it can get difficult at times and they really do get you further.
The Verdict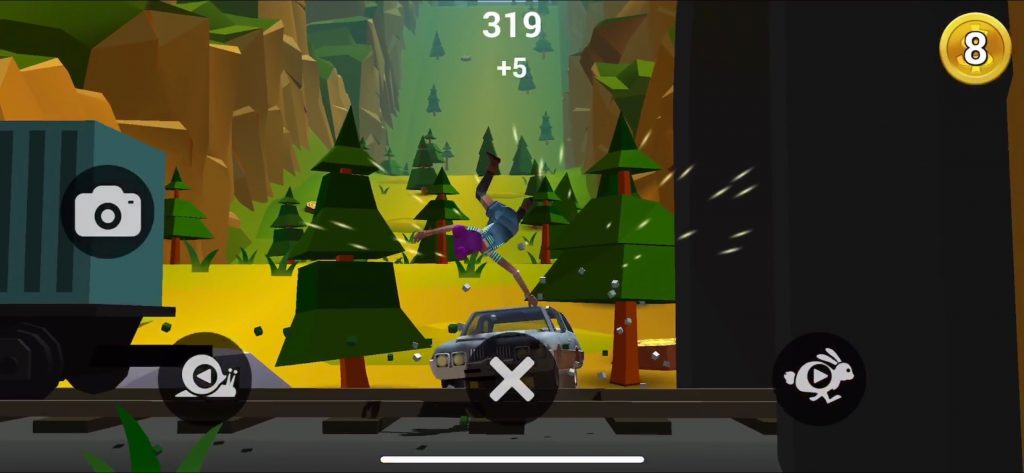 The verdict? Well, I actually really enjoyed playing Faily Brakes despite the awkward controls. It's fun, it's unique and I love how colorful everything is. On top of the controls, I really don't like how there are ads literally every 5 minutes – it really does take away from the fun because you're forced to sit there for 30 seconds.
If you do decide to download Faily Brakes, let us know what you thought and if you agree or disagree with any of the things we said. Happy gaming!
Faily Brakes Overall Rating: 3/5
iOS Link: https://itunes.apple.com/gb/app/faily-brakes/id1063191689?mt=8
Android Link: https://play.google.com/store/apps/details?id=com.spungegames.failybrakes&hl=en_GB
Company: Spunge Games Pty Ltd
Genre: Action
Rated: 9+
Offers in-app Purchases
About Post Author