F1 Mobile Racing Review!
"Develop and customize your own F1 car from the ground up, or race for one of the 10 official F1 teams, to challenge opponents from around the world to thrilling multiplayer duels. Featuring official circuits from the 2018 season, including the return of Hockenheim in Germany, F1 Mobile Racing lets you race against the greatest drivers on the planet including Lewis Hamilton, Sebastian Vettel, Max Verstappen and Fernando Alonso. It's you against your rival with the simple aim to be the first to the line!"
F1 Mobile Racing Links:
iOS Link: https://itunes.apple.com/ph/app/f1-mobile-racing/id1343820018?mt=8
Android Link: Not currently available
Company: The Codemasters Software Company Limited
Genre: Racing Game
Rated: 4+
Offers in-app Purchases
F1 Mobile Racing was released on 18th October 2018 and has since then soared in popularity. F1 Mobile Racing claims itself to be a "console-quality gameplay experience on your mobile". It also features all the teams and drivers plus the 21 circuits from the current championship. Players are able to customize their cars and upgrade them by collecting new parts to add in single-player mode. There's also a multiplayer mode available. It's not currently available on Android.
Gameplay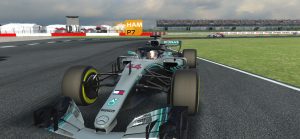 Not going to lie, my first impression of this game was great. The layout is great, the graphics are fab and the gameplay is good! The gameplay is pretty standard like any racing game of course. You race to buy new upgrades or even new cars. My favorite part of F1 Mobile Racing is that you get to race against other F1 drivers. Within the first few races, I went up against Lewis Hamilton and lost… obviously. It would probably be a bit embarrassing for him if I lost! 😉
Graphics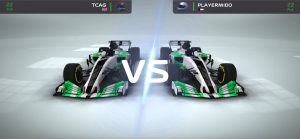 As I mentioned earlier, F1 Mobile Racing claims to be of "console-quality" and I can honestly say it is basing it on just the graphics alone. The graphics remind of a console game – something like Gran Turismo. Everything was clear, colorful and didn't lag at all. It really doesn't feel like this game should be free, well, freemium. There must be some kind of catch…
If I'm being completely honest, I find the graphics to be better than Fortnite.
Music
The music for F1 Mobile Racing isn't any different to any other racing game out there on the app store. You can hear the cars driving, crashing, etc. There's music on the menu which is pretty annoying but seeing as it's not part of the actual gameplay, I don't have a problem with it. And like every app game, there is an option to turn sound and music off.
Controls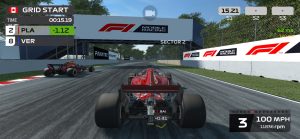 The controls are very close to perfect. At the beginning of the game, you get to decide how you would like to control your racecar. You get to choose between tilting your device, tapping left and right, and tilting your screen but accelerating by holding down your finger. I went with tilting my device, duh. It's simple and allows me to control my vehicle easier. The only problem is is that I couldn't make myself go faster if I wanted to. I only had the option to steer left and right. It feels like all of the racecars were shooting past me and I couldn't catch up no matter how hard I tried.
The Power of in-app Purchases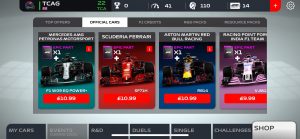 The shop is split up into sections. These sections are:
Top offers
League 8 Welcome Pack for £6.99
Official Cars
Mercedes AMG Petronas Motorsport for £10.99
Scuderia Ferrari for £10.99
Red Bull-Toro Rosso Honda for £9.99
McLaren F1 Team for £8.99
and much more…
F1 Credits
50 F1 credits for £1.99
200 F1 credits for £5.99
500 F1 credits for £14.99
1000 F1 credits for £24.99
R&D Packs
3 performance parts for 75 F1 credits
9 performance parts for 200 F1 credits
22 performance parts for 400 F1 credits
and a daily pack
Resource Packs
4oo resource points for 50 F1 credits
1600 resource points for 150 F1 credits
4000 resource points for 375 F1 credits
8000 resource points for 650 F1 credits
If I'm honest, it feels like you may need to input your real money into the game to get further. I mentioned earlier that it's not possible to speed up once someone overtakes you so obviously spending money on buying a new racecar or upgrading your current one will help with that a whole lot.
The verdict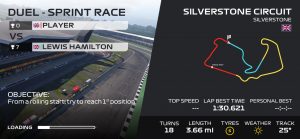 F1 Mobile Racing really did live up to the hype of the articles I read about it. The game is off console-quality, it is amazing to look like, the gameplay is great, but again it could be better. But that's not the point, this is probably the best looking game I've found on the app store so far. It's clear that a lot of effort has gone into the making of it and that it wasn't rushed just to make a few bucks. It's endorsed by the racing drivers which helps, and their faces are on all of the posters floating around the internet.
I really don't have anything bad to say about the game apart from its gameplay. But even the gameplay isn't bad, it's just similar to all other racing games. But hey, I guess it's pretty much just what it would be like to be a Formula 1 driver anyway – can't add any special effects to that!
I'm hoping to see it available on Androids in the near future – no one deserves to miss out on this!
F1 Mobile Racing Overall Rating: 4/5
iOS Link: https://itunes.apple.com/ph/app/f1-mobile-racing/id1343820018?mt=8
Android Link: Not currently available
About Post Author