Evil Factory Review
Battle your way down into the Kraken's Antarctic laboratory to uncover their evil plan and stop their twisted creations. Dodge, blast, and out-maneuver strange, twisted boss monsters – each more menacing than the last – and assemble an arsenal of powerful weapons to destroy the enemy. Bring down the Kraken and demolish the Evil Factory! -Evil Factory
Evil Factory Links:
IOS Link:  https://itunes.apple.com/us/app/evil-factory/id1141511048?mt=8
Android Link:  https://play.google.com/store/apps/details?id=com.nexonm.evilfactory&hl=en_US
Company:  Nexon
Genre: Arcade
Rated: 12+
Free, Offers In-app Purchases
I love a good retro game, and when it happens to be on my phone it's always a plus!  Evil Factory happens to give us both of these with a Bomberman type of feeling.  Is it worth your casual time to tackle this free app arcade game?  Check out our casual review to see for yourself!
Gameplay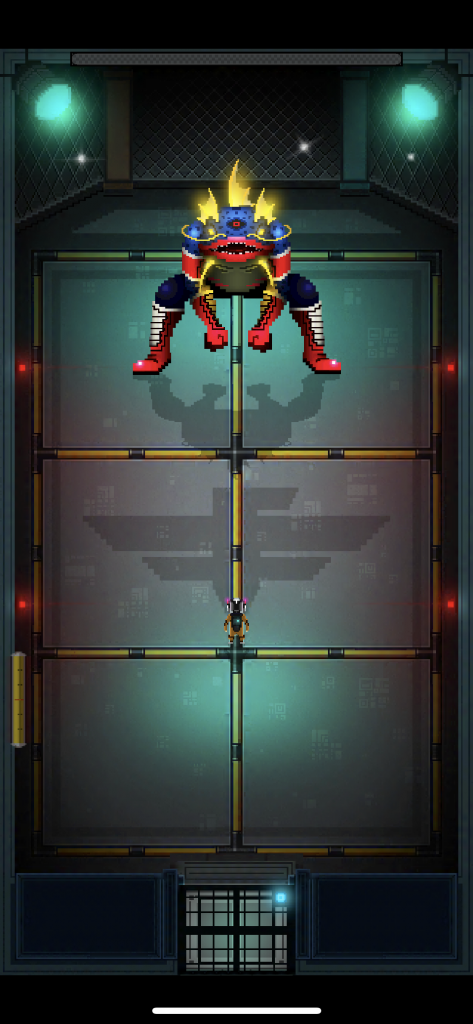 8 years ago, a war broke out in Central Europe.  An unknown group called "Kraken" rose from the chaos to invade the neighboring nations with powerful and advanced technology.  With this, the international alliance sprung into action to shut down the forces of Kraken.  With this, the world was once again at peace.
Then, one day the Alliance picked up a disturbing signal from the mountainous region of Antarctica.  The Alliance once again had to be proactive in order to save the world once more for the sinister forces of Kraken.  They send in Leo, an explosives expert to the scene.
Evil Factory sets the mood for what will become an epic descent into Kraken's Factory.  Leo starts off with a main weapon and a sub weapon.  These are needed to defeat the boss of each level to advance.  There's no additional monsters to clear before you start wailing on the boss.
The boss fights start off easy enough, but then they become more challenge as you progress.  Thankfully as you progress you get new weapon and sub weapons to help you defeat the stronger and more cunning bosses.
Graphics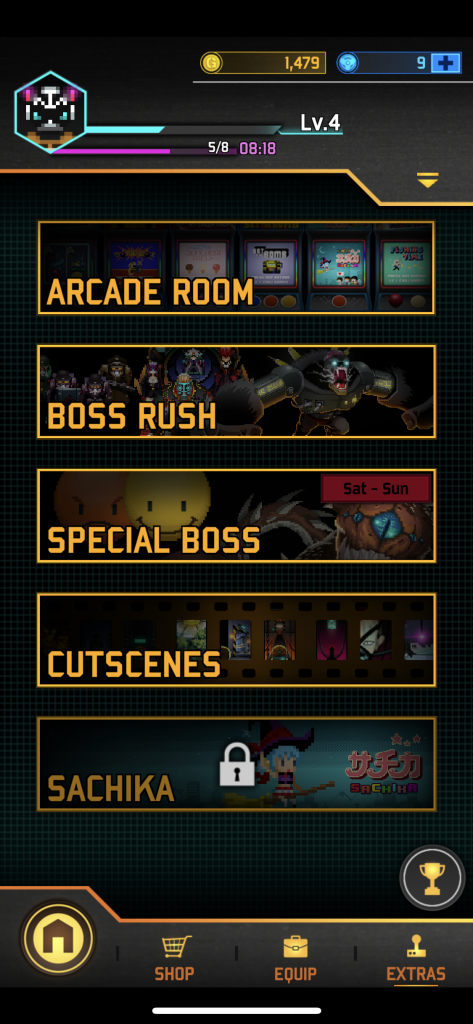 The graphics are pretty gritty and help stay in line with the story.  It's very hard to pull off a good retro feel without enough attention to detail and thankfully that's put into consideration when you you fight bosses.  The menus for the game are also laid out pretty well to help with navigation.  Evil Factory was made with plenty of cut scenes, so after you are done laying waste to enemies, you can prop your phone (or Ipad) and watch a few good scenes!
Evil Factory also has some built in arcade games to go even further retro (is that a thing?) that offer coins based on how skillful you are.  Many of them are two button games with a time limit, but they are enjoyable.
Have I said enough about the cut scenes?  They are pretty good!  I haven't really noticed any other free app games with decent cut scenes but if I have to start making a list, this is number one.  Even the continuous dialogue Leo has with the boss and other members of the alliance is pretty funny and interesting.
Music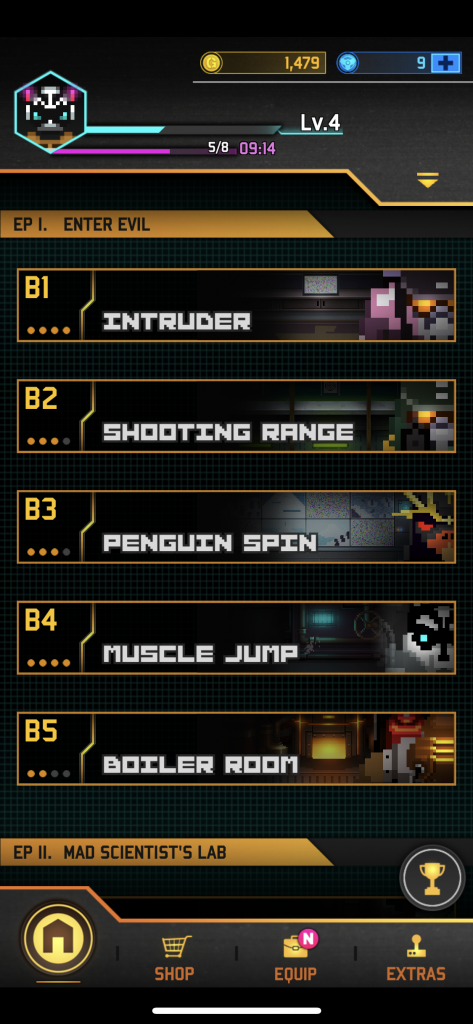 The music and sound effects of Evil Factory is pretty polished.  Confirmation clicks and noises works well with keeping you in the mindset of the mission.  Soundtrack is enjoyable enough to listen to idle.  If more gaming apps in general stayed true to the ideal of good music should accompany good gaming, we would all be happy!  I suppose it's pretty good to just settle for Evil Factory for now.  Nexon continues to raise the bar of app gaming with Evil Factory.
Controls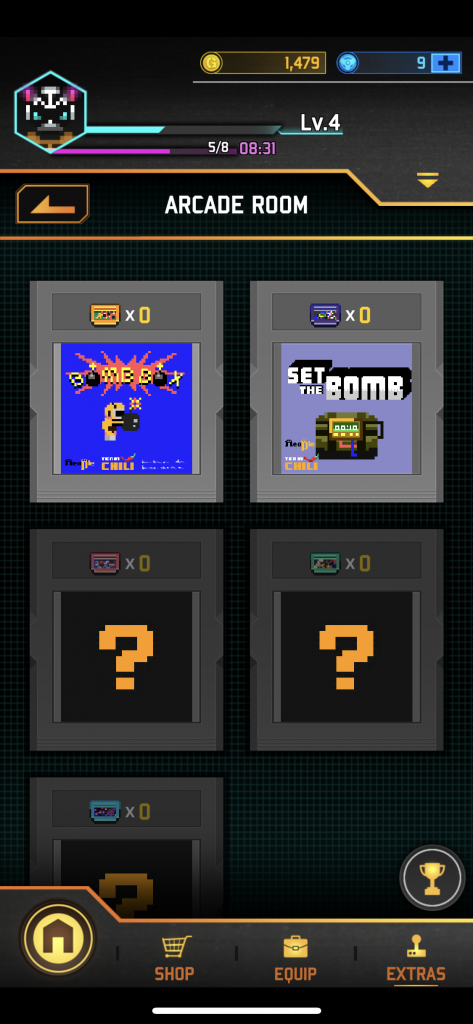 Truthfully, most of your deaths in this game will be based on your controls.  The bosses will usually use every part of the room to attack you and you have to be quick to dodge and find an opening to attack.  Each main and sub weapons have their own unique way of delivery, adding more of a challenge to sometimes predictable boss pattern.  So while the controls are pretty good, you will eventually wind up dying to something random because the main weapon didn't fire off quick enough or something unexpected happens when you are prepping a weapon to be fired.  I suppose they don't call Leo an explosive expert for nothing!
The Power of In-app Purchases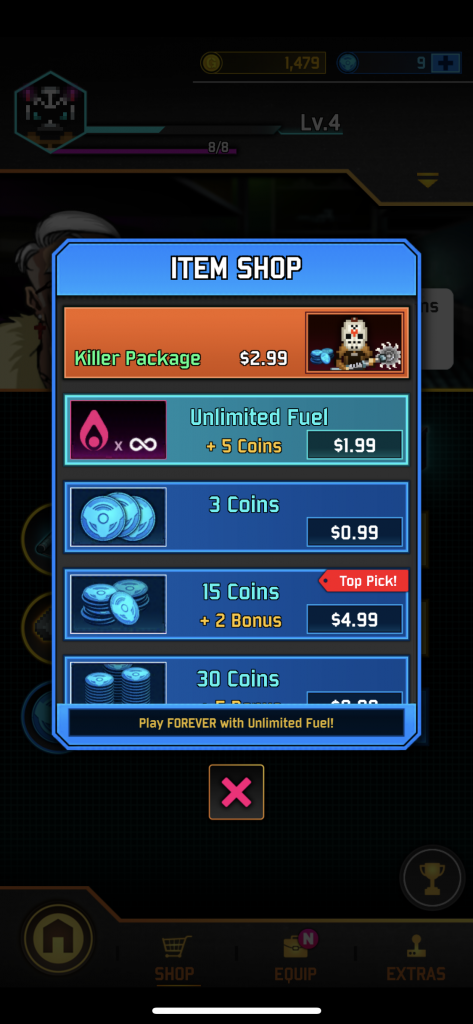 Realistically, I haven't found a frantic need for coins yet. The only real purchase I would/have made is for the unlimited fuel.  for $2.99, you are no longer limited to a timer when you have exhausted all of your fuel.  I found this to be useful because I die often trying new things (sounds believable right?) and it really helps out to not be interrupted when you are putting in some serious casual gaming time into it.  Blue coins can be used to revive yourself at the moment of death in a fight, but other than that I haven't found much used for them.  You also get a pretty erogenous amount of items and schematic plans to upgrade and build new main and sub weapons.
Verdict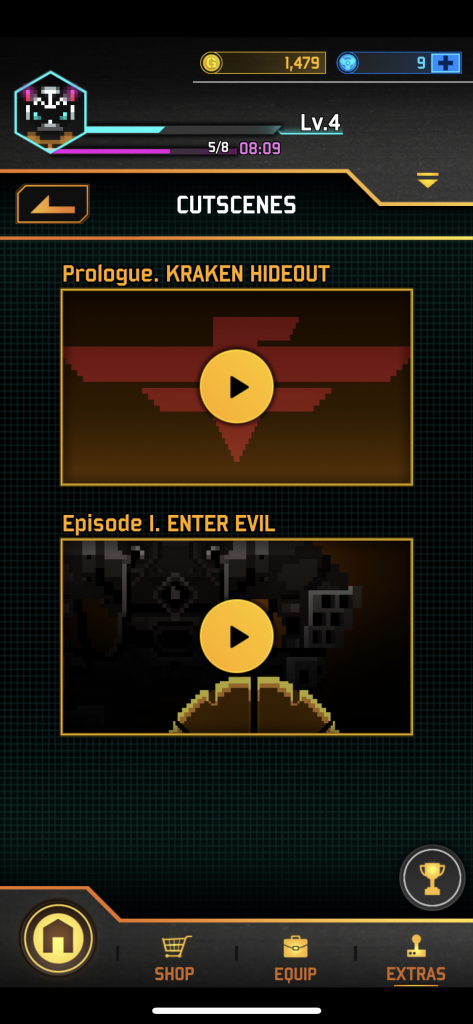 Overall, this one is a keeper.  There's just enough to keep you busy for a few minutes and when you are ready to grind some casual hours into this game, the reward factor soars.  There are some challenging bosses that will no doubt frustrate you, but that's life in a nutshell!  If you never strive for a great goal, your achievements will never be heard!  If you like free arcade games like this one, drop us a comment and we will do our best to accommodate our wonderful casual audience!
Until next time, I'm going back to save the world from Kraken!
Evil Factory Overall Rating:  5/5
Evil Factory Links:
IOS Link:  https://itunes.apple.com/us/app/evil-factory/id1141511048?mt=8
Android Link:  https://play.google.com/store/apps/details?id=com.nexonm.evilfactory&hl=en_US
Company:  Nexon
Genre: Arcade
Rated: 12+
Free, Offers In-app Purchases
About Post Author