Dumb Ways to Dash Review!
"Dash through crazy and chaotic levels as you compete against others as your favorite Bean. Dumb Ways to Dash is a brand new crazy 3D race runner game from the world of Dumb Ways To Die.
Take control of the clumsy Beans and dash your way to victory, knock your opponents off the edge, upgrade and train your Bean, collect dances, outfits and much more! But WATCH OUT, these tracks are filled with danger so carefully guide your Bean to safety in order to claim your spot on the podium!
– Save beans in a number of scenarios
– Real physics, interact with the world and other Players.
– Very easy to play. Hold to run, release to stop
– Unlock awesome dance moves for your Beans
– Lots of splats and funny death moments
– Collect 100+ costumes for your Beans
– Localized in lots of languages
Every level brings a more deadly scenario to avoid so race with others, tackle more death-defying levels and unlock new characters, costumes and dances to discover and a whole new world to die in! Do you have what it takes to be the last Bean standing?"
iOS Link: https://apps.apple.com/ph/app/dumb-ways-to-dash/id1482584527
Android Link: https://play.google.com/store/apps/details?id=com.playside.dumbways5&hl=en_GB
Company: Metro Trains Melbourne Pty Ltd
Genre: Action
Rated: 9+
Offers in-app Purchases
Gameplay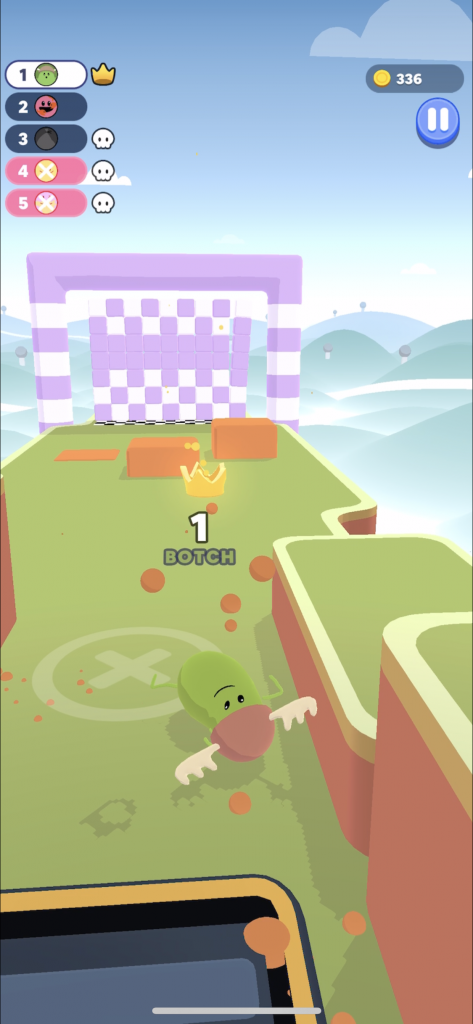 We've reviewed Dumb Ways to Die and Dumb Ways to Draw… Now get ready for Dumb Ways to Dash. Dumb Ways to Die was originally created by Metro Trains Melbourne to raise awareness for train safety but soon became a hit. When I first started playing this game I soon realized it's really similar to those new popular games on the app store like Fun Race 3D. The difference is that it's a lot more fun, there are way fewer ads and the graphics are significantly better.
Dumb Ways to Dash consists of you playing as one 0f the well-known characters and trying to win the race before every other player. But there are a few obstacles in the way – and by a few, I mean a lot. So while you're trying to frantically dodge other players, and obstacles, you need to get to the end first to score the most points. With the first few games, I found it really easy to win but in time it got harder, and harder. But definitely more fun!
I thought at first that this was an online multiplayer, but it isn't. I decided to put my phone into airplane mode and I was still able to play, so you are constantly playing against bots. It would've been nice to have played against real people, but at the same time, it's great that you're able to play it offline!
Graphics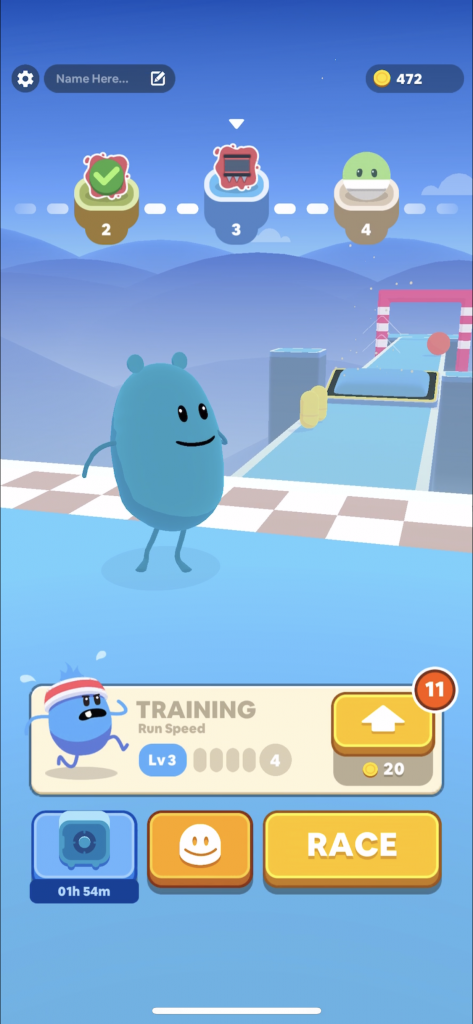 The graphics for Dumb Ways to Die and Dumb Ways to Draw were pretty much exactly the same, however, Dumb Ways to Dash is slightly different. This time, the characters are 3D and the graphics as a whole are slightly more detailed. One of my favorite things about the aesthetic of the Dumb Ways series is how colorful everything is. It's a really fun, lighthearted game about death. What a weird concept.
Music & Sounds
The music for Dumb Ways to Dash is the same original music, except slightly different. When you press race, the music changes to fast-paced to get you in the mood to thrash all the other players.
There are many sounds that appear in the game, especially when you come across an obstacle. They add extra silliness to the gameplay.
Controls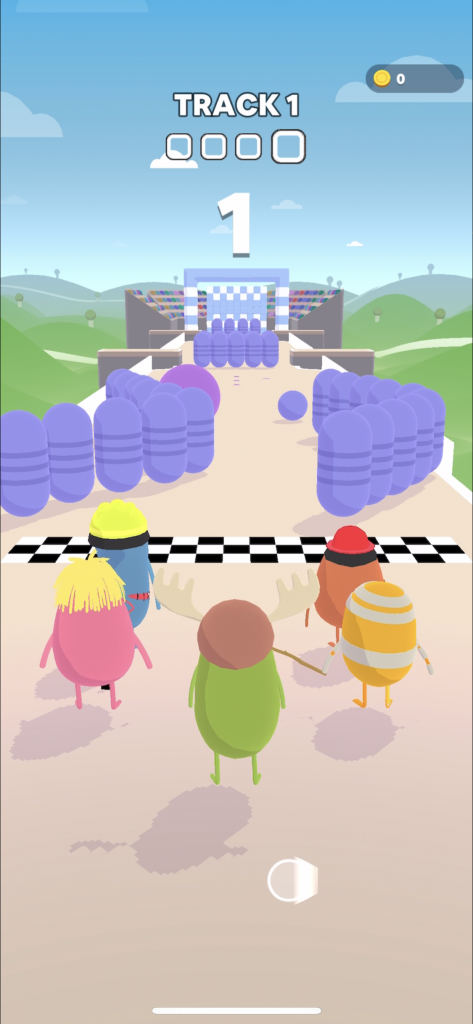 For the controls, all you need to do is hold down your thumb at the bottom of the screen and drag left or right depending on where you want your character to go. There are no other buttons on the screen during the game. No jump button, and no boosters. Before you start the game, there is a booster button that you can use in return for you watching an ad. It makes you go faster but not significantly enough to win.
The Power of in-app Purchases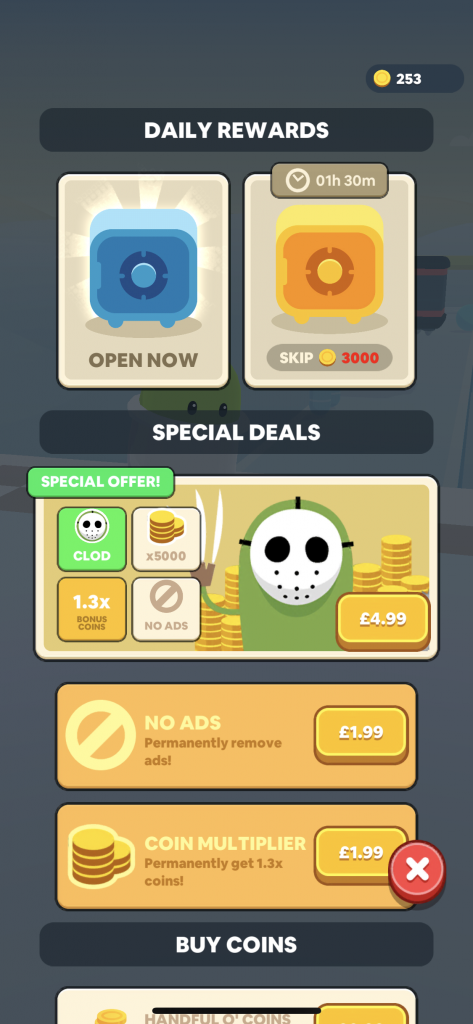 Daily Rewards
Blue Chest FREE every 30 minutes
Golden Chest FREE every 24 hours
Special Deals
Special Offer – CLOD, 5000 coins, 1,3x bonus and no ads for £4.99
No Ads for £1.99
Coin Multiplier – Permanently get 1.3x coins for £1.99
Coins
2500 coins for £0.99
9600 coins for £2.99
40000 coins for £6.99
770000 coins for £6.99
270000 coins for £46.99
The Verdict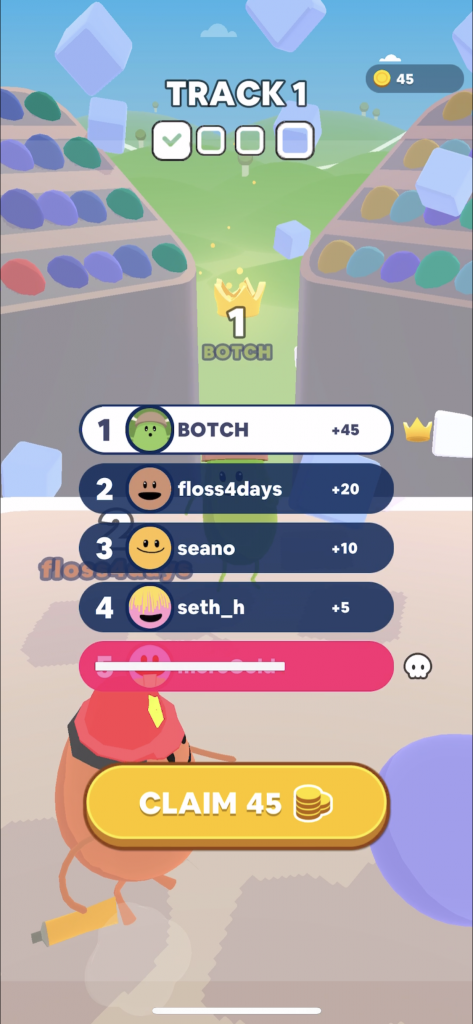 I really enjoyed Dumb Ways to Die and found it to be the most entertaining out of the series. It was addicting and I found myself playing it when I should've been asleep. Oops! This is definitely one I'm going to keep on my phone. The only thing I'd change about it is that it's an offline game. I think you should be able to have the option to play against real people.
Dumb Ways to Dash Overall Rating: 4/5
iOS Link: https://apps.apple.com/ph/app/dumb-ways-to-dash/id1482584527
Android Link: https://play.google.com/store/apps/details?id=com.playside.dumbways5&hl=en_GB
Company: Metro Trains Melbourne Pty Ltd
Genre: Action
Rated: 9+
Offers in-app Purchases
About Post Author