Does Not Commute Review
Winner of Apple Design Awards 2015!
A strategic driving game from the award-winning maker's of Smash Hit. Does not Commute is a temporal paradox in which you have no one to blame but yourself. What starts out as a relaxing commute in a small town of the 1970's quickly devolves into traffic chaos with hot dog trucks, sports cars, school buses and dozens of other vehicles. You drive them all. Plan ahead. Don't be late. – Does Not Commute Page
Does Not Commute Links:
IOS:  https://itunes.apple.com/us/app/does-not-commute/id971756507?mt=8
Android:  https://play.google.com/store/apps/details?id=com.mediocre.commute&hl=en_US
Company:  Mediocre AB
Rated:  4+
Offers In-App Purchase
Hey Casual Gamers!  Seeing another year past me by made me dig into the archives of the app store and see if I've missed any awesome games of the past.  It would seem that my researching has not gone unrewarded, as Does Not Commute is an amazing game that received an Apple Design Award in 2015!
Gameplay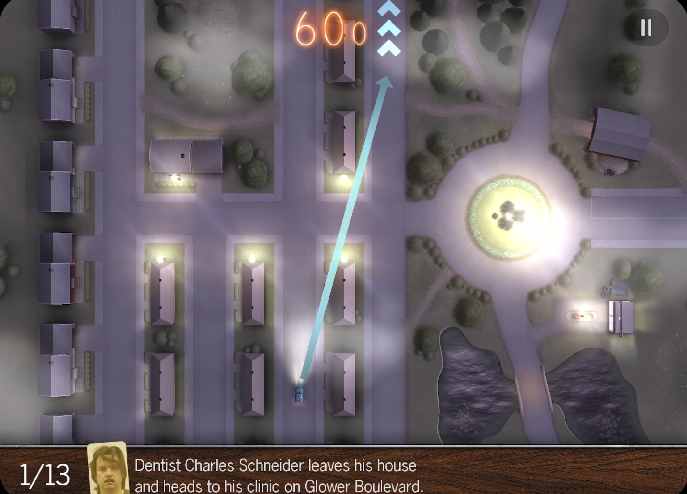 Does Not Commute starts off innocently enough with you controlling someone in a car. after a quick backstory, you are automatically accelerated to your goal, with the exception that you need to steer towards the goal!  Sounds simple enough.  Except more stories are added after each successful completion.  This continues until you have a car full of streets going towards different goals.
Planning your routes is an absolute must when it comes to Does Not Commute.  Not to mention if you are a bad driver it is very easy to be crash happy.  Not only will it slow your car down considerably, but it will also impact how you drive your next route!
Graphics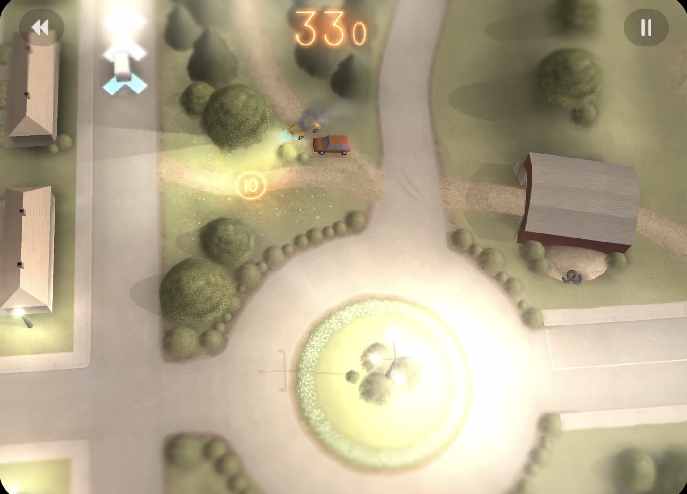 I suppose you don't win Apple Design Awards with shoddy graphics!  The attention to detail in the graphics has a great way of putting you into the car as you drive the best way you can to the goal.  Even the crashes are gloriously detailed.  Cars are workable after a crash, but at a drastically reduce speed at eats away at the remaining time left.
Music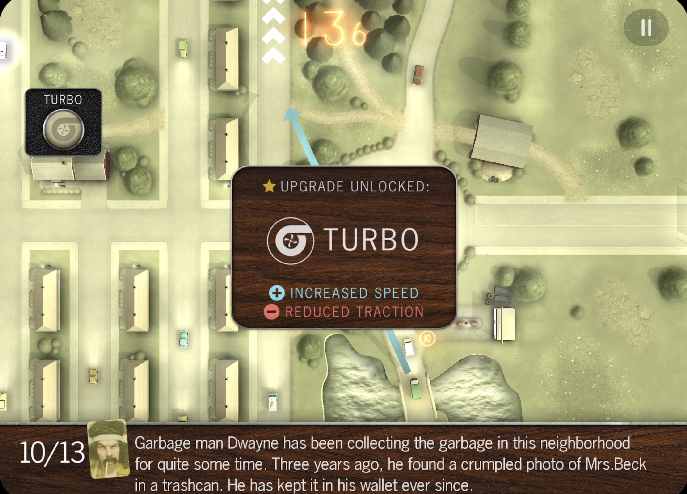 Does Not Commute has a very laid back soundtrack that fits very well with the game play.  I've found myself idle on the main menu to enjoy what feels like music from another era of time.  This is one of those casual apps that you will want to play with some volume! You can often catch many of the additional sounds that can work as ques of where the traffic is going.
A huge plus for me is that the in-game music changes as you progress though checkpoints!
Controls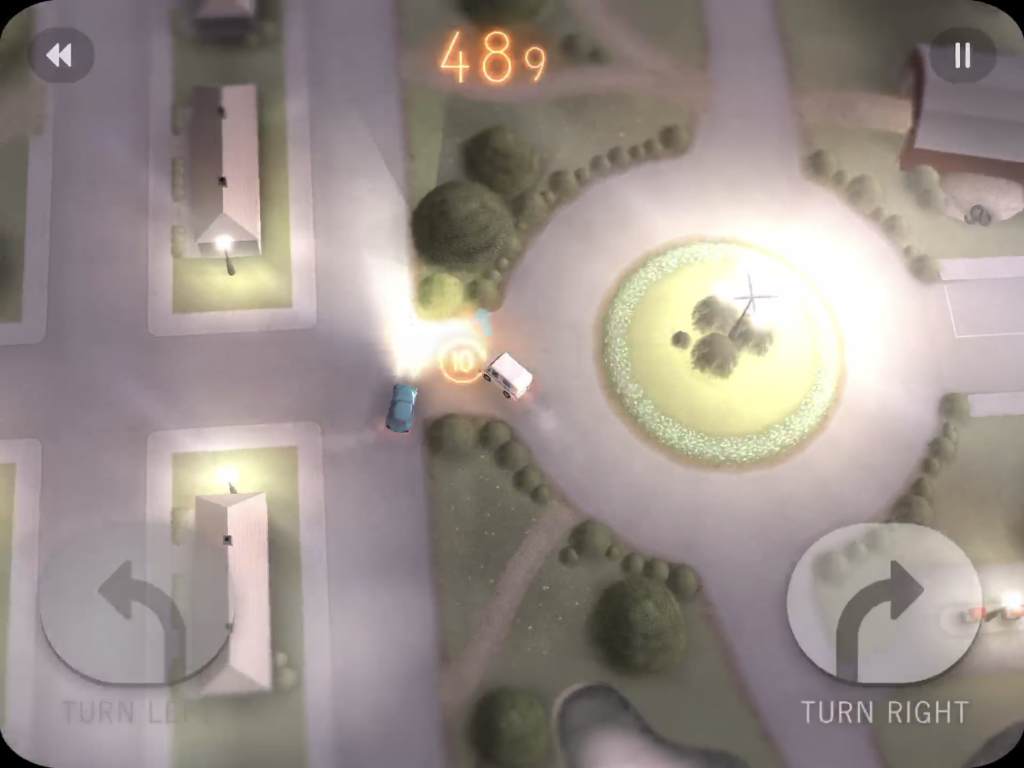 Turn Left or Turn Right. Don't forget you can come from any angle!There's not much to the controls of Does Not Commute and that's a good thing!  Most of the focus can be put into driving to make room for more cars.  One thing to remember when playing Does Not Commute:  You can start from anywhere on the map.  This includes starting on the top of the map.  Make sure you are ready to turn the right when when coming from the top.
The Power of In-app Purchases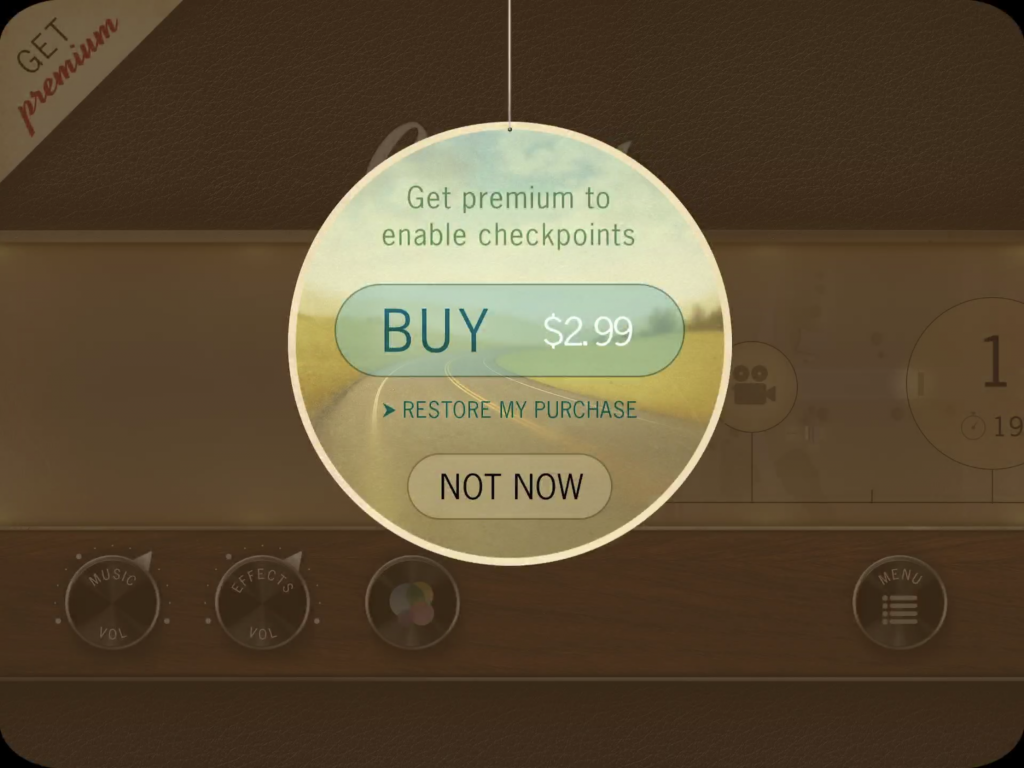 There's not much to purchase here, with the exception of unlocking checkpoints for $2.99.  This might have to be a thing for me personally!  I didn't think the game would make such a great impression on me but I could see myself playing for as long as my skills allow me!
The Verdict
Overall, Does Not Commute fits right in our casual app library!  This was quick, to the point, and very thought provoking!  It's always good to look at games in the past and find a new refreshing casual challenge!  Was this the casual app for you?  If you like this review, feel free to leave a comment in the section below!
Happy Gaming!
Does Not Commute Overall Rating: 5/5
Does Not Commute Links:
IOS:  https://itunes.apple.com/us/app/does-not-commute/id971756507?mt=8
Android:  https://play.google.com/store/apps/details?id=com.mediocre.commute&hl=en_US
Company:  Mediocre AB
Genre:  Games, Racing
Rated:  4+
Offers In-App Purchase
About Post Author